Interfaith Community, San Diego Episcopalians Continue to Respond to Asylum Seekers' Needs
When last fall U.S. Immigration and Customs Control alerted the San Diego Rapid Response Network it would begin releasing asylum seekers – including families with children – onto the streets, the county's interfaith and social and human rights organizations responded by setting up temporary shelters.
---

Presiding Bishop Speaks at National Prayer Breakfast, Emphasizes Love Over Divisions
Presiding Bishop Michael Curry, with President Donald Trump seated at a table to his right, read a passage from Paul's first letter to the Corinthians in brief remarks Feb. 7 at the 66th annual National Prayer Breakfast in Washington, D.C.
---

Episcopalians Join Hotel Soap Campaign to Fight Sex Trafficking as Atlanta Hosts Super Bowl
Advocates for victims of child sex trafficking warn that the problem spikes around big sporting events, like the Super Bowl, which is taking place this weekend in Atlanta. That warning sparked a call to action among Episcopalians in the Diocese of Atlanta, who have turned thousands of bars of soap into weapons in the fight against exploitation and abuse.
---

Church, Wider Culture Continue to Address Sexual Harassment, Abuse in #MeToo Age
Sexual misconduct and harassment includes more than stranger or acquaintance rape and physical abuse. In some instances, inappropriate touching, an unwanted kiss on the cheek, an awkward embrace or a hand placed too low on a woman's back—all are more obvious forms of sexual harassment.
---

Episcopalians Across the Country Respond to Federal Shutdown's Impact
As the effects of the longest federal government shutdown in United States history ripple across the country, many Episcopalians are feeling the economic pinch even as others try to help their neighbors cope.
---

Albany bishop is barred from punishing priests for same-sex marriages, faces disciplinary review
Presiding Bishop Michael Curry has temporarily restricted part of Diocese of Albany Bishop William Love's ministry because of Love's refusal to allow same-sex marriages even after General Convention mandated liturgical marriage equality in the church's U.S. dioceses.
---

Grant Programs Offer Boost to Church Renovation Projects, within Constitutional Limits
It's a reliable truth, as familiar to Episcopalians as the words of the Gospels: Church buildings don't get any younger.
---

Diocese of Ohio couple in national spotlight for outreach to Haitian asylum seeker
Two Episcopalians, a husband and wife from Ohio, are receiving national recognition for their outreach to a Haitian man who recently was released from federal detention after spending more than two years behind bars waiting for a decision on his request for asylum.
---
Living Nativity Scene Offers Roadside Evangelism in Central Pennsylvania
Take a centuries-old tradition. Find a church with a big front lawn on a busy street. Get a priest who is also a carpenter. Recruit volunteers – lots of volunteers. Get your friends to donate costumes. Figure out who has farm animals. Get the bishop to deliver some hay.
---

Episcopal Church's support for historically black universities cited in Saint Augustine's turnaround
The Episcopal Church's longtime support for historically black colleges and universities was credited this week in a major success story in Raleigh, North Carolina. Saint Augustine's University, a school the church helped establish more than 150 years ago, announced that its accrediting agency had taken the institution off probation, indicating that it finally had turned the corner on its financial struggles and enrollment decline.
---

Presiding Bishop Prepares for Pastoral Visits to East Carolina, Central Gulf Coast After Hurricanes
Presiding Bishop Michael Curry will travel this weekend to the Diocese of East Carolina for a pastoral visit focused on hearing the stories of Episcopalians recovering from two hurricanes that hit the Southeast in September and October.
---

Way of Love's Seven Practices Inspire Variety of Advent Resources for Episcopalians
Episcopalians have spent the past five months taking up the Way of Love's seven practices, with help from a wide range of liturgical and devotional tools from all corners of the Episcopal Church, and the church is encouraging all to make a special effort to embrace this rule of life during Advent.
---

Christian Visitors Bring Hope to Immigrant Detainees Facing Tough Odds in New Hampshire Jail
Few items hitch a ride with the Rev. Mark Pendleton through the entrance of the Strafford County Department of Correctionsevery Monday morning. More important are the words of hope and the friendly smile he transports to the dozens of immigrants locked away inside the jail.
---

NGO with Episcopal Ties Addresses Forced Displacement in Central America
Families with small children, single mothers and their babies, young men and women, adolescents, the elderly, they all gathered on a late October morning at the Plaza Salvador del Mundo here to form a caravan and begin the long walk north through El Salvador, across Guatemala and Mexico, and, for some, eventually, to the U.S. border.
---

Campus Ministers Respond to Hungry, Homeless College Students
The line of hungry students begins to form about 8:30 p.m. each Wednesday at the basement door of the United University Church on the University of Southern California's Los Angeles campus.
There, volunteer and work-study students who are members of Canterbury USC – the university's Episcopal campus ministry – have been prepping for hours. They have been chopping onions, baking potatoes, arranging tables and chairs, and placing napkins and condiments on tables for tonight's potato bar main course, which is expected to help feed an average 120 students who otherwise might go hungry.
---

Faith inspires Episcopal congregations to engage with voters as Election Day approaches
Episcopal congregations across the country are at the forefront of voter engagement efforts – registering voters, serving as polling places, providing ballot information and promoting civil discourse – with a week to go until the midterm elections on Nov. 6.
---
Growing Congregation in 'Rust Belt' City Offers Model for Two Dioceses Poised for Partnership
The story of the Episcopal Church's renewed presence in Hermitage, Pennsylvania, might be summed up as "Back to the Future." Or, in the Rev. Jason Shank's words, his services at Resurrection Church offer a "fresh expression of vintage Christianity."
---

'Purple' Parish in Minnesota Builds Paths to Compassionate Political Dialogue
Within this politically "purple" state, the Rev. Devon Anderson describes her congregation at Trinity Episcopal Church as a "purple parish," neither red nor blue but with parishioners who bring viewpoints that touch all points along the political spectrum.
---
Episcopalians Advocate for Great Lakes Water Quality
Two years ago during a Sunday service at Emmanuel Episcopal Church in Petoskey, Michigan, Gary Street heard six words in Eucharistic Prayer C in the Book of Common Prayer and things came together for him: "…this fragile Earth, our island home."
---
Episcopalians Assess Damage from Hurricane Michael's Destructive Tear Through Southeast
Episcopalians, congregations and dioceses across the Southeast again are assessing the damage and praying for the best after another powerful hurricane wreaked havoc on the communities in its path.
---

Episcopal Church in Puerto Rico Implements Long-Term Recovery Strategy a Year After Maria
In the immediate aftermath of Hurricane Maria, Puerto Rico Bishop Rafael Morales Maldonado issued an order for all Episcopal churches on the island to open their doors to the community. In doing so, the churches became points of distribution for emergency supplies, and also symbols of hope.
---

Episcopal Clergywomen Raise Concerns About Danforth's Comments on Kavanaugh Allegations
A letter to the New York Times this week that was endorsed by hundreds of Episcopal clergywomen raises concerns about comments former U.S. Sen. John Danforth, a Missouri Republican and Episcopal priest, made about the confirmation hearings for President Donald Trump's latest nominee to the U.S. Supreme Court.
---

Presiding Bishop, Church Respond to Further Cuts to the US Refugee Resettlement Program
The United States was a worldwide leader in refugee resettlement just two years ago, when more than 80,000 refugees were welcomed into the country with help from the nine agencies with federal contracts to do that work, including Episcopal Migration Ministries. That number has dwindled under the Trump administration, which announced Sept. 17 it would reduce resettlement further, to just 30,000 a year.
---
A year later, Virgin Islander Episcopalians look toward long-term recovery from Irma, Maria
A year after two devastating hurricanes swept through the Virgin Islands, building materials and skilled-labor shortages have delayed recovery. Blue tarpaulins covering damaged rooftops have frayed under the hot sun, and each threat of rain increases Virgin Islanders' anxiety, particularly as the Atlantic hurricane season reaches its peak.
---

Grace Cathedral in San Francisco to play prominent role in Global Climate Action Summit
San Francisco this week has become the epicenter of the movement in the United States to take greater action against climate change, and the Diocese of California is playing a prominent role in the upcoming three-day Global Climate Action Summit that is spearheaded by California Gov. Jerry Brown.
---

Nuevo Amanecer conference celebrates the diversity of Latino ministries
This week, nearly 400 people gathered Aug. 27 to 30 at Kanuga Conference and Retreat Center for Nuevo Amanecer, a biennial conference that celebrates and supports Latino ministries in the church.
---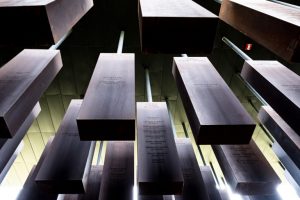 Pilgrimage to New 'Lynching Memorial' Fosters Racial Understanding
A spiritual pilgrimage can lay bare old scars, change who you are and how you see other people. That's what many members of St. Bartholomew's Episcopal Church in Atlanta reported after experiencing the new National Memorial for Peace and Justice and the collective story of more than 4,400 people who were lynched in this country.
---
Episcopalians Invited to Grow as Evangelists Through 30-Day Challenge
Think about the last 24 hours. What has given you joy? There's no right or wrong answer, but if you've taken up the 30-Day Evangelism Challenge, the answer to that question was just the beginning.
"The reason it's 30 days is it takes 30 days to change a habit," said the Rev. Becky Zartman, one of the creators of the challenge, which launched Aug. 4 on the Episcopal Evangelists' Facebook page and is scheduled to conclude on Sept. 2.
The new habit formed by challenge participants is the practice of evangelism. The game-like series of daily prompts encourages reflection and action, harnessing the recent energy in the Episcopal Church around evangelism and seizing on the spirit of experimentation encouraged by Presiding Bishop Michael Curry's Way of Love and its seven rule-of-life practices.
---
Washington National Cathedral Prepares to Help Family, Nation Honor McCain
McCain's funeral no doubt will be the largest such service held in the Washington National Cathedral since former President Gerald R. Ford's funeral service in 2007. The cathedral has been the setting for many presidential funerals and other services at times of national crises and natural disasters. There have been prayers for peace and services to remember the victims of the school shooting in Newtown, Connecticut, Hurricane Katrina and the Haitian earthquake, among others.
McCain, who died Aug. 25 from brain cancer just before his 82nd birthday, was a long-time Arizona senator who also had spent years as a prisoner of war after being shot down over Hanoi during the Vietnam War.
---

With Two Dioceses Under One Bishop, First-of-its-Kind Experiment to Emphasize Collaboration
The "least likely" friendship in the House of Bishops between the Episcopal Church's oldest active diocesan bishop and its youngest has fostered a first-of-its-kind collaborative experiment that could point to the future shape and feel of dioceses.
They "took an idea that came out of friendship" and a common concern for the mission of the church and have been collaborating in new ways. When Franklin and Rowe explained their experiment to the House of Bishops on July 13, General Convention's closing day, Rowe said that the Great Lakes region is in "an adaptive moment" and that the church ought to be part of that moment by trying a new model that could free up more resources for ministry by eliminating duplication in administrative costs.
---
Episcopalians to Join 40-mile Solidarity Walk to Immigrant Detention Facility in New Hampshire
Episcopalians will join others in the New Hampshire faith community this week for a four-day Solidarity Walk for Immigrant Justice, tracing detained immigrants' path from federal immigration enforcement offices in Manchester to a jail in Dover to raise awareness of immigrants' plight and to voice their support.
"We're following on foot the path that people who are detained and taken to jail are themselves traveling," said the Rev. Jason Wells, an Episcopal priest who serves as executive director of New Hampshire Council of Churches, one of the Solidarity Walk organizers.
---

Episcopalians Dive into Local Voter Mobilization Efforts Leading up to November Elections
How does someone "vote faithfully"? The message issued Aug. 7 provides resources, including links to voter registration information, states' voting policies and polling locations. It also links to the Episcopal Church's voter "toolkit," which provides further guidance on individual action and community mobilization in ways guided by faith.
"We encourage Episcopalians to engage in the democratic process this fall by promoting voter registration, learning about candidates on the ballot in your area, making a plan for yourself to vote on Election Day, and helping others to do the same," Office of Government Relations Director Rebecca Linder Blachly told Episcopal News Service. "Our Vote Faithfully Toolkit provides resources for parishes and individuals to get involved and to participate in our civic duty."
---
Grant Program to be Developed to Support Congregations' Grassroots Work on Racial Healing
One of the biggest developments at the 79th General Convention related to the Episcopal Church's work on racial reconciliation was the approval of a new grant program to support grassroots efforts, building on the progress made under the church's new Becoming Beloved Community framework.
The grant program outlined in Resolution D002 marks the first time a churchwide grant program will be dedicated specifically to providing financial support for Episcopalians working toward racial healing and justice in their congregations and communities. The 2019-2021 church budget includes $750,000 for the grants, much less than the $5 million recommended by D002, but these initiatives – such as forums, workshops and informal gatherings – often don't need a lot of money to become viable and thrive.
---

Charlottesville Episcopalians Join Peaceful Gatherings Marking Year After Hate Groups' Violence
The three Episcopal congregations in Charlottesville, Virginia, are participating in a weeklong series of ecumenical and interreligious events to promote peace, faith and unity one year after a white supremacist demonstration turned violent, thrusting the city into a national debate over race and Confederate symbols.
---
Boy's 'Giving Jar' Donations Inspire Episcopal Support for Hawaiian Volcano Relief Efforts
Relief efforts still are underway in Hawaii more than two months after the Kilauea volcano began erupting, and people interested in helping the cause are taking inspiration from a 7-year-old boy and his coin jar.
Since May 5, the lava flows have destroyed more than 700 homes, sent dangerous toxins into the air and displaced a community of about 1,500 people on the Big Island of Hawaii, according to CNN. The island congregation of St. James' Church, though not directly affected by the volcano, has joined in the relief efforts by collecting items from a list of needed supplies, such as bottled water, diapers and toothbrushes.
---
Union of Black Episcopalians at 50: 'Glory of the Past, Hope for the Future'
Presiding Bishop Michael Curry electrified hundreds of worshippers who chanted "Love Lifted Me" along with him at Christ Church Cathedral here in Nassau during the July 24 opening Eucharist of the 50th annual meeting of the Union of Black Episcopalians.
Curry's sermon, laced with frequent call-and-response, spontaneous laughter and sustained applause, echoed his familiar 'Love is the way, the only way, there is no other way' mantra, as he challenged worshippers to embrace Christ's ministry of reconciliation.
---

General Convention Reinforces its Creation Care Stance
General Convention addressed some 18 resolutions further strengthening its position on stewardship of the environment and creation care, sending a message of engagement to Episcopalians churchwide.
"The number of care of creation resolutions that passed General Convention 79 was remarkable and a sign of a growing, vital spirit in the Episcopal Church around creation care," said California Bishop Marc Andrus, a member of the Environmental Stewardship and Care of Creation Committee and co-chair of the Advisory Council on the Stewardship of Creation, in a statement emailed to Episcopal News Service.
---
General Convention Responds to the Voices and Stories of Women
The voices and stories of women played a significant role in the workings of the 79th General Convention, from a liturgy where bishops offered laments and confession for the church's role in sexual harassment, exploitation and abuse, to Resolution D087 that allows deputies to bring infant children on the floor of the House of Deputies to feed them.
On the night of July 4, before the convention officially opened, a Liturgy of Listening featured stories from women and men who were victims of sexual misconduct perpetrated by someone in the church. Bishop DeDe Duncan-Probe of the Diocese of Central New York, who planned the service, said it was designed to help set a framework for General Convention's consideration of resolutions dealing with sexual misconduct, exploitation and gender disparity. As part of a response to that liturgy, the House of Bishops on July 8 adopted a covenant that commits them to seek changes in their dioceses to combat abuse, harassment and exploitation.
---

Convention Lets Its 'Yes' be 'Yes,' Agreeing to Give Church Full Access to Trial-Use Marriage Rites
Deputies dotted the last i and crossed the last t on July 13 with a historic resolution giving all Episcopalians the ability to be married by their priests in their home churches.
Resolution B012 had gone from the House of Deputies to the bishops and back to the deputies on its road to approval. Deputies overwhelmingly approved a heavily amended version of the resolution on July 9, and the House of Bishops added a technical amendment two days later that does not change B012's goal of giving full access to two trial-use marriage rites for same-sex and opposite-sex couples approved by the 2015 meeting of General Convention (via Resolution A054).
---
Grain, Bread, Community: 750lb Mobile Stone Mill in Convention's Exhibit Hall Turns Ancient Grains into Flour for Communion Bread
The reasons why bread baked from ancient grains are so much better for the body, and the Body of Christ, are simply that "these are the same grains that Jesus ate," said the Rev. Elizabeth DeRuff, an agricultural chaplain with the Episcopal Church and founder of Honoré Farm and Mill. "This bread is lifegiving."
These are the grains attendees to the 79thGeneral Convention in Austin, Texas, are receiving at Eucharist each day.
---
General Convention Moves One Step Closer Toward Sacramental Marriage Equality
The House of Deputies overwhelmingly endorsed a heavily amended resolution July 9 aimed at ensuring that all Episcopalians can be married by their priests in their home churches.
Resolution B012, a carefully crafted compromise that its final proposers hope will be accepted by both houses of convention, gives full access to two trial-use marriage rites for same-sex and opposite-sex couples approved by the 2015 meeting of General Convention (via Resolution A054).
---

Bishops Lament and Confess the Church's Role in Sexual Harassment, Exploitation and Abuse
In a hushed worship space in the Austin Convention Center late in the afternoon of July 4, bishops of the Episcopal Church stood and collectively offered laments and confession for the church's role in sexual harassment, exploitation and abuse in a service called a "Liturgy of Listening."
---
Interfaith Voices Demanding Changes to Immigration Policy Make a Difference in Washington
Phones are ringing off the hook at congressional offices on Capitol Hill as Americans call demanding migrant children be reunited with their parents, and for an end to the Trump administration's immigration policy of separating families at the Southwest border, according to legislators.
"This [family separation] can't be the face of who we are, so I appreciate you being here, I appreciate your prayers, I appreciate your activism," McGovern said. "I've always felt that faith is more than just ritual, it's action; and you all have powerful voices, and this is a time to use them for the sake of these kids, for the sake of these parents and for the sake of this country."
---
Episcopalians Join the Poor People's Campaign Rally, March on Washington
Thousands of people, including at least 100 Episcopalians, from across the country representing social justice organizations, churches and faith-based initiatives gathered on June 23 in Washington, D.C., for the Poor People's Campaign rally and march. For three-and-a-half hours on the National Mall, speakers — the majority of them living on the front lines of poverty — shared their personal stories relating to systemic racism, environmental degradation and other poverty indicators. Following the rally, attendees took to the street and marched to the Capitol chanting slogans like, "This Is What Democracy Looks Like" and "The People United Will Not Be Divided."
---

General Convention Continues 'Virtual Trend' of Going Paperless
It used to be that General Convention conducted all of its legislative business on paper – approximately 1.2 million pieces of paper in 2012. No more.For the second convention running, each deputy, alternate deputy and bishop, upon arrival in Austin, Texas, for the 79th General Convention, will get a loaner iPad to use as a "Virtual Binder." The iPads being used during the July 5-13 gathering are newer and faster than the ones the General Convention office rented in 2015.
Replacing each actual binder with the digital system will save the cost of the estimated 2,400 reams of paper, which amounted to about six tons, plus the copying costs. Convention veterans recall an actual binder that they gradually filled with their copies as the gathering progressed, often to the point where some used wheeled bags to transport their binders. "Click time" was set aside in each house for bishops and deputies to update their binders. Tracking the progress of resolutions was impossible for people who did not attend convention. No more.
---
Extending the Table Pursues Christian Ministries as Means to Build Relationships in Community
The door of the downtown storefront in this central Wisconsin college town opened into a spacious retreat, a warm gathering place with couches, chairs and tables, and one that, every Saturday, offers a modest breakfast…
This weekly community meal for people who are chronically homeless or living on the economic margins is one component of a ministry known as Extending the Table, which has received key support from a $20,000 Mission Enterprise Zone grant from the Episcopal Church. Meals are central to the ministry but only as a means to the underlying goal of building new relationships.
---

Congregations' Pet Ministries Offer Support to Pet Owners and Their Four-Legged Companions
Lord God made them all, the creatures of the world great and small, and God's smaller creatures are getting a helping hand from the numerous Episcopal congregations around the country with pet outreach in their lineup of parish ministries.
In Roswell, New Mexico, there's the Four Paws Pet Pantry, a ministry of St. Andrew's Episcopal Church. In Danvers, Massachusetts, All Saints Episcopal Church calls its ministry Perfect Paws, with services ranging from pet food drives to a therapy dog program in local schools. And St. Paul's Church By-the-Lake in Chicago, Illinois, has a monthly food pantry called AniMeals that doubles as a basic pet clinic, with local veterinarians donating their time.
---
Church, Interfaith Leaders Call for US Government to End its Immigration Policy Separating Families
In mid-May, a Honduran man who crossed the U.S.-Mexico border into southeast Texas with his wife and 3-year-old son committed suicide at a detention center, where after requesting asylum, border agents told him he'd be separated from his family.
Family separations aren't just happening at the border, roundups are happening nationwide. In early June, in Seattle, Washington, 206 undocumented immigrants apprehended at the border and held in U.S. Immigration and Customs Enforcement custody – 174 of the women, at least half of them mothers – were transferred to a detention facility near the airport. Somewhere along their journey, the mothers were separated from their children. Some weren't given the chance to say goodbye and could hear their children screaming in a nearby room; some don't know their children's whereabouts. Most, though not all, of the women fled ongoing gang and domestic violence in El Salvador, Guatemala and Honduras, three of the most violent countries in the world.
---
General Convention Adopts New Approach to Israel-Palestine Issues Promoting Open Debate
A group of bishops and deputies who were asked to find a way to navigate the often-thorny discussions of Episcopal Church policy toward Israel and Palestine has announced its recommendations for fostering open and productive debate on those issues at General Convention this July.
Five bishops and five members of the House of Deputies served on the Israel and Palestine Working Group, which was formed last year by Presiding Bishop Michael Curry and the Rev. Gay Clark Jennings, House of Deputies president. Curry and Jennings have accepted the working group's three core recommendations, according to an email to members of the two houses sent May 31 by the Rev. Michael Barlowe, General Convention's executive officer.
---
Charlottesville Congregation's Food Education Ministry Grows into its Social Justice Mission
The food ministry at Trinity Episcopal Church in Charlottesville, Virginia, starts in the church's garden. Volunteers till the soil. They weed and water the raised beds. They harvest the produce when it's ready, their work sessions filled with fellowship and concluding in prayer.
The ministry, called Bread & Roses, then brings that fresh produce into the church's commercially certified kitchen, where it becomes a learning tool in cooking classes that teach lessons in nutrition and healthy cooking techniques.
---

Episcopalians Again Help Flood-Ravaged Maryland Town Recover
Episcopalians in Ellicott City, Maryland, were cleaning up their homes and businesses on May 29, while helping their neighbors do the same and offering them shelter after torrential rain two days before sent a destructive flash flood through the town's downtown.
"St. Peter's responded by showing up for our neighbors. Thanks to generous donations from the wider community, hot food, bottled water, hot coffee, sandwiches, phone chargers, and even a grill for cooking hamburgers and hot dogs arrived! Sara Beth [Dukes, a church neighbor] arrived to offer trauma release acupuncture for those who wanted it. We listened, we offered shoulders to cry on, and we distributed tools and equipment to help our neighbors."