Presiding Bishop Preaches on 'Forgiveness, Repentance, Healing and Reconciliation' in Haiti
Presiding Bishop Michael Curry preached a sermon "on the occasion of the liturgical signing of the covenant of reconciliation" on May 23 at the Episcopal Theological Seminary in Port-au-Prince, Haiti. All clergy in the diocese attended the special liturgy.
"Mutual forgiveness and repentance, healing and reconciliation are hard work and they often take time. Healing and reconciliation do not happen quickly. But it happens, if we are willing, to allow God's grace to work in us, for God's grace is sufficient. God is able," said Curry in his sermon.
---

Episcopalians, Methodists Propose Full-Communion Agreement
A group of Episcopalians and Methodists has released its proposal for full communion between the two denominations.
Full implementation of the proposal will take at least three years. The Episcopal Church General Convention and the United Methodist Church General Conference must approve the agreement, which culminates 15 years of exploration and more than 50 years of formal dialogue between the two churches. General Convention next meets in July 2018 in Austin, Texas. The General Conference's next meeting is in 2020.
---

Massachusetts' 'B-PEACE for Jorge' Honors Murdered Teen by Targeting Root Causes of Violence
More than four years after the unsolved murder of 19-year-old Jorge Fuentes, a group of Episcopalians in Boston, Massachusetts, will again spend Mother's Day walking for peace in his name.
---

Episcopalians Advocate for Protecting God's Creation at Peoples Climate March and Beyond
Episcopalians from across the United States joined tens of thousands of people on April 29 for the Peoples Climate March in Washington, D.C., and for hundreds of sister marches in cities around the world.
---

Episcopal Church is 'Awakening the Spirit' in West Missouri Revival
It is safe to say that never has an Episcopal revival competed with a Kentucky Derby party or been the unofficial opening act for a Garth Brooks concert.
Until now.
On the afternoon of May 6 in the Power & Light District of downtown Kansas City, Missouri, all three events coincide in what those involved in planning "Awakening the Spirit in West Missouri" say will be a perfect opportunity to show the city what the Episcopal branch of the Jesus Movement is all about.
---

Jennifer Baskerville-Burrows Becomes 11th Bishop of Indianapolis, First Black Woman to Lead Episcopal Diocese
The Rev. Jennifer Baskerville-Burrows was ordained and consecrated the eleventh bishop of Indianapolis April 29, making her the first black woman to lead a diocese in the history of the Episcopal Church and the first woman to succeed another woman as diocesan bishop.
---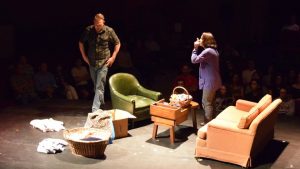 Congregation's Play About Drug Epidemic Aims to Bolster Community Support for Recovery
St. Luke's Episcopal Church in Jamestown, New York, wanted to do its part to help to combat the prevalence of opioid addition and overdose deaths in Western New York, but the congregation was wary of duplicating the work of well-established health and social service organizations.
So, St. Luke's chose to support the cause the best way it could – by staging a play.
---

Former Virginia Tech Chaplain Looks to Massacre's Aftermath for Lessons in Healing
When a gunman opened fire killing 28 fellow students, four professors and himself 10 years ago on the campus of Virginia Tech, word of the massacre reached the Rev. Scott Russell through a news broadcast.
Terrifying details were being reported on the TVs at JFK International Airport in New York City. Russell, in airport customs after returning from vacation in Germany, was paralyzed as he learned of developments in Blacksburg, Virginia, where he was the associate rector at Christ Episcopal Church and campus minister.
---

'Unholy Trinity' Serves as Call to Action on Poverty, Racism, Gun Violence
Eager to work toward solutions to the problems of poverty, racism and gun violence, Episcopal bishops, clergy members and lay people gathered for three days last week for a conference in Chicago, the American city that recorded the most homicides in 2016.
The city's recent surge in deadly violence provided a grim backdrop for Bishops United Against Gun Violence's "Unholy Trinity" conference held April 20-22 at the Lutheran School of Theology in the city's Hyde Park neighborhood. But speakers regularly emphasized that the problem is not isolated to one city, nor is the outlook as bleak as many news headlines suggest.
---

Georgia Lynching Victims Remembered as Racial Reconciliation Efforts Expand
In one of the darkest corners of American history – the lynching of black victims by white attackers – details of many of these decades-old killings have long remained a mystery as present-day researchers seek to identify the victims and bring racial healing to their communities.
Those efforts have gained steam in Georgia, where last year the Episcopal Diocese of Atlanta launched a three-year series of pilgrimages intended to bring these victims and their stories to light. At the same time, a group of residents in one west-central Georgia community, LaGrange, has been working with police, civic leaders and churches to come to grips with a nearly forgotten lynching in their city.