Episcopalians Help Muslims Break their Daily Fast at Interfaith Iftar Dinners During Ramadan
The Muslim holy month of Ramadan started last week, and Episcopal congregations across the country have been encouraged to participate in an interfaith outpouring of support, including by hosting or joining the dinners at which Muslims break their daily fast.
The meals, called iftars, are served every evening after sundown during Ramadan, which started this year on May 16. Iftars often are festive community gatherings, sometimes held in homes, sometimes in mosques – and sometimes in Christian churches, in an effort to bridge divides across faith traditions.
St. James Episcopal Church in Columbus, Ohio, is preparing to host its 15th annual iftar, and the meals have become so popular that the church has to take reservations and cap attendance at 150. Lead organizer Janet Bailey called the meal the church's gift to its Muslim neighbors, "to let them know that we care and that we're not afraid and that this is a safe environment for them."
---
Royal Wedding Preacher Presiding Bishop Michael Curry Shares his Love of Jesus with the World
When millions of people around the world tuned in to witness and celebrate the royal wedding of Prince Harry and American actress Meghan Markle, they were also treated to one of the most dynamic preachers the happy couple could have chosen for their nuptials.
Presiding Bishop Michael Curry, the African-American leader of the U.S.-based Episcopal Church, spoke passionately for 13 minutes about the power of love.
"The late Dr. Martin Luther King once said, and I quote: 'We must discover the power of love, the redemptive power of love, and when we do that we will make of this old world a new world. For love is the only way.'
"There's power in love. Do not underestimate it," the presiding bishop said. "Anyone who has ever fallen in love, knows what I mean. But think about love in any form or experience of it. It actually feels good to be loved, and to express love. There is something right about it. And there's a reason.
---

Episcopalians in Food Ministry Worry Vulnerable Immigrants Aren't Being Fed Because of Detention Fears
It's a problem with no clear solution. Immigrants with pending U.S. applications for legal residence or citizenship fear a possible new regulation that could mean they'll hurt their chances toward those residency goals if they use government nutrition programs to help feed their eligible family members, thus possibly tearing their families apart.
One thing is obvious, however, some food-ministering Episcopalians say: Politics aside, feeding the hungry is a Christian duty.
---
Presiding Bishop Michael Curry to Preach at Wedding of Prince Harry and Meghan Markle
Episcopal Church Presiding Bishop Michael Curry will preach at next weekend's wedding of Prince Henry of Wales – more informally referred to as Prince Harry – and the U.S. actress Meghan Markle, Kensington Palace announced May 12. Prince Harry, the grandson of Queen Elizabeth and sixth in line to the throne, will marry Markle at St. George's Chapel in Windsor Castle next Saturday, May 19 in a service conducted by the Dean of Windsor, David Conner. Archbishop of Canterbury Justin Welby will officiate.
The invitation from the couple to Curry to preach at the service is a departure from tradition for British royal weddings. While previous royal weddings have involved clergy from other Christian churches saying prayers for the couple, sermons are usually given by senior Church of England clergy. The service will be televised around the world, and it is likely that the presiding bishop, who refers to himself as the CEO of the Episcopal Church – the chief evangelism officer – won't resist the opportunity to talk about what he calls the Jesus Movement.
---

Bilingual Eucharist to be Celebrated in Waters of the Rio Grande at One-Day Texas Border Crossing Party
When the tiny border community of Lajitas, Texas, celebrates Holy Eucharist on May 12, the Rev. Paul Moore will consecrate the bread and wine standing in the middle of the Rio Grande, with water soaking the bottom of his vestments and without a clear sense of whether his feet are planted on the American side or the Mexican side.
This is the second year that Moore, an Episcopal priest from Silver City, New Mexico, will preside over a Eucharist in the river as part of the Voices From Both Sides celebration, an annual event that serves as a kind of community reunion for people from both sides of the border.
---
Police Officer-Turned-Antiques Dealer Discovers Heart for Prison Ministry
For 20 years, Jon Felz helped send people to prison as a New York police officer. Today, he's volunteering his time to help those behind bars as a member of the Episcopal Diocese of Newark's Prison Ministry.
"I have over 1,200 felony arrests," he said. "But when you lock somebody up, you spend three hours with them processing them, and then you rarely see them again unless the case goes to trial. Ninety percent of the cases don't go to trial. You don't get to focus on them as human beings."
But Felz's faith journey has lent him new perspective and purpose. Now an antiques dealer and certified appraiser, Felz led an "Antiques Roadshow"-style event on April 21 at the Episcopal Church of St. James in Upper Montclair, New Jersey, to raise money for the diocese's programs for inmates and their families. Looking ahead, he hopes to join ministry members in leading Bible studies for inmates.
---

River of Life Pilgrimage Broadens to Three, Shorter New England Canoe Trips in Second Year
The paddle-carrying Episcopalians who created a church on the water for 40 days last summer are gearing up again to become pilgrims on the River of Life, this time with three shorter canoe and kayak trips in New England.
"The 40-day one was an enormous undertaking and something we couldn't keep going every year," said the Rev. Stephen Blackmer of Church of the Woods in Canterbury, New Hampshire. "We're hoping and expecting that we'll be continuing to do … more bite-size trips."
When Blackmer says "bite-size," he still envisions immersive natural experiences filled with fellowship, prayer and prayerful silence, as well as overnight stays in churches and at campgrounds. Last year's Connecticut River pilgrimage has been shortened to nine days in July, with three segments for would-be worshipers to join and ending in western Massachusetts. The Diocese of Rhode Island also is hosting two weekend trips, one in May and the other in September.
---
Pop Music's Beyoncé Inspires Eucharist at Grace Cathedral in San Francisco
Sometimes controversial, often empowering, pop culture icon Beyoncé Knowles-Carter's music, lyrics and life have inspired faith leaders to organize an alternative church service April 25 at Grace Cathedral in San Francisco.
At Beyoncé Mass, churchgoers can learn about the formation of the wild (or not-so wild?) idea that this celebrated singer's lyrics can be tied to biblical messages.
It's a Wednesday evening service created by The Vine for faith seekers and fans to sing their Beyoncé favorites and "discover how her art opens a window into the lives of the marginalized and forgotten, particularly black women," the cathedral's event announcement says. Launched in March 2017, The Vine is both a service and an offer of community for city folks and spiritual seekers through contemporary worship with great music on Wednesday nights, or small "Grace Groups" throughout the city, according to the website.
---
New Interactive Website Aims to Help Episcopalians Navigate Church's Clergy Discipline Procedures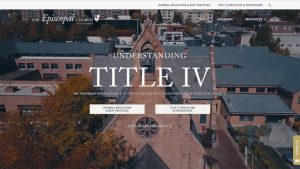 The Episcopal Church's decades-long process of refining its clergy discipline process will take a big logistical step forward this summer when an interactive website debuts. The site was developed with the hope of bringing a common understanding of the rules and helping clergy avoid getting into trouble and injuring others in the first place.
The website is in the beta testing phase, and members of the church's Executive Council have been invited to join that process. It is scheduled to debut during General Convention in July. The site is designed to help Episcopalians navigate the church's Title IV clergy disciplinary process (those canons can be found beginning on page 131 of the church's Constitution and Canons here).
---
Wisconsin Church's Rain Barrel Sale Highlights Outreach Plans Emphasizing Creation Care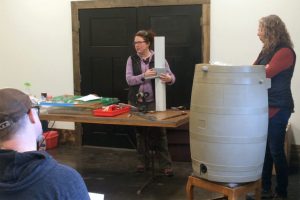 You might say Trinity Episcopal Church in Mineral Point, Wisconsin, is offering creation care by the barrel.
The congregation, thanks in part to a Stewardship of Creation grant from the Episcopal Church, distributed 30 rain barrels on April 21 to residents of this small city in mostly rural southwest Wisconsin. Its rain barrel workshop kicked off a weeklong program of Earth Day events on the theme "Water Is Life."
The Rev. John Floberg, Episcopal missioner on the Standing Rock Sioux Reservation in South Dakota, will speak later this week in Mineral Point about the Episcopal Church's opposition last year to part of the Dakota Access Pipeline. And Trinity's $10,000 grant also will be used to create raised garden beds and a separate rain garden on church grounds, as well as to produce a children's education program on environmental issues.
---
Episcopal Church Joins Call for End to Gaza Violence and Measures to Protect Palestinians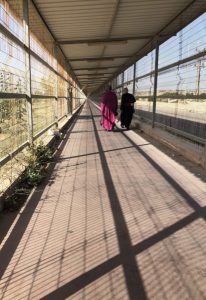 Presiding Bishop Michael Curry, who visited Gaza City days before protests began along the fence separating the Gaza Strip from Israel, has added the Episcopal Church's name to a joint statement protesting Israel's deadly response to the violence.
The 15 denominations and Christian agencies say that they "cannot be silent" as Gazans have been killed or injured during the first two weeks of protests that are expected to occur until May 15. That is the day when Palestinians mark the "Nakba," which is Arabic for "catastrophe," and commemorates the estimated 700,000 Palestinians who fled or were forced off their land during the war that followed Israel's 1948 declaration of independence from the British mandate of Palestine. That day is expected to be particularly fraught this year because it falls near the day when President Donald Trump plans to move the U.S. Embassy from Tel Aviv to Jerusalem, a controversial shift in U.S. policy.
---
Beloved Episcopal priest, 87, Mourned as New York Police seek his Attackers in Home Invasion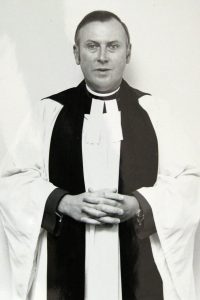 Episcopalians in the Diocese of Long Island are mourning a beloved priest, the Rev. Paul Wancura, who died this week at age 87 from injuries suffered during a home invasion last month at his home.
"The sad news of the death of Canon Wancura has touched everyone in our diocese," Bishop Lawrence Provenzano said late April 17 in a message to the diocese. "Those who knew him well are suffering the loss of a devoted priest and friend who was quick to provide support and prayerful insight to all who sought his counsel. Those who did not know him personally are struck nonetheless by the reported cruelty and violence during a home invasion that resulted in the death of this beloved priest."
---
Diocese of Atlanta clergy, laity renew vows at Martin Luther King Jr.'s church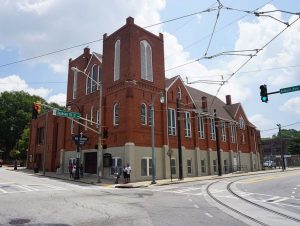 Clergy and laity of the Diocese of Atlanta gathered this week for their renewal of vows in the sanctuary of the historic Ebenezer Baptist Church where the Rev. Martin Luther King Jr. and his father and grandfather preached.
Diocese of Atlanta Bishop Robert C. Wright, whose diocese also includes middle and north Georgia, said he sought permission to use the site because of its connection to the civil rights movement leader and the recognition of the humanity of all Americans.
---
Church Reopens in 'Joyful Scramble,' Heralds Reconciliation Efforts with Los Angeles Diocese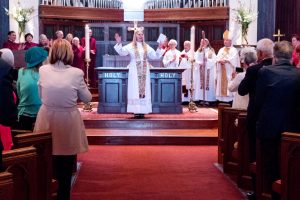 An Episcopal congregation in Southern California that had been barred from its church for three years amid a property dispute with the diocese has returned to the church with a spirit of reconciliation and hope.
Families are inundating the church with requests for baptisms and weddings, the congregation is ramping up its outreach ministries, and on April 8 worship services resumed at the Newport Beach church for the first time since 2015. What was St. James the Great is now known simply as St. James Episcopal Church.
---

General Convention will Again Grapple with Same-Sex Marriage Questions
When convention authorized the liturgies in 2015, bishops and deputies said individual diocesan bishops had to approve their use. And convention directed diocesan bishops to "make provision for all couples asking to be married in this church to have access to these liturgies."
General Convention's Task Force on the Study of Marriage has since monitored the use of the trial liturgies and is aware of concern about unequal access to the trial use liturgies. Its Blue Book Report, released April 3, says it found that eight diocesan bishops in the church's 101 domestic dioceses have not authorized the trial liturgies…The task force is proposing that convention require bishops in authority to "make provision for all couples asking to be married in this church to have reasonable and convenient access to these trial rites.
---
Presiding Bishop to Join Ecumenical Partners Speaking at April 4 Rally in Washington
Presiding Bishop Michael Curry will be one of the featured speakers at the National Council of Churches (NCC) rally on the National Mall in Washington, DC on April 4.
Named A.C.T. to End Racism Rally, the purpose of the rally, being held on the 50thanniversary of the assassination of the Rev. Dr. Martin Luther King, Jr., is to launch the NCC initiative to end racism. The A.C.T. to End Racism Rally is the starting point of a multi-year effort by NCC to remove racism from the nation's social fabric and bring the country together
---
Living stones' of Al Ahli Arab Hospital Build a Ministry of Healing, Witness in Gaza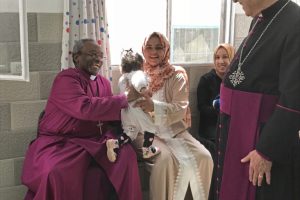 Presiding Bishop Curry and staff members met some of the patients and employees and heard about the services that benefit some 38,000 Gaza Strip residents each year. Bishop Curry says Christians, despite dwindling numbers, are 'walking the way of Jesus'.
Healing comes in many forms, and Al Ahli Arab Hospital's medical ministry combines every day with Christian witness to provide the people of the Gaza Strip with an example of the love of Christ in action.
That example is set in an area whose Christian population is dwindling. Suhaila Tarazi, the hospital's director general, estimates there are no more than 900 Christians among Gaza's 2 million residents. Ten years ago, the number of Christians stood at 3,000 and the total population was around 1.5 million.
---
As UN Women's Meeting Ends, Episcopal Delegates Plan to turn Lessons into Action Back Home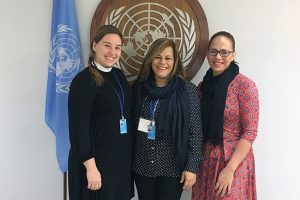 The 20 Episcopalians representing Presiding Bishop Michael Curry at the United Nations Commission on the Status of Women, or UNCSW, are wrapping up two weeks of meetings, conversations, activities and prayer in New York – an experience they say has emboldened them in their work toward improving the lives of women back in their dioceses.
---
Memphis Church's Reconciliation Project Reveals Untold Story of Slave-Trading Operation Next Door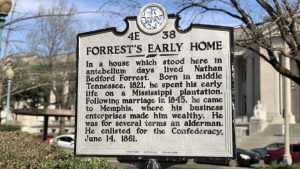 A previously little-known piece of history just outside the doors of Calvary Episcopal Church in Memphis, Tennessee, is being brought to light as the church prepares to dedicate a historical marker at the pre-Civil War site of the Forrest Slave Mart.
An existing historical marker on Calvary's block notes that it once was the home of Nathan Bedford Forrest, a 19th-century businessman and Confederate general, but the marker fails to convey the more disturbing context: Forrest was a slave trader, and from 1854 to 1860 he operated a slave mart on property that the church now owns and uses as a parking lot.
---
Episcopalians Prepare to Rally Against Gun Violence at March for Our Lives Events Across U.S.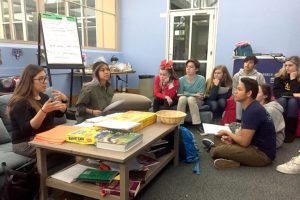 Episcopalians and Episcopal leaders from across the U.S. are traveling to Washington, D.C., this week for the March for Our Lives on March 24, while others plan to attend corresponding local rallies centered on a shared message: Something must be done to stop gun violence, especially against young people.
Episcopalians attending the Washington march or marches in other cities are encouraged to use the hashtags #MarchEpiscopal and #episcopal when posting to social media from the events, and follow the updates March 24 on Episcopal News Service.
---
From the ENS Archives: 'A Wrinkle in Time' Author Madeleine L'Engle on the Power of Storytelling
The March 9 release of Ava DuVernay's movie version of the classic — and controversial — children's book "A Wrinkle in Time" has brought a new awareness of author Madeleine L'Engle who was a world-renowned lay Episcopal playwright, poet and author of fiction and nonfiction books.
"A Wrinkle in Time" won the Newberry Award in 1963. L'Engle traveled widely from her home base in New York, leading retreats, lecturing at writers' conferences and addressing church and student groups abroad. In 1965 she became a volunteer librarian at the Episcopal Cathedral Church of St. John the Divine in New York. She later served for many years as writer-in-residence at the cathedral.
---
Episcopalians Gather for Day of Lamentation Amid calls for Action Against Gun Violence
Dozens of Episcopal cathedrals and churches across the country are marking a Day of Lamentation on March 14 for victims of gun violence by offering services, prayers, the tolling of bells and a demonstration at a gun manufacturer one month after the deadly shooting at a Florida high school.
The Episcopal events, coordinated by Bishops United Against Gun Violence, coincide with separate student-led plans for widespread classroom walk-outs and demonstrations that call for political action to address the seemingly relentless outbreak of mass shootings in the U.S.
---

Texas Church Sees 'the Kingdom at Work' in Longtime Wheelchair Ramp Outreach
Episcopal congregations have plenty of tools they can add to their outreach toolboxes: canned goods, used clothes, a warm meal, a place to sleep, coins for the laundromat, backpacks for students and sometimes just the patience to listen. At St. Mark's Episcopal Church in Corpus Christi, Texas, the tools of outreach include actual tools. But no carpentry experience is necessary.
For 17 years, Access Plus volunteers have gathered at least once a month to build wheelchair ramps for residents in need, and the ministry is still going strong. With 218 ramps completed, Access Plus is increasing the number of projects it takes on this year after receiving $12,000 from a local foundation.
---
Sewanee Seeks Untold Story of University's Ties to Slavery, Segregation in Reconciliation Project
"The Episcopal Church acknowledges its history of participation in this sin [racism] and the deep and lasting injury which the institution of slavery and its aftermath have inflicted on society and on the Church," the resolution said, and it called on each diocese to compile evidence of that complicity.
Racial reconciliation also is a goal of Sewanee's project, as it reaches beyond the campus to foster discussion in the community about these issues. One recent example was the Feb. 19 forum titled "Reading and Rereading History" featuring two Sewanee professors discussing symbols of racial injustice on campus. The event was held off campus to encourage a mix of students and residents to participate.
---

Episcopalians Confront Hard Truths About Episcopal Church's Role in Slavery, Black History
The Episcopal Diocese of New York Reparations Committee on Slavery is holding a Year of Lamentation to examine the diocese's role in slavery. It's one of a growing number of events across the United States as the Episcopal Church seeks racial reconciliation and healing among its congregations and wider communities.
---

Episcopal Church Shareholder Activism Works to Change Gun Sale Practices
The Episcopal Church's Executive Council in late January authorized its Committee on Corporate and Social Responsibility to join an attempt to convince Dick's Sporting Goods to abide by the Sandy Hook Principles developed to stem the tide of gun violence.
A little more than a month later, the Pittsburgh-based retailer announced Feb. 28 that it would stop selling assault weapons at its 35 Field & Stream stores.
---
Congregation Prays for Safety of Stranded Youths who set Fire in South Dakota Church Building
An Episcopal mission church building in South Dakota was damaged recently by a fire set by stranded youths seeking warmth and shelter from the cold. The congregation, while lamenting the damage to its guild hall, also has responded with compassion and forgiveness for those who caused the damage.
---
Church Leaders Express Grief, Call for Action After Florida High School Mass Shooting
Episcopal bishops are arranging for services of lamentation at churches around the country in the wake of the shooting at a Florida high school that left 17 students and faculty members dead, and the bishops and other church leaders are calling for political action against gun violence to end "these lethal spasm of violence in our country."
"The heart of our nation has been broken yet again by another mass shooting at an American school," Bishops United Against Gun Violence, a coalition of more than 70 Episcopal bishops, said in a statement released Feb. 16 following the Ash Wednesday massacre at Marjory Stoneman Douglas High School in Parkland, Florida.