Lent Madness Duo Shines Competitive Spotlight on Saints' Inspiring Stories
The bracket is packed with big names. The matchups can be intense. Individual results may hinge on last-minute momentum shifts. And in the end, only one competitor claims the title of champion.
March Madness? No, this is Lent Madness, and the saint who outlasts them all will be crowned with the Golden Halo.
---

Water: Common Good or Commodity?
The demand for water is expected to increase 55 percent by 2030 and at the same time global water resources may only meet 60 percent of the world's needs.
"Africa, India, the Middle East and Australia already are in crisis," said Maude Barlow, a former United Nations senior advisor on water, and an author, political activist and policy critic. Some say "the solution to the water crisis is to commodify water," she added, during a March 23 session on "Waters: Commons or Commodity" during Water Justice,  a global conference taking place at Trinity Church Wall Street in New York City and webcast worldwide March 22-24.
---
Episcopal Migration Ministries Launches Fundraising Campaign – Stand To Support Refugees
Episcopal Migration Ministries, the refugee resettlement agency of the Episcopal Church, invites participation in supporting its life-saving work through Stand To Support Refugees, a fundraising campaign to maintain a strong, viable ministry network to welcome those fleeing war, violence and persecution. Donations to Stand To Support Refugees will help strengthen important ministry to some of the most vulnerable throughout the world.
---

Episcopal Congregation Leads Effort to 'Green Up' Rust Belt City in Western New York
Easter comes less than a week before Earth Day this year. That closeness is more than a fact of the calendar for St. Luke's Episcopal Church in Jamestown, New York. It's a double calling to what the Rev. Luke Fodor terms "creation care."
The congregation at St. Luke's is at the center of a community project launched this Lent called "GreenUp Jamestown" that mixes Christian spirituality and environmental stewardship. GreenUp's initial slate of events is filled with eco-themed lectures and panel discussions arranged with the help of several partner organizations in the city. It culminates with an Earth Day program on April 22, though Fodor hopes the scope and support will continue to grow.
---

Episcopal Bishops Make Three-Day Journey into Diversity and Inclusion
In March 2015 in the aftermath of the August 2014 killing of Michael Brown in Ferguson, Missouri, the Episcopal Church's House of Bishops decided it was time to write a new letter to Episcopalians about racism. Then, some of the bishops had a realization.
"The first thing that we said was: 'We don't need to write a letter. We need to deal with these issues ourselves: power, privilege and race,'" said Diocese of Newark Bishop Mark Beckwith, describing a late-night meeting of bishops who had volunteered to write such a letter that took place in Salt Lake City during General Convention in 2015.
---

Episcopalians Join 'Native Nations' to Protest Pipeline in Nation's Capital
Episcopalians and other people of faith who marched through a cold rain here March 10 in the Native Nations Rise demonstration and rally did so as part of a traditional pattern of prayer, then action.
---

Episcopalians Differ on Church's Activism and Mixing Faith and Politics
Politics and religion. They're the topics you're not supposed to talk about, if you want to avoid a conversation filled with fireworks.
But in today's intensely polarized political climate, where policy debates often hinge on values and on how each side views the role of government in Americans' lives, those debates are being influenced by people speaking out as Christians, from evangelicals to Episcopalians and including Pope Francis.
---

Tiny House 'Village' for Homeless Developing with Help of Montana Church
A coalition of Episcopalians, architecture students and social service providers in Bozeman, Montana, are in the middle of an innovative project that aims to address homelessness in the city – 155 square feet at a time.
---

Curry, Jennings Take Lead in Supreme Court Brief on Transgender-Bathroom Policy
Presiding Bishop Michael Curry and House of Deputies President the Rev. Gay Clark Jennings are the lead signers on an amicus brief filed March 2 by 1,800 clergy and religious leaders in a U.S. Supreme Court case involving transgender-bathroom use policies.
---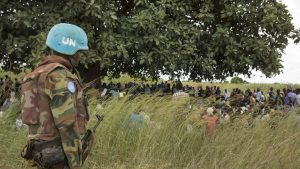 Episcopal Agencies Weigh Renewed Aid Efforts in South Sudan After Famine Declared
The relief agencies of the Episcopal Church and its Anglican partners are considering a possible expansion of their support of relief efforts in South Sudan after the United Nation's recent famine declaration, which has drawn increased international attention to the growing crisis in the country.
---

A 'Day of Pentecost Moment' at Lunch on the LSU Campus
Lately, the lunch ministry St. Alban's Episcopal Chapel has changed in a way that challenged how the people of St. Alban's lived out their call to be fully open to all God's people. This challenge came in the form of a language barrier because international students have begun finding their way to St. Alban's.
Over the past few semesters, the number of international students has grown. They now make up half of the lunch ministry participants.  "We did not intend for our C.S. Lewis lunch to be a ministry to international students," said Rollins. "But we are opening our doors and adjusting to receiving students from across the world."
---

Priest in America's 'Murder Capital' Brings Public-Health Approach to Gun Violence Prevention
St. Louis has been called America's "murder capital" after a recent spike in gun violence that resulted in more killings per capita than any other major U.S. city.
Chicago recorded the most total homicides in 2016 at 762, but for a smaller city like St. Louis, its 188 killings last year are part of an alarming local trend that has prompted a renewed focus – including by the Episcopal Diocese of Missouri – on the causes and possible solutions of such violence.
---

Immigrants' Fears Fuel Outreach at Maryland Church Targeted by Post-Election Racist Graffiti
The four hate-filled words were gone almost as quickly as they were discovered, scrawled across a sign and a wall at Church of Our Saviour in Silver Spring, Maryland, on the first Sunday after November's presidential election.
The Rev. Robert Harvey said the church waited long enough that day for authorities to take pictures of the graffiti before removing any trace of the message – "Trump Nation Whites Only" – and responding with messages of love and welcome.
---

Virginia Church Condemns White Supremacy After 'Alt-Right' Figure Moves to Neighborhood
An Episcopal church in Virginia is speaking out against white supremacy after a key figure in what is known as the "alt-right" movement took up residence mere blocks from the church in the historic Old Town Alexandria neighborhood.
Members of Christ Church Alexandria joined other local churches last month in a peaceful protest outside the apartment where Richard Spencer is reported to have set up shop, and another protest is planned for later this month.
---

Episcopal Church Executive Council reaffirms stand with Standing Rock
The Episcopal Church's Executive Council during the last day of its Feb. 5-8 meeting here reaffirmed its stand with the Standing Rock Sioux Nation.
Council members said the church pledges to "continue to support the action and leadership of the Standing Rock Sioux Nation as the salt and light of the nation in its unwavering support of the sacredness of water, land, and other resources and reminding us all of the sacred calling to faithfulness."
---

'Church Where it is': Forma Celebrates 20 Years of Grassroots Support for Episcopal and Other Christian Educators
Sustainability, "scrappy" churches, funeral home churches, even cave churches, and New York Times best-selling author and church planter Nadia Bolz-Weber were all part of the recent 20th-anniversary celebration of Forma in Garden Grove, California.
About 300 Episcopal, Lutheran, Presbyterian and other Christian educators from around the country joined the grassroots Episcopal-linked organization's Jan. 25-27 celebration, unofficially themed "meeting the church where the church is," according to Executive Director Bill Campbell.
---

In the Bleak Midwinter, Standing Rock Episcopal Ministry is Changing
Episcopalians in and around the Standing Rock Sioux Nation Reservation are seeing their ministry change as the camps formed by water protectors along the Missouri River protesting the Dakota Access Pipeline are slowly closing.
---
Trump Signs Dakota Access Pipeline Memo to Speed Process
While reaction to President Donald Trump's Jan. 24 actions designed to move forward both the Keystone XL and Dakota Access pipelines was swift, the immediate impact of his memoranda remained unclear.
---

Women's Marches: 'Episcopal Church is Here' and 'Cares About This'
Carrying signs reading "The Episcopal Church is Here" and "The Episcopal Church Cares About This," the Rev. LeeAnne Watkins and other Minnesota Episcopalians joined thousands of marchers in St. Paul on Jan. 21, sparking "a miserable day of puddles and ice" into the beginnings of a movement.
---

Christians Worldwide Celebrate Unity by Praying for One Another
What began as a small gathering with a big dream has transformed into a commitment by millions of Christians around the world to pray for one another.
First begun in 1908, the Week of Prayer for Christian Unity runs Jan.18-25 with hundreds of celebrations and gatherings: from Houston to Boston; Waterloo, Belgium, to the Vatican; in Episcopal and Roman Catholic cathedrals and churches; with United Methodists and Lutherans and scores of other denominations.
---

Vermont Diocese Purchases Rock Point Solar Array
The Episcopal Church in Vermont recently completed its purchase of the Solar Installation (aka the Solar Farm) at Rock Point, the diocese's 146-acre center in Burlington best known for its school, conference center, community gardens, and hiking trails. The 35-tracker, 147-kilowatt solar array, which was previously under the ownership of AllEarth Renewables, was originally valued at close to $1million. The diocese acquired it for $269,700 with the help of early contributions to the Rock Point Partnership Campaign—an ongoing initiative to preserve and improve Rock Point—and a loan from the Bishop Butterfield Loan Fund.
---

Reinventing St. Stephen's Episcopal Church in a Shopping Center Took 'A Lot of Miracles'
At first glance, Village Plaza looks like any other shopping center in the Fort Worth metro area – until you see that there's not one but three  storefront churches. The newest, situated between Yori, an Asian fusion restaurant, and Thai Thip restaurant is St. Stephen's Episcopal Church.
---
Reorganized Diocese of Forth Worth is 'Participating in Resurrection'
For Episcopalians who think of "church" as a place to go rather than a thing to be, the continuing Diocese of Fort Worth has some stories to share.
They are stories of more than reorganizing – or even resuscitating – a diocesan and congregational structure after a majority of former clergy and lay leaders voted in November 2008 to leave the Episcopal Church. They are stories of resurrection – of Episcopalians reinventing church and, in the process, themselves.
---

First Latina Dean Inspires Through Leadership, Strong Faith
Remembering the sounds of traditional Anglican hymns accompanied with merengue beats transport the Very Rev. Miguelina "Lina" Howell back to the Episcopal Church in the Dominican Republic, where her fire for ministry was ignited.
---

Pennsylvania Priest Rallies Support for Displaced Iraqi Christians
The way the Rev. Christopher Bishop tells it, it took just one pivotal conversation for him to feel a powerful calling to travel to northern Iraq as an unofficial Episcopal ambassador to displaced Christians, whose lives have been threatened by the rise of the group known as Islamic State, or ISIS.
---

Episcopalians Helping in South-Eastern US Fire Recovery
Episcopalians in the path of catastrophic wildfires that have destroyed a large swath of the foothills of the Great Smoky Mountains in the south-eastern US are working to help their communities in the aftermath. "Several of our parishes are working with local fire and police departments to begin to collect items that are of need as we move through the rescue phase of the response to the fires," Diocese of East Tennessee Bishop George Young said on Tuesday.
---

Water Protectors and Supporters  Rejoice Over Victory for Native Americans
Episcopal and interfaith chaplains were about to raise a tent in the Oceti Sakowin Camp on Dec. 4 when a message runner approached and called them to join the crowd already gathering around the sacred fire in the camp's center. They left the tent, poles inserted, on the ground, and they went.
As they joined the hundreds of people around the fire, Standing Rock Sioux Tribal Chairman Dave Archambault II took to the microphone to announce that that federal government said it would not allow the Dakota Access Pipeline to cross under the Missouri River at Lake Oahe, the drinking water source for some 8,000 people living on the Standing Rock Reservation, which covers 2.3 million acres in North and South Dakota.
---

Tulsa Youth Summit Encourages Empathy
This year has seen unrest and social divides brought to the forefront of the national news.  With the many conflicting and contradictory viewpoints, the clergy and staff at Trinity Episcopal Church in Tulsa, Oklahoma, noticed that young people were ill-equipped for informed participation in these conversations.  With that in mind, the Acceptance Youth Summit was conceived.
---

Evangelism Matters to the World, Say 400+ Episcopalians and Anglicans
While some people might think that an Episcopal evangelist is a rare breed, more than 400 evangelism veterans and fledgling practitioners spent Nov. 18-19 being inspired, finding camaraderie and learning new ways to live up to that slogan during the Evangelism Matters conference at Church of the Transfiguration here.
---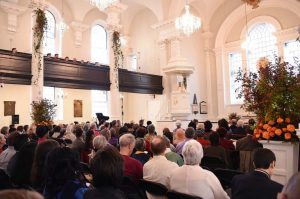 St. Paul's Chapel Celebrates 250 Years in Lower Manhattan
Two hundred and fifty years to the day it opened its doors in Lower Manhattan in what was then the countryside, St. Paul's Chapel celebrated its anniversary with a special worship service and setting off a yearlong celebration.
---

In North Baltimore, Joint Ministry of 'Lutherpalians' Marks First Anniversary Together
For two mainline Protestant congregations – one Episcopal, one Lutheran – that began worshipping together on Nov. 1, 2015, ministry truly is better together.
---

500 Interfaith Clergy and Laity Answered the Call to Stand with Standing Rock
In a historic show of interfaith support and solidarity, more than 500 interfaith clergy and laity answered a call to come to North Dakota to stand in peaceful, prayerful and lawful solidarity Nov. 3; and to bear witness with the Standing Rock Sioux Nation as they continue to protect the tribe's sacred land and water supply.
---

Episcopal Congregations and Community Partners Build Affordable Housing
In approximately 12 million U.S. households, families spend more than half their annual income on housing and millions more spend above the 30 percent generally considered affordable, according to the Episcopal Church Office of Government Relations. Now, some Episcopal Church congregations in Ohio and California are hoping community partnerships and creative housing initiatives can transform lives.
---

Pilgrims Bear Witness to Racial Reconciliation at Georgia Lynching Site
In an effort to confront racism and heal from it, 175 people made a pilgrimage Saturday, Oct. 22 to Macon and marked where a 1922 lynch mob dumped the body of John "Cockey" Glover.
"Telling the truth is the only path to real healing," Catherine Meeks told the crowd assembled inside the Douglass Theatre, a historic landmark in Macon established by one of the city's first African-American entrepreneurs. "People want to say that that the truth will lead to division, but it's the lies that keep us divided."