Volunteers Pitch in to Clean Up Georgia's Honey Creek Retreat Center
Some 1,300 people were scheduled to arrive on Honey Creek Retreat Center's grounds on Sept. 17 for a revival featuring Presiding Bishop Michael Curry. Instead, 30 volunteers from the Diocese of Georgia spent the weekend clearing debris left by Hurricane Irma.
---

Episcopal Racial Reconciliation Event Draws Large Crowd in Lexington, Virginia
More than 150 community members crowded a middle school cafeteria in Lexington, Virginia, Sept. 13 to hear a lecture on race and civil discourse presented by Wornie Reed, director of the Race and Social Policy Research Center at Virginia Tech and professor of sociology and Africana studies there.
---
Time Includes Katharine Jefferts Schori in Series on Women Changing the World
Time magazine's new multimedia project, Firsts: Women Who Are Changing the World, features the Rt. Rev. Katharine Jefferts Schori, 26th presiding bishop, as one of 46 profiled women.
---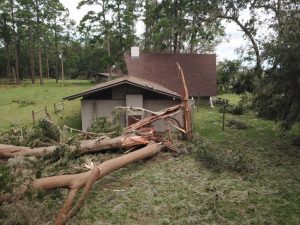 Irma's Destruction Forces Postponement of Georgia Revival
A planned Sept. 17 Episcopal revival in the Diocese of Georgia, featuring Presiding Bishop Michael Curry, has been postponed in the wake of Hurricane Irma's sweep over that state.
"Fearless Faith, Boundless Love," planned as old-fashioned Sunday afternoon tent meeting at the diocese's Honey Creek Retreat Center, is now set for Jan. 20 at the same venue. About 1,300 people were expected to attend.
---
Episcopalians Say Trump's DACA Decision is Not the Last Word
Many Episcopalians vowed to fight to preserve the federal immigration policy known as DACA, or Deferred Action for Childhood Arrivals, and to support the 800,000 "Dreamers" it impacts, after the Trump administration announced Sept. 5 an end to the program.
---

'All Saints' Movie Details How Refugees Saved Struggling Episcopal Church
After a split over theology in the 1990s, there were only 12 members of the congregation left at All Saints' Episcopal Church in Smyrna, Tennessee, a suburb south of Nashville. The church couldn't pay its mortgage. By 2007, the church was in danger of closing.
Today, 130 to 150 parishioners attend Sunday services. Many worshipers filling those pews – barefoot after leaving their flip-flops at the door – are Karen refugees, an ethnic minority from Burma (called Myanmar by its military government). The church's mortgage is paid off. It even has a community farm now.
At All Saints', it was the refugees who saved the Americans.
---

Episcopalians Face into 'Catastrophic and Life-Threatening' Hurricane Harvey
As Hurricane Harvey stalled over the Houston area causing catastrophic and deadly flooding, Episcopalians across south Texas are assessing the unprecedented storm's damage while finding ways to help their neighbors.
Episcopal Relief & Development staff is coordinating with the dioceses of Texas, West Texas and Western Louisiana on potential assessment and response efforts.
---

Episcopal-Supported Intentional Community in Charlottesville Embodies Radical Discipleship — and Permaculture
Cofounded in 2015 by Episcopal youth leader Grace Aheron and the Rev. Neal Halvorson-Taylor of Grace Church, Red Hill, the Charis Community is a gathering of people living together under the shared values of simplicity, prayer and hospitality. This intentional Christian community is housed at an unused Episcopal Church property. The eight acres owned by the Diocese of Virginia include a small cobblestone church, a ranch-style house, a food garden and a forest of tulip poplars and dogwoods. The Charis Community is a partnership with Grace Church, a nearby mission parish. This Charis mission is supported by the church's vestry, and members keep in contact with Halvorson-Taylor weekly on an informal basis.
---

Pressure Mounts to Remove Confederate Symbols from Episcopal Institutions
Parishioners who attended Sunday worship at Christ Church Cathedral in Cincinnati, Ohio, on Aug. 20 should not have been surprised that Dean Gail Greenwell's sermon addressed the issue of racism, given the national outcry over a large white supremacist rally in Virginia the weekend before.
Those hate groups had gathered in defense of a statue of Confederate general Robert E. Lee in Charlottesville. What may have surprised some Cincinnati parishioners is the Confederate symbols in their own cathedral.
---

Eclipse-Watching Episcopalians See a Glimpse of the Holy in Celestial Display
The Rev. Ken Brannon chose to close St. Thomas Episcopal Church for the morning on Aug. 21, because when you live in Sun Valley, Idaho, or any other point along the path of a total solar eclipse, no one wants to spend peak viewing hours indoors.
---

Wisconsin Clergy Members Take Corner Prayer Ministry to County Fair
The theme of the Diocese of Milwaukee's Leadership Days in the spring was trying new things to engage the community. The Rev. Mindy Valentine Davis decided to respond to that call by taking her cue from a Milwaukee ministry called Collars on the Corner.
Along with members of her parish, St. James Episcopal Church in West Bend, Wisconsin, she spent six days at the Washington County Fair at the end of July sitting at a booth inviting people to submit their prayers in prayer boxes.
---

Episcopalians Rally Against Hate as White Supremacists Bring Violence to Charlottesville
When white supremacists descended on Charlottesville, Virginia, over the weekend, sparking violence that left a counter-protester dead and dozens more injured, Episcopalians and other people of faith were among the most visible groups standing in solidarity against hate and bigotry.
---

'Mainstream, Not Extreme' was Sentiment for Interfaith Advocacy Day at Texas Capitol
A broad coalition of mainstream Texas religious leaders spoke out Aug.1 against Senate Bill 3 and other so-called "bathrooms bills" that would discriminate against transgender youths and adults.
---

'Sanctuary' Defines San Francisco Congregation's Sense of Mission on More than Immigration
The small Episcopal congregation of St. John the Evangelist in San Francisco, California, has embraced its role as a "sanctuary" church in ways that go well beyond the current political debate over federal immigration policy.
---

Donkeys Help Connecticut Retreat Center Celebrate its Rebirth After 5 Years Closed
Trinity Retreat Center has 55 acres in rural northwest Connecticut, a history that dates back more than 100 years, ties to a prominent New York City congregation and plans to reopen after closing five years ago.
And it has donkeys – five of them, going on six.
---

Houston Soccer Team Brings Identity and Community to Young Refugees
Brazilian playwright and journalist Nelson Falcão Rodrigues once said, "In football (soccer), the worst blindness is only seeing the ball," a sentiment with which Houston: reVision CEO Charles Rotramel would probably agree.
On a mildly hot Saturday in Spring, Texas, Rotramel stands next to the soccer field watching the reVision FC soccer team warm up with a ground passing game. He sees a team that has faced more adversity in their young lives than most of us will in a lifetime. The ball glides across the ground as the team of mostly African high school students comes to life.
---

Curry, Jennings Urge Texas House Leader to Continue Opposition to Texas 'Bathroom Bill' Noting General Convention Planned 2018 Meeting in Austin
Presiding Bishop Michael Curry and House of Deputies President the Rev. Gay Clark Jennings have written a second letter to Texas Speaker of the House Joe Straus urging him to stand firm in his opposition to that state legislature's effort to pass a "bathroom bill" during the current special session.
---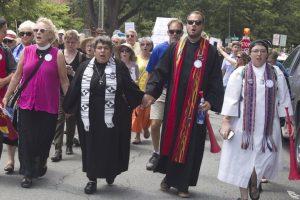 Virginia Interfaith Clergy Demonstrate in Opposition to the KKK
Over 1,000 counter-demonstrators in Charlottesville, Virginia, neutralized a rally of some 30 Ku Klux Klan members in Justice Park on July 8. The counter-demonstrators' chanting, horn-blowing and screaming rendered the words of the Klan inaudible more than a couple of feet away. A newly formed interfaith group, the Charlottesville Clergy Collective, was among the leading organizers of the counter-demonstration.
---

Priest Declares 'Last Howlelujah Tour' with Ailing Dog a Barking Success
The priestly pup Nawiliwili "Wili" Nelson has become quite the celebrity from New Orleans, Louisiana, to Las Vegas, Nevada, and he concluded his road trip with the Rev. Bill Miller on July 16 by topping $10,000 raised for animal wellness charities along the route of their "Last Howlelujah Tour."
---

Episcopal Faith is Common Ground for Kansas Lawmakers on Opposite Sides of Political Aisle
Kansas state Reps. Brandon Whipple and Lonnie Clark would seem at first glance to have little in common. Whipple is a young Kansas transplant with a growing young family, and Clark is a retiree who grew up in the state.
Their differing backgrounds extend to their politics: Whipple is a Democrat and Clark is a Republican. But the two men have a faith connection. Both are Episcopalians and are thought to be the only two in the part-time Kansas Legislature.
---

Haiti Partnership Committee Offers Report, Looks to the Future
At its recent meeting in June in Port-au-Prince, the Haiti Partnership Committee took steps that enable progress on three projects: Holy Trinity Cathedral Complex, St. Barnabas Agricultural College and St. Vincent's Center for Handicapped Children.
The Haiti Partnership Committee was established in 2016 through a memorandum of understanding between the Episcopal Church and the Diocese of Haiti, and is charged with assisting in the three projects. The group first met in February 2017. The Haiti Partnership Committee is comprised of a team of four members appointed by the Diocesan Bishop of Haiti and four members appointed by the Presiding Bishop. The work of the Haiti Partnership Committee continues as the diocese prepares to call its next bishop.
---

Northern California Youth Trek Centered on Racial Reconciliation, Environmental Justice
A great movement doesn't always begin with great big steps. And young people in the Diocese of Northern California are discovering that when it comes to racial reconciliation and environmental justice, the small steps they are taking may help others to understand what it takes to break down barriers and truly become the family of God.
---

Sioux Episcopalians Celebrate Faith Family, Seek Oneness Through Jesus at Niobrara Convocation
It is a tiny congregation in one of the poorest counties in the United States, but Two Bulls has long dreamed of hosting the Niobrara Convocation, an annual gathering of Sioux Episcopalians. So last week, in an encampment full of welcoming smiles, few smiles were broader than that of Two Bulls as the 145th Niobrara Convocation convened in a big-top tent next to his church.
---

Standing with Standing Rock Taught Episcopalians about Solidarity
The Rev. John Floberg has more than 3,000 pounds of flour in his garage. Depending on your point of view, the bags symbolize either the Episcopal Church's mission and ministry or the law of unintended consequences, or both.
Floberg, priest-in-charge of Episcopal congregations on the North Dakota side of the Standing Rock Sioux Reservation, salvaged the flour when the Oceti Sakowin Camp of water protectors near Cannon Ball, North Dakota, was disbanded. It's what is left after he and others distributed hundreds of bags to area food banks.
---

Teaching Bishops to be Bishops
How do you learn to be a bishop? For most of the Episcopal Church's life, new bishops learned on the job with little or no outside help.
It's only in the last 24 years that the church has had a formal process for such learning. That process, run by the College for Bishops, is about to undergo a major transition.
---

Episcopal Migration Ministries Hosts World Refugee Day Interfaith Conversation
Episcopal Migration Ministries hosted a six-person panel during a June 20 interfaith conversation and prayer for World Refugee Day at the Episcopal Church Center in New York. An iftar, the meal eaten by Muslims after sunset during Ramadan, followed the panel conversation. EMM encouraged congregations across the country to host similar interfaith conversations, and the June 20 panel was recorded on video for future use, said moderator Allison Duvall, EMM's manager for church relations and engagement.
---

Collars on the Corner Brings Prayer, Spiritual Connection to Streets of Milwaukee
Luria Sampson had plans Saturday morning, and they didn't include prayer – not at first.
Driving east down West Center Street in Milwaukee, he was on a course for his daughter's house, his thoughts focused on her safety in a city suffering through a surge in shooting deaths. But when he slowed for the stoplight at 51st Street, an unexpected sight gently altered his morning travels.
Sampson, 59, stopped his car, and prayer found its way into his plans.
---

Goats Hired to Clear Utah Church's Weedy Lot Become Unexpected Evangelism Tool
The Rev. Mary Janda has new perspective on Matthew 25:33. If God is to separate the righteous from the cursed like sheep from goats, Janda's recent experience at St. Stephen's Episcopal Church in West Valley City, Utah, has gotten her thinking Matthew was a bit unfair to the goats in destining them for eternal punishment.
"I mean, give the goats a break," said Janda, the vicar at St. Stephen's.
Janda is not alone in her newfound affection for these biblically maligned animals. She, her congregation and its neighbors spent nine eventful days in May getting to know a flock of 108 goats – give or take a few, due to one death and three births. The goats proved surprisingly useful in taming the church's field of weeds, when they weren't escaping and getting into mischief in the neighborhood.
---

Wyoming Ordains its First Native American Female Priest
On May 26, the Rev. Roxanne Jimerson-Friday became the first Native American woman from the Wind River Indian Reservation, in the state of Wyoming, ordained to the priesthood of the Episcopal Church. The ceremony took place at Our Father's House Episcopal Church in Ethete, with the Rt. Rev. John S. Smylie, bishop of the Episcopal Diocese of Wyoming, presiding. The Rev. Tommy Means gave the sermon. Jimerson-Friday is the first woman Shoshone tribal member to be ordained to the Episcopal priesthood.
---

Church Pension Fund plans Major Revisions for Greater Flexibility in a Changing Episcopal Church
The biggest changes to the Church Pension Fund in the past 60-some years are due to go into effect next year. They are designed to better serve a changing Episcopal Church and its clergy and lay employees while sustaining the fund and maintaining the value of retirement benefits.
---

California Diocese Hosts Eco-Justice Conversation
"The work of saving God's creation is nothing less than the work of God." Presiding Bishop Michael Curry spoke these words during a May 19 sermon framing creation care in terms of the Jesus Movement here at Grace Cathedral.
"This is God's world," he said, encouraging those present to affirm and to encourage one another in the care of God's creation.
---

Presiding Bishop Preaches on 'Forgiveness, Repentance, Healing and Reconciliation' in Haiti
Presiding Bishop Michael Curry preached a sermon "on the occasion of the liturgical signing of the covenant of reconciliation" on May 23 at the Episcopal Theological Seminary in Port-au-Prince, Haiti. All clergy in the diocese attended the special liturgy.
"Mutual forgiveness and repentance, healing and reconciliation are hard work and they often take time. Healing and reconciliation do not happen quickly. But it happens, if we are willing, to allow God's grace to work in us, for God's grace is sufficient. God is able," said Curry in his sermon.
---

Episcopalians, Methodists Propose Full-Communion Agreement
A group of Episcopalians and Methodists has released its proposal for full communion between the two denominations.
Full implementation of the proposal will take at least three years. The Episcopal Church General Convention and the United Methodist Church General Conference must approve the agreement, which culminates 15 years of exploration and more than 50 years of formal dialogue between the two churches. General Convention next meets in July 2018 in Austin, Texas. The General Conference's next meeting is in 2020.
---

Massachusetts' 'B-PEACE for Jorge' Honors Murdered Teen by Targeting Root Causes of Violence
More than four years after the unsolved murder of 19-year-old Jorge Fuentes, a group of Episcopalians in Boston, Massachusetts, will again spend Mother's Day walking for peace in his name.
---

Episcopalians Advocate for Protecting God's Creation at Peoples Climate March and Beyond
Episcopalians from across the United States joined tens of thousands of people on April 29 for the Peoples Climate March in Washington, D.C., and for hundreds of sister marches in cities around the world.
---

Episcopal Church is 'Awakening the Spirit' in West Missouri Revival
It is safe to say that never has an Episcopal revival competed with a Kentucky Derby party or been the unofficial opening act for a Garth Brooks concert.
Until now.
On the afternoon of May 6 in the Power & Light District of downtown Kansas City, Missouri, all three events coincide in what those involved in planning "Awakening the Spirit in West Missouri" say will be a perfect opportunity to show the city what the Episcopal branch of the Jesus Movement is all about.
---

Jennifer Baskerville-Burrows Becomes 11th Bishop of Indianapolis, First Black Woman to Lead Episcopal Diocese
The Rev. Jennifer Baskerville-Burrows was ordained and consecrated the eleventh bishop of Indianapolis April 29, making her the first black woman to lead a diocese in the history of the Episcopal Church and the first woman to succeed another woman as diocesan bishop.
---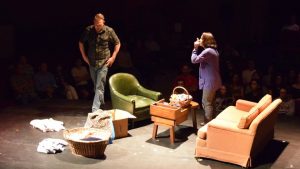 Congregation's Play About Drug Epidemic Aims to Bolster Community Support for Recovery
St. Luke's Episcopal Church in Jamestown, New York, wanted to do its part to help to combat the prevalence of opioid addition and overdose deaths in Western New York, but the congregation was wary of duplicating the work of well-established health and social service organizations.
So, St. Luke's chose to support the cause the best way it could – by staging a play.
---

Former Virginia Tech Chaplain Looks to Massacre's Aftermath for Lessons in Healing
When a gunman opened fire killing 28 fellow students, four professors and himself 10 years ago on the campus of Virginia Tech, word of the massacre reached the Rev. Scott Russell through a news broadcast.
Terrifying details were being reported on the TVs at JFK International Airport in New York City. Russell, in airport customs after returning from vacation in Germany, was paralyzed as he learned of developments in Blacksburg, Virginia, where he was the associate rector at Christ Episcopal Church and campus minister.
---

'Unholy Trinity' Serves as Call to Action on Poverty, Racism, Gun Violence
Eager to work toward solutions to the problems of poverty, racism and gun violence, Episcopal bishops, clergy members and lay people gathered for three days last week for a conference in Chicago, the American city that recorded the most homicides in 2016.
The city's recent surge in deadly violence provided a grim backdrop for Bishops United Against Gun Violence's "Unholy Trinity" conference held April 20-22 at the Lutheran School of Theology in the city's Hyde Park neighborhood. But speakers regularly emphasized that the problem is not isolated to one city, nor is the outlook as bleak as many news headlines suggest.
---

Georgia Lynching Victims Remembered as Racial Reconciliation Efforts Expand
In one of the darkest corners of American history – the lynching of black victims by white attackers – details of many of these decades-old killings have long remained a mystery as present-day researchers seek to identify the victims and bring racial healing to their communities.
Those efforts have gained steam in Georgia, where last year the Episcopal Diocese of Atlanta launched a three-year series of pilgrimages intended to bring these victims and their stories to light. At the same time, a group of residents in one west-central Georgia community, LaGrange, has been working with police, civic leaders and churches to come to grips with a nearly forgotten lynching in their city.