CSI Recommits to Gender Equity in Society
The Church of South India leadership has stated in unequivocal terms that it is committed to gender equity in society. Speaking on the occasion of the inauguration of the two-day orientation to representatives from the different CSI dioceses covering the five southern states in India,  the CSI Moderator,  The Most Revd. Thomas K Oomen,  said that the Church has always been committed to gender equity and will continue to do that in both society and in the Church.
---

PWRDF Works with Habitat for Humanity to Provide Water to Pikangikum First Nation
Ten more homes in the First Nations community of Pikangikum in Northern Ontario will have cleandrinking water by the end of 2017 as a result of a joint effort by the Primate's World Relief andDevelopment Fund (PWRDF), Habitat for Humanity Manitoba, and grassroots Anglican group Pimatsiwin Nipi.
---

Anglicans' Hopes High as UN Conference on Economic Empowerment of Women Opens
Optimism, enthusiasm and expectation filled the air as Anglican, Episcopal and Mothers' Union delegates from more than 20 countries around the world gathered for the opening day of the 61st session of the UN Commission on the Status of Women in New York on March 13.
---

Anglican Board of Mission Makes Twin Track Easter Appeal
The Anglican Board of Mission, which is the national mission agency of the Anglican Church of Australia, has called on Anglicans to support partners in Jerusalem and Australia to give the gifts of health and education this Easter.
---
Faith Groups Stand Together Against Politics of Hate and Fear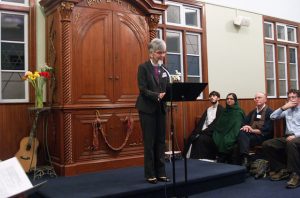 People of many faiths met twice early in March in Vancouver to show support for one another at two well-attended public meetings that celebrated diversity and took a stand against acts of hatred.
Both gatherings were in reaction to concerns about an upsurge in anti-Semitism, Islamophobia and other forms of social conflict that seem to have accompanied the inauguration of the new administration in the United States.
---

Anglican Evensong in St. Peter's Basilica
Another milestone in relations between Canterbury and Rome took place in the Vatican on Monday as a traditional Anglican Choral Evensong was celebrated for the first time in St. Peter's Basilica.
---

Mothers Union Calls for Women's Voices to be Heard in Peace and Reconciliation
To coincide with International Women's Day, the Mothers Union has issued a statement urging more involvement for women in peace negotiations:
We live in a fundamentally unequal world. People's quality of life, the opportunities they have and their experiences of the world differ dramatically based on factors such as their place of birth; economic standing; age; marital status; disability; sexuality and gender.
---
World Council of Churches 'Gravely Concerned' Over Israel's Travel Ban
The World Council of Churches March 9 expressed grave concern about a new law passed March 8 by the Knesset which reportedly forbids granting entry visas to foreign nationals who call for economic, cultural or academic boycotts of either Israel or the Israeli settlements in the occupied Palestinian territories. The 'Entry to Israel Act (Denial of Visa to Non-Residents Who Knowingly Call for a Boycott on Israel)' apparently makes no distinction between boycotting Israel proper and boycotting products of the settlements, which are widely considered illegal under international law.
---

Anglican Church in Burundi Takes Action to Help Families Threatened by Famine
The Anglican Church of Burundi, in conjunction with Christian Aid and its partners, has initiated an emergency programme to support some of the many vulnerable people facing severe famine across the country.
---

Anglican Board of Mission Makes Emergency Appeal for East Africa
The Anglican Board of Mission – the national mission agency of the Anglican Church of Australia – has launched an emergency appeal as the crisis worsens in parts of East Africa due to extreme drought. It hopes to raise 50,000 Australian dollars.  In a statement the ABM said: "Our partners, the Episcopal Church of South Sudan & Sudan and the Anglican Church of Kenya are responding to this urgent humanitarian emergency.  Famine has been declared in parts of South Sudan (and other countries like Somalia, Ethiopia, Yemen) due to protracted drought. The people mostly affected are Internally Displaced Persons (IDPs) and the communities where they are hosted. More than three million people have been forced to flee their homes and nearly 7.5 million people are in need of humanitarian assistance and protection as a result of the ongoing conflict."
---

Bishop of Worcester in Peru to meet new diocesan Bishop
Bishop John Inge of Worcester in the English Midlands, whose diocese has longstanding links with Peru, has travelled there this week to meet the new diocesan Bishop, the Rt Revd Jorge Aguilar and suffragean Bishop Alejandro Mesco. They will be exploring how they can support and learn from one another in the exercise of episcopal ministry in such different circumstances. Bishop John will also be inviting them to attend his diocesan clergy conference this September in England.
---
Churches Across London Planting Trees to Make Neighbourhoods More "Bee Friendly"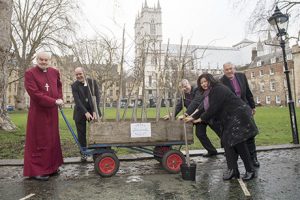 A tree planting programme for London's churches supported by the Mayor of London, is aiming to make neighbourhoods greener and more attractive for bees. The Conservation Foundation's Trees for Sacred Spaces project is enabling churches in the London, Southwark, Chelmsford and Rochester dioceses to plant trees that support bees and other pollinators as part of the Mayor's ambition to make London one of the greenest cities in the world. The tree plantings will also offer an opportunity for churches to organise events and ceremonies that involve members of other faiths in their parishes to celebrate and help to enhance the environments that people of all faiths and no faith share.
---

Archbishop of Cape Town Speaks Out About Water "Inequality"
The Archbishop of Cape Town, Thabo Makgoba, has said the problem of water supply and sanitation illustrates why South Africa "is one of the most unequal countries in the world." The Archbishop also described the problem of drought as one of the biggest risks facing South Africa's businesses – causing food shortages, price increases and the loss of jobs for casual workers.
---

Archbishop of Jerusalem Criticises US Immigration Restrictions
Archbishop Mouneer Hanna Anis, Primate of the Anglican Province of Jerusalem and the Middle East, has described President Trump's decision to restrict entry to the United States from seven Muslim-majority nations as a "naive" solution based on "generalisation and discrimination." He also criticised the decision to prioritise the refugee applications of Christians in the Middle East: "I was very sad to hear about President Trump's decision, and fear it will not contribute to the security of the United States in any way. I appreciate the right of the government to protect the nation from terrorism, but this will not happen by preventing Muslims from coming to the country. The Oklahoma City bombing, we recall, was conducted by an American, not a Muslim."
---
Archbishop of Canterbury and Ecumenical Patriarch Commit to Tackling Modern Slavery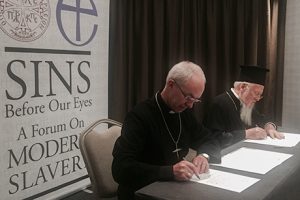 The Archbishop of Canterbury and His All-Holiness Bartholomew of Constantinople have pledged to fight modern slavery in its various forms. Signing a joint declaration condemning modern slavery at a forum in Istanbul, they vowed to :
Condemn all forms of human enslavement
Commend the efforts of the international community
Pray for all victims
Repent for not doing enough to curb modern day slavery
Appeal to governments to implement strict modern day slavery laws
Urge members of the Orthodox Church and Church of England to become educated, raise awareness and take action
Commit to establish a joint taskforce for modern day slavery, looking at ways for how the Orthodox Church and the Church of England can work together
---

Christian Leaders Express Solidarity with Muslims Following Quebec Attack
Anglicans and other Christian leaders have expressed their "sympathy and solidarity" with Muslims following a deadly attack Sunday night on a mosque in the Ste-Foy neighbourhood of Quebec City.
The attack, which left six people dead and 19 others wounded, occurred just before 8 p.m., Jan.29, when a gunman opened fire while evening prayers were underway at the Islamic Cultural Centre of Quebec.  Police have charged Alexandre Bissonnette, 27,  with six counts of first-degree murder and five counts of attempted murder.
---

Egyptian Anglicans in Peace Building Partnership with Bibliotheca Alexandrina
The Anglican Episcopal Diocese of Egypt has announced a landmark partnership with the Bibliotheca Alexandrina (Alexandria Library) to advance co-operation in the art, science, culture, peace-building, dialogue and the combating of extremism. The Bibliotheca Alexandrina is a modern organisation designed to "recapture the spirit" of the ancient library of Alexandria – one of the world's earliest such institution.
---

European Diocese Explores Implications of "Post-Brexit Britain"
The Church of England's Diocese in Europe has begun exploring the implications that Britain's decision to leave the European Union (EU) might have on British-national clergy deployed to the continent. At present, as members of the EU, British nationals – including clergy – can travel, reside, and work in any of the other 27-member states without requiring visas or work permits. That may change when Britain leaves the EU. There are also questions about whether the reciprocal health-care arrangements for citizens of EU member states will also continue to apply to British nationals once the UK completes the withdrawal process.
---

Archbishops Call on Christians to Repent of Differences
The Archbishops of Canterbury and York have called on Christians to repent of the divisions between churches. In a joint statement issued to mark the Week of Prayer for Christian Unity, the two primates of the Church of England, Justin Welby and John Sentamu, reflect on the 500th anniversary of the Reformation. They say that while it directly contributed to "great blessings" felt by many Christians, it also caused "lasting damage . . . to the unity of the Church, in defiance of the clear command of Jesus Christ to unity in love."
---

Church Responds to Devastating Cyclone Vardah
Church leaders from the diocese of Madras distributed food parcels and other aid to some of the thousands of people displaced by Cyclone Vardah. The cyclone hit Chennai on 12 December last year, killing 10 people. It was the strongest storm in the region for two decades. Trees were uprooted, cattle killed and buildings damaged. Even modern buildings like the Hyatt Regency hotel were severely affected – with many windows blown out of the structure. Many huts and asbestos homes lived in by poorer people were destroyed.
---

Anglican Church of Burundi to Plant 10 Million Trees in Five Years
The planting of trees to mark special occasions like confirmations, baptisms and weddings is an increasingly popular practice in many areas of southern and central Africa, after it was suggested and promoted by young Green Anglicans. But the Province of Burundi is going a step further and is looking to plant one tree for every one of the 10 million-strong population of the country. The church hopes to reach its "One Person, One Tree" goal within the next five years.
---

Security Services Foil Christmas Day Cathedral Terror Plot
Police and security services in Australia say that they have foiled a Christmas Day terror attack that had been planned against Melbourne's Anglican Cathedral. In a joint operation involving more than 400 heavily armed officers, the Australian Security Intelligence Organisation (ASIO), the Australian Federal Police and Victorian State Police arrested six men and one woman as they executed five warrants in the north of the city.
---

Bishops Respond to Berlin Christmas Market Terror Attack
Bishops from the Church of England and the US-based Episcopal Church with responsibility for churches in Europe have responded to last night's terror attack on a Christmas market in German's capital Berlin. A Polish lorry driver was shot and killed and his lorry used to plough into the crowds enjoying the festive market, killing 12 people and injuring many more.
---

Common Declaration Offers Insights for Anglican Communion relationships
The body responsible for promoting unity, faith and order within the Anglican Communion has welcomed the Common Declaration made by Pope Francis and Archbishop Justin Welby in October. The Inter-Anglican Standing Commission on Unity, Faith, and Order (Iascufo), said that the Common Declaration's affirmation that Anglicans and Roman Catholics are brothers and sisters in Christ despite significant differences "offers helpful insights into relationships not only with Catholics and our other ecumenical partners, but also within the Anglican Communion."
---

Church of Pakistan Reflects on Archbishop Justin Welby's Visit
The Church of Pakistan has reflected on the "short and brief, but very hectic and blessed" visit by the Archbishop of Canterbury earlier this month. Archbishop Justin used the visit to meet with victims of recent terror attacks in the country. The Church's co-ordinating officer, Mano Rumalshah, said that the visit "fulfilled its main purpose of feeling the pain of the wounded and sharing the hope of healing and reconciliation offered by our Lord Jesus Christ."
---

Historic Gathering of the Portuguese Speaking Dioceses of Africa
Young people from three Portuguese speaking dioceses in Mozambique and Angola have this week taken part in an historic first joint meeting. The two countries are both Portuguese-speaking, but as they are separated by more than 2000 km, contacts between them have been few up to now. But now young people from the dioceses of Lebombos, Niassa and Angola, gathered from 25 to 30 November at the diocesan centre in Maciene, in the Mozambique province of Gaza.
---

Anglicans in Spain Welcome Pilgrims on the Camino de Santiago
The Iglesia Española Reformada Episcopal (the Reformed Episcopal Church of Spain) has stepped up its welcome to pilgrims undertaking the Camino de Santiago by dedicating its cathedral in Madrid as a welcome centre. The Church's Bishop, Carlos López-Lozano, consecrated a symbolic tile adjacent to the cathedral's door on Saturday night as a sign of welcome for pilgrims. The move is seen as a step on the Church's own journey to build an Anglican centre in Santiago.
---

Burundians Celebrate Half Century of First Diocese
The Anglican Church of Burundi has celebrated the 50th anniversary of its first diocese – Buye – with a special service led by Archbishop Martin Nyaboho. The first Anglican presence in Burundi was established by CMS missionaries in the 1930s. The church grew rapidly as a result of the East African Revival and its first national bishop was consecrated in 1965 with his see at Buye, which at that time covered the whole country. Fifty years on, the country is now served by seven dioceses.
---

Nordic Faith Communities Expand Faith-Based Gender Justice Network
An international network of faith-based organisations committed to working together to fight for gender justice is continuing to expand. When it launched in July last year, Side-by-Side involved 17 churches and Christian organisations, including the Anglican Communion and the Anglican Alliance. Since then a number of regional consultations have taken place in Latin America and the Caribbean, east Africa and southern Africa, and the number of member organisations now total 35. That could increase this week as a regional seminar and conference takes place in Copenhagen, Denmark.
---

South African Democracy Failing the People, Archbishop Thabo Said
The Archbishop of Cape Town, Thabo Makgoba, has said that the people of South Africa are being failed by the country's two-decade-old democracy. "After 22 years of democracy, too many people still experience living and working conditions that deliver neither human dignity nor economic justice," he said. "We are challenged by a high rate of poverty, inequality of opportunity and unemployment. This is why we need good research and comprehensive policy initiatives like the National Development Plan, and the Church must lend its support to all who strive to bring about the 'abundant life' that Jesus promised to every child of God."
---

Mosque Steps in to Feed Homeless as Fire Forces Continued Closure of Exeter Cathedral
A weekly Wednesday-night soup-kitchen run by Exeter Cathedral to feed the city's homeless will switch to another location this week, because the building and its environs remain closed following a serious fire. The Wednesday night feeding facility is part of a weekly rota of soup-kitchens providing hot food each day. A local mosque in Exeter will provide the food tomorrow night, which will be served from the nearby Crosslines charity.
---

Churches Stand in Solidarity with Ethiopian Christians
The Archbishop Emeritus of Burundi, Bernard Ntahoturi, joined a delegation from the World Council of Churches (WCC) last week in a solidarity visit to churches in Ethiopia. The delegation, led by WCC Central Committee Moderator Dr Agnes Abuom, from the Anglican Church of Kenya, met leaders of member churches, an interfaith body and political leaders, including the Ethiopian President, Dr Mulatu Teshome.
---

Nigerian Primate's "Delight" at Release of Chibok Girls
The release of 21 schoolgirls who had been held by Islamist terror group Boko Haram has been met with "delight, relief and optimism" by the Anglican Church of Nigeria. The 21 were amongst 276 students kidnapped from the north-eastern Nigerian town of Chibok in April 2014. A spokesman for Nigerian President Muhammadu Buhari said that the Swiss government and the International Committee of the Red Cross had acted as mediators with Boko Haram. Talks are said to be on-going for the release of the remaining 83 girls who are still thought to be being held.
---

Church of Pakistan Remembers its Martyrs
The Church of Pakistan has designated 22 September – the anniversary of the deadliest terror attack against the country's Christian community – as the Day of the Christian Martyrs in Pakistan. Twin suicide bombers killed 127 people and injured more than 250 others when they attacked All Saints Church in Peshawar on 22 September 2013. There have been numerous other attacks – included an attempt to attack the Warsak Christian compound in Peshawar last month. A resident was killed foiling that attack.
---

Anglicans at the Forefront of Global Refugee Crisis
Anglicans around the world are continuing to serve in the front-line of assisting refugees and asylum seekers through a mixture of advocacy and practical care. The Primate of Australia, Archbishop Philip Freier, will hold a "public conversation" on the issue in the early hours of Wednesday morning. Anglicans from across Europe are gathering today for the start of a consultation on refugee care. And Anglicans around the world are invited to take part in an webinar Thursday.
---

Anglican and Roman Catholic Bishops "Sent Out" for United Missions
The Archbishop of Canterbury Justin Welby and Pope Francis have commissioned 19 pairs of Anglican and Roman Catholic bishops from across the world to take part in united mission in their local areas. The bishops, selected by the International Anglican Roman Catholic Commission for Unity and Mission (Iarccum) were "sent out" for mission together by the Pope and Archbishop from the same church were Pope Gregory sent Saint Augustine to evangelise the English in the sixth Century.