Anglican Alliance in Joint Ecumenical Statement for World Refugee Day
The Anglican Alliance has joined a group of 20 Christian organisations in issuing a statement to mark World Refugee Day. The statement celebrates the opportunities for solidarity and learning that come with opening our arms to welcome refugees and calls for more shared responsibility in responding to current large-scale movements of refugees in every region of the world.
---

Auckland Cathedral Reaches Out to Shia Muslim Communities During Ramadan
Auckland's Holy Trinity Cathedral and the city's Shia Islamic community have been praised for coming together for a Ramadan fast-breaking meal. New Zealand's Human Rights Commission Race Relations Adviser, Rakesh Naidoo, and Auckland Mayor, Phil Goff, congratulated the two communities for their mutual gesture of goodwill. "We need more examples of initiatives like this," said Mr Goff. "This city needs all of us to work on building more humane, generous-spirited and kind communities."
---

Prayers and Defiance After London Bridge Terror Attack
Speaking at Folkestone in Kent yesterday the Archbishop of Canterbury, Justin Welby, said, "The terrorists want to divide us. They want to make us hate one another. They want to change our way of life. But just like we saw in Manchester, Londoners are responding with generosity and open hearts… with courage and resilience."
---

Scottish Episcopal Church Votes to Allow Equal Marriage
The General Synod of the Scottish Episcopal Church has voted in favour of allowing gay couples to marry in church. The vote means that the Church's canon law will be changed – to remove the definition that marriage is between a man and a woman. It means that gay Christians from any Anglican Church can now ask to be married in a Scottish Anglican Church.
---

Churches Mobilised as Sri Lanka Floods' Death Toll Passes 200
Clergy in Sri Lanka have been urged to prepare their churches and church halls to provide refuge for people displaced by serious flooding in the country's Southern and Sabaragamuwa regions. This morning (Wednesday) Sri Lanka's Disaster Management Centre said that 202 people had died as a result of the devastating floods and landslides caused by severe rains which have hit the country since Friday when Cyclone Mora hit the island.
---

Prayer and Solidarity After Another Terror Attack on Coptic Christians
Anglican church leaders have expressed their prayerful solidarity with the Coptic Church after the latest terror attack in Egypt on Friday (26 May) left 29 Christians dead. A further 24 people were injured in the attack in the Minya region, which targeted pilgrims who were visiting the monastery of Saint Samuel the Confessor. Daesh has claimed responsibility.
---

Living and Sharing a Jesus-Shaped Life: Discipleship Plans Emerge
Participants at the first meeting of a co-ordinating group for the "Season of Intentional Discipleship and Disciple-making" have expressed excitement and optimism about the ideas that are starting to take shape.
The group met this week at a retreat centre in England. Countries represented included Brazil, Democratic Republic of Congo, Malaysia, South Africa, Canada and Argentina. The group has been put together by the Secretary General in response to a resolution at ACC16 to effect a "Season of Intentional Discipleship" and the call for "every province, diocese and parish in the Anglican Communion to adopt a clear focus on intentional discipleship and to produce resources to equip and enable the whole church to be effective in making new disciples of Jesus Christ."
---

Bishop of Manchester Offers Prayers After Suicide Attack
The Bishop of Manchester, David Walker, has issued a following statement after the attack at a concert venue in Manchester in northern England in which twenty two people were killed and fifty nine injured.
---

Seafarer Mental Health Branded 'A Serious Concern'
As part of Mental Health Awareness Week, taking place currently in the UK, The Mission to Seafarers is highlighting the mental health challenges faced by seafarers and calling on the industry to offer wider services that could help safeguard their welfare. Much of the work undertaken by the Mission to Seafarers globally involves mental health support, from offering the ability to contact families, to being on-hand to support seafarers struggling with depression and fatigue, and even providing support after cases of attempted suicide.
---

Archbishop of Canterbury on First Visit to Gaza
Archbishop Justin Welby, accompanied by the Anglican Bishop in Jerusalem, the Rt Revd Suheil Dawani, has visited two hospitals in Gaza City, led worship in the chapel of the city's Anglican hospital, and met members of Gaza's Christian community on the third day of his official trip to the Holy Land.
---

Disadvantaged Communities in Burundi Given Major Boost by Mothers' Union
A Mothers' Union programme to reach the most disadvantaged communities in Burundi has produced startling results bucking the trend in one of the world's poorest countries. The Literacy and Financial Education Programme [LFEP], which has been jointly funded by Comic Relief, has helped over 14,000 men and women to read and write, as well as furnishing many with business skills and the confidence to advocate on issues such as Gender Based Violence and access to education for women and young girls.
---

Three Canadian Dioceses Have Married Eight Same-Sex Couples Since General Synod 2016
Eight same-sex couples have been married in three Anglican Church of Canada dioceses, ahead of General Synod 2019, when a resolution to allow same-sex marriages will be presented for final approval.
---

"Urgency" to Capture Next Generation Spurs on Plans for Anglican University in South Sudan
A charity is working with the Episcopal Church in South Sudan to open a multi-campus university within the next two years, with the aim of helping the next generation escape the violence that has plagued the country.
---

Women's Mentoring Focus of Thailand Gathering
Eighteen women theologians from Africa and Asia began a journey of reflection and action around the theme "Women's Mentoring for Ecumenical Leadership" in a 20-22 April consultation in Bangkok, Thailand. The meeting was convened by the World Council of Churches (WCC) department on Ecumenical Theological Education and supported by the Foundation for Theological Education in Southeast Asia.
---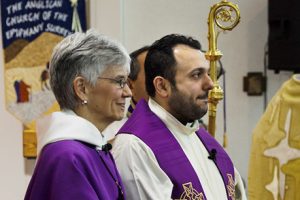 Iraqi Refugee Becomes Anglican Priest in Canada
Fr. Ayoob Shawkat Adwar, a priest in the Chaldean Catholic Church, was received as an Anglican priest at a ceremony in Surrey, British Columbia, Canada, last month.
---

Inside the Exiled South Sudanese Diocese of Kajo-Keji
The third Bishop of the Diocese of Kajo-Keji, Emmanuel Murye Modi, was consecrated and installed on 15 January this year. On 20 January, the area was hit by the country's brutal civil war. By the end of January, Kajo-Keji was all-but evacuated; with some 98 per cent of the population fleeing to Uganda.
The Diocese of Kajo-Keji has also relocated and has set up new headquarters and moved its ecumenical training programme to the Ugandan town of Moyo. "The Moyo District Authorities and the Madi and West Nile Diocese of the Church of Uganda have welcomed the people of Kajo-Keji warmly," the Diocese of Kajo-keji's newsletter, Voice of Hope, reports.
---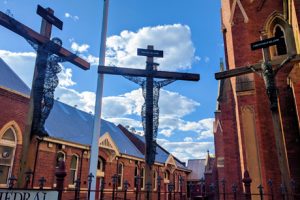 Crucified Migrants Sculpture Highlights the Plight of Refugees
St Paul's Cathedral in Bendigo, in the Australian state of Victoria, is displaying an artwork depicting crucified migrants in the run-up to Easter. The cathedral's Dean, John Roundhill, said that he hoped the exhibition would "challenge people at this Easter time to make a deep connection between events 2,000 years ago and the plight of refugees in our world today."
---

Climate Change Discussed in Toronto
At a day-long "creation care fair" held at St. Cuthbert's Anglican Church in Toronto's Leaside neighbourhood, Anglicans and community members had a chance to ask church and secular leaders about how they were responding to the challenge of climate change.Front and centre were questions about whether or not the Anglican Church of Canada will divest from fossil fuel companies.