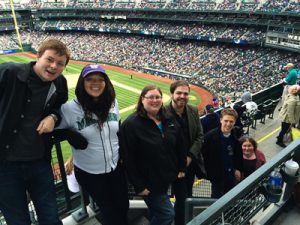 Welcome to faith formation for young adults and campus ministry. We invite people from all denominations,  all backgrounds, all ethnicities, and all sexualities to join us as we strive to walk together on a spiritual path that brings us closer to God. Our words and worship draw from the most ancient hearts of Christianity, while at the same time they are renewed by our modern minds. Church should not be a place where you leave your questions at the door; bring your doubts, your fears, your hopes, your joys – bring everything God has made you to be.
Our Young Adult Ministry provides several programs aimed at the 20's – 30's age group, designed to be fun, thought-provoking and spiritually inspiring. Campus Ministries meet regularly at two colleges, the University of Washington, Seattle and Western Washington University, Bellingham, offering a network of support for college students.
"A Holy Waste of Time" Retreat
Young Adults (20's – 30's) are invited to join us for our popular "A Holy Waste of Time" retreat, held at the end of summer at St. Andrew's House, a beautiful retreat center on the Hood Canal owned by the Diocese of Olympia. Enjoy time with others or by yourself kayaking and swimming the beautiful waters of the canal, hiking under the rain forest canopy, reading in the lodge, and sunning on the deck. All meals are included. Single/couple/family bedrooms available.
The 2019 weekend will be held Friday, August 16 – Sunday, August 18.  Contact us at faithformation@ecww.org to be added to the mailing list for A Holy Waste of Time.
Campus Ministry
University of Washington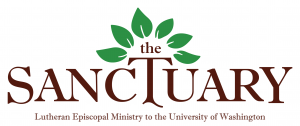 The Sanctuary at UW meets on Wednesday evenings for dinner and conversation. The evening ends with a Compline service at Christ Church, Seattle. All are welcome at one or both events.
We are a community of people living in and around the University of Washington working together to figure out how to live in better relationship with God, one another and creation. We're just trying to figure out how to navigate life with love and integrity and to keep our hope for the future intact. Together, we worship, play, pray, dance, do yoga, hike, eat, meditate, make art, and much more. We are a Q Center Safe Zone and a Reconciling In Christ ministry (a designation given to ELCA ministries who are supportive of the LGBTQ+ community). We engage in interfaith conversation and relationship. We do our best to live out the radical, gracious love of God in Jesus Christ.
Western Washington University
EPIC is a campus club and a ministry of the Episcopal Church among the students of Western Washington University (WWU). We are an extension of St. Paul's Episcopal Church, Bellingham. We also welcome students from Whatcom Community College, Bellingham Technical College, and Northwest Indian College.
EPIC students have shown themselves to be curious, engaged, and increasingly comfortable with the kind of ambiguity that can foster spiritual growth. We always look forward to meeting new students and invite you to join us.
Episcopal Campus Ministry programs operate at many colleges and universities through the United States.
Service Corps Opportunities
Are you a recent college graduate in your 20's? Do you want an engaging, life-changing ten months of service, community and formation? Apply with the Episcopal Service Corps to start your year of service. And did you know the Diocese of Olympia has its own program based at Saint Mark's Cathedral? Check out the Seattle Service Corps!