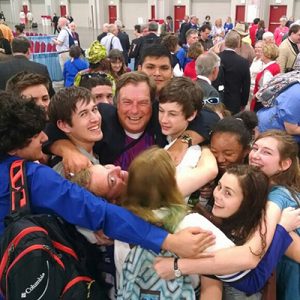 The Diocese of Olympia runs and assists worshiping communities with many youth faith formation events in the region.
These programs and events provide a great opportunity for youth to join a larger group from around the Diocese and are a wonderful supplement to any youth group calendar. Youth experience different leaders, meet new friends, visit other churches in our diocese and live into a larger christian community. Please consider these dates when planning for your own outings, youth events and mission trips. Friends are always welcome, have them register ahead. We often have special welcome rates for those who are coming for the first time! Scholarships are available upon request.
See what our Youth have been up to on their Flickr feed.
High School Youth Conference (HYC)
"I love HYC because I can come here and be myself and people love me and accept me just as I am."
For youth in grades 9-12 from all over the diocese. These weekend conferences include faith formation and exploration, fun, and fellowship, through contemporary music, worship, small group conversations, games, workshops and special activities. Weekend conferences start on Friday evening and end midday on Sunday. Themes and activities for conferences are selected and planned by the youth council.
                 Upcoming Retreats:
April 6-8, 2018, Spring HYC at St. James in Kent, $35
September 28-30, Fall HYC 2018 at St. Paul's in Bellingham, $35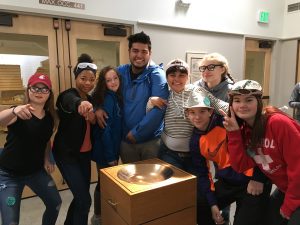 Junior High/Middle School Youth Conference (JYC)
Faith-based fun! Young people in grades 6-9 are invited to join us as we navigate the turning-into-teenager years. With lots of community-building games and activities, this is the place to find friends who will be with you through it all. Youth come together from all over Western Washington to share in music, worship, faith formation and fun. Weekend conferences start on Friday evening and end midday on Sunday. Themes and activities for conferences are selected and planned by the youth council.
Upcoming Retreats:
May 4-6, 2018, Spring JYC at St. Andrew's in Port Angeles. $35
November 16-18, 2018, Fall JYC, location TBD. $35
HYC Six Day Summer Camp 
Six Day, as it's affectionately called, is an extended summer conference in a beautiful camp setting. It is scheduled for July 15-21, 2018 at Camp Huston in Gold Bar.
It has all the components of a regular conference (HYC), just more days of them: large group games, small group conversations to form our faith, workshops, different styles of daily worship, special activities, a dance and a variety show. Plus Six Day has additional free time for traditional camp activities like swimming, crafts, archery and hiking, along with nightly campfires (as permitted).
We stay in cabins, have great food, and fabulous music provided by our great contemporary band that several of the youth join in on. You don't want to miss it. Invite a friend!
If youth are interested in baptism or confirmation, both can be done at Six Day with prior preparation done ahead of time at their home church. Bishop Rickel comes out to do for the baptisms and confirmations on the last day. Parents and congregation members are welcome to attend the service. Let us know when you register if you are interested.   
Cathedral Day – April 28, 2018
Confirmations can be done at this celebration of our whole diocesan community or just come for a day of fun. If you have a confirmation outside of your regular bishop visitation, this is a great time to do it. Prior preparations must be done at your church beforehand and April Caballero must be notified no later than 3 weeks before (acaballero@ecww.org). For more info on cathedral day click here.
 Diocesan Convention
The youth are an important part of our diocesan family. As a result, youth serve at our annual convention in several ways: as pages, acolytes, and as regional youth representatives. Regional Youth Representatives (ages 16-21 and a communicant in good standing), have seat, voice and vote on the Convention floor which is a unique leadership opportunity and an exciting way for young people to voice their concerns and opinions about issues and topics of discussion. Those serving as Pages (must be in grades 9-12), work behind the scenes distributing information, collecting ballots, being a runner and helping to staff the youth booth. Acolytes, serve at the Eucharist on Saturday. Convention in 2018 will be held in SeaTac and is October 26-27.
Please contact the Youth Ministry Coordinator, Denise at dbrumbaugh@ecww.org if you are interested in any of these roles.
Youth Council
Once a year, youth are selected to be on the Diocesan Youth Ministry Council. This happens at the Winter HYC. The youth take leadership roles and help plan youth conferences for the year. There are about 3 meetings a year where planning takes place: Jan, May/June, July/Aug. Youth are asked to be able to make 2 out of the 3 meetings.