One Diocese, One Church, One Day to Worship Together
June 7 @ 10:30 am

-

1:00 pm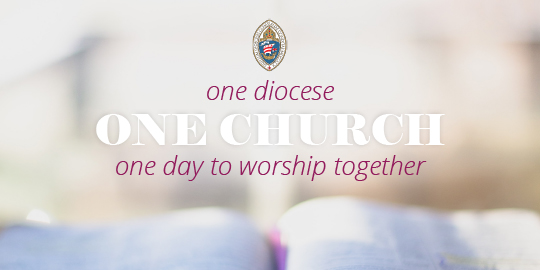 We are more than individual churches, we are a diocese – more than 26,000 Christians following the way of Jesus together across Western Washington. On June 7, the Office of the Bishop in the Diocese of Olympia will hold one worship service for our entire diocese. Designed to bring together all Episcopalians in Western Washington to worship as one, connect to each other, and meditate on all the ways we stay connected and stay church, this Sunday will also give our many hardworking clergy, church musicians, and lay volunteers a Sunday of rest in what has been a challenging season.
Schedule:
10:30am – Prelude with Music from Across the Diocese
11:00am – Holy Eucharist
12:30pm – Town Hall Meeting
Come worship with us on Sunday, June 7, starting at 10:30am!
Streaming on Facebook or YouTube!
Then join us after the one diocese worship service for a virtual Town Hall with Bishop Rickel and members of the diocesan staff. Bishop Rickel will share his reflections and take questions from attendees. Don't miss this time for continued community and a chance to gather as one diocese in Western Washington. Join the Town Hall via Zoom at the link below. Spanish language interpretation is available be selecting "Spanish" from the audio options.
For those without internet access who need to connect via phone, call 1 (253) 215-8782 (Webinar ID: 979 0479 4967) beginning at 10:30am. To connect to the Town Hall via phone, call 1 (253) 215-8782 (Webinar ID: 962 7747 7269; Password: 224634).
One Diocese, One Church, One Day to Worship Together
Related Events