Closed Episcopal Church Finds New Life as Center for Farm Workers on New York's Long Island
The diocese has long partnered with Rural & Migrant Ministry, a nonprofit agency that works around New York State to give voice to the concerns of farm laborers, many of them Latinos. The agency and the diocese now are working with other faith-based partners, including the Presbytery of Long Island, to develop the Center of Alliance, Solidarity and Accompaniment, or CASA, at Grace Episcopal Church.
The church already has become a regular meeting place for a "consejo," or council, of farm workers who are helping to develop plans for the diocesan property in Riverhead, which includes the church, a rectory and a parish hall. Leadership counseling, vocational training and English-as-a-second-language classes are among the possible future uses.
---
West Virginia Church Pays off Families' Toy Layaway Bills, Receives Praise from White House
St. Matthew's Episcopal Church in Wheeling, West Virginia, made local headlines after it paid the Walmart layaway balances on toys for several families in its community. The congregation had intended to remain anonymous, but word got out after news of the donations spread on social media.
The Rev. Mark Seitz, rector at St. Matthew's, said the tradition is rooted in the grief of a local family who lost a daughter to illness more than 100 years ago. They gave the church an endowment in their daughter's memory to be used each year to brighten the season for families in need.
---

Church Without Walls Uses Food Truck to Drive Home Christian Mission of Feeding Body & Soul
St. Isidore's is a church built without walls but with a set of wheels that allows it to bring faith and food to several small communities of worshippers north of Houston, Texas. Some meet at a Taco Bell or a Panera Bread, others at a laundromat. Central to the mission is the Abundant Harvest food truck, which serves as a focal point for developing Christian relationships while alleviating both physical and spiritual hunger.
---
Episcopalians Help Boost Affordable Care Act Sign-up Numbers
Millions of Americans this month have signed up for health insurance on HealthCare.gov, the website established by the Affordable Care Act, despite the Trump administration's cutting spending on advertising and assistance and declaring President Barack Obama's signature law "dead" and "gone." The administration also cut the sign-up period in half, so with a window of only 45 days, Episcopalians have joined with activists and organizations around the country to get the word out. So far, those efforts appear to have succeeded in a big way as the Dec. 15 deadline approaches.
---
Episcopalians Voice Fear, Uncertainty as Trump Administration Ends Protected Status for Haitians
Haitian Episcopalians living in the United States were shaken this week by news the Trump administration is ending a program that has protected from deportation Haitians who couldn't return to their country after a devastating 2010 earthquake.
The Haitian communities in some American cities have grown large enough to support sizable Episcopal congregations, like St. Paul's et Les Martyrs d'Haiti in Miami, Florida, and Haitian Congregation of the Good Samaritan in New York City. Some of those families' legal status could be thrown into limbo by the administration's decision.
---

Episcopal Food Ministries Help Neighbors Give Thanks After Northern California Wildfires
You'd think Thanksgiving, a holiday to celebrate God's gifts of abundance, might be hard this year for these fire victims and volunteers. When it comes to food and drink, many Episcopalians in the fire-ravaged area lost so much, yet they gained community support they never expected. Not to minimize the traumatic disaster that took more than 40 lives and ravaged 245,000 acres, but the galvanizing of volunteers and donations since then has touched the hearts of many.
---

A Fire-Scarred Community Rallies With Spiritual Family
Healdsburg, a quaint little town about 70 miles north of San Francisco, has been through a lot in the past six weeks: a massive fire that burned 36,807 acres came dangerously close to the Episcopal church, and several of its parishioners who live in outlying areas lost everything but their lives when they evacuated in the middle of the night.
So on the night of Nov. 18, about 60 people from St. Paul's and its neighboring parish to the south, Incarnation, Santa Rosa, gathered to eat chili, slaw, cornbread and desserts. And once they had eaten and had a glass of wine – this is, after all, the heart of the Sonoma wine country – the stories began.
---

A Resurrection Nearly 10 Years in the Making, San Joaquin Celebrates with Three-day Revival
The "Called to Be …" celebration ranged the length of the diocese on the eastern side of central California with stops in Stockton, Fresno and Bakersfield. The revival included emotional stories of fear and frustration from immigrants, a Stations of the Cross-like neighborhood prayer walk, liturgical pomp and tradition followed by a food-truck dinner and Episcopalians filling yellow backpacks with goods for people living on the streets. It included touchstones from the past – an old quilt and an old bishop's ring – as well as interfaith visitors and powerful testimony to the rebirth of the diocese.
---

How the Second-Largest Soup Kitchen in the U.S. Handles Hunger Today
Nearly 1.4 million New Yorkers face hunger every year, including almost one in four New York City children, according to City Harvest, a nonprofit organization dedicated to food rescue, distribution, and education, rescuing more than 500 million pounds of food in the city since 1982. The organization picks up day-old bread from restaurants and bakeries. Holy Apostles Soup Kitchen utilizes this bread, a lot of which comes from Eataly, an Italian eating and shopping emporium that includes a bakery, with several locations including two in Manhattan.
Even though the economy has improved the last several years, New York's poverty and unemployment rates remain high. For many, income hasn't kept up with the rising cost of living.
---

The Virgin Islands are Still Recovering from Hurricanes Irma and Maria
Six weeks after Hurricane Maria hit the Virgin Islands, thousands of people still had no power and were stuck with cold and canned food, if they could find it, according to a Nov. 1 report by The Weather Channel. The few grocery stores that have re-opened are accepting cash only.
Much work is to be done.
---
Episcopalians say Faith and Fitness can Unite to Strengthen Spiritual and Physical Muscles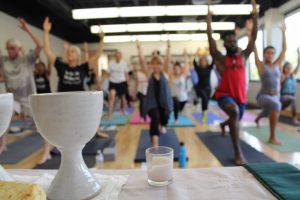 Something happened when the Rev. Gena Davis balanced on one leg for tree pose and reached her arms skyward while squatting for chair pose in yoga class. Something transformational.
"It starts as a physical practice, and it can move into a spiritual practice. And that's when the real question comes: What is this, and how can I make sense of this as a priest?" said Davis, who was vicar of Grace Episcopal Church in Houston, Texas, at the time. She did her yoga teacher training then, too.
"In church, some people feel they're worshipping in their head. This is a way to bring the body into worship. We totally recognize the mind-body-spirit connection. They're integrated. It's really a movement toward wholeness."
---

Episcopal Food Pantries are Part of Nationwide Network with Goal of Ending Hunger in US
Poverty and hunger are all too easy to overlook in Wisconsin's capital city, where public discourse is dominated by the parallel and relatively affluent spheres of state government and the state's flagship public university.
But wander east from the University of Wisconsin-Madison campus or head southwest down the steps of the Capitol, and you'll find at Grace Episcopal Church a ministry of nourishment that Willetta Randle, for one, relies on to put dinner on the table for her two young children.
---

How these churches handle Halloween
At the start of November, Carlos Carrillo thinks of his ancestors, deceased family members and his partner of 18 years, Rodney Goodwin, who died four years ago. It's a Mexican cultural tradition, as well as a Christian rite, to remember and honor loved ones, while many of us simply go trick-or-treating with our kids for Halloween or ignore the hoopla.
Carrillo has organized a colorful, joyful commemoration of the Day of Saints and Faithful Departed on Nov. 2, the day following All Saints Day, for the last 12 years at All Saints Episcopal Church in Pasadena, California.
---
Episcopalians Invoke Values in Range of Anti-Hunger Efforts, From Soup Kitchens to Global Aid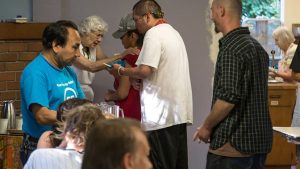 In Christianity, food is inseparable from faith. It underlies a wide spectrum of the Bible's teachings and Christian traditions, from individual fasting to Jesus' Last Supper and the celebration of the Eucharist. The faith journey is a path from hunger to fullness.
"Blessed are you who are hungry now, for you will be filled," Jesus says in Luke 6:21.
But Jesus' followers also were called to give to the poor, providing physical food along with Jesus' spiritual food. Defining that mission, let alone fulfilling it, can be difficult, and churches and believers have wrestled since Jesus' time with the question of how to best address the problem of hunger. Today, physical hunger remains a persistent scourge around the world, including in countries of great wealth like the United States.
---

Episcopalians' 'Widow's Mite' is Doing Mighty Work in Recent Disaster Relief
The Episcopal Church's roadmap of the Jesus Movement has been guiding Episcopalians in their response to the chain of disasters that have struck the world in the last two months.
"You can see it in that we have various departments of the presiding bishop's staff, the companion dioceses, Church Insurance, ourselves [at Episcopal Relief & Development], diaspora Episcopalians, friends and good people of faith all working together," Abagail Nelson, Episcopal Relief & Development senior vice president of programs, told the Executive Council Oct. 19.
---
Episcopalians Urge Protection of Arctic Refuge as Congress Moves Toward OK'ing Drilling
Episcopalians are rallying against oil drilling the Arctic National Wildlife Refuge, or ANWR, as the U.S. Senate takes initial steps toward opening part of the refuge in Alaska to energy exploration.
The developments in the Senate come just a month after Episcopal leaders the Episcopal Church's House of Bishops expressed renewed interest in the issue at their fall meeting, which was held in Fairbanks, Alaska. The bishops issued a letter to the church urging action on environmental and racial justice.
---
The Crisis Continues for Puerto Rico, and So Do Efforts Toward Relief, and Then, Recovery
Episcopal clergy and congregation members are resuming church services and school classes when they can and how they can, despite the vast devastation in Puerto Rico almost a month after Hurricane Maria swept through Sept. 20.
It was the strongest storm the island has faced since before the Great Depression, a Category 4 hurricane that spewed up to 40 inches of rain in some places in one day, whereas Houston, Texas, saw 32 inches in three days from Hurricane Harvey in late August, according to the Weather Channel and the National Hurricane Center.
Almost a month after Maria, Puerto Ricans are still in crisis mode.
---

What Would Happen if Episcopalians and Their Church Put Jesus at the Center – Really?
It would seem obvious that Episcopalians have Jesus at the center of their lives and that the Episcopal Church centers on Jesus. Yet, Presiding Bishop Michael Curry challenged the church's Executive Council Oct. 18 to deeply reflect on whether the church and its members are truly answering the call of Christ during these times of challenges from outside and inside the church.
---