All images from the Portland Say Their Name Memorial by Jessica G. Mangia Photography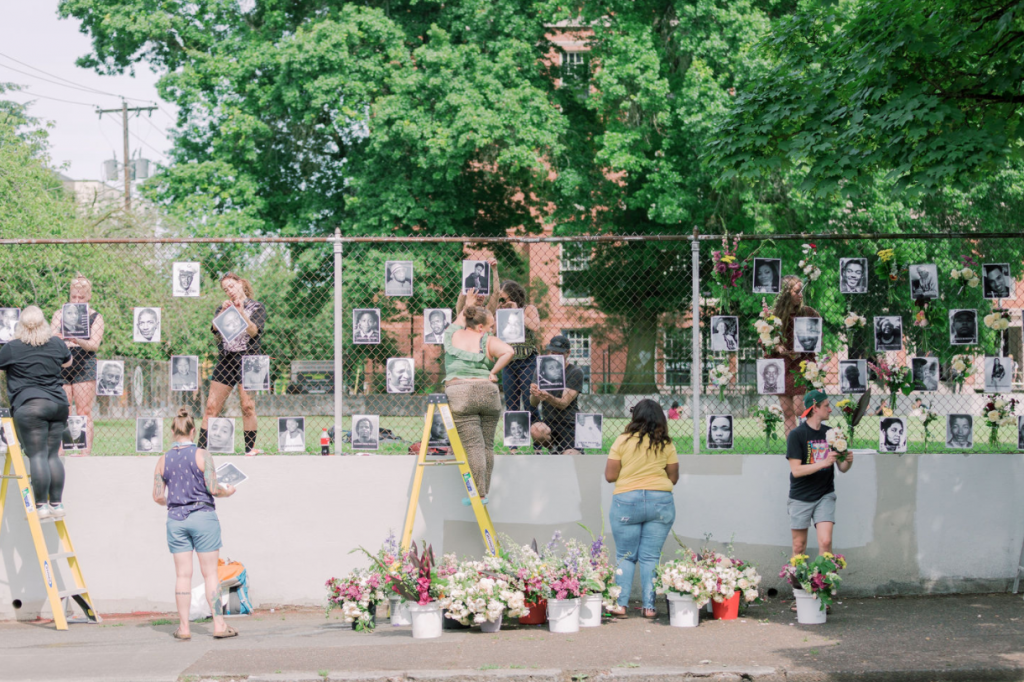 A group of individuals, congregations, and local businesses will gather at 10:00am, Tuesday, October 20, to install the Say Their Names Memorial on the grounds of several places of worship, beginning at Saint John's Episcopal Church, 105 State Street S., Kirkland, Washington. The memorial will be open to the public through November 30, 2020.
The Say Their Names Memorial features more than 240 portraits of Black victims whose lives were lost since the mid-nineteenth century to systemic racism and racial injustice – mothers, fathers, children, activists, community members. Each portrait will be accompanied by a floral tribute contributed by local gardeners, flower farmers and florists.
The Say Their Names Memorial is a nationwide grassroots initiative and memorial that originated in Portland, Oregon, on Juneteenth (June 19, 2020). Since then, organizers have shared photographs and information with individuals and committees who want to create memorials in their own neighborhoods and communities. Volunteers have mounted the memorial in over 25 locations across the United States since June.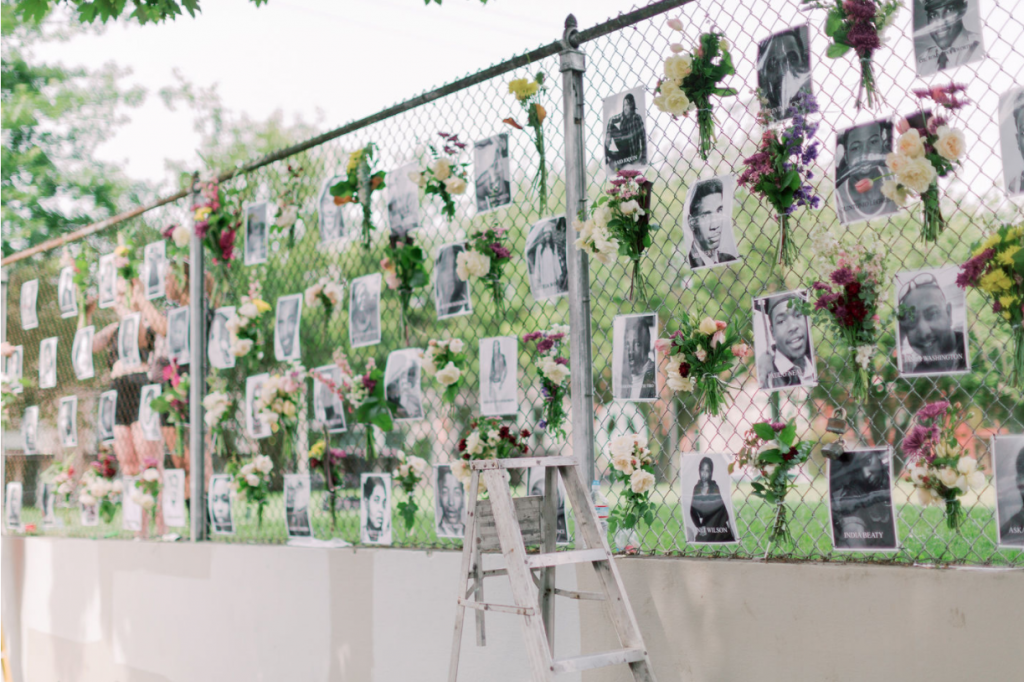 "Our hope is that when people experience the memorial and look into the eyes of those no longer with us, they have a chance to reflect," says Joy Proctor, founder of the Say Their Names Memorial. "We want this to spur dialogue and even action across the nation in the communities where these memorials have been displayed."
Karen Thornton, a Woodinville-based event planner, is spearheading the Kirkland memorial, working in partnership with the Rev. Michael Ryan of Saint John's, Kirkland and other congregations and volunteers, with the support of Kirkland's City Manager Kurt Triplett.
On October 6, Kirkland Mayor Penny Sweet issued this statement: "Three years ago, we passed Resolution 5240 which states that 'Kirkland believes in the dignity, equality and constitutional and civil rights of all people, and will not tolerate hate, intolerance, discrimination, harassment or any behavior that creates fear, isolation or intimidation.
"'We stand by that resolution and have expanded upon it. Kirkland is stronger because of our differences, not despite them. In a time of uncertainty and struggle, it is more critical than ever that we honor every person's humanity, respect diverse views, and give each other grace.'"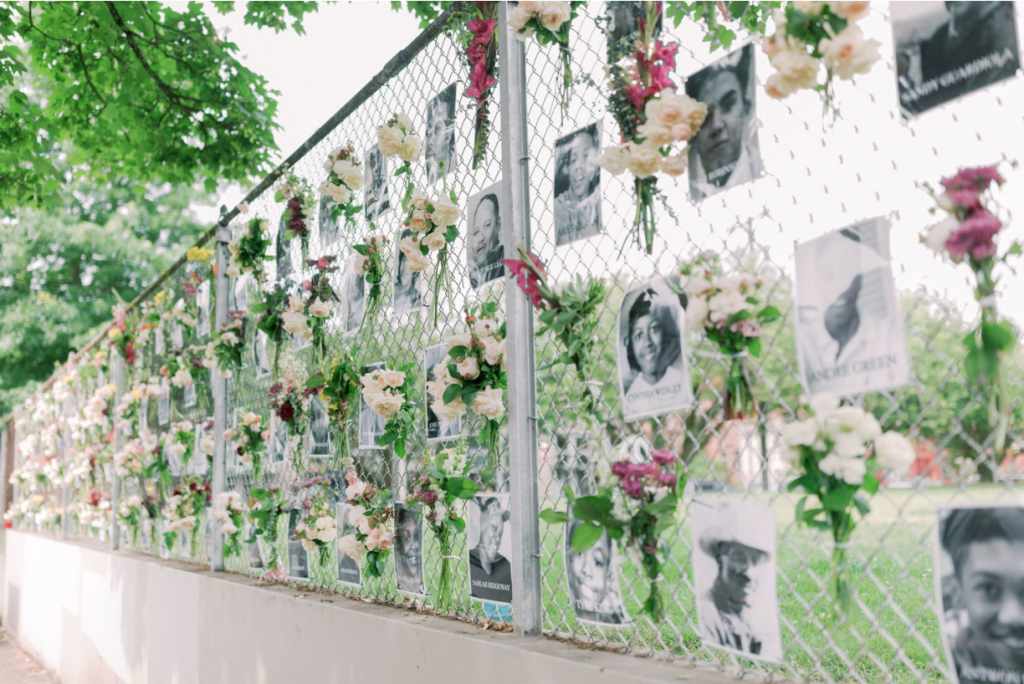 Together, the City of Kirkland's recent statements of support for anti-racism, and the willingness of several places of worship to host the Memorial create an sense of community, Thornton says. "Our goal is to offer a chance for introspection and to encourage community members to better understand the role each of us plays in ongoing, systematic racism, while honoring those lives taken by it."
Saint John's, Kirkland was the first congregation to volunteer its grounds for Say Their Names Memorial. "We are a community that remembers," says the Rev. Michael Ryan, Rector. "By hosting the Say Their Names Memorial, our congregation hopes to make the lives of those lost to racial injustice matter even more while bringing us to our senses about changing our present and our future."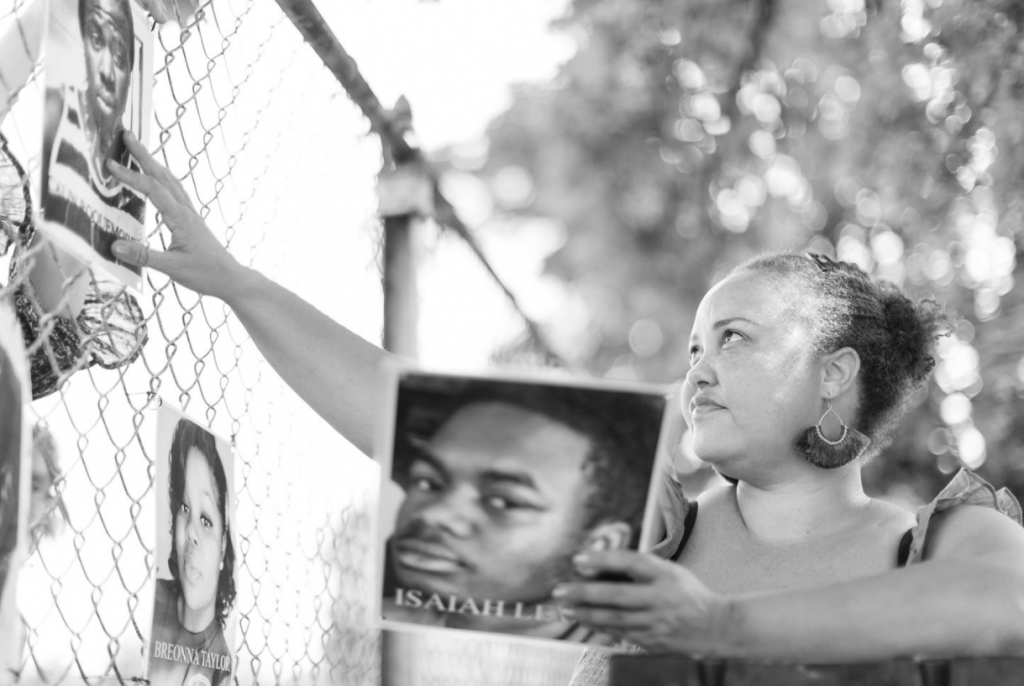 The event is open to the public during daylight hours. Social distancing measures will be practiced and masks are required. Signage will be on display to guide visitors to all of the Memorial Locations, including:
Holy Spirit Lutheran Church, 10021 NE 124th St, Kirkland, WA 98034
Kirkland Congregational United Church of Christ, 106 5th Ave, Kirkland, WA 98033
Lake Washington Christian Church, 343 15th Ave, Kirkland, WA 98033
Lake Washington United Methodist Church, 7525 132nd Ave. NE, Kirkland, WA 98033
Northlake Unitarian Universalist Church, 308 4th Ave. S, Kirkland, WA 98033
Saint John's Episcopal Church, 105 State St., Kirkland, WA 98033
Seattle area volunteers are invited to participate. There are openings for approximately 50-75 people to take two-three hour shifts on October 20 to help install photographs and make/attach flower bouquets at several locations in Kirkland. To volunteer, arrive anytime after 10:00am at St. John's, Kirkland. Masks required. Physical distancing expected. All supplies provided. Volunteers are encouraged to contact Karen Thornton (karen@avenue22events.com) to sign up for a shift and location.
A Go Fund Me page is accepting cash donations to cover the cost of materials and supplies, including fresh flowers and tools. The use of donated funds will be transparent and shared through updates on the Go Fund Me page. Remaining funds will be donated to a non-profit organization with a social justice mission.
For more information about the memorial, to submit a name to be included, or to find out how you can create a memorial in your community, visit the website and social pages:
@saytheirnamesmemorial
#saytheirnamesmemorial
St. John's Kirkland Hosts Say Their Name Memorial