Churches Urged to Set Aside Day for Beach Clean-Up
Anglicans and other Christians throughout the world are being encouraged to take part in a coordinated beach-clean-up project in September 2018. The third Saturday in September is recognised by the conservation community as International Coastal Clean-up Day. The Environmental Network of the Anglican Church of Southern Africa is joining forces with the Christian environment network A Rocha International and other partners to encourage Christians around the world to take part in next year's Coastal Clean-up Day, on Saturday 15 September 2018.
---
Church of England Anti-Slavery Initiative Wins Government Backing
The UK's Prime Minister, Theresa May, has given her backing to the Church of England's new anti-slavery programme. The Clewer Initiative was launched today at Lambeth Palace, the London home and headquarters of the Archbishop of Canterbury. "Modern slavery is a barbaric crime which destroys the lives of some of the most vulnerable in our society," Prime Minister May said. "I value the work that the Clewer Initiative will be doing to enable the Church of England dioceses and wider church networks to develop strategies to tackle modem slavery."
---

Feeding of the Thousands, as Church of South India Celebrates its Platinum Jubilee
The Diocese of Madras laid on a fellowship lunch for several thousand people last month as the Church of South India (CSI) celebrated the 70th anniversary of its formation. The Church of South India was formed on 27 September 1947 when the Church of England in southern India and the Methodist Church in South India joined the Congregational, Presbyterian and Reformed churches in the already-united South India United Church. As a united church, in addition to being a full member of the Anglican Communion, the Church of South India is also a member of other global Christian communions, including the World Methodist Council and the World Communion of Reformed Churches.
---

Church Called to be "Reconciled Reconcilers" at Launch of International Peacemakers Movement
Christians should be "reconciled reconcilers", the Archbishop of Canterbury said this week as he launched the Reconciling Leaders Network (RLN) – a new international movement of peacemakers. The RLN will train "the next generation of leaders to be reconcilers within their churches, communities and nations," Lambeth palace said.
---

Archbishop's "Profound Sense of Shame" Over Church Abuse Failings
The Archbishop of Canterbury has spoken of his "profound sense of shame" over church-based abuse of children and vulnerable adults. Archbishop Justin Welby made the comments at a press briefing during the Primates' Meeting in Canterbury Cathedral. He had been asked about planned visits to Canterbury by groups of survivors on Friday, who want to ensure that their concerns are heard by the Church leaders gathered for the meeting.
---

CSI Pushes for Gender-Equal Society in India
A Gender Conclave held by the Church of South India at its centre in Chennai was "another significant milestone in the journey towards a gender equal society beginning with the church," the CSI said. The conclave was one of a number of events held as part of the Church's 70th anniversary.
---

Growing Church Leads to Double-Ordination in UAE
A double-ordination has taken place in the United Arab Emirates to serve the growing church in the country. The UAE Minister of State for Tolerance, Her Excellency Sheikha Lubna bint Khalid bin Sultan Al Qasimi, attended the service as a special guest, as did the British Consul General to Dubai, Paul Fox.
---

Church Provides Driver Mentoring for Refugees
An Anglican church in Sydney is giving local refugees experience of driving on Australia's roads. The scheme, run by the Chester Hill Church, to the west of Sydney, enables people who had experience of driving in their former homes to get used to the different road conditions in the country.
---

Celebrations as Tonga's First Bishop Symbolises "A Bird That Has Begun to Fly"
The Pacific island nation of Tonga has its first official bishop. But Dr 'Afa Vaka, who was consecrated and installed on Sunday, is actually the third bishop to serve the 169 islands – or the 36 inhabited islands – that make up Tonga. The first Anglican missionary to Tonga was Bishop Alfred Willis, who arrived in 1902. And in the mid-1960s, Bishop Fine Halapua, the father of Archbishop Winston Halapua, lived in Tonga as he served as a suffragan bishop in the Diocese of Polynesia. But now, after a gap of 50 years, Tonga has its third bishop – this time the first bishop of the newly constituted episcopal unit of Tonga.
---
Reaching the Traumatised After Hurricane Irma
Christian agencies are working desperately to help communities across the Caribbean and South-eastern United States devastated by Hurricane Irma. More than 40 have died and tens of thousands have been left without homes by the storm.
---

South Africa is Sitting 'On a Powder Keg' – Bishop of Johannesburg
The Bishop of Johannesburg, the Right Revd Dr Steve Moreo, has warned that the high levels of poverty in South Africa pose a great danger to the country.
"This country is sitting on a powder keg of hopelessness," he said, citing the figures recently released by Stats SA that showed that the number of poverty stricken people in South Africa had increased by 53.2% between 2011 and 2015.
---

Hurricane Irma Leaves Absolute Destruction
Harrowing stories of the death and devastation caused by Hurricane Irma are emerging from islands across the Caribbean and US. More than 30 people are known to have died in the Caribbean. Thousands have seen their homes destroyed; thousands more have been left without power. In the US at least 10 people have been killed – six in Florida. A clean-up operation is underway but around 60% of homes in the state are still without power.
---

Bishop of Polynesia Addresses Festivalgoers in England on Climate Change
Archbishop Winston Halapua of Polynesia has taken his concerns about climate justice and his moana theology message to a new stage – to the immaculate grounds of a stately hall in the English midlands. He'd been invited by the USPG (United Society Partners in the Gospel) to be their keynote speaker at the Greenbelt Festival, which was held in the grounds of Boughton House. The Greenbelt Festival has been a British fixture for more than four decades and its organisers say their mission is "to create spaces, like festivals, where art, faith and justice collide."
---

Celebrations as Sudan Becomes Anglican Communion's 39th Province
Hundreds of worshippers joined distinguished guests from around the world in All Saints Cathedral in Khartoum on Sunday (30 July) as Sudan was inaugurated as the latest province of the Anglican Communion. It was a morning of joy and celebration: flags were waved, a marching band led the procession of clergy through the streets and into the cathedral, local women from the Mothers' Union cheered and danced – all this in temperatures over 40 degrees Celsius.
---

Boost for International Charity that Operates Floating Hospitals
Essential Christian, a charity that resources and inspires Christians and local churches through events, holidays, books, music and professional services, has announced a new partnership with Mercy Ships. Staffed almost entirely by volunteers, Mercy Ships' state-of-the-art "floating hospital" provides free medical care and surgery to people in some of the poorest countries in the world.
---

India's Faiths Commit to "Just and Inclusive Communities" for People with Disabilities
A round-table discussion on disability has brought together 70 participants from eight different faith backgrounds in India to explore how faith communities can promote a culture of inclusion. The event was organised by the Indian Disability Ecumenical Accompaniment (IDEA) programme of the National Council of Churches in India (NCCI). IDEA helps NCCI member churches to be disabled friendly, and encourages them to accompany people with disabilities theologically, ministerially and diaconally.
---

Irish Bishop and English Priest Lead Cross-Cultural Mission Training in Myanmar
An ecumenical association for theological educators in Myanmar held a training workshop on cross cultural mission and research approaches this month. The four-day event was led by the Church of Ireland's Archbishop of Dublin, Dr Michael Jackson, and a Church of England vicar from the diocese of Birmingham, Dr Joshva Raja. Some of the 25 theological educators who attended the programme travelled for two days to reach the Association of Theological Education in Myanmar (ATEM) training complex in Yangon from different parts of the country.
---

Church Offers Prayers for Victims of Barcelona Attack
The Bishop of the Episcopal Church of Spain, Don Carlos Lopez-Lozano, has expressed thanks for the support received from throughout the Anglican Communion in the wake of the deadly attack in Barcelona's main tourist area on Thursday. Priests from the Spanish Episcopal Church have attended to the wounded in hospital and are offering support to families of the victims.
---
Archbishop of Canterbury Backs "Sex-Workers" Charity
The Archbishop of Canterbury Justin Welby has given his backing to a charity set up to support women involved in the "sex industry". Charis Tiwala works to "give people in the sex industry the opportunity for choice again; a choice to exit if they wish, and a choice to rebuild a new life as they would choose to live it," the Archbishop's office said in a statement.
---

Indigenous bishop slams the "doctrine of discovery"
The "doctrine of discovery" – the idea that indigenous people need to be discovered and westernised – has been criticised by the national indigenous bishop of Canada. Bishop Mark MacDonald made his comments during a visit to Australia where he attended a number of events, including a retreat for Aboriginal and Torres Strait Islander Anglican leaders retreat in central Australia. "The doctrine of discovery describes a habitual way of thinking that continues to marginalise, dehumanise and downgrade Indigenous people," Bishop Mark said.
---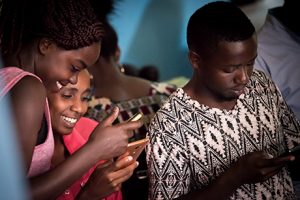 WCC Call for Peaceful Democratic Process in Kenya
Today, as general elections take place in Kenya, the World Council of Churches (WCC) joins the churches and people of the country in prayer for the peaceful and successful conduct of this pivotal democratic process.
---

CSI Urged to 'Go Greener'
Environmental campaigners from across the Church of South India have called on the CSI Synod to step up its commitment to sustainable values.
---

Canadian Anglicans Step Up Fight Against Human Trafficking
The Anglican Church of Canada is taking another step forward in its fight against human trafficking and modern slavery with the formation of a new discernment group led by General Synod Global Relations and Public Witness teams and the creation of an online human trafficking hub with information and resources. The moves are part of the province's response to Resolution 15.10 of the Anglican Consultative Council meeting in Auckland, New Zealand, in 2012.
---

Peninsula Paddle Opens Up the Blue-Green Veins of the City
A Cape Town Anglican has devised an innovative way of drawing attention to the industrial and domestic pollution that poisons his city's waterways: a 15-km kayak ride. Kevin Winter, a member of Christ Church, Kenilworth in Cape Town, is an international expert on water justice; but while the challenges are global, he understands that the solution is local.
---

Interfaith Peace Building for Young Jewish, Muslim and Christian Students
Students attending a three week course at the Bossey Ecumenical Institute near Geneva have learned about communication and peacebuilding, with the hope of serving as peacemakers in their own contexts. Young Jewish, Muslim and Christian students attended a workshop led by Marianne Ejdersten, director of Communication at the World Council of Churches (WCC). The students have earned a Certificate of Advanced Studies in Interreligious Studies, which is accredited by the University of Geneva.
---

Ecumenical Meeting in Egypt of Young People and Pastors
Pastors and young people in Egypt have held an unprecedented meeting to exchange ideas. A spokesperson for the Diocese in Egypt said: "The day aimed for youth to speak about their honest opinion of the church and the liturgy in order to reduce the gap between the youth and the church."
---

Episcopal Church of Cuba Working with Communities to Transform Lives
The Anglican Alliance has been on a fact finding mission to the Episcopal Diocese of Cuba to learn more about its mission and development programme. In every part of the Communion, the Anglican Alliance seeks to understand local models of holistic mission which can be shared for mutual inspiration and learning. In this article Revd Rachel Carnegie, Co-Executive Director, and Dr Paulo Ueti, Regional Facilitator from Latin America, reflect on their visit.
---

First Ever Meeting of Mexico's Ordained Women
Three quarters of the current women priests and deacons in the Anglican Church of Mexico have held a gathering to celebrate the ministry of ordained women in the Province. It brought together 18 out of the Province's 25 ordained women for their first such meeting. It took place in the city of Cuernavaca in the state of Morelos and consisted of prayer, education sessions, fellowship and the celebration of the Holy Eucharist.
---

Two New Bishops in Polynesia – Including a First-Ever Bishop for Tonga
Archbishop Winston Halapua, the diocesan Bishop of Polynesia, says he is "more than delighted" to make the announcement of two new bishops. Revd Dr 'Afa Vaka will become the first bishop of the newly-constituted episcopal unit of Tonga – and Archdeacon Henry Bull is to be the next bishop in Vanua Levu and Taveuni in Fiji.
---

Anglican Youth in Swaziland Take to Their Bikes
Young people in the Anglican Diocese of Swaziland have embarked on a 450 km challenge to raise environmental awareness. They will be donating shoes, school uniforms and toiletries at Anglican Schools along their route.
---

Young Anglicans in Malawi Raise Funds for Disabled People
Members of an Anglican youth group in Blantyre, in Malawi, have donated medical equipment, including a wheelchair, to two boys in need. Victor January, who is 12 and has difficulties walking, received the medically-recommended wheelchair as a replacement for his previously unsuitable one. A boy with albinism, Blessings Masalanga, was given special clothing and oils.
---

Bishop Describes African-Canadian Dialogue as a Model for Whole Communion
The eighth annual meeting of Bishops from Canada and Africa has just taken place in Kenya, with the Bishop of Niagara, Michael Bird, suggesting the yearly encounter could act as a model for reconciliation across the Anglican Communion.
---

"Heartbroken" Bishops Back South Sudan Peace Move
Anglican leaders in Africa are sponsoring a church-led initiative to end the conflict in South Sudan. The Council of Anglican Provinces of Africa has invited South Sudanese church leaders to Zambia next month to press for the guns to be silenced.
---

Anglican Alliance in Joint Ecumenical Statement for World Refugee Day
The Anglican Alliance has joined a group of 20 Christian organisations in issuing a statement to mark World Refugee Day. The statement celebrates the opportunities for solidarity and learning that come with opening our arms to welcome refugees and calls for more shared responsibility in responding to current large-scale movements of refugees in every region of the world.
---

Auckland Cathedral Reaches Out to Shia Muslim Communities During Ramadan
Auckland's Holy Trinity Cathedral and the city's Shia Islamic community have been praised for coming together for a Ramadan fast-breaking meal. New Zealand's Human Rights Commission Race Relations Adviser, Rakesh Naidoo, and Auckland Mayor, Phil Goff, congratulated the two communities for their mutual gesture of goodwill. "We need more examples of initiatives like this," said Mr Goff. "This city needs all of us to work on building more humane, generous-spirited and kind communities."
---

Prayers and Defiance After London Bridge Terror Attack
Speaking at Folkestone in Kent yesterday the Archbishop of Canterbury, Justin Welby, said, "The terrorists want to divide us. They want to make us hate one another. They want to change our way of life. But just like we saw in Manchester, Londoners are responding with generosity and open hearts… with courage and resilience."
---

Scottish Episcopal Church Votes to Allow Equal Marriage
The General Synod of the Scottish Episcopal Church has voted in favour of allowing gay couples to marry in church. The vote means that the Church's canon law will be changed – to remove the definition that marriage is between a man and a woman. It means that gay Christians from any Anglican Church can now ask to be married in a Scottish Anglican Church.
---

Churches Mobilised as Sri Lanka Floods' Death Toll Passes 200
Clergy in Sri Lanka have been urged to prepare their churches and church halls to provide refuge for people displaced by serious flooding in the country's Southern and Sabaragamuwa regions. This morning (Wednesday) Sri Lanka's Disaster Management Centre said that 202 people had died as a result of the devastating floods and landslides caused by severe rains which have hit the country since Friday when Cyclone Mora hit the island.
---

Prayer and Solidarity After Another Terror Attack on Coptic Christians
Anglican church leaders have expressed their prayerful solidarity with the Coptic Church after the latest terror attack in Egypt on Friday (26 May) left 29 Christians dead. A further 24 people were injured in the attack in the Minya region, which targeted pilgrims who were visiting the monastery of Saint Samuel the Confessor. Daesh has claimed responsibility.
---

Living and Sharing a Jesus-Shaped Life: Discipleship Plans Emerge
Participants at the first meeting of a co-ordinating group for the "Season of Intentional Discipleship and Disciple-making" have expressed excitement and optimism about the ideas that are starting to take shape.
The group met this week at a retreat centre in England. Countries represented included Brazil, Democratic Republic of Congo, Malaysia, South Africa, Canada and Argentina. The group has been put together by the Secretary General in response to a resolution at ACC16 to effect a "Season of Intentional Discipleship" and the call for "every province, diocese and parish in the Anglican Communion to adopt a clear focus on intentional discipleship and to produce resources to equip and enable the whole church to be effective in making new disciples of Jesus Christ."
---

Bishop of Manchester Offers Prayers After Suicide Attack
The Bishop of Manchester, David Walker, has issued a following statement after the attack at a concert venue in Manchester in northern England in which twenty two people were killed and fifty nine injured.
---

Seafarer Mental Health Branded 'A Serious Concern'
As part of Mental Health Awareness Week, taking place currently in the UK, The Mission to Seafarers is highlighting the mental health challenges faced by seafarers and calling on the industry to offer wider services that could help safeguard their welfare. Much of the work undertaken by the Mission to Seafarers globally involves mental health support, from offering the ability to contact families, to being on-hand to support seafarers struggling with depression and fatigue, and even providing support after cases of attempted suicide.
---

Archbishop of Canterbury on First Visit to Gaza
Archbishop Justin Welby, accompanied by the Anglican Bishop in Jerusalem, the Rt Revd Suheil Dawani, has visited two hospitals in Gaza City, led worship in the chapel of the city's Anglican hospital, and met members of Gaza's Christian community on the third day of his official trip to the Holy Land.
---

Disadvantaged Communities in Burundi Given Major Boost by Mothers' Union
A Mothers' Union programme to reach the most disadvantaged communities in Burundi has produced startling results bucking the trend in one of the world's poorest countries. The Literacy and Financial Education Programme [LFEP], which has been jointly funded by Comic Relief, has helped over 14,000 men and women to read and write, as well as furnishing many with business skills and the confidence to advocate on issues such as Gender Based Violence and access to education for women and young girls.
---

Three Canadian Dioceses Have Married Eight Same-Sex Couples Since General Synod 2016
Eight same-sex couples have been married in three Anglican Church of Canada dioceses, ahead of General Synod 2019, when a resolution to allow same-sex marriages will be presented for final approval.
---

"Urgency" to Capture Next Generation Spurs on Plans for Anglican University in South Sudan
A charity is working with the Episcopal Church in South Sudan to open a multi-campus university within the next two years, with the aim of helping the next generation escape the violence that has plagued the country.
---

Women's Mentoring Focus of Thailand Gathering
Eighteen women theologians from Africa and Asia began a journey of reflection and action around the theme "Women's Mentoring for Ecumenical Leadership" in a 20-22 April consultation in Bangkok, Thailand. The meeting was convened by the World Council of Churches (WCC) department on Ecumenical Theological Education and supported by the Foundation for Theological Education in Southeast Asia.
---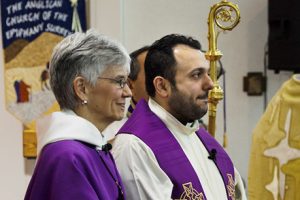 Iraqi Refugee Becomes Anglican Priest in Canada
Fr. Ayoob Shawkat Adwar, a priest in the Chaldean Catholic Church, was received as an Anglican priest at a ceremony in Surrey, British Columbia, Canada, last month.
---

Inside the Exiled South Sudanese Diocese of Kajo-Keji
The third Bishop of the Diocese of Kajo-Keji, Emmanuel Murye Modi, was consecrated and installed on 15 January this year. On 20 January, the area was hit by the country's brutal civil war. By the end of January, Kajo-Keji was all-but evacuated; with some 98 per cent of the population fleeing to Uganda.
The Diocese of Kajo-Keji has also relocated and has set up new headquarters and moved its ecumenical training programme to the Ugandan town of Moyo. "The Moyo District Authorities and the Madi and West Nile Diocese of the Church of Uganda have welcomed the people of Kajo-Keji warmly," the Diocese of Kajo-keji's newsletter, Voice of Hope, reports.
---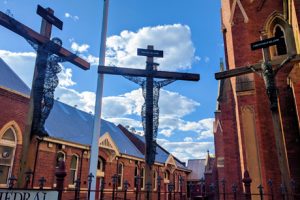 Crucified Migrants Sculpture Highlights the Plight of Refugees
St Paul's Cathedral in Bendigo, in the Australian state of Victoria, is displaying an artwork depicting crucified migrants in the run-up to Easter. The cathedral's Dean, John Roundhill, said that he hoped the exhibition would "challenge people at this Easter time to make a deep connection between events 2,000 years ago and the plight of refugees in our world today."
---

Climate Change Discussed in Toronto
At a day-long "creation care fair" held at St. Cuthbert's Anglican Church in Toronto's Leaside neighbourhood, Anglicans and community members had a chance to ask church and secular leaders about how they were responding to the challenge of climate change.Front and centre were questions about whether or not the Anglican Church of Canada will divest from fossil fuel companies.