Collective Justice Training
October 6

-

October 9

$111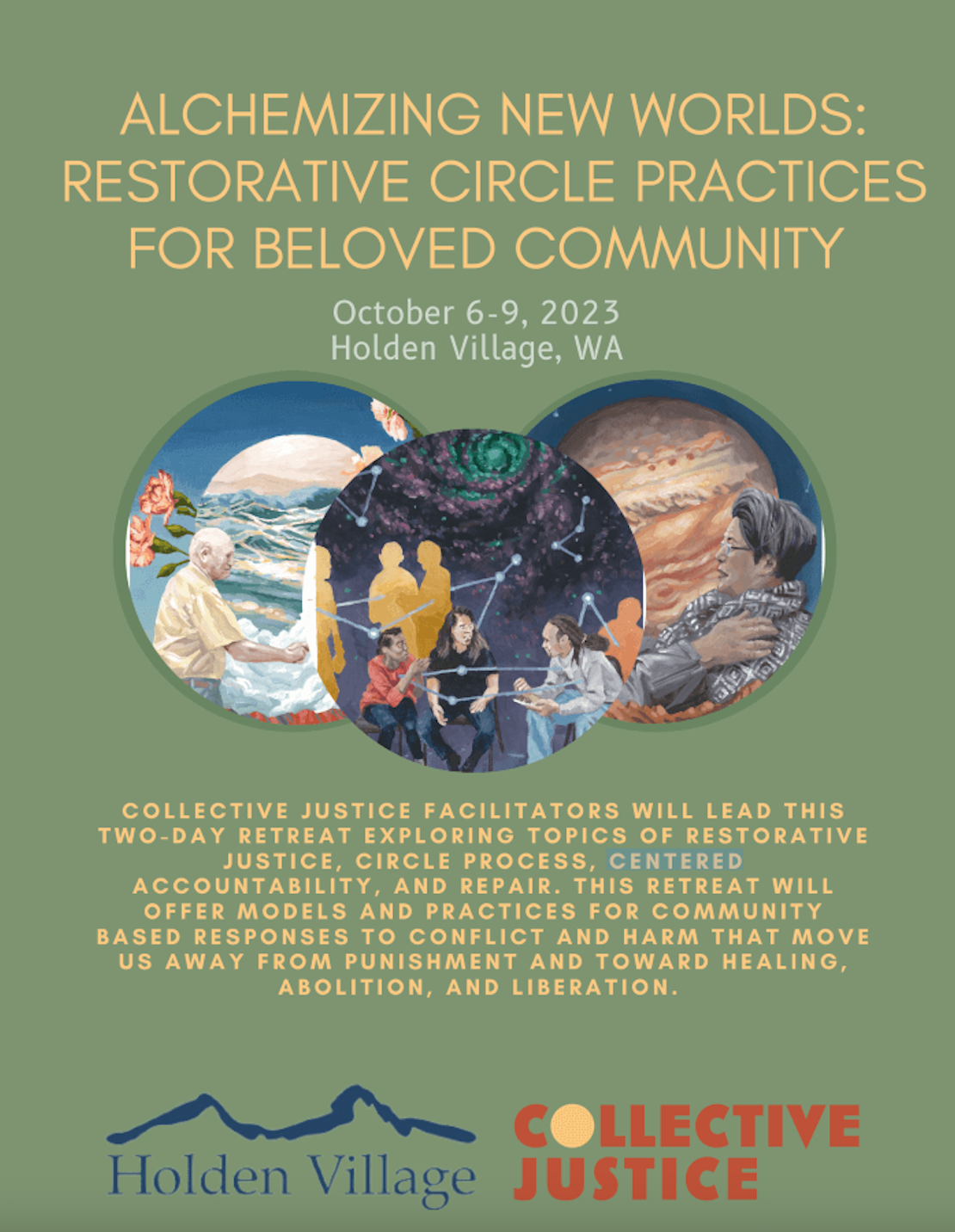 Calling educators, organizers, leaders, and community workers to register for Alchemizing New Worlds: Restorative Circle Practices for Beloved Community at Holden Village. Participants should arrive on Friday, October 6th, and plan to depart on Monday, October 9th, with retreat programs throughout the day on Saturday, October 7th and Sunday, October 8th.

Collective Justice facilitators will lead this two-day retreat exploring topics of restorative justice, circle process, centered accountability, and repair. This retreat will offer models and practices for community-based responses to conflict and harm that move us away from punishment and toward healing, abolition, and liberation.

About Holden Village

Holden Village is a remote wilderness community, rooted in the Lutheran tradition, that welcomes all people into the North Cascade Mountains, above Lake Chelan, Washington. Over the course of 60 years, Holden Village has been transformed from a copper mining town to a vibrant place of education, programming, and worship. Learn more about Holden Village.

About the Faculty

Taylor Tibbs is a HEAL Team facilitator with Collective Justice, mentor, racial justice advocate, and auntie born and raised in Seattle, Washington. They joined the collective in 2021 to learn more about incorporating Restorative Justice into their education equity work and fell in love with the vibrant and caring CJ Community. Taylor is deeply committed to practicing accountability, compassion for all living beings, and Restorative Justice as a pathway to systems change. They are trying to practice self-love, compassion for all living things (except spiders), and believe that their liberation as a Black and Queer Person is connected to the liberation of all people. Taylor dreams of opening a bookstore with friends and creating a social hub for folx of color to gather, rest and practice mutual aid.

Matthew Kama'aina moves with the ways of his ancestors and their teachings of "all our relations." He is Kanaka Maoli, born in Maui, and grew up in circle and sweat lodge on the Puyallup Indian Reservation. He believes in the power of community-based healing that centers dignity, agency, and collective care. He locates his circle work in movements to end mass incarceration and state repression. Matthew's unwavering dedication to creating a world free from all forms of violence is driven by his own experiences as a survivor, second-generation gang member, and third-generation formerly incarcerated person. Matthew is the Restorative Dialogue Director and circle facilitator at CJ. He has facilitated many circles in the aftermath of serious harm and holds an Associates of Arts degree through University Beyond Bars.

Chloe Huber is a member of Collective Justice and South King County & Eastside Mutual Aid, and a participant in survivor-led and survivor-stewarded healing and arts spaces. Her experience is in collaborating on community-based healing spaces for persons who have experienced gender-based violence, grounded in a value of meeting the essential needs of shelter and food first. Chloe is a member of API Chaya's RISE! Circle, if you identify as a BIPOC and/or API survivor of sexual violence, abuse, or assault, and are interested in healing and building political power through creative arts, please reach out! As a facilitator, the spaces I like to foster are: spaces of healing and agency for survivors, spaces for taking authority and power from the state and back into community, and spaces for organizations to explore messages around harm and care within their collective–to create processes and spaces to prepare for and respond to harm intentionally aligned with our values.

Brandon Pedro does his community work through Community Passageways and Collective Justice. Guided by the experience of rising from and beyond the violence of multi-state systems. He comes from two generations of incarceration and has been negatively impacted by the public school system. As a HEALING Justice practitioner, he faces his trauma while honoring the space for resiliency. Sharing these practices with those he serves; youth, formerly/incarcerated, and whomever he can.

How to Sign-Up

Ready to register? On the Visit Holden page, scroll down to Visit in the Spring, Autumn, or Winter and click on Make a Reservation under the trio of photos.

You'll see a calendar where you can select an arrival date (Friday, October 6th) and ending date (Monday, October 9th). The reservation system will calculate your rate, based on $111 per night. Your completed reservation serves as the registration fee for the retreat!

Also, be sure to book your travel by boat uplake to Holden Village (on the Lady of the Lake) and down lake to Chelan or Field's Point (on the Lady of the Lake, Lady Express, or the Stehekin Ferry).

A scholarship fund is available. You are encouraged to fill out this form to request tuition support.

For questions about lodging, registration, etc., contact Registrar@holdenvillage.org. For questions about the retreat program, contact Program@holdenvillage.org.
Collective Justice Training
Related Events