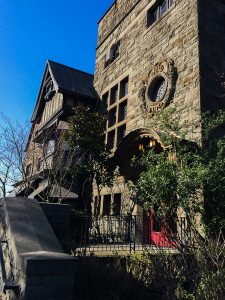 The Office of the Bishop is located in Diocesan House, a stone mansion in Seattle's Capitol Hill neighborhood.
Diocesan House was the home of Eliza Ferry Leary, daughter of Washington's first Governor, Elisha P Ferry. Mrs Leary's husband John shared in the design of the house but died in 1905 before the house was completed. John Leary was also a Seattle Mayor.
The house was placed on the National Historic Register in 1976 and is open to the public. More than 17 groups use Diocesan House for monthly meetings. Members of the public are welcome to visit during business hours and guided tours are available by appointment.
Please contact Erik Bauer, Diocesan Archivist and Records Manager, for more information or to schedule a tour.