Uptown Arts Camp
Saint Paul, Seattle | July 9 – 13, 9:00am – 3:00pm | $225 | K – 5th Grade
Registration Deadline: July 9
St. Paul's is excited to announce our 2nd annual children's Uptown Arts Camp! Guided by local professional artists, children will explore their artistic voices through visual and performance art. The children will sing, paint, mold, act, move, color, glue, and create alongside inspirational Seattle artists who believe in uplifting children's voices.
---
Memorial service for Laura Poston
Saint Mark's Cathedral, Seattle | July 12, 2:00pm
Laura Poston, former member of Saint Mark's Cathedral with many friends in the diocese, died on June 14. She had moved to Colorado in recent years to be closer to her children. A memorial service will be held at Saint Mark's on Thursday, July 12, at 2 p.m., followed by a reception in Bloedel Hall.
---
Mel Butler & Jack Barben Quintet:
Mid-Summer Night
St. Luke, Renton | July 13, 6:00pm-9:00pm | $50/person, or $300 to reserve a table of six
An evening of live music, a social hour, and a candlelight dinner. Mel Butler, Jack Barben, and others will perform summer classical and jazz music. The social hour will be held in the courtyard, complete with beverages, a cash bar, and live music. The evening will continue inside the church with more music and a candlelight dinner prepared by chef William Flora. RSVP Cost is $50/person, or $300 to reserve a table for six. Ten percent of the proceeds will support the renovation costs of St. Mark's Cathedral. Space for this event is limited; reserve your seat/table now. Please pick up your tickets from the church office. If needed, we can mail your tickets to you.
---
Taize Worship Service
St. Alban, Edmonds | July 15, 7:00 pm
Experience this contemporary form of worship with music, lessons, prayers and silence, making it an evening to remember. Taize worship originated in a monastic community in the small village of Taize, France in the 1940s. Its peaceful, contemplative nature has drawn millions from all over the world to practice this kind of worship. Everyone is welcome. Refreshments will be served following this service.
---
Who is My Neighbor? – Youth Pilgrimage
Sponsored by St. John, Gig Harbor | July 15-21 | $300 per youth ($200 for a sibling). Scholarships will be available
Registration deadline: July 6
Jesus taught that the greatest commandment is "to love the Lord your God with your whole heart and love your neighbor as yourself." But just like Jesus' companions asked, so we wonder, "Who is my neighbor?" To answer that question, St. John's is sponsoring a Youth Pilgrimage to discover our neighbors in the world next door. Just 20 minutes away and across the bridge from Gig Harbor, life in Tacoma can be an entirely different world from our comfortable and privileged community. Our goal is to open our eyes to a larger and more complex world, while instilling within our youth a compassionate heart to see and love as Jesus sees and loves us all.
Each day's itinerary is still being finalized, but some of the neighbors we're hoping to meet are: The Tacoma Rescue Mission, Advocates for Immigrants in Detention Northwest (AID NW), Guadalupe's House of Hospitality, and L'Arche Tahoma Hope. Four adults will lead sixteen youth (entering 6th graders – high school seniors). Priority is given to St. John's youth and their friends. Additional slots will be open to others who'd like to join us. To register, contact Eric Stelle below and he will forward you a registration form.
---
Art & Soul "Blessed are the Peacemakers"
St. Paul, Port Townsend | July 16 – 20 | $20
Registration deadline: July 9
For children ages 4-12. Concepts of caring, compassion, non-violence and quiet courage will be conveyed through group activities of art, music and performance.
---
Justin Brueggeman, organist
Christ Church, Tacoma | July 20, 12:10pm | Goodwill offering
Justin Brueggeman, organist, plays music by Bach, Buxtehude, Mendelssohn, and Mozart on the renowned John Brombaugh pipe organ. Mr. Brueggeman is Interim Organist, Holy Trinity Lutheran Church, Kingsport, Tennessee and Principal Organist, St. Dominic Roman Catholic Church, Kingsport, Tennessee. Join us for 40 minutes of delightful music!
---
A Noah's Ark themed
Vacation Bible School program
Saint Mary, Lakewood | July 23 – 27 | $20
Registration deadline: July 1
Please join St. Mary's A Noah's Ark themed Vacation Bible School program. The program is open to all children 3 years of age (must be potty trained) through 6th grade. A celebration program on Sunday, July 29th at the 10:00 am morning worship service. The Rainbow is a beautiful reminder to us that God keeps his promises!!
---
Water & Soul program for youth ages 11-15
St. Paul, Port Townsend | August 5 – 10 | $175, scholarships available
Registration deadline: July 29
Water & Soul is an experiential program for youth who are invited to explore the wonders and blessings of the natural world, and to listen ever more deeply for God's call to care for creation. Each day will offer a new geographical destination. Activities will include trips to Chimacum Creek, the Dungeness Spit in Sequim, the newly restored Elwah River, and a whale watching trip to Friday Harbor. Participants will learn to map and orient their location as they explore local flora and fauna, and salmon life and lore. The program begins at St. Paul's on Sunday evening with a barbecue and introductory activities. Event hours may vary, depending upon the day's activities.
---
Vacation Bible School – Superhero Central!
St. James, Kent | August 7-9 | $25
Registration deadline: August 3
Please join us on a hero's journey this summer! We will be spending 3 days (Tuesday through Thursday) together learning about heroes in the bible as well as discovering how we can be heroes in our homes and our communities. Participants will craft, sing, experiment, learn about the Bible, and much more all in a Superhero setting.
---
Education for Ministry
St. Margaret, Bellevue | Wednesdays starting September 5, 10:00am – 12:30pm or 6:30pm – 9:00pm
If you are interested in learning more about Scripture, about your faith, exploring ideas, and talking together through questions, EFM may be for you! Saint Margaret's in Bellevue, WA will be offering two EFM (Education for Ministry) classes in the fall. Beginning Wednesday, September 5th, we will have a daytime group, meeting from 10:00 a.m. to 12:30 p.m. The evening group, meeting also on Wednesdays, will go from 6:30 p.m. to 9:00 p.m. If you have questions, or would like to enroll, please contact Sonja Lindberg below.
---

Support Group For Caregivers of Those with Memory Loss
St. Mary, Lakewood | 3rd Saturdays
A safe place for unpaid family caregivers, their family and friends to:
Exchange practical information on caregiving problems & possible solutions
Talk through challenges & ways of coping
Share feelings, needs & concerns
Learn about resources available in the community
---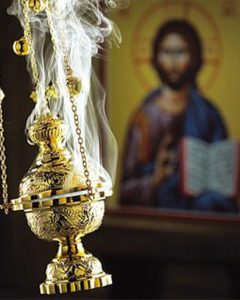 Weekly Healing Eucharist
St. Clement, Seattle | Wednesdays, 12:00pm
Join St. Clement, Seattle every Wednesday Evening at 6:00pm for the celebration of the Holy Eucharist with Scripture, reflections, and prayer, including the litany for healing and the Sacrament of Healing.