End of Life Discussion Series
St. Stephen, Oak Harbor | Wednesday Mornings, November 7-28; 11:00am
St. Stephen's Episcopal Church, Oak Harbor in conjunction with WhidbeyHealth Hospice Care and Hospice of the Northwest Wednesday mornings 11:00 AM through November. Nov 7, Introductions and overview, aging in place. Nov 14 Legal documents and introduction to forms, Nov 21 End of life disease progression and social worker panel. Nov 28 After death: panel discussion for arrangements. Format of panel discussion and Q&A time.
---

Transgender Day of Remembrance
St. Hilda St. Patrick, Edmonds | November 17, 7:00pm
We gather to celebrate and remember our transgender brothers and sisters who have endured hate, and particularly those who have lost their lives in violence. The Rev. Carla Robinson will be our keynote speaker.
---

St. James Country Christmas Bazaar
St. James, Cathlamet | November 17, 10:00am
Gifts, crafts, jewelry, children's store, baked goods, food, and more.
---

Thanksgiving Eucharist
Epiphany, Seattle; Chapel | November 22, 9:00am
Begin your Thanksgiving Day by giving thanks to God for all God has done for you.
---

Multicultural Holiday Arts & Craft Fair
St. Peter, Seattle | December 1, 10:00am
Join St. Peter, Seattle for Food, Fun & Holiday Frolic! Craft fair, featuring local artists, world crafts, multicultural books, home decor & gift ideas galore! Delicious baked goods, sushi & plate lunch! 12:30 pm Ukelele Band performs. Visit from St. Nick!
---

Bach's Lunch: An Old and New World Christmas
Christ Church, Seattle | December 4, 12:10pm
Christ Episcopal Church and Pacific MusicWorks present Bach's Lunch, our third season of of FREE noontime concerts on the first Tuesday of every month, October through May. Bring your lunch and enjoy these informal concerts in Christ Church's beautiful historic sanctuary in the heart of the U district. Join us for a 45 minute concert featuring some of the region's finest musicians performing baroque to modern works, including many works by underrepresented composers. This month, organist Henry Lebedinsky and the Pacific MusicWorks Underground House Choir perform rustic Christmas carols and hymns from Renaissance and Baroque Spain, Italy, and Latin America.
---

Messiaen's Twenty Visions of the Infant Jesus: Reinis Zariņš, Pianist
Saint Mark's Cathedral, Seattle | December 8, 7:30pm | $15-20 Tickets
This is truly profound Christmas music! Here is a rare opportunity to hear Olivier Messiaen's penetrating Christmas cycle, Vingt Regards sur l'enfant Jesus, in a complete performance by candlelight in a sacred space by a dazzling pianist who has made this 20th-century masterpiece a specialty in his repertoire.
---

Celtic Christmas Concert
St. Alban, Edmonds | December 10, 7:00pm | Goodwill Offering
Celtic Christmas Concert features an varied program of European and Celtic infused Christmas music featuring the international ensemble of Irish flutist, BRAIN DUNNING, German & American vocalists MARC GREMM & JANET MARIE CHVATAL with American keyboardist and vocalist JEFF JOHNSON. The ensemble has developed a unique blend of contemporary Celtic, Classical and Sacred styles in concerts throughout Germany and in the USA. This concert is sponsored by St. Alban's, Edmonds for the benefit of Chase Lake Community School's Safety Net Program aimed at meeting basic needs of Chase Lake families who live below the poverty line. Donations of cash or non-perishable food at the door.
---

December Dreams
Saint Mark's Cathedral, Seattle | December 15, 8:00pm | Tickets: $25 (general), $20 (senior/military), $5 (youth/student). Children 6 to 10 free
The Seattle Choral Company invites you to their 11th annual Cathedral Christmas celebration at Saint Mark's Cathedral. This year's concert is titled "December Dreams," offering listeners a break from holiday stress and activity with beautiful music sung in the spacious acoustics of Saint Mark's. Traditional carols and new holiday classics by worldwide choral composers. Family carol sing-along with the Flentrop organ at 7:30 p.m.
---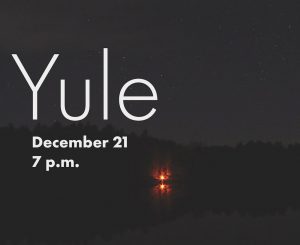 Yule: Seasonal Liturgy
St. Luke, Renton | December 21, 7:00pm
An evening liturgy of poetry, song, and story for the winter solstice. All are welcome to participate in these seasonal liturgies at St. Luke, Renton.
---

The Armed Man: A Mass for Peace
Bellevue Presbyterian Church, Bellevue | March 16, 8:00pm
First Free Methodist Church, Seattle | March 23, 8:00pm
Cost: $25 (general), $20 (senior/military), $5 (youth/student). Children 6 to 10 free
Written for the millenium in 2000, The Armed Man: A Mass for Peace has become one the world's favorite modern works. Welsh composer Sir Karl Jenkins uses all sorts of inspirations for his text, including the Muslim call to prayer, the sixteenth-century 'L'Homme armé' Mass tradition, and ancient religious texts. This anti-war work was dedicated to the victims of the Kosovo conflict. The Seattle Choral Company presents this concert in collaboration with Brass Band Northwest. Mezzo-soprano Sarah Mattox is featured soloist.
---

Cantata Fest
Seattle First Baptist Church, Seattle | June 1, 8:00pm | Cost: $25 (general), $20 (senior/military), $5 (youth/student). Children 6 to 10 free
The Seattle Choral Company has invited members of the North Coast Chamber Orchestra and soprano soloist Rebekah Gilmore to join them for their June 1st "Cantata Fest." The concert will follow the choral cantata form through three centuries of musical history with three enduring works: Cantata No. 4 "Christ lag in Todesbanden" (Christ lay in in the bonds of death) by Johann Sebastian Bach (1685-1750), Cantata "Wer nur den lieben Gott lässt walten" (He who allows dear God to rule him) by Felix Mendelssohn (1809-1847), and Cantata "Triptych" by Tarik O'Regan (b. 1978).
---
Education for Ministry
St. Margaret, Bellevue | Wednesdays, 10:00am – 12:30pm or 6:30pm – 9:00pm
If you are interested in learning more about Scripture, about your faith, exploring ideas, and talking together through questions, EFM may be for you! Saint Margaret's in Bellevue, WA will be offering two EFM (Education for Ministry) classes in the fall. Beginning Wednesday, September 5th, we will have a daytime group, meeting from 10:00 a.m. to 12:30 p.m. The evening group, meeting also on Wednesdays, will go from 6:30 p.m. to 9:00 p.m. If you have questions, or would like to enroll, please contact Sonja Lindberg below.
---

Support Group For Caregivers of Those with Memory Loss
St. Mary, Lakewood | 3rd Saturdays
A safe place for unpaid family caregivers, their family and friends to:
Exchange practical information on caregiving problems & possible solutions
Talk through challenges & ways of coping
Share feelings, needs & concerns
Learn about resources available in the community