Live Stream of Saint Mark's Cathedral Christmas Eve Service
Saint Mark's Cathedral, Seattle | December 24, 10:30pm
Saint Mark's will live stream a carol prelude and the 11 p.m. Christmas Eve Service. This offering is given by your cathedral for anyone who might benefit from its broadcast. Tune in during the service or watch the on-demand recording at a later time.
---
Versed: Theological Conversations in the 21st Century
Diocesan House, Seattle | Wednesdays Beginning January 3, 7:00pm
Join other young adults along with Episcopal Priests and Bishop Rickel for theological presentations and conversations over dinner.
January 3: Atonement

with The Rev. R.C. Laird

January 10: Ascension

with The Rev. Ivar Hillesland

January 17: Sexuality

with The Rev. Danae Ashley

January 24: Money

with The Rev. Lance Ousley

January 31: Prayer

with The Rev. Meghan Mullarkey

February 7: Who Needs a Soul?

with The Rev. Lucas Mix
---

Follow the Refugee Resettlement Office on Social Media
Do you want the latest updates from the Diocese of Olympia's Refugee Resettlement Office (RRO)? Follow the RRO on Facebook and Instagram!
---
Pieces of the Puzzle: Winter HYC
Black Diamond Camp, Auburn | January 5-7 | $130 Registration (scholarships available)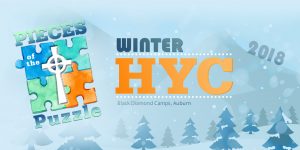 A fun, faithful, and friend-filled retreat for those in grades 9-12. If you prefer onsite housing, this is the retreat for you! Retreat includes faith exploration, fun, and fellowship, through contemporary music, worship, small group conversations, games, workshops and special activities like Blacklight Dodge Ball, zipline and drift trikes! Meet youth from around the diocese, make new friends, reconnect with old ones, and live into a larger Christian community.
Join us as we celebrate 12th night and the Epiphany! We'll look at what Mary and Joseph pondered over and explore what things we ponder in our hearts, what God's guidance looks like as well as what puzzling questions we have.
---
NDI/Assessment Training for Parish Bookkeepers and Treasurers
Diocesan House, Seattle | January 20, 10:00am-12:00pm
Parishes are asked to complete the NDI form each month to report assessable revenue and calculate the amount owed to the diocese each month. Learn the technical details about how to complete the form, how to determine what revenue is assessable, and what revenue can be deducted from your assessment. The event will be held in the Diocesan Council Room with a video link to the remote locations. An RSVP is required by Friday, January 12 to ensure that the remote location you wish to attend will be open.
---

Prophetic Preaching in a Time Such as This: Preaching Truth-in-Love in Polarized Times
Saint Mark's Cathedral, Seattle | February 22, 2018, 10:00am-3:30pm
Explore the art of Jesus' sermons that transcended dualities, dichotomies, and fear-based tribalism.
Clergy and preachers are invited to attend this special one-day workshop offered by The Reverend Ed Bacon and explore the art of Jesus' sermons that transcended dualities, dichotomies, and fear-based tribalism. Drawing on comments received from many preachers who have found our world of current events to be so challenging, this offering is designed to help us find our voices in a time such as this. There are characteristics of Jesus's teaching-sermons that balanced critical truth-speaking with unequivocal love for his listeners. This workshop will explore the art of preaching that transcends the dichotomies and dualities of the pastoral and the political.
The workshop is offered free of charge underwritten by St. Mark's Cathedral and a grant from the Office of the Bishop of the Diocese of Olympia. Lunch is provided but advanced registration is required.
---
Becoming an Atheist about the God of Rewards and Punishments
Saint Mark's Cathedral, Seattle | February 23, 6:30pm-8:30pm & February 24, 9:00am-3:00pm | $50 Registration (includes breakfast and lunch on Saturday)
This event will be facilitated by The Rev. Ed Bacon, the former rector of All Saint's Church in Pasadena, CA. Drawing on themes from Cynthia Bourgeault's latest work on Centering Prayer, including her emphasis on Oneness, and tapping Ilia Delio's work on Wholeness as well as Ed Bacon's own work on Love and Fear, this workshop is designed for those seeking to integrate a life of both contemplation and action as well as phenomenal levels of energy (a literal "well of water gushing up full of eternal life-energy"). We seek to become atheists about the God of rewards and punishments split off from both science and other faiths while we articulate a New Narrative of experiential faith for a transformed church.
---
Observe Democracy in El Salvador
February 28-March 6 | $850 plus airfare
The Diocese of Olympia is seeking people interested in traveling to El Salvador in March 2018 as election observers. Citizens of El Salvador will be electing mayors and members of the national legislature. The Ecumenical Forum of the Latin American Council of Churches (FECLAI) is organizing groups of volunteers to help observe the election process and ensure the strengthening of democracy in El Salvador.
Election observing offers you a unique opportunity to see direct democracy up close as Salvadorans go to the polls. Observers are a deterrent to electoral fraud and help provide citizens confidence in the integrity of their election processes. Observer delegations will be in the country February 28 to March 6, 2018; FECLAI will provide training to volunteers. The approximate cost to volunteers will be $850, including lodging, meals, supplies, fees, and transportation. Airfare is extra.
We are very early in the planning but are excited at the opportunity for our Diocese to send a delegation as we have a companion relationship with the Episcopal Anglican Church of El Salvador.