Rise Up, Church, and Lead the Way of Love!
Michael Monnikendam and the Diocesan Commission on Liturgy and the Arts are looking to have a festival diocesan choir to sing at the final liturgy for Diocesan Convention on October 27 and need your help.
The commission would be honored to have a wide representation from across the diocese. A new piece of music has been commissioned to be sung at the final liturgy. The plan is to have a morning rehearsal, lunch, quick afternoon rehearsal, and then liturgy. The exact details will be forthcoming.
RSVP by email below or call 206-522-7144 ext. 307 and provide your church name, number of participants from your church, and voice types. The deadline will be Oct. 8, 2018.
---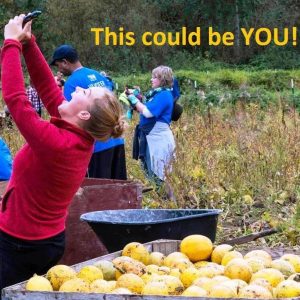 Episcopalians, Squash Hunger!
Food Bank Farm | September 23, 2:00pm
A bumper crop of nutritious winter squash grows ripening in the rich soil of the Snohomish River Valley. We need your help to deliver this top quality produce to the hungry. In just three hours, 100 harvesters can fill a Food Lifeline semi with 40,000 pounds of delicious winter squash. That's 80,000 servings of food! From Food Lifeline, the squash goes out to 300 food banks in Western Washington. Volunteers hand harvest acorn squash and fill bins in the field. All ages. Bring a friend.
---

Children & Families Ministry Leadership Meeting
Diocesan House, Seattle | September 26, 11:30am
Join us at our next Children & Families Ministry Leadership Meeting on Wednesday, September 26, from 11:30am-1:00pm at Diocesan House. Lunch will be provided.
---

Be the Difference: Fall High School Youth Retreat
St. John, Olympia | September 28-29 | $35 registration
Learn more about the essential elements of Presiding Bishop Curry's The Way of Love at the Fall High School Retreat as we look at the intersection of life and faith!
Explore how the practices in The Way of Love equip us to be the difference in our world. Over the course of the weekend, you'll learn how the different practices (turn, learn, pray, worship, bless, go, and rest) can support and equip you to be the difference in your community – both in your everyday life and in actions that may be counter-cultural, such as advocating for change. You'll connect with other youth from around the diocese as we learn, worship, play together, have fun, and explore our faith.
Register today and get ready to Be the Difference in your community!
---
Where There's a Will, There's a Way: A Diocesan Workshop on Planning Ahead and Providing for Your Loved Ones
St. John, Snohomish | September 29, 9:00am – 2:30pm | $20, includes lunch and many resources
Registration deadline: September 28
What is your hope for your legacy – both for your loved ones and for the church you love?
Explore this question at a very special workshop especially for the Sno-Isle region. Single parents, retirees, those in the "sandwich generation" – all are welcome!
Steve Thomason, Dean and Rector of St. Mark's Cathedral, will talk about transformative gifts. Joel Nichols, an attorney from Everett, will discuss basics of wills. Both of them will offer provocative examples to illustrate the importance of planning ahead!
Workshop includes table talks with area clergy, estate planning attorneys and financial advisors. Everyone who attends will receive the Life Planning Manual, a very good tool developed by our diocese.
"We were created to be generous, and making a legacy gift to a church community has the remarkable dividend of great joy for the donor and for all who will benefit from their generosity." – Steve Thomason, Dean and Rector of St. Mark's Cathedral
---
Second Round of Green Grants Available
Application deadline September 30
Is your church planning a project that will save either energy or water? The BCE (Bishop's Committee for the Environment) is sponsoring grants to support your work to reduce our impact on God's good earth. The BCE matches church expenditures up to $500. If you have a project in mind or one that you have recently started, check out the application at the link below. Applications are due September 30.
---

Dreams and Spiritual Growth
Facilitated by Frances Parks, Ph.D., ABPP
Saint Mark's Cathedral, Seattle; Leffler Living Room (Except November 13 & December 11 – meet in Cathedral House Room 210) | Second Tuesdays, October-March, 6:30pm | $10 per Session
"The dream is the small hidden door in the deepest and most intimate sanctum of the soul, which opens to that primeval cosmic night that was soul long before there was conscious ego…"— C.G. Jung
Work with dream theory and material encourages an appreciation and understanding of symbols and symbolic material that is familiar in Biblical literature, liturgy, and art. Such work and study enables and encourages a trust in knowing through wisdom and faith as a complement to our culture's heavy value on trusting only the rational. Goals for participants include: to develop a better understanding of the concept of true self; to gain insight into aspects of the personality that may not be in conscious awareness; and to facilitate personal/spiritual development through a study of the theory of dreams based largely on the work of Carl G. Jung. Participants would be encouraged to read John Sanford's book Dreams: God's Forgotten Language as a basis for understanding and discussion. This group requires a commitment to regular attendance and participation. Fee: $10 per session. For more information and to register, contact The Rev. Canon Jennifer King Daugherty.
---

Versed 2018:
Theological Conversations in the 21st Century
Diocesan House, Seattle | Tuesdays in October & November, 6:30pm
Join other young adults in their twenties and thirties for light dinner and conversations with Episcopal priests and area faith leaders. Everyone is welcome!
October 9: Being in Relationship
with the Rev. Elizabeth Riley
October 16: Passion vs. Paycheck
with the Rev. Shelly Fayette & Aaron Scott, Diocesan Missioner for Anti-Poverty Organizing
October 30: Befriending Death
with Greg Malone, MA MDiv, Mgr. of Palliative Care, Swedish Medical Group
November 6: Money & Power
with the Rev. Joseph Peters-Mathews
November 13: Spiritual and Religious
with the Rev. Meghan Mullarkey
Sponsored by the Bishop's YA Advisory Group, Episcopal Diocese of Olympia.
---

Underhill House Listener Training
Underhill House, Seattle | October 10, 12:00pm – 2:30pm
Underhill House, a quiet place to pause for prayer, is offering its next Listener training on Wednesday, October 10 from 12:00pm–2:30pm. Come consider whether you'd like to greet, listen and pray with our guests once or twice a month, Wednesdays or Thursdays on Capitol Hill near Broadway and Republican. Come and discern — no commitment necessary to attend training. If you have questions or would like to sign up, please contact Susan Dean.
---
2018 Global Mission Grant Applications are Open
Deadline October 15
Do you have a parish-based partnership in a developing country somewhere around the world? Funds are available to assist you in that ministry through our Diocesan Mission Grants program. At the 2015 Diocesan Convention we reaffirmed our commitment to support the UN's development goals (now known as Sustainable Development Goals – SDGs) as criteria for global mission grants. This is consistent with the mission goals of The Episcopal Church, and with our baptismal covenant "to seek and serve Christ in all persons, loving our neighbor as ourselves."
Parishes and diocesan-related organizations are encouraged to seek funding for global partnerships in which they are engaged somewhere in the developing world. Projects should address one or more of the 17 Sustainable Development Goals. Grants are usually in the $2,000-$3,000 range. 2017 grants were made for mission projects in Palestine, Israel, Cambodia, El Salvador, Mexico, Kenya, South Sudan, and Tanzania.
Please complete the application form and return by October 15, 2018. If you have questions, please contact the Rev. Jeffrey Gill, Chair of the Global Mission Grants Committee, at 206.624.5337 x23 or at jeff@trinityseattle.org.
---
Immigration Reform in Washington State with Attorney General Bob Ferguson
Saint Mark's Cathedral, Seattle | October 17, 7:00pm
Saint Mark's presents Washington State Attorney General Bob Ferguson, who will share his thoughts on the current state of immigration both locally and nationally, as well how we can continue our involvement toward sensible and equitable policies. Following is a panel discussion moderated by The Right Rev. Greg Rickel, Bishop of the Diocese of Olympia, with Marcos Martinez, Executive Director of Casa Latina; Estela Ortega, Executive Director of El Centro de la Raza; and Michael Ramos, Executive Director of The Church Council of Greater Seattle.
---
Come and See… Go and Tell/Cursillo
Dumas Bay Conference Center, Federal Way | October 19-21 | $100
Come and See… Go and Tell offers an experience of spiritual renewal. Guests will experience God's unconditional love while deepening their understanding of Jesus' teachings. Stories of faith presented on the weekend encourage living out our baptismal covenant in the world. Guest cost of $100 includes all retreat materials, all meals and snacks and 2 night's lodging.
---

A Dedication 90 Years in the Making:
Dedication and Consecration of Cathedral Renovations
Saint Mark's Cathedral | October 21, 4:30pm
You are cordially invited to join The Rt. Rev. Gregory H. Rickel, Bishop of the Diocese of Olympia, for a special service of Consecration and Dedication of the Saint Mark's Cathedral renovations and the new baptismal font. Among the donor recognitions will be a Donor Wall naming all 806 individual donors and every parish who contributed to this historic campaign.
---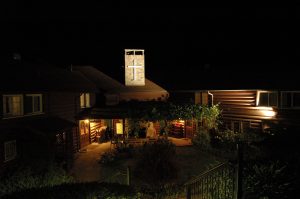 St. Andrew's House Fundraiser Gala 2018
St. Andrew's House, Union | October 24, 6:00pm | $25 per ticket
Come to St. Andrew's House for an evening of great food (tapas style), an Art Exhibit of the work of Jean Tudor, and a concert featuring talented singer/songwriter Beth Whitney. Tickets can be purchase online at the St. Andrew's House website.
---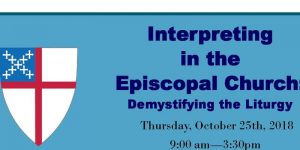 Interpreting in the Episcopal Church: Demystifying the Liturgy
St. Matthew, Browns Point/Tacoma | October 25, 9:00am | $50 Registration
This workshop is geared toward working freelance interpreters who have an interest in working in the Episcopal Church setting. This 6-hour workshop delves into the essential components of the Book of Common Prayer and the liturgy of Episcopal worship. Focus will be on understanding the meaning(s) behind the liturgy in order to render a cogent and accurate interpretation. Father Kendall Haynes, Rector, will give a brief tour of the church nave. This workshop will be presented in ASL with no interpretation. Space is limited.
---

Fierce Conversations Leadership Training
St. John, Snohomish | November 9-10
St. Anne, Washougal | November 16-17
St. Benedict, Lacey | December 7-8
Fridays, 9:00am-5:00pm; Saturday, 9:00am-4:00pm | $35 Diocese of Olympia Clergy or Consultant; $205 Non-Diocesan Participant
"While no single conversation is guaranteed to change the trajectory of a career, a company, a relationship, or a life… any single conversation can." Training in Fierce Conversations will provide you with tools to transform the conversations that are central to your success.
---
Fall Retreat – Grades 6-9
– Save the Date –
St. Paul, Bellingham | November 16-18
Save the date for the upcoming junior high fall retreat for students grades 6-9!
Diocesan events are a great opportunity for youth to learn what it's like to be part of a broader church community and make connections with other youth. If you're interested in staffing, please contact Denise Brumbaugh through the link below.
---
Israel/Palestine Educational events
Western Washington faith leaders are very pleased to offer at no cost three different educational events in the area this fall to foster a deeper understanding about issues pertaining to the Israel/Palestine conflict. In late October, there will be a visit by Pilgrims for Peace advocates Mae Cannon, Sami Awad and Jessica Montell. From November 8-13, a group of three graduates and a teacher from the Mar Elias School (founded by Archbishop Elias Chacour) will be speaking as peace ambassadors. And on November 15-18, writer and activist Alison Weir will be casting light on what Americans don't know but should know about US/Israeli relationship. As Christians seek to stand in solidarity with efforts to promote human rights and a just peace in Israel/Palestine, these speakers provide an avenue for opening minds and hearts to the harsh realities on the ground and what we can do in response as followers of Jesus. While these events are all free, there will be an offering taken to offset costs and support their educational work.
October 30-31 – Pilgrimage to Peace (P2P), Mae Cannon, Sami Awad, Jessica Montel
(Contact: John Berg: johntberg@msn.com)
October 30
Lunch reception at Bellevue Presbyterian Church
6:00p.m. Evening talk at Trinity Lutheran, Lynnwood
October 31
Breakfast meeting in Seattle (details pending)
11:00 a.m. Episcopal Bishop's Committee lunchtime reception at St Mark's Cathedral, Seattle
1:30p.m. Seattle Pacific University Students Group (Doug Thorpe coordinating)
6:00p.m. Evening talk at University Presbyterian Church
November 8-12 – Mar Elias School Students/Teacher: Israel/Palestine Peace Ambassadors
(Contact: Charlie Lewis (425) 328-5283 charlie@snopres.org)
November 8
3:00p.m.- 4:30p.m. Seattle Pacific University (time still to be confirmed)
November 9
7:00p.m. Presentation at Langley United Methodist Church
November 11
12:15p.m. Luncheon and presentation at Bellevue First Presbyterian Church
4:00p.m. Dar Alarqam Mosque, Lynnwood
7:00p.m. Dessert and presentation at Trinity Lutheran Church, Lynnwood
November 12
7:00p.m. Dessert Fundraiser at Snohomish First Presbyterian Church
November 15-18 – Alison Weir: Writer and Activist
(Contact: Jim Kutz (360) 503-9845 j.a.kutz@gmail.com)
November 15
4:30p.m.-7:00p.m. Event with area clergy and social ministries staff at the Office of the Bishop
November 16
6:00p.m. Presentation: "Justice for All?: What Don't Americans Know about Israel- Palestine?" at Trinity Lutheran Church, Lynnwood
November 17
7:30a.m.-8:00a.m. Radio interview with Mike McCormick, KEXP
9:00a.m.-4:00p.m. Kairos Puget Sound Coalition Conference at Seattle Mennonite Church
November 18
12:00p.m. Presentation: "Marching to Zion: The Zionist Reality in Modern Israel." at Everett 1st Presbyterian Church