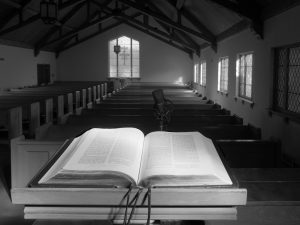 St. Stephen, Seattle's Chapel Celebrates 75 Years
St. Stephen, Seattle | May 31, 7:00PM
St. Stephen's Chapel celebrates 75 Years of gathering community to be transformed and sent out to share God's love. Many across the diocese have served at or been baptized, confirmed, or married in the Chapel. Old and new friends are invited to celebrate with Eucharist and a reception!
---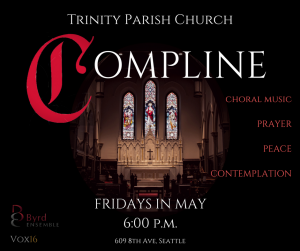 Compline at Trinity Parish Church
Trinity Parish, Seattle | Fridays in May
Trinity Parish Church is offering a sung Compline service, Fridays in May at 6pm
---

A Film About Good Endings
St. Andrew, Seattle | Beginning May 3, 7:00pm
St. Andrew's is showing a documentary titled "Speaking of Dying" on Wednesday, May 3 at 7 pm. Afterwards the documentary's producer will lead a discussion on end-of-life hopes and stories. "Speaking of Dying" is a documentary film intended to inspire viewers to reflect on and speak openly about their end-of-life hopes and to motivate us through the words and stories of patients, family members, and medical providers who are facing these issues to make end-of-life plans.
Follow-up Sessions: Perspectives on Life, Death and Resurrection: Wednesdays, May 10, 17, and 24, 7:00-8:30pm
These sessions will continue the discussions prompted by Speaking of Dying, provide practical information, and prompt more reflection.
May 10: "Advance Care Planning and End-of-Life Options" ~ Rector Rich Weyls
May 17: "Even at the Grave We Make Our Song" ~ Center Program Director Cherry Haisten
May 24: "Practicing Resurrection" ~ Assisting Priest and Center Co-Director Terry Steig
---
Auditions for A Midsummer Night's Dream
St. James, Kent | June 3, 12:00-2:00pm
Seattle Shakespeare Company actor & director Shanna Allman will direct a performance of Shakespeare's A Midsummer Night's Dream at St. James, Kent. Speaking roles are available for actors age 8 to 98!
---

Kids & Race: Changing the Narrative
St. Paul, Seattle | June 3, 9:30am | $15 Children, $25 Adults
Join St. Paul, Seattle for a three-hour workshop focused on identity development and cultural norms. Presenters will discuss how narratives and counter-narratives shape our children's personal and racial identity development. This workshop is specially suited for preschool through elementary aged children, their parents, and their educators. Children and adults have separate programs to engage them. Snacks will be provided for the children.
---
Mt. Baker Regional Meeting
St. Paul, Mount Vernon | June 3rd, 11:00am-2:00pm | Free will donation for lunch
Come to this gathering of churches in the Mt. Baker Region to interact with delegate and alternates to convention, as well as clergy. Hear a report on Diocesan Council activities from representatives Linda Donato and Rilla Barrett. Fr. Dale Johnson, Syrian Orthodox Priest, will give an update on his work with refugees and currently, in the Dominican Republic. The main program will be a presentation by Pastor Terry Kyllo on the "Neighbors in Faith" programs and work being done here in the Northwest to reach out to the Muslim community. All are welcome to this program. For more information call Betty Anne McCoy 360.588.8859.
---

Interfaith Conversations: Native American Spirituality
St. Luke, Renton | June 7 & 14, 6:30pm
St. Luke, Renton will host two Interfaith Conversations that will focus on Native American spirituality. A light supper will be provided at 6:30 p.m. downstairs in the main church, followed the conversation at 7:15 p.m. upstairs.
June 7: Ray Kingfisher shares the Message of the Water Protectors and the Native Culture and Way of Life
June 14: The Traveling Day Society provides an evening of Native music, chant and storytelling
---

Rise Up!
St. Luke, Renton | June 20, 7:00pm
A liturgy for the summer solstice with music, dancing, sun, beer, and wine.
---
Centering Prayer Introductory Program
The Center at St. Andrew, Seattle | May 20, 8:30am-3:00pm; June 3, 10, & 24, 8:30am-2:00pm | $75, Scholarships Available
Centering Prayer gives you a way to say "yes" to God's presence and action in your life. It is a method of silent prayer that leads to contemplation and a deeper relationship with God. This program is valuable for those new to centering prayer and those who seek to deepen their existing practice. Even if you have at one time attended a Centering Prayer introductory workshop or are in a centering prayer group, this program can let you hear and see anew. All sessions will take place at St. Andrew, Seattle and will be presented by long-time Centering Prayer practitioners who have been trained and commissioned by Contemplative Outreach.
---

AWAKE: A Dream from Standing Rock
St. Andrew, Seattle | June 26, 7:00pm
Join St. Andrew, Seattle for a screening of the documentary AWAKE: A Dream from Standing Rock. AWAKE follows the dramatic rise of the historic #NODAPL native-led peaceful resistance at the Standing Rock Sioux Reservation near Cannon Ball, North Dakota, which captured the world's attention as one of the biggest stories of 2016. The documentary features emotional first-person accounts as well as gripping footage of militarized local police and private security teams confronting water protectors and journalists. The film also takes us behind the front lines to reveal the intimate day-to-day life of the camp community, as indigenous and non-indigenous protectors gather for peaceful prayer and song, and engage in daily tasks like clearing snow, raising tipis, distributing clothing donations, or building sleeping barracks for the many veterans who arrived to join the water protectors.
---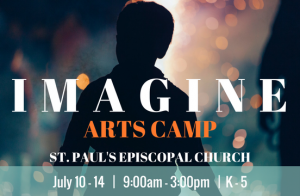 Children's Summer Arts Camp
St. Paul, Seattle | July 10-14, 9:00am – 3:00pm | $250 per Child ($200 for additional children from the same family)
St. Paul, Seattle is hosting a week long arts camp for kids, grades K- 5, daily from 9:00am – 3:00pm, with an art show on Friday at the end of camp. Guided by local professional artists, we will explore our artistic voices through visual and performance art. Hosted by St. Paul, Seattle; all are welcome! Contact Missy Trull with questions at trull.melissa@gmail.com or 509-844-3631.
---

Vacation Bible Camp 2017: Message Received – Hearing God's Call
Epiphany, Seattle | July 10-14, July 16, 1:00-4:00pm | $40 per Camper ($20 each additional sibling)
God has a message for you! Can you hear it? People are called to love God and follow Jesus every day. Those who hear God's message and respond are forever changed and can change the world around them. Vacation Bible Camp (VBC) at Epiphany is a place for all ages to experience God's love in a safe and welcoming environment. Activities include Bible storytelling, crafts, games, chapel, music, and service.
---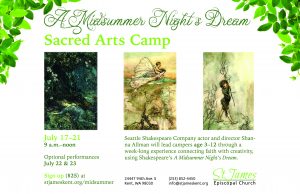 Sacred Arts Camp
St. James, Kent | July 17-21, 9:00am – 12:00pm | $25 Tuition
A week-long, VBS-style camp for children ages 3–12. Campers will connect faith with creativity, learn about acting, stagecraft, and gardening, and have the opportunity to perform in A Midsummer Night's Dream, directed by Shanna Allman of the Seattle Shakespeare Company.
---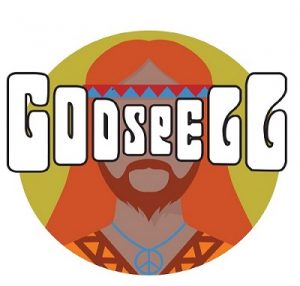 Godspell for middle and high school students
St. Stephen, Seattle | July 31 – August 20 | $200 Tuition
We are offering an ecumenical musical theater camp this summer.
---
Icon Workshop
The Center at St. Andrew, Seattle | August 16-19
Complete the painting of an icon with Iconographer Peter Pearson.
---

Support Group For Caregivers of Those with Memory Loss
St. Mary, Lakewood | 3rd Saturdays
A safe place for unpaid family caregivers, their family and friends to:
Exchange practical information on caregiving problems & possible solutions
Talk through challenges & ways of coping
Share feelings, needs & concerns
Learn about resources available in the community
---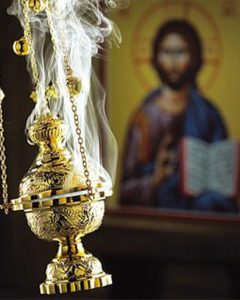 Weekly Healing Eucharist
St. Clement, Seattle | Wednesdays, 12:00pm
Join St. Clement, Seattle every Wednesday Evening at 6:00pm for the celebration of the Holy Eucharist with Scripture, reflections, and prayer, including the litany for healing and the Sacrament of Healing.