Episcopal 101
St. Andrew, Seattle | Wednesdays, November 28-December 19; Supper at 6:00pm & Class at 6:30pm | Free will offering gratefully accepted
A four week offering that will explore The Book of Common Prayer, music, liturgy, our use of the Bible, as well as ministry and Service. Designed specifically for individuals new to Episcopal Church but, all are welcome. Sponsored by: St. Andrew's Episcopal Church.
---
College Scholarship Workshop
St. Columba, Kent | 2nd Sundays through June; 1:30pm
Do you have a high school plan that will make your child an attractive candidate for some serious financial assistance?
Do you have a plan to research which colleges might be best suited to your child's interests and abilities?
St. Columba, Kent is host to a free monthly seminar for 7th-12th graders, and their parents, on how to understand the system of college admissions. Many of the 8th grade students who have attended in the past have benefited significantly.
Most of the great scholarships, and substantial financial aid packages are awarded by many of the best colleges in the country to kids that they have known for several years. In some cases (more than it used to be) these financial awards are being made to 10th graders! Not just any 10thgraders, but 10th graders that the schools have known for some time.
One student is attending MIT for only $256.00 per year, including transportation.
One student is attending Rensselaer Polytechnical Institute, perhaps the foremost engineering school in America, with a credit of $70,000/yr to cover her total expenses.
This is an excellent opportunity for our 8th and 9th graders and families to start planning for college NOW! Don't make college a last minute decision.
---

Friday Night Flicks Presented by St. Matthew, Browns Point
St. Matthew, Browns Point/Tacoma | December 14, 7:00pm | Goodwill Offering
The Good News in Film. Friday Night Flicks is the voting arm of the Film Festival Browns Point evangelism initiative. Positive call to action films regarding freedom and justice amongst us will be shown and voted on to be included in the the festival August 2-3 2019. This Friday's film will be The Reluctant Radical which is a new initiative to combat Climate Change. Come for the free popcorn, stay to make new friends. This is a free event.
---

Emmanuel Concert Series
Emmanuel, Mercer Island | December 21; 12:10pm
Emmanuel Church, (4400 86th Ave. SE, Mercer Island) hosts its annual Advent Concert Series Friday afternoons in December. All concerts will feature Emmanuel's Organist, Susan E. Bloomfield, who has been the Associate for Music Ministries at Emmanuel since 2014. Bloomfield is joined by cellist Carson Farley on December 14, and flutist Lauren Asimakoupoulos on December 21. These FREE concerts are held from 12:10-12:50pm and attendees are encouraged to bring a lunch and enjoy music of the season.
Friday, December 21 – Susan Bloomfield, organ and Lauren Asimakoupoulos, flute
For more information, please contact Emmanuel Church: (206) 232-1572 or susan@emmanuelmi.org.
---

A Celtic Christmas with The Beggar Boys
St. Andrew, Seattle | December 15, 7:30pm | $20 General Admission; $15 Seniors; Under 18 Free
Warm up your holiday season as The Beggar Boys bring traditional Christmas music from Ireland, Scotland, and Wales to the Pacific Northwest. The ethereal vocals of singer Abigail Lennox blend with fiddles, whistle, and guitar to create the Beggar Boys' signature blend of traditional songs and tunes and powerful originals, called "lush and revealing" by the Boston Globe. This festive program will also feature Larry Young's dramatic storytelling and live Irish step dancing.
---

December Dreams
Saint Mark's Cathedral, Seattle | December 15, 8:00pm | Tickets: $25 (general), $20 (senior/military), $5 (youth/student). Children 6 to 10 free
The Seattle Choral Company invites you to their 11th annual Cathedral Christmas celebration at Saint Mark's Cathedral. This year's concert is titled "December Dreams," offering listeners a break from holiday stress and activity with beautiful music sung in the spacious acoustics of Saint Mark's. Traditional carols and new holiday classics by worldwide choral composers. Family carol sing-along with the Flentrop organ at 7:30 p.m.
---

Benefit Christmas Concert
St. David, Friday Harbor | December 15, 3:00pm
Richard Lind conducts a 25-voice, unaccompanied choir in Advent and Christmas hymns and anthems by American composers. Free admission, but cash donations to the Family Resource Center or non-perishable items for the Food Bank will be gratefully accepted.
---

St. Paul's Advent Party
St. Paul, Seattle | December 15, 4:00pm
All ages are invited to St. Paul's Advent Party!
Artist-in-Residence Ethan Anderson will sing, play, lead us in song, and reflect upon his work as a musician. The event will also be an opportunity to support Chaplains on the Harbor, a group of chaplains pastoring, organizing, and empowering the leadership of poor people in Gray's Harbor County. If you would like to support this ministry, consider bringing a sleeping bag, tent, or monetary offering. Representatives from Chaplains on the Harbor will be our guests so we'll have a chance to learn much more about this creative and inspiring ministry.
---

Sing & Play Along Messiah
St. Michael & All Angels, Issaquah | December 16, 2:30pm | Goodwill Offering
Come sing, play, or hear the Christmas portion of G.F. Handel's Messiah, under the direction of Dr. Jason Anderson. Hosted in partnership with members of the Issaquah Philharmonic Orchestra, this is a benefit for Issaquah Community Services "Merry Christmas Fund". 100% of donations assist families in need. A reception follows in the parish hall.
Who should attend? Singers of all ages, abilities, and skill levels; instrumentalists comfortable with playing Baroque music; community members who enjoy hearing this beautiful music.
---

Regional Youth Advent Party
(King & Pierce Counties)
St. Columba, Kent | December 16, 1:00pm
Youth in grades 6 to 12 and their leaders are invited to the Regional Advent Party on December 16th from 1 to 4pm hosted at St. Columba's Episcopal Church in Kent, Washington! Episcopal Youth Groups from King and Pierce Counties will come together for an afternoon of holiday fun, festive crafts, and delicious snacks, as we ponder the mystery of advent with new friends.
---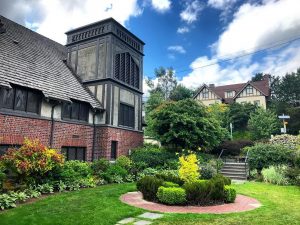 Monthly Taizé Service
Epiphany, Seattle – Chapel | December 18, 8:00pm
Join this peaceful prayer service in the candlelit Chapel. Taizé music is beautiful, simple, repetitive chant sung as a prayer. We sing with the help of a piano and a cantor, say a few prayers, and sit together in a period of silence in the middle of the service. Some people sing and others just rest in the beauty of the experience.
---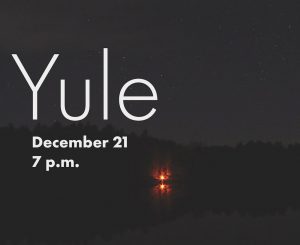 Yule: Seasonal Liturgy
St. Luke, Renton | December 21, 7:00pm
An evening liturgy of poetry, song, and story for the winter solstice. All are welcome to participate in these seasonal liturgies at St. Luke, Renton.
---

Caroling in the Labyrinth
St. Paul, Seattle | December 23, 6:30pm
Gather together to share some of our favorite carols with the neighborhood. Songbooks will be provided. Seasonal refreshments to follow.
---

Fatted Calf Cafe
St. Paul, Seattle | December 25, 4:00pm
Once a month, St. Paul, Seattle provides a community meal for whoever needs one. This month, the meal falls on Christmas Day. St. Paul, Seattle is seeking volunteers to help us in whatever way they can.
---

New Year's Eve with Doug Cleveland & Friends
St. Thomas, Medina | December 31, 8:00pm; 9:30pm Reception | $30 Suggested Donation
Featured artists include: Douglas Cleveland, organ • Cecilia Buss, violin • Roberta Downey, cello • Natalie Ham, flute • David Ritt, trombone • Charles Robert Stephens, baritone • Jose-Luis Munoz, counter-tenor
---

12th Night Mass & Neighborhood Party
St. Matthew, Browns Point/Tacoma | January 5, 5:00pm
Come celebrate the Epiphany with 12th Night at St. Matthew, Browns Point/Tacoma! The Mass at 5:00pm will be celebrated by Bishop Rickel and will include the burning of the parish's 26 year mortgage. At 6:30pm, the party begins with a full feast, traditional wassail and snap dragons, plenty of singing, and good old fashioned fun for the whole family! Nursery care provided.
---

The Armed Man: A Mass for Peace
Bellevue Presbyterian Church, Bellevue | March 16, 8:00pm
First Free Methodist Church, Seattle | March 23, 8:00pm
Cost: $25 (general), $20 (senior/military), $5 (youth/student). Children 6 to 10 free
Written for the millenium in 2000, The Armed Man: A Mass for Peace has become one the world's favorite modern works. Welsh composer Sir Karl Jenkins uses all sorts of inspirations for his text, including the Muslim call to prayer, the sixteenth-century 'L'Homme armé' Mass tradition, and ancient religious texts. This anti-war work was dedicated to the victims of the Kosovo conflict. The Seattle Choral Company presents this concert in collaboration with Brass Band Northwest. Mezzo-soprano Sarah Mattox is featured soloist.
---

Cantata Fest
Seattle First Baptist Church, Seattle | June 1, 8:00pm | Cost: $25 (general), $20 (senior/military), $5 (youth/student). Children 6 to 10 free
The Seattle Choral Company has invited members of the North Coast Chamber Orchestra and soprano soloist Rebekah Gilmore to join them for their June 1st "Cantata Fest." The concert will follow the choral cantata form through three centuries of musical history with three enduring works: Cantata No. 4 "Christ lag in Todesbanden" (Christ lay in in the bonds of death) by Johann Sebastian Bach (1685-1750), Cantata "Wer nur den lieben Gott lässt walten" (He who allows dear God to rule him) by Felix Mendelssohn (1809-1847), and Cantata "Triptych" by Tarik O'Regan (b. 1978).
---
Education for Ministry
St. Margaret, Bellevue | Wednesdays, 10:00am – 12:30pm or 6:30pm – 9:00pm
If you are interested in learning more about Scripture, about your faith, exploring ideas, and talking together through questions, EFM may be for you! Saint Margaret's in Bellevue, WA will be offering two EFM (Education for Ministry) classes in the fall. Beginning Wednesday, September 5th, we will have a daytime group, meeting from 10:00 a.m. to 12:30 p.m. The evening group, meeting also on Wednesdays, will go from 6:30 p.m. to 9:00 p.m. If you have questions, or would like to enroll, please contact Sonja Lindberg below.
---

Support Group For Caregivers of Those with Memory Loss
St. Mary, Lakewood | 3rd Saturdays
A safe place for unpaid family caregivers, their family and friends to:
Exchange practical information on caregiving problems & possible solutions
Talk through challenges & ways of coping
Share feelings, needs & concerns
Learn about resources available in the community