St. James Country Christmas Bazaar
St. James, Cathlamet | November 18, 10:00am-4:00pm
Join the community of St. James, Cathlamet for their annual fundraiser in support of the St. James Family Center – Vendors, Gifts, Children's Store, Food and Lots of Fun!
---

Two Spirits, One Heart
A Mother, Her Transgender Son, and Their Journey to Love and Acceptance
St. Peter, Seattle | November 19, 10:30am
In honor of Transgender Day of Remembrance, St. Peter, Seattle warmly invites you to a morning with Marsha Aizumi and Aiden Takeo Aizumi. The conversation will be followed by brunch. Marsha Aizumi is an educator, motivational speaker, and advocate for the LGBT community. She serves on the National Board of Directors of Parents, Families, and Friends of Lesbians and Gays (PFLAG). Aiden Takeo Aizumi is a committed activist for LGBT rights. In 2010, he was honored as a youth leader with the Paul A. Anderson award from the National Gay and Lesbian Task Force. He currently serves on the PFLAG National Transgender Gender Non-conforming Advisory Council. Aiden is also pursuing a bachelor's degree in education.
---
Songs of Thanksgiving: Interfaith Service
Redeemer, Kenmore | November 19, 3:00pm 
Mark your calendars for a community interfaith Thanksgiving service. There will be music from church groups in the Kenmore-Bothell Interfaith Group (KBIG), as well as short remarks on gratitude and thanksgiving from faith leaders.
---
Choral Evensong for the Feast of Christ the King
Epiphany, Seattle | November 26, 5:00pm

Please join Epiphany Parish Choir  for a choral event.
---
Soup and Sound Advent Concert Series
Emmanuel, Mercer Island | December 1, 11:30am; December 8, 11:30am; December 15, 11:30am | Goodwill Offering
This year's "Soup and Sound" Advent Concert Series at Emmanuel, Mercer Island features music for organ solo, duo and trio.  Susanna Valleau will kick off the series on December 1 with a program of solo organ music.  Wyatt Smith and Sam Libra follow up on December 8 with organ duos, and the series ends with organ trios with Susan Bloomfield, organ, Carson Farley, cello, and Ian McKnight, flute.   This concert series is a wonderful way to relax and celebrate the season.  A luncheon with homemade soup & bread is followed by music in the church from about 12:00-12:45pm.
---

Karin Stevens Dance Presents: The Saci & the Greater Trumps
Plus: A Moving Conversation
Cornish Playhouse, Seattle (conversation at St. Paul, Seattle) | December 1, 8:00pm; December 2, 2:30pm (conversation from 4:00-5:30pm) | $15-50 tickets
The Universal Language Project and Karin Stevens Dance partner in this thrilling double header featuring a contemporary tale of good and evil in The Greater Trumps—music by Igor Stravinsky and libretto by dramatist Doug Thrope. Plus, experience the premiere of Grammy nominated Jovino Santos Neto's Saci—A Brazilian folktale for seven musicians, narrator, and dance.
Please join St. Paul, Seattle after the Saturday, December 2 matinee performance for an opportunity to interact with the artists. Enjoy drinks provided by Timber City Ginger, refreshments, and a moving conversation between the audience and the artists.
Sponsored by St. Paul's Arts Commission
---
Choral Evensong
Epiphany, Seattle | December 3, 5:00pm

Join Epiphany Parish for a concert sung by the Epiphany Choristers to celebrate the first Sunday of Advent.
---
 The O Antiphons Service of Lessons and Carols
Saint Mark's Cathedral, Seattle | December 3, 7:00pm | Goodwill Donation
This beloved annual service of music and pageantry celebrates the beginning of Advent – the season of longing, vigilance, and expectation in preparation for Christmas. With the Cathedral Choir, the Compline Choir, and the Senior Choristers of Saint Mark's Choir School.
---
Muslim Christian Friendship: Achieving Better Understanding of the Other
St. Luke, Renton | December 9, 4:00pm
St. Luke's Church will host talks and conversation with two Islam scholars. Dr. John Morrow and Imam Sheikh Noor-uddin will be joined by Zahra Abidi, Executive Director of Seattle non-profit "Roots of Conflict." All are welcome to attend this event co-sponsored by St. Luke's, Renton and Saint Mark's Cathedral, Seattle.
---

Buon Natale: An Italian Christmas
Seattle Choral Company at Saint Mark's Cathedral, Seattle | December 9, 8:00pm | Tickets: $25 (general), $20 (student/military/veteran), $5 (student), Children 6 to 10 FREE
Buon Natale is the way they say Merry Christmas in Italian.
Take a musical tour to Italy this holiday season, no passport needed! From sheep-covered hillsides to majestic cathedrals, let the glorious voices of the Seattle Choral Company take you through centuries of Italian masterworks singing Renaissance motets, popular carols, and works by Italian and Italian-American opera composers.
You'll be transported by the works of Italian masters, including Giovanni Pierluigi da Palestrina, Giovanni Gabrieli, Giuseppe Verdi, Luca Marenzio, Gioacchino Rossini, as well as Italian-Americans Gian Carlo Menotti, and Dominick Argento.
---
Advent Lessons & Carols
Epiphany, Seattle | December 10, 5:00pm
 Sung by the Epiphany Parish Choir & Schola featuring:  Marlow's Matin Responsory; Ord's Adam lay ybounden; Adelmann's Lo, how a rose e'er blooming; Manz's E'en so, Lord Jesus, quickly come; Phillips' Gabriel's Message; Parsons' Ave Maria; and Howells' Magnificat (St Paul's).
---

Baltic Centennial: 100 Years of Statehood
Seattle Choral Company at Saint Mark's Cathedral, Seattle | March 24, 2018, 8:00pm | Tickets: $25 (general), $20 (student/military/veteran), $5 (student), Children 6 to 10 FREE
In 2018 the three Baltic nations of Latvia, Estonia, and Lithuania—home of the "Singing Revolution" —will jointly celebrate their 100th anniversary of statehood and independence.  In the Baltics, singing is cultural and historical. Choral music was vital in developing and maintaining a sense of national identity during many years of occupation, as well as providing a means of creative resistance; and so it retained its central role within the culture.
On March 24, 2018, the Seattle Choral Company, along with six participating area choirs, will salute this centennial with a concert demonstrating the sheer beauty and excellence of choral music from the Baltic countries.
---

Songs of the Danube: Choral Songs from Central Europe
Seattle Choral Company at Seattle First Baptist Church | June 9, 2018, 2:00 & 8:00pm | Tickets: $25 (general), $20 (student/military/veteran), $5 (student), Children 6 to 10 FREE
Framed by rolling hillsides, lush vineyards and medieval castles, the legendary Danube River Valley has resonated with musicians, artists, and poets throughout the centuries. It is here in the heartland of Europe where old traditions were preserved in folk tales and folk songs, and Europe's greatest classical composers immortalized these words and melodies as some of their finest works for voices.
Waltz along Europe's historic Danube River on June 9 and hear these folk songs crafted by the area's greatest classical composers—Johannes Brahms, Antonin Dvořak, Bela Bartók, and Henryk Górecki.
---

Support Group For Caregivers of Those with Memory Loss
St. Mary, Lakewood | 3rd Saturdays
A safe place for unpaid family caregivers, their family and friends to:
Exchange practical information on caregiving problems & possible solutions
Talk through challenges & ways of coping
Share feelings, needs & concerns
Learn about resources available in the community
---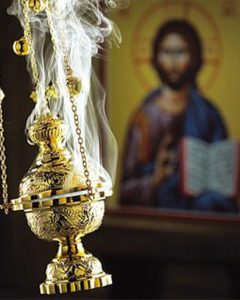 Weekly Healing Eucharist
St. Clement, Seattle | Wednesdays, 12:00pm
Join St. Clement, Seattle every Wednesday Evening at 6:00pm for the celebration of the Holy Eucharist with Scripture, reflections, and prayer, including the litany for healing and the Sacrament of Healing.