Yogadevotion Class Wednesdays in Lent
St. David, Friday Harbor | Wednesdays in Lent Beginning February 28, 3:00pm | Goodwill Offering
Meet in the Sanctuary each Wednesday during lend for a Yogadevotion class. This class is for EVERY body, and no prior yoga experience is required. Instructor Heidi Green is an EFM graduate, experienced yoga teacher, cancer survivor, and co-author of Yogadevotion: Practicing in the Presence.
---
Lenten Series: Demands of the Gospel for the Follower's of Jesus
St. Andrew, Seattle |March 14 and 21, 7:00pm – 8:30pm
Following up on his Sunday Forum on January 21, Michael Ramos, Executive Director of the Church Council of Greater Seattle will continue to explore what principles and pathways in our Christian Tradition can guide our engagement in the public square today. Michael will lead sessions 2, 3 and 4. Bookend sessions 1 and 5 will include Lenten preparation, reflection, and discernment for action.
---
Oliver Brett Organ Concert
Christ Church, Tacoma | March 16, 12:10pm | Goodwill Offering
Oliver Brett plays music by Buxtehude, Bach, Frescobaldi, and Mendelssohn on the renowned John Brombaugh pipe organ. Mr. Brett, a native of Great Britain, is a doctoral candidate in organ performance at the Eastman School of Music, Rochester, New York, and was Second Place winner at the 2017 Canadian International Organ Competition. Join us for 40 minutes of delightful music!
---
Symphony Tacoma Voices
Christ Church, Tacoma | March 16, 7:30pm | Tickets: $25
Symphony Tacoma Voices present Turning of the Seasons, featuring Maurice Duruflé's Requiem and Messe Cum Jubilo, as well as works by contemporary composers Eric Barnum, Jake Runestad and Kim Arnesén. Images of historic paintings and contemporary news photographs will be projected on the church walls, portraying themes of the Passion Story. Dr. Geoffrey Boers, conductor; Amy Boers, organ; Craig Mohr, visuals.
Further information can be found and tickets can be purchased through the link below.
---
26th Annual Worldwide United in Prayer Retreat: Healing our Violence
St. Andrew, Seattle | March 18, 1:30– 5:30 p.m
A quiet time of reflection, honoring silence as a source of healing violence while transforming our relationship with our Creator. Sponsored by Contemplative Outreach NW.
---

Spring Afresh: A Liturgy for the Spring Equinox
St. Luke, Renton | March 20, 7:00pm
Seasonal Liturgies returns in 2018 with Spring Afresh. We will gather on the Spring Equinox for an evening of poetry, story, song, and chant. These liturgies are one of St. Luke's major ways of welcoming and engaging the wider community. Guests are more than welcome.
---
Stations of the Cross
St. Paul, Seattle| March 22, 6:00pm
St. Paul's in Lower Queen Anne is excited to present Stations of the Cross curated by parish artists, poets, and arts-lovers. Walk the Way of the Cross accompanied by meditations offered in paint, poetry, and music.
---

Baltic Centennial: 100 Years of Statehood
Seattle Choral Company at Saint Mark's Cathedral, Seattle | March 24, 8:00pm | Tickets: $25 (general), $20 (student/military/veteran), $5 (student), FREE (Children 6 to 10)
In 2018 the three Baltic nations of Latvia, Estonia, and Lithuania—home of the "Singing Revolution" —will jointly celebrate their 100th anniversary of statehood and independence. In the Baltics, singing is cultural and historical. Choral music was vital in developing and maintaining a sense of national identity during many years of occupation, as well as providing a means of creative resistance; and so it retained its central role within the culture.
On March 24, 2018, the Seattle Choral Company, along with six participating area choirs, will salute this centennial with a concert demonstrating the sheer beauty and excellence of choral music from the Baltic countries.
---
St. Mark, Montesano Celebrates the 25th Anniversary of Ordinations
St. Mark, Montesano | March 25, 10:00am-1:00pm | Goodwill Offering
St. Mark's, Montesano is celebrating the 25th anniversary of the ordinations of Lorraine Dierick and Gretchen Gunderson. They were ordained as local priests for St. Mark's, Montesano and St. John's, South Bend on Palm Sunday weekend back in 1993, and the event will be held on Palm Sunday this year. They will be co-celebrating at the 10am service and there will be a celebration of their ministries following worship. Please come, or send thank you's to St. Mark's for their excellent work.
---
Quartet for the End of Time
Saint Mark's Cathedral, Seattle | March 25, 8:00pm | Tickets $15 (student/senior), $20 (adult)
Composed in 1941 while captive in a Nazi prisoner of war camp, Olivier Messiaen's sublime Quartet for the End of Time is considered to be one of the great masterpieces of the 20th century and a deeply spiritual work contemplating faith, time, and love. Featuring Luke Fitzpatrick, violin; Rose Bellini, cello; James Falzone, clarinet; Jesse Myers, piano.
---

Songs of the Danube: Choral Songs from Central Europe
Seattle Choral Company at Seattle First Baptist Church | June 9, 2:00 & 8:00pm | Tickets: $25 (general), $20 (student/military/veteran), $5 (student), FREE (Children 6 to 10)
Framed by rolling hillsides, lush vineyards and medieval castles, the legendary Danube River Valley has resonated with musicians, artists, and poets throughout the centuries. It is here in the heartland of Europe where old traditions were preserved in folk tales and folk songs, and Europe's greatest classical composers immortalized these words and melodies as some of their finest works for voices.
Waltz along Europe's historic Danube River on June 9 and hear these folk songs crafted by the area's greatest classical composers—Johannes Brahms, Antonin Dvořak, Bela Bartók, and Henryk Górecki.
---

Support Group For Caregivers of Those with Memory Loss
St. Mary, Lakewood | 3rd Saturdays
A safe place for unpaid family caregivers, their family and friends to:
Exchange practical information on caregiving problems & possible solutions
Talk through challenges & ways of coping
Share feelings, needs & concerns
Learn about resources available in the community
---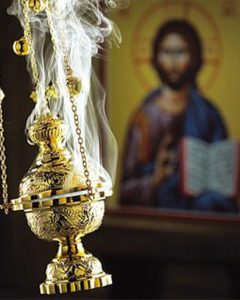 Weekly Healing Eucharist
St. Clement, Seattle | Wednesdays, 12:00pm
Join St. Clement, Seattle every Wednesday Evening at 6:00pm for the celebration of the Holy Eucharist with Scripture, reflections, and prayer, including the litany for healing and the Sacrament of Healing.