RSCM Pacific Northwest Final Services
St. Luke, Tacoma | June 30, 5:30pm
Christ Church, Tacoma | July 2, 10:30am
Saint Mark's Cathedral, Seattle | July 2, 3:00pm
The Royal School of Church Music Pacific Northwest course sings Evensong at St. Luke, Tacoma and their final Eucharists at Christ Church, Tacoma and Saint Mark's Cathedral, Seattle. Music includes Jonathan Dove's Missa brevis, Howells' Service for Gloucester Cathedral, Brahms' "Geistliches Lied," and more. Choristers are from around the Diocese of Olympia, Western Oregon, and across the United States!
---
Cambridge Chapel Choir
St. Philip, Marysville | July 10, 7:00pm | $18 Advance Tickets, $20 at the Door
Christ's College continues the age-old Cambridge (England) tradition of maintaining a Choir to sing services in Chapel. More generally, the Choir makes an important contribution to the life of the College, singing at feasts, weddings, memorial services and other occasions. The 28 members are selected by audition either before or after coming up to Cambridge, and each is expected to be of a very high musical standard. Most hold Choral Exhibitions, and all benefit from regular vocal training with select London singers. Today, as one of Cambridge's finest mixed-voice ensembles, the group also pursues an exciting range of activities outside College, performing concerts in Cambridge and around the UK, recording CDs, broadcasting, and undertaking a major international tour each Summer. They have recently visited Australia, Europe, Canada, and the West Coast of the USA and are very excited about this year's trip in the Pacific Northwest.
---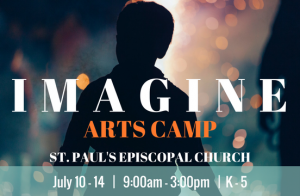 Children's Summer Arts Camp
St. Paul, Seattle | July 10-14, 9:00am – 3:00pm | $250 per Child ($200 for additional children from the same family)
St. Paul, Seattle is hosting a week long arts camp for kids, grades K- 5, daily from 9:00am – 3:00pm, with an art show on Friday at the end of camp. Guided by local professional artists, we will explore our artistic voices through visual and performance art. Hosted by St. Paul, Seattle; all are welcome! Contact Missy Trull with questions at trull.melissa@gmail.com or 509-844-3631.
---

Vacation Bible Camp 2017: Message Received – Hearing God's Call
Epiphany, Seattle | July 10-14, July 16, 1:00-4:00pm | $40 per Camper ($20 each additional sibling)
God has a message for you! Can you hear it? People are called to love God and follow Jesus every day. Those who hear God's message and respond are forever changed and can change the world around them. Vacation Bible Camp (VBC) at Epiphany is a place for all ages to experience God's love in a safe and welcoming environment. Activities include Bible storytelling, crafts, games, chapel, music, and service.
---
Vacation Bible Camp
St. Dunstan, Shoreline | July 10-14, 9:00am-12:00pm | $25 Registration
St. Dunstan, Shoreline is hosting their annual Vacation Bible Camp again this year, offering a fun-filled week of games, Bible stories, music, arts and crafts, and much more.
---
Vacation Bible School
St. Andrew, Seattle | July 10-14, 9:00am-12:00pm | $40 Registration
St. Andrew's theme this summer is God Gives Life, and camp will focus on Bible stories where God shows up in wind, breath, and mysterious ways.
---

Exploring the Labyrinth: Fact, Myths, & Possibilities
St. David, Friday Harbor | July 11, 7:00pm
Come explore some of the facts, myths, and possibilities surrounding labyrinths. David Bentley, a Veriditas trained Labyrinth Facilitator will facilitate a discussion followed by a labyrinth walk.
---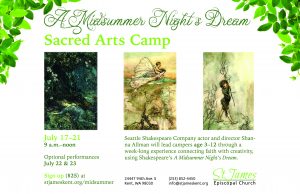 Sacred Arts Camp
St. James, Kent | July 17-21, 9:00am – 12:00pm | $25 Tuition
A week-long, VBS-style camp for children ages 3–12. Campers will connect faith with creativity, learn about acting, stagecraft, and gardening, and have the opportunity to perform in A Midsummer Night's Dream, directed by Shanna Allman of the Seattle Shakespeare Company.
---

Organ Concert
Christ Church, Tacoma | July 21, 12:10pm | Goodwill Offering
Dana Robinson, organist, plays music by J. S. Bach, his student Johann Ludwig Krebs, and Wolfgang Amadeus Mozart on the renowned Brombaugh organ. Dr. Robinson is Associate Professor of Organ at the University of Illinois, Champaign-Urbana. Join us for 40 minutes of delightful music!
---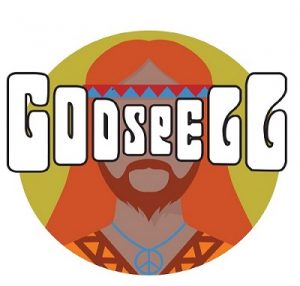 Godspell for middle and high school students
St. Stephen, Seattle | July 31 – August 20 | $200 Tuition
We are offering an ecumenical musical theater camp this summer.
---
Vacation Bible School
St. Mary, Lakewood | August 14-18, 9:00-11:30am | $15 Fee for Supplies (Scholarships Available)
Come join the fun for St. Mary, Lakewood's Vacation Bible School "Heart Strings Tour" where there is a heart full of love for Jesus! They welcome campers in grades Pre-K to entering 5th Grade in the fall. Campers must be restroom independent, and pre-registration is appreciated. Registration forms are below. Questions? Want to help? Please contact Co-Leaders Maria or Barbie Gonzalez at 253.584.9525.
---
Icon Workshop
The Center at St. Andrew, Seattle | August 16-19
Complete the painting of an icon with Iconographer Peter Pearson.
---

Support Group For Caregivers of Those with Memory Loss
St. Mary, Lakewood | 3rd Saturdays
A safe place for unpaid family caregivers, their family and friends to:
Exchange practical information on caregiving problems & possible solutions
Talk through challenges & ways of coping
Share feelings, needs & concerns
Learn about resources available in the community
---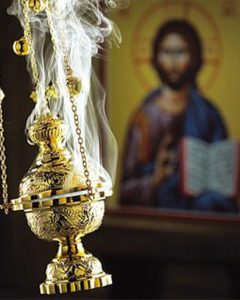 Weekly Healing Eucharist
St. Clement, Seattle | Wednesdays, 12:00pm
Join St. Clement, Seattle every Wednesday Evening at 6:00pm for the celebration of the Holy Eucharist with Scripture, reflections, and prayer, including the litany for healing and the Sacrament of Healing.