Curt Sather, Organist
Christ Church, Tacoma | January 19, 12:10 pm | Goodwill offering
Curt Sather, organist, plays music by Alberto Ginastera, Heinrich Scheidemann, Max Reger and Franz Schmidt on the renowned John Brombaugh pipe organ. Dr. Sather is Director of Music at St. John's Episcopal Church in Olympia. Join us for 40 minutes of delightful music!
---
Concert on the Flentrop Organ: Michael Kleinschmidt
Saint Mark's Cathedral, Seattle | January 19, 7:30pm | $10-15 Donation Requested
Canon Kleinschmidt will perform Jehan Alain's Trois Danses — a set of three striking pieces: Joys, Laments, and Struggles, containing within them some of the most rhythmically compelling music ever composed for the organ. Also on the program: Bach's Toccata, Adagio, and Fugue in C; Franck's Fantasy in A; and Vierne's Impromptu and Toccata. $15/10 requested donation at saintmarks.org/concerts; and at the door.
---
Weaving God's Wisdom into Daily Life:
A Conference in Two Sessions
St. Andrew, Seattle | January 20, 9:00 am – 4:00 pm | $15 – $45 sliding scale suggested donation
How can we overcome obstacles of the false self and grow spiritually and psychologically in order to weave God's wisdom into daily life? The "false self" is a collection of programs that worked well in our young lives to help us deal with our family contexts. Unfortunately these programs are not so helpful in situations we encounter as adults. In this daylong conference, we will address the conceptual background of the false self, explore it from various perspectives, and learn about and practice a method that helps to dismantle it.
9:00 a.m. – 12:30 p.m.: Perspectives on the Self from Mystics and Psychologists (presented by Chris Hyde, Ph.D., psychologist)
1:30 – 4:00 p.m.: Consenting in Everyday Life with the Welcoming Prayer (presented by Cherry Haisten, MA, MATS)
---
Healing the Spiritual Wounds of War
Christ Church, Puyallup | Sunday, January 21st, 2018, 2:00 pm
How can your church care for the spiritual wounds of war? Iraq war veteran and Episcopal priest, David Peters, will present the unique power churches have in healing moral injury and the spiritual injuries associated with PTSD. Veterans and those who care for them are invited to this educational and inspirational presentation.
---
Taize Worship Service
St. Alban, Edmonds | January 21, 5:00pm
Experience a Taize Prayer Service, a contemporary form of worship based on the chants, scripture, repetition, silence, and contemplation. Taize worship originated in a monastic community in the small village of Taize, France in the 1940s. Its peaceful, contemplative nature has drawn millions from allover the world to practice this kind of worship. Everyone is welcome and refreshments will be served following this service.
---
Hymnathon
Saint Mark's Cathedral, Seattle | January 27, 8:00am-6:00pm | Goodwill Donation
Saint Mark's Evensong Choir will sing all 720 hymns in The Hymnal 1982 in one day. The Hymnathon is a fundraiser for their trip to England this summer, where they will sing daily services as choir-in-residence for a week at Ely Cathedral, and a week at Saint Paul's Cathedral, London. In preparation, choir members are securing pledges-per-hymn-sung from friends and families. The Hymnathon is open to the public. Come sing with the choir for some or all of the day, listen, and/or pledge your support for their life-changing adventure as singing leaders of worship.
---
Onyx Chamber Players Present Onyx Classics
Epiphany, Seattle | January 28, 6:15pm

Featuring Laurie Wells, violin, Meg Brennand, cello, and David White, piano.
Haydn Piano Trio in D major XV: 24
Beethoven Piano Trio in Bb major, op. 97 "Archduke"
Presented by the Epiphany Seattle Music Guild.
All concerts are offered without charge.
Followed by a reception.
---
Heart of Wholeness Healing Conference
Good Shepherd, Vancouver | February 2, 7:00pm-9:00pm & February 3, 9:00am-4:00pm | Registration: $30 (in advance) & $40 (at door)
This is a community-wide event open to all denominations and will include teaching by Rev. Hugh Bromiley (National Director of the Order of St. Luke) and his wife Monte Bromiley, who will be joining us from San Antonio, Texas! They will speak on the topic of "The Victorious Life; Speak to the Mountain." The conference kicks off with worship led by ShepherdSong, keynoter teaching and prayer teams available to bless and anoint. The Saturday conference will include teachings, singing, lunch, Eucharist, and workshop break-offs in smaller groups. Advanced registration is preferred.
---
Bach's Lunch Presents the Discovery Trio
Christ Church, Seattle | February 6, 12:10pm
Christ Church, Seattle presents Bach's Lunch – a series of FREE noontime concerts on the first Tuesday of every month, October through May. Bring your lunch and enjoy these informal concerts in the beautiful historic sanctuary in the heart of the U district. February's program features the talented UW Scholarship ensemble The Discovery Trio performing new and old music for baroque instruments.
---
Choral Evensong Followed by Have a Heart
Epiphany, Seattle | February 11, 5:00pm

Sung by the Epiphany Choirs & Choristers
Radcliffe Responses
Psalm 50:1-6
Howells Evening Service (St. Paul's Cathedral, London)
Phillips Transfiguration
Presented by the Epiphany Seattle Music Guild
All concerts are offered without charge.
Followed by a reception.
---
St. Barnabas Wisdom Teaching Day Focuses on Enneagram
St. Barnabas, Bainbridge Island | February 17, 9:30am – 3:30pm | $20 requested donation
On Saturday, February 17, Sarah Walston will lead a program entitled "The Enneagram as Soul Work" at St. Barnabas Episcopal Church on Bainbridge Island. An ancient and modern tool that illuminates nine distinct motivations of human behavior, the Enneagram is a map of human diversity that offers profound insights to help people become more aware, compassionate, effective, authentic and free. Sarah Walston MA Med LMHC is an Enneagram coach and teacher who has worked deeply with Enneagrams for 18 years. Participation in this event, which has a requested donation amount of $20, is limited, so please register early. For more information, contact Rev. Patricia Rome Robertson, revprome@hotmail.com.
---
GRAMMY NOMINEE Paul Galbraith, Classical Guitar
Epiphany, Seattle | March 11, 6:15pm

Internationally renowned as a brilliant innovator of the classical guitar, Paul Galbraith returns to Seattle to perform an extraordinary concert.
Presented by the Epiphany Seattle Music Guild
All concerts are offered without charge.
Followed by a reception.
---

Baltic Centennial: 100 Years of Statehood
Seattle Choral Company at Saint Mark's Cathedral, Seattle | March 24, 2018, 8:00pm | Tickets: $25 (general), $20 (student/military/veteran), $5 (student), Children 6 to 10 FREE
In 2018 the three Baltic nations of Latvia, Estonia, and Lithuania—home of the "Singing Revolution" —will jointly celebrate their 100th anniversary of statehood and independence. In the Baltics, singing is cultural and historical. Choral music was vital in developing and maintaining a sense of national identity during many years of occupation, as well as providing a means of creative resistance; and so it retained its central role within the culture.
On March 24, 2018, the Seattle Choral Company, along with six participating area choirs, will salute this centennial with a concert demonstrating the sheer beauty and excellence of choral music from the Baltic countries.
---

Songs of the Danube: Choral Songs from Central Europe
Seattle Choral Company at Seattle First Baptist Church | June 9, 2018, 2:00 & 8:00pm | Tickets: $25 (general), $20 (student/military/veteran), $5 (student), Children 6 to 10 FREE
Framed by rolling hillsides, lush vineyards and medieval castles, the legendary Danube River Valley has resonated with musicians, artists, and poets throughout the centuries. It is here in the heartland of Europe where old traditions were preserved in folk tales and folk songs, and Europe's greatest classical composers immortalized these words and melodies as some of their finest works for voices.
Waltz along Europe's historic Danube River on June 9 and hear these folk songs crafted by the area's greatest classical composers—Johannes Brahms, Antonin Dvořak, Bela Bartók, and Henryk Górecki.
---

Support Group For Caregivers of Those with Memory Loss
St. Mary, Lakewood | 3rd Saturdays
A safe place for unpaid family caregivers, their family and friends to:
Exchange practical information on caregiving problems & possible solutions
Talk through challenges & ways of coping
Share feelings, needs & concerns
Learn about resources available in the community
---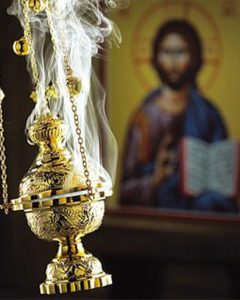 Weekly Healing Eucharist
St. Clement, Seattle | Wednesdays, 12:00pm
Join St. Clement, Seattle every Wednesday Evening at 6:00pm for the celebration of the Holy Eucharist with Scripture, reflections, and prayer, including the litany for healing and the Sacrament of Healing.