Eat with Muslims
St. James, Kent | September 22, 6:30pm
Fathia Absie and Ilays Aden want you to come to dinner. The Somali-American filmmaker and writer is co-founder of a Seattle- based project called Eat With Muslims, where Muslim families host dinners for people of all faiths and cultures.
Eat With Muslims is an organization committed to building bridges between neighbors of different cultures and faiths by bringing people together in comfortable setting to foster an open dialogue with members of the Muslim community. We believe that eating together and sharing our stories will continue to strengthen and enrich our country and its values.
If you would like to help and learn how to cook some of the Somali dishes, you may come to the Parish Hall at 4:30 p.m. for a cooking hour.
---
Poetry at St. Paul's
St. Paul, Bellingham | September 29-30
St. Paul, Bellingham presents a festival of poetry September 29-30. Featuring readings from poets Luci Shaw, Scott Cairns, and Jeanne Murray Walker; workshops led by Luci Shaw, Caitlin Thomson, and Jennifer Bullis; and a keynote by Greg Wolfe.
---

Jesus Christ, Yesterday, Today and Forever
Saint Mark's Cathedral, Seattle | September 29, 7:30pm | Freewill Offering
The National Lutheran Choir leads a community-wide evening of singing. The concert commemorates the 500th anniversary of the Protestant Reformation.
---

Sisters and Brothers All: Perspectives on Immigration
The Center at St. Andrew, Seattle | Wednesdays, October 1-November 1, 7:00-8:30pm
St. Andrew, Seattle is hosting a five-week speaker series on immigration starting October 4 at 7:00pm. Week one will address why members of the Jesus Movement should care about immigration. Week two will highlight a ministry of love, inclusion, and social justice. Week three will focus on combating Islamophobia and faith communities in relationship with Muslims. Week Four will be a Jewish perspective on immigration. Week five will cover legal issues of undocumented immigrants.
---

Michaelmas Quiet Morning
St. Paul, Seattle | October 3, 9:00am-12:00pm
Join Father Jay Rozendaal at St. Paul's Episcopal Church for a Michaelmas Quiet Morning. With the changing of seasons, it's a good time to pause, reflect, and spend time in prayer. The morning will include movement throughout St. Paul's space. RSVP to parishoffice@stpaulseattle.org if you plan to attend.
---

Blessing of the Animal
St. Paul, Seattle | October 7, 10:00am
In honor of St. Francis, you and your pet are invited to St. Paul's annual Blessing of the Animals on Saturday, October 7 at 10am in the labyrinth. All are welcome!
---

Racism in America: Film Series
Ascension, Seattle | October 11; 7:00pm
Join Ascension, Seattle for a series of contemporary films about racism in America, followed by sacred conversations: Get Out, The 13th, and I Am Not Your Negro.
---

Intentional Living: A Way of Life
Holy Spirit, Vashon | October 14, 1:00-4:00pm
How do our daily choices reflect our deepest values? This question underlies an interactive workshop "Intentional Living: A Way of Life" led by Tom Cashman, a well-known retreat leader, spiritual director, and teacher of Celtic spirituality. The workshop is aimed at all who see themselves on a spiritual journey. "Intentional Living" is the fourth in an annual series of workshops entitled "The Gate of Heaven Is Everywhere: The Soul's Movement into Light and Love" made possible by the legacy of Margaret Rothschild, a parishioner at the Church of the Holy Spirit based on a quotation from Thomas Merton; the subtitle reflects Margaret Rothschild's hope that opportunities for spiritual exercises or aesthetic experiences might enrich the soul's journey.
---
Holy Land Pilgrimage
Good Samaritan, Sammamish | April 13-24, 2018
Join the people of Good Samaritan, Sammamish for "Searching for Emmaus," a post-Easter pilgrimage to the Holy Land.
---

Support Group For Caregivers of Those with Memory Loss
St. Mary, Lakewood | 3rd Saturdays
A safe place for unpaid family caregivers, their family and friends to:
Exchange practical information on caregiving problems & possible solutions
Talk through challenges & ways of coping
Share feelings, needs & concerns
Learn about resources available in the community
---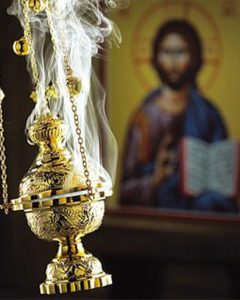 Weekly Healing Eucharist
St. Clement, Seattle | Wednesdays, 12:00pm
Join St. Clement, Seattle every Wednesday Evening at 6:00pm for the celebration of the Holy Eucharist with Scripture, reflections, and prayer, including the litany for healing and the Sacrament of Healing.