Harbor Roots Farm: Tractor Fundraiser!
The second season of Harbor Roots Farm is upon us! We are so excited to announce that we're expanding our operations this year: a new farm site, new hires, more acreage, more food to grow! Last year we successfully supplied weekly CSA shares to twenty-two paying members, and donated several additional shares to low-income people in our community. We employed four incredible apprentice farmers who, in addition to running Harbor Roots, took the lead educating, organizing, and mobilizing others on issues of poverty, addiction, and homeless people's human rights– from right here in Grays Harbor County, to the steps of the Capitol building in Olympia, all the way to the US Senate with the Poor People's Campaign: A National Call for Moral Revival.
To keep up with our growth in 2019, we're fundraising for more farm equipment! This year we need to purchase a tractor, a tow-behind tiller, a new greenhouse, plastic for weed-blocking our beds, pots and seeds.
Harbor Roots Farm is a supportive employment project of Chaplains on the Harbor. We provide paid apprenticeships for young adults getting released from drug treatment, out of jail, and off the streets. In addition to creating decent jobs in a county with limited employment, Harbor Roots apprentices receive case management support as they work through legal, medical, and recovery-related issues. You can donate online through our Fundly page, or send checks to:
Chaplains on the Harbor
P.O. Box 1248
Westport WA 98595
---

Young Adult Bible Study: Exploring the Lineages of Jesus
Chainline Brewing Company, Kirkland | Tuesdays; February 19-April, 6:30pm
The authors of Matthew and Luke both saw it fit to include a lineage of Jesus in their gospels. Why are the these lineages important? Who are the people listed in them? And what can we learn from all this? We'll explore these questions and more in this 8-session Bible study. Feel free to come for all 8 meetings, just once, or anything in between! Contact youngadults@ecww.org for more information or if you'd like a ride.
---

Raising the Roof: Immigration and Christian Responsibility –
Sanctuary at Saint Mark's welcomes The Rev. Nancy Frausto
Saint Mark's Cathedral, Seattle – Bloedel Hall | February 16, 9:00am
(Rev. Frausto will also be preaching at all three morning liturgies at Saint Mark's on Sunday, February 17 and will be part of the "Friends Talking" Forum with Dean Steve Thomason at 10:10 a.m. that morning.)
The Rev. Nancy Frausto of St. Luke's Episcopal Church in Long Beach, California raised the roof at General Convention last summer! A founding member of the Diocese of Los Angeles Sanctuary Task Force and a Dreamer (DACA recipient), she is a powerful preacher and teacher and witness to the power of God's liberating love. Her workshop at Saint Mark's brings together personal story, the state of immigration in our country, and our responsibility and action as Christian community. Come be part of the conversation!
---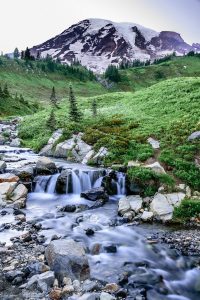 Christian Worship and Care for Earth's Waters
Christ Church, Tacoma | February 16, 9:00am | $30 Registration
Preachers, musicians, intercessors, adult education leaders, social ministry and Green team leaders, and all who care for the vitality of God's earth are invited to participate in the seventh annual Liturgy and Life conference at Christ Church Tacoma. As protections for our local water evaporate at the federal level and as we prepare for Lent's season of baptismal formation, this conference offers Hope for nurturing a sacramental commitment to the one thing upon which all life depends. The Diocesan Commission for Liturgy and the Arts encourages all throughout the diocese to attend. Check the website for speakers and workshops.
---

Evening Episcopalians
Church of the Apostles, Seattle | February 17th, 5:00pm
Curious about the traditions, histories and flavors of other parishes in our diocese? One Sunday a month, a group of young adults across different churches in the diocese will get together to visit the 5 p.m. service at a rotating parish in the Seattle area. Join them to discover how beautiful our diocese is. For more information contact youngadults@ecww.org.
---

Living Well, Dying Well:
Planning the Last Chapter of Your Life
St. Andrew, Seattle | February 23, 9:00am – 2:30pm
How will you and your loved ones make decisions that respect your autonomy and enhance your human dignity in the last chapter of your life?
Bishop Rickel, Dean Steve Thomason, health professionals, attorneys, and clergy from our area will share stories and provide medical, legal and spiritual tools and guidance. Workshop includes lunch and many resources. Bishop Rickel will lead a reflection after showing the film "Speaking of Dying." Everyone who attends will receive the Life Planning Manual, a very good tool developed by our diocese. Join us!
Sponsored by the Life Planning Ministry of the Cathedral Foundation of the Diocese of Olympia.
---

Compline Choir Presents:
An England Pilgrimage Fundraising Concert
First Lutheran Church of Richmond Beach, Shoreline | March 1, 7:30pm | Goodwill Offering
The Compline Choir will present an hour-long Epiphany season concert entitled "God Made Manifest" at First Lutheran Church. Scripture, poetry of Eliot, Guite, and Donne, combines with music by Byrd, Cornelius, Hallock, and Jackson for this unique event. A reception hosted by First Lutheran Church follows the concert. A free-will offering will be taken. All are welcome.
---

Better Together: A Faith Formation Mini-Conference
St. Margaret, Bellevue | March 2, 9:30am-4:00pm | $15 Registration (includes continental breakfast and lunch); $10 per Child (on-site care and child's lunch)
The Diocesan Faith Formation Team has a rich day in store for local leaders in faith formation, music, and arts ministries: "Better Together."
Join us Saturday, March 2 at St. Margaret, Bellevue for a key-note speaker, day of workshops (you'll choose the three that most appeal to you), and guided networking. We have over 20 presenters lined up to lead 12 different workshops like:
Re-imagining How We Gather: Sustainable Children & Families Programming
Life-Changing Community Outreach
Common Ground: Bringing Together All Ages through the Arts
Going Deep: Navigating Group Discussions with Teens
Creating Programs that Attract Millennials & Young Families
You Call That Church Music?! Unlikely Sacred Sounds
And more…
---

Crisis Intervention Training
St. Luke, Seattle | March 2, 10:00am-2:00pm | $10 Registration
Renee Balodis-Cox, a certified trainer in Edgework methodology, will teach effective ways to approach and respond to those in crisis, particularly those suffering from mental illness and drug abuse. You will learn strategies for safe, positive, and helpful responses to situations that can be dangerous. We hope the training gives you more confidence and compassion in dealing with those in crisis.
---

We Rise Together: High School Youth Retreat
Black Diamond Camp, Auburn | March 15-17 | $90 Registration (Scholarships Available)
St. Patrick of Ireland knew that there is a wildness to the Holy Spirit. His journey of capture, slavery, and redemption is an amazing example of how we are invited to encounter God's Holy Spirit. Sometimes the Spirit blows through our lives like a gentle calming breeze and sometimes like a raging wind. Like a good friend, the Holy Spirit shows us the path to take and guides us to companions along the way. Do you feel stuck in life and need direction? Are you in a need of a good friend? Do you need a little Spirit in your life? Join us at Black Diamond Camp in Auburn for the Spring High School Youth Retreat.
From black light dodgeball and worship experiences, to speeding ziplines and small group connections, it's going to be a weekend filled with fun and meaningful encounters with the Holy. Lodging is onsite. Come and join us for an incredible weekend!
---

Chaplains on the Harbor Benefit Dinner
The Rainier Club, Seattle | March 19, 5:00pm | $300 per person (includes appetizers, beer and wine, full dinner, coffee, dessert and a donation to Chaplains on the Harbor)
On Tuesday, March 19, the Diocese of Olympia will be hosting an intimate benefit dinner for Chaplains on the Harbor. This event will be held at The Rainier Club – Seattle's most elite private club, located in the heart of downtown. Bishop Rickel would like to extend an invitation to attend. During our time together you'll have an opportunity to meet one on one with Chaplains on the Harbor staff – including apprentices who have journeyed from experiencing homelessness and incarceration to launching a successful social enterprise, marching alongside Presiding Bishop Michael Curry, and testifying before the US Senate. You'll also hear from the Rev. Sarah Monroe, founder and priest, on Chaplains on the Harbor's history, latest developments, and long-term vision for restoring people, land, and hope in Grays Harbor County.
---

Cursillo Community Gathering
St. James, Kent | March 23, 10:30am | Freewill Offering
All Cursillistas of Come and See/Cursillo are invited to a Community Gathering (Reunion) at St. James, Kent on Saturday, March 23rd at 10:30am until 2pm. Featured Speaker is Nadine Baxter. Join us for music, witness talk, lunch, and sharing our story in small groups. This is also an opportunity to learn more about Come and See…Go and Tell Weekends, ​so bring your friends who haven't attended a weekend.
---

Maundy Thursday Pilgrimage
Chaplains on the Harbor | April 18, 12:00pm | Donation
Chaplains on the Harbor (COH) invites friends and supporters to join a one-day pilgrimage this Holy Week. On Maundy Thursday, a foot-washing service with Bishop Rickel at the church and community center in Westport will be held. After sharing a meal together, all will caravan to Aberdeen and Hoquiam for a Stations-of-the-Cross Reality Tour. This tour and outdoor public vigil will be led by members of COH's congregation who have experienced homelessness, incarceration, police brutality, addiction, racism, and poverty. As we trace Jesus' steps toward Golgatha, we will honor the lives of beloved community members lost too soon to systemic and economic violence. Please join us for this sacred journey.
There is no cost to participate in this event. Please bring a donation to contribute to the ministry: new socks, new underwear, tents, sleeping bags, tarps, and non-perishable food items are all appreciated. We will gather at 281 W Spokane Ave in Westport and begin promptly at noon on Maundy Thursday (April 18th, 2019).
---
Register for the 2019 Missional Voices National Gathering
Christ Church Cathedral, New Orleans | June 13-15 | $99 Registration
The 2019 Missional Voices National Gathering brings together church leaders, seminarians, church planters, entrepreneurs, artists, and everyday innovators to discuss innovative ministries and missional communities both within and outside of the traditional church context. This year's focus will be on what we can learn about God's mission from those engaged in difficult situations. We'll hear from people leading refugee resettlement agencies, campus ministries, a worshipping community inside a prison, parishes after natural disasters, and more.
Missional Voices is a weekend of thinking, planning, and dreaming about the future ministry in The Episcopal Church and Anglican Communion. It is a place where dynamic incubation of new ideas is the norm – not the exception – and people doing uncommon ministry find support and encouragement.
Register today and join the conversation!