Stations of the Cross—Lenten Art Exhibit
Saint Mark's Cathedral, Seattle | February 14 – March 30
Stations of the Cross–Sculptural Reliefs by Virginia Maksymowicz, will be on display at Saint Mark's Cathedral at from Ash Wednesday through Good Friday. Join us on February 18 at 2:30 p.m. in the Cathedral Nave for an opening reception with the artist.
These are cast sculptural reliefs in a tradition of religious imagery that dates back to the 13th century. Maksymowicz worked with a variety of models, culled from a wide range of ages and ethnicities. She explains, "I wanted the narrative of Christ's passion and death to be represented in a way that is tensioned between the "specific" and the "universal." Audio and text guides embedded in a mobile app offer visitors several meditations to accompany their experience. For more information, or to participate in group experiences with the stations, contact Vi Lynk.
---
Mere Objects Art Exhibit
St. Andrew's House | February 14-March 7 By Appointment
Artist Sarah Jane brings attention to the serious issue of sexual violence with a poignant installation of suspended glass globes, each filled with evocative materials obtained from people who have experienced sexual violence. The artist invites participants to choose objects to represent themselves and their stories, and viewers to bear witness and share in her hope for healing and a safer world.
There will be an opening viewing February 14, 5:00pm-9:00pm and a closing reception on March 7, 7:30pm-9:00pm. Other viewing can be made by appointment by contacting director@saintandrewshouse.org.
---
Mideast Focus Ministry Film Series
Saint Mark's Cathedral, Seattle | March 16, 6:15pm
The Bishop's Committee for Justice and Peace in the Holy Land Is pleased to invite you to join us for the premiere screening of "1948: Creation and Catastrophe." This important film about a pivotal year in our history is not to be missed! Through the personal revelations by survivors of the Holocaust, and film footage taken in 1948, we get an in depth experience of the events that shaped the present tragedy of life in Palestine/Israel. Following the film, the Director, Andy Trimlett, a graduate of the Jackson School for Mideast Studies at the University of Washington, will host a discussion about the film and its making. Admission is free. Childcare is provided. A reception to celebrate this event will begin at 6:15. followed by the film at 7:00. This film is part of the fifth film series at the Cathedral.
About the series: "Pushing for Change!" is the theme of the fifth annual Mideast Focus Film Series hosted at Saint Mark's Cathedral. We will experience how people push, and have pushed, for change. We will consider the consequences of the actions they, and we, use to push for change–and come to understand better what is going on in Palestine/Israel, and our part in it.
---
Physician-Aided Dying: A Pastoral Conversation for Clergy, Chaplains, and Lay Leaders Involved in End-of-Life Ministries
Saint Mark's Cathedral, Seattle | March 17, 10am – 2pm | $20 Registration (includes lunch and printed resources, scholarships available)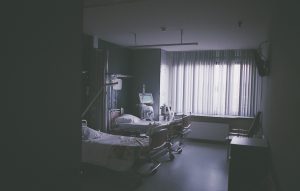 Physician-aided dying presents a special challenge for clergy when patients who are considering it ask for pastoral advice. With the baby boomers coming into their older years, such requests are likely to become more frequent. To prepare clergy and chaplains for this, the Diocesan Task Force on Medical Ethics offers a half-day workshop on aided dying. Scheduled for March 17, 2018 at 10:00 AM-2:00 PM at Saint Mark's Cathedral in Seattle, the conference will feature background material on the state's Death With Dignity Act and case studies presented by those who have counseled patients on their options. Theological and church issues will be discussed and reading materials supplied. In addition to background information, practical recommendations on responding to patient inquiries will be presented.
---

Fierce Conversations Leadership Training
St. Margaret, Bellevue | March 23, 9:00am- March 24, 4:00pm | $55-180 (lunch included)
"While no single conversation is guaranteed to change the trajectory of a career, a company, a relationship, or a life… any single conversation can."
Training in Fierce Conversations will provide you with tools to transform the conversations that are central to your success. The conversation skills you will learn include:
Drawing out solutions and inspiring action;
Deepening group understanding of differing views during decision making;
Delegating responsibility and developing a team of leaders; and,
Confronting even the toughest issues with courage, confidence, and expertise.
The learning environment is fast-paced and high-energy, led by certified trainers from diocesan staff. Come and learn how to have "fierce conversations" – leave feeling confident and empowered to create high levels of collaboration and partnership in all aspects of your life and work.
---
2018 Spring High School Youth Retreat! (HYC)
St. James, Kent | April 6, 7:30pm – April 8, 12:45pm | $35
Every fork in the road brings us the opportunity to make a choice – turn left or right, go north or south, head east or west. The forks in the road we encounter in life offer us the same opportunities to decide what we will do with our lives and who we will be.
Join other youth from across Western Washington for the Diocese of Olympia's Spring High School Youth Conference (HYC). Spring HYC is a fun and lively weekend of faith exploration through contemporary worship, workshops, and small groups conversations. Enjoy fellowship and games with other Episcopal high school students and explore the impact of the choices we make.
---
Youth Pilgrimage to the 79th General Convention
Austin, TX | July 5-10 | $900 (includes airfare, local transportation, lodging, meals, registration, & t-shirt)
Registration Deadline: April 16th
The theme for the convention is The Jesus Movement: loving, liberating and life giving. You will have the opportunity to meet other Episcopalians from around the world and explore different ministries involved with our church. See legislation being made and hear guest speakers throughout the days. We'll experience different worship services and participate in some volunteer work while we also get a taste of Texas hospitality and Austin's 'Keep It Weird' culture.
The number of youth attending capped at 10 so apply now through the link below and send it to Denise. Must be currently in grades 9-12. Partial 1/3 scholarships are available from the diocese. Participants are responsible for their own fund raising. Deadline to register is April 16th. Questions, contact Denise.
---
Bill Tubb's 30th Work Anniversary Party
Camp Huston, Gold Bar | April 22, 11:00am-4:00pm
Bill began working at Camp Huston on Tuesday April 19, 1988 and he's achieved so much since then. Bill leads by example. His service leadership mentality has helped transform lives here at Camp Huston, and he's not done yet! Join us in thanking Bill for his continued service, and celebrating everything he's achieved so far.You're invited to help us celebrate that.
Gifts are welcome but not necessary. We're working on a surprise package and donations are welcomed. As cheesy as it sounds though, your attendance is the real gift. Please RSVP through the email linked below with the total number in your party, and any dietary needs (for lunch).
11:00am – Welcome
11:30am – Eucharist (Bishop Rickel presides)
12:30pm – Lunch
1:30pm – Lawn games and arts and crafts
4:00pm – Departure
---
Spring JYC Retreat: May the Force be With You
St. Andrew, Port Angeles | May 4-6
A long time ago in a country far, far away… a baby was born who would change the world. Despite never wielding a lightsaber, Jesus lived a life full of adventure, mystery, drama, and courage that could rival any movie. And the force that helped lead him, the Holy Spirit, is still with us today.
What better way to spend May the 4th than at a Star Wars themed Spring Junior High Youth Retreat (JYC)? Join other youth from across Western Washington as we explore the parallels between the narratives in Star Wars and the Bible and think about how The Holy Spirit can guide us through our own stories. Make new friends and reconnect with old ones while participating in faith formation, music, worship, games, and workshops. Register now to join the adventure, and may the Force be with you!
---
Stations of Resurrection: Calling all Liturgical Floral Artists
May 5-6, 2018
The Commission for Liturgy & the Arts, in partnership with St. Mark's Cathedral, is hosting "Stations of Resurrection": a floral and liturgical exploration of all the Biblical stories depicting Jesus' resurrection. Floral artists (or teams of artists) from any congregation in the diocese will select one of the resurrection stories and interpret it with flowers and natural materials. These stations will be prayed together as a public liturgy on the evening of May 5, then left for individual viewing and devotion on May 6. If you or someone you know is interested in learning more, please contact the Rev. Eric Stelle.
---
The Struggle to Be Real: The Journey of Transformation with Mark Nepo
Harmony Hill & St. Andrew's House | May 7-8 , all day | $500-800
Beloved as a poet, teacher, and storyteller, Mark Nepo is a bestselling author and one of Oprah's favorite spiritual guides, using his gifts and his talents to elevate humanity. He returns to Harmony Hill May 7-8, 2018 to lead a special two-day workshop, The Struggle to Be Real: The Journey of Transformation. The workshop has been expanded for more guests by partnering with St. Andrew's House.
---
Camp Huston
Gold Bar, WA | Summer 2018 | Register by March 15th for an Early Bird Discount
Register now for Camp Huston. The Diocese of Olympia's own summer camp runs programs for children in grades 1-10, as well as a leadership development program for those who have completed the 10th grade. Scholarships are available. Register before March 15 to automatically receive the early bird discount of $30 per camper.
Counselor Training: June 26 – July 5
Discovery Camp 1 & Horse Camp 1: July 7-13
Missoula Children's Theater Camp: July 15-20
Discovery Camp 2 & Intermediate Horse Camp: July 29 – August 4
Mini Camp: August 6-9
International Discovery Camp & Buckaroo Camp: August 12-18
If you have questions or would like to request a brochure, please email Alex Flannagan or call at 360-793-0441.
---
Cursillo: Come and See… Go and Tell
Dumas Bay Conference Centre, Federal Way | October 19-21
The next Come and See… Go and Tell/Cursillo weekend will be Friday midday, October 19 through Sunday afternoon, October 21 at Dumas Bay Conference Centre in Federal Way. Applications are accepted year-round.