Living Stones: Saint Mark's Cathedral
Saint Mark's Episcopal Cathedral, the iconic building situated on a prominent bluff high above I-5, is Seattle's most visible symbol of faith. Construction of this "beacon on the hill" began in 1928, but was halted after the stock market crash of 1929, and never fully completed. The enormous concrete walls were never meant to be exposed to the elements, and the cheap depression-era glass windows were not meant to be permanent. In 2012, chunks of concrete began to break away from the exterior walls, posing a safety risk, and it became urgent for Saint Mark's Cathedral to address the deteriorating state of the walls and windows.
---
Words, Words, Words
Emmanuel, Mercer Island | March 18, 9:30am-12:00pm | $10 Registration
It's not too late to register for "Words, Words, Words"!
Have you thought about attending the upcoming Diocesan training workshop for Lectors, Intercessors and Preachers?  It's not too late to register!  We will be accepting drop-in registrations on the day of the workshop – Saturday, March 18 at 9:30am at Emmanuel, Mercer Island – and you can still register online.  If the $10 registration fee is a challenge for you, please come anyway!  This event is open to all who are interested.
We especially want to encourage Intercessors and those curious about Prayer Writing to join us!  Fr. Steve Danzey will be leading the workshop for Intercessors in which the group will explore the history and spiritual practice of corporate prayer.  Fr. Danzey led a similar workshop at Diocesan Convention which was enthusiastically received.  Don't miss out!
---

Celebrating Life in the Resurrection
Saint Mark's Cathedral, Seattle | March 25, 9:00am | $20 Registration
"What sacred songs has the Holy Spirit written upon your heart? We'll sing, pray, and explore this deep treasury of words and music together." — Michael Kleinschmidt, Canon Musician, Saint Mark's Cathedral
Join Bishop Rickel and friends for pastoral perspectives and practical advice on planning funerals and memorials. Time for Q&A at round table discussions. All participants receive the Diocese's Life Planning Manual. Cost: $20, includes lunch and many handouts.
---

High School Youth Conference (HYC) and Junior High/Middle School Youth Conference (JYC)
HYC – Grades 9-12 | JYC – Grades 6-9
These weekend conferences include faith formation and exploration, fun, and fellowship, through contemporary music, worship, small group conversations, games, workshops and special activities. Weekend conferences start on Friday evening and end midday on Sunday.
Spring HYC | St. Mary, Lakewood | March 24-26 | $35 Registration
Where the Wild Things Are: Meet youth from around the diocese, make new friends, reconnect with old ones, and live into a larger Christian community.
Spring JYC | Holy Cross, Redmond | May 5-7 | $35 Registration
---

Wisdom School: Trinity – The Soul of Creation
Saint Mark's Cathedral, Seattle | April 6-8 | $15 Registration
A Live Webcast with Richard Rohr, Cynthia Bourgeault, and William Paul Young (The Shack) who join together to discuss the dimensional mystery of the Trinity as the foundation and template for the entire universe. This event will allow space for local table conversations, time for personal reflection and prayer, and meals on your own. There are optional meal add-ons. Full schedule will be available as date approaches.
---
2017 Green Grants Available
May 15, 2017 Deadline
Green Grants are matching grants for churches to replace or upgrade equipment or building features to reduce energy consumption. Examples of potential projects are more energy efficient lighting, heating systems, appliances, windows, and building insulation. The Green Grant maximum is $500.00. Churches are expected to contribute a sum approximately equal to or greater than that requested.  Utility rebates can count as part of the church's contribution. The deadline for submitting Green Grant applications is May 15, 2017.
---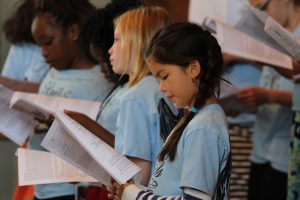 Choir School Summer Camp
Saint Mark's Cathedral, Seattle | July 10-14 | $250 Tuition (Scholarships Available)
Saint Mark's welcomes all boys and girls from rising 3rd grade – 8th grade who are interested in singing music of the Christian faith in the striking cathedral setting, while growing as musicians and children of God. Camp activities include: joyful singing of glorious music; daily guests specializing in art, drumming, and composition; field trips and outdoor activities; visual art projects; organ demonstration and piano/organ lessons; daily sung Morning Prayer; a closing Evensong service and Sunday morning service in the Cathedral.
---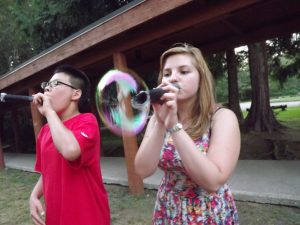 Summer Camps
Camp Huston, Gold Bar
Camp Huston, the Diocese of Olympia's summer camp, has just announced their summer camp schedule! Situated on 70 beautiful acres in the foothills of the Cascade mountains, campers spend the session in age-based "discovery groups", learning more about nature, more about God, and more about themselves. Activities include hiking, swimming, team-building, worship, camping in tents, and lots of games and songs! Register before March 15 to receive the early bird discount of $45 per camper.
---
First Sunday's Soup and Service
St. Andrew's House Retreat and Conference Center, Union | April 2, 6:00pm
Join St. Andrew's House on the first Sunday of every month for a soup dinner, followed by evening prayer.