Living Stones: Saint Mark's Cathedral
Saint Mark's Episcopal Cathedral, the iconic building situated on a prominent bluff high above I-5, is Seattle's most visible symbol of faith. Construction of this "beacon on the hill" began in 1928, but was halted after the stock market crash of 1929, and never fully completed. The enormous concrete walls were never meant to be exposed to the elements, and the cheap depression-era glass windows were not meant to be permanent. In 2012, chunks of concrete began to break away from the exterior walls, posing a safety risk, and it became urgent for Saint Mark's Cathedral to address the deteriorating state of the walls and windows.
---
Anti-Racism Training
St. Paul, Mount Vernon | February 25, 8:30am-5:00pm | $35 Registration, Register by February 15
The Diocese of Olympia's Diversity Empowerment Training Team is excited to offer Anti-Racism training at St. Paul, Mount Vernon. The day will include learning about culture and race from theological and developmental perspectives. Participants will take the Intercultural Development Inventory (IDI) and learn how their orientation towards other cultures influences their decision-making and ministry. Registration costs cover the administration of the Intercultural Development Inventory, coffee/tea and lunch. Scholarships are available. Contact the Rev. Canon Arienne Davison to request a scholarship. Registration is limited to 20 participants.
---
Faith at Home
St. Columba, Kent | February 25, 9:30am-3:00pm | $20 Registration
The Diocesan Office of Faith Formation is excited to welcome Wendy Claire Barrie, author of Faith at Home: A Handbook for Cautiously Christian Parents, as keynote speaker for this day-long workshop that will help parents introduce faith into conversations with their children at home.
---

EYE (Episcopal Youth Event) in Oklahoma City
University of Central Oklahoma, Edmond | July 10-14
$900 Registration (1/3 Scholarships Available); Register by March 1
Since the first EYE in 1982, this popular event has welcomed thousands of young people from across the Episcopal Church for celebration, worship, learning, and leadership training.
The next Episcopal Youth Event (EYE17) will be held in partnership with the Episcopal Diocese of Oklahoma from July 10-14, 2017 on the campus of the University of Central Oklahoma, Edmond.
EYE17 is geared for youth in grades 9-12 during the 2016-2017 academic year and their adult leaders. This year, we are asking youth to make an application by March 1, 2017. Cost is 900 dollars with 1/3 scholarships available from the diocese. We also encourage youth to ask their parish for support and financial resources.
---

Bishop on the Boards
Seattle Repertory Theatre, Seattle | March 2, 7:30pm | $19 – $41 Tickets
Join Bishop Rickel at the Seattle Repertory Theatre for a performance of Lisa Kron's Well and stay for the post-play discussion featuring the Bishop and Dr. Karam Dana, UW professor and expert in political identities. After the play, join Bishop Rickel and Dr. Dana for a discussion about housing, community organizing/engagement, and community wellness as they relate to the play and provide their insight into Lisa Kron's world as it relates to our own.
---

Episcopal Relief & Development Sunday
March 5, 2017
Episcopalians are invited to mark Episcopal Relief & Development Sunday on March 5, the first Sunday in Lent, with special prayers, bulletin inserts and a dedicated offering to support the organization's mission of healing a hurting world. An annual Lenten tradition in The Episcopal Church, Episcopal Relief & Development Sunday is an opportunity for congregations to focus on prayer and action to address global needs.
---

First Sunday's Soup and Service
St. Andrew's House Retreat and Conference Center, Union | March 5, 6:00pm
Join St. Andrew's House on the first Sunday of every month for a soup dinner, followed by evening prayer.
---

Creativity and Contemplation Retreat
St. Andrew's House Retreat and Conference Center, Union | March 6-9 | $495 Registration
In partnership with the Grünewald Guild, an art & faith community near Leavenworth, St. Andrew's House is offering a contemplative retreat that will include creative workshops led by members of the Guild.
---
A Nature Meditation: Pen & Ink Art Show Reception
St. Andrew's House Retreat and Conference Center, Union | March 8, 7:30pm
Artist-in-Residence Anne Mullenniex presents drawings of scenes and flora of the Hood Canal and Olympia Peninsula in this solo art exhibition.
---
Wisdom School: Embracing the Enneagram as a Map for Spiritual Unfolding
Saint Mark's Cathedral, Seattle | Friday, March 10, 7:00pm-9:00pm; Saturday, March 11, 9:00am-3:00pm | $50 Registration
The inner observer knows the difference between when we are thinking, feeling and acting out of patterned responses and when we are living in grounded presence. But we become discouraged when we find ourselves reacting in our same old patterned ways in love, work and family life. The Enneagram provides a map for understanding the dynamics of the human condition and the barriers to living our spiritual freedom. This narrative tradition class is introductory in nature, relying on group participation in the panel method and introducing practices for working with the Enneagram in daily life.
---

Underhill House Training
Underhill House, Seattle | March 15, 12:00pm
A quiet place to pause for prayer, Underhill House is open Thursdays, 12:00-2:00pm, half a block east of Broadway on Republican on Capitol Hill in Seattle. Our next training session to prepare people who greet, listen and pray with guests will be Wednesday, March 15 from 12:00pm-2:30pm. Come and discern — no commitment necessary to attend training. If you have any questions or would like to sign up, please contact The Rev. Susan Dean.
---

Words, Words, Words
Emmanuel, Mercer Island | March 18, 9:30am-12:00pm | $10 Registration
The Diocesan Commission on Liturgy and the Arts presents a Diocesan-wide, half-day workshop and training event called, "Words, Words, Words." Participants will choose from one of three, two hour workshops:
Lectors (public reading of the lectionary within the liturgy)
Intercessors (crafting Prayers of the People)
Preaching (especially designed for lay preachers)
The workshops will  include instruction as well as practicum, giving participants a chance to hone existing skills and learn new ones.
---

Celebrating Life in the Resurrection
Saint Mark's Cathedral, Seattle | March 25, 9:00am | $20 Registration
Come hear several area clergy—including Bishop Rickel—share stories and pastoral perspectives. Michael Kleinschmidt, cathedral musician, will help us explore the deep treasury of sacred songs that are especially beloved, comforting and appropriate for funerals. Lots of good ideas, handouts,​ and practical advice​. Lunch is included.
---
High School Youth Conference (HYC) and Junior High/Middle School Youth Conference (JYC)
HYC – Grades 9-12 | JYC – Grades 6-9
These weekend conferences include faith formation and exploration, fun, and fellowship, through contemporary music, worship, small group conversations, games, workshops and special activities. Weekend conferences start on Friday evening and end midday on Sunday.
Spring HYC | St. Mary, Lakewood | March 24-26 | $35 Registration
Spring JYC | Holy Cross, Redmond | May 5-7 | $35 Registration
---

Wisdom School: Trinity – The Soul of Creation
Saint Mark's Cathedral, Seattle | April 6-8 | $15 Registration
A Live Webcast with Richard Rohr, Cynthia Bourgeault, and William Paul Young (The Shack) who join together to discuss the dimensional mystery of the Trinity as the foundation and template for the entire universe. This event will allow space for local table conversations, time for personal reflection and prayer, and meals on your own. There are optional meal add-ons. Full schedule will be available as date approaches. Mark your calendars now; registration will open in February.
---
2017 Green Grants Available
May 15, 2017 Deadline
Green Grants are matching grants for churches to replace or upgrade equipment or building features to reduce energy consumption. Examples of potential projects are more energy efficient lighting, heating systems, appliances, windows, and building insulation. The Green Grant maximum is $500.00. Churches are expected to contribute a sum approximately equal to or greater than that requested.  Utility rebates can count as part of the church's contribution. The deadline for submitting Green Grant applications is May 15, 2017.
---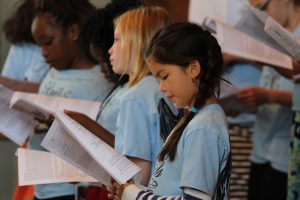 Choir School Summer Camp
Saint Mark's Cathedral, Seattle | July 10-14 | $250 Tuition (Scholarships Available)
Saint Mark's welcomes all boys and girls from rising 3rd grade – 8th grade who are interested in singing music of the Christian faith in the striking cathedral setting, while growing as musicians and children of God. Camp activities include: joyful singing of glorious music; daily guests specializing in art, drumming, and composition; field trips and outdoor activities; visual art projects; organ demonstration and piano/organ lessons; daily sung Morning Prayer; a closing Evensong service and Sunday morning service in the Cathedral.
---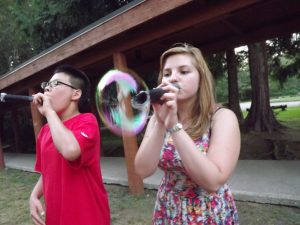 Summer Camps
Camp Huston, Gold Bar
Camp Huston, the Diocese of Olympia's summer camp, has just announced their summer camp schedule! Situated on 70 beautiful acres in the foothills of the Cascade mountains, campers spend the session in age-based "discovery groups", learning more about nature, more about God, and more about themselves. Activities include hiking, swimming, team-building, worship, camping in tents, and lots of games and songs! Register before March 15 to receive the early bird discount of $45 per camper.