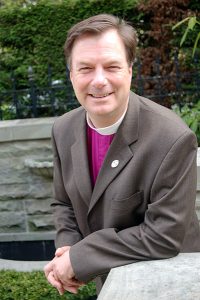 Bishop Greg Rickel is the eighth Bishop elected to the Diocese of Olympia. He was consecrated to the role on September 15, 2007.
Bishop Rickel embraces radical hospitality that welcomes all, no matter where they find themselves on their journey of faith. He envisions a church that is a safe and authentic community in which to explore God's infinite goodness and grace as revealed in the life and continuing revelation of Jesus Christ.
As Bishop of Olympia, he supports the Episcopal Church in Western Washington and their efforts to live out the new diocesan vision: Locally Centered and Networked Communities, Forming Christian Leaders for Sacrament & Service.
Bishop Rickel has served the wider church as a stewardship consultant for the Stewardship Office of the Episcopal Church and for the Episcopal Network for Stewardship.
He has served on multiple General Convention Committees, including Mission Funding Task Force, Standing Committee on Stewardship and Development, and Church Pension Fund. He was the Episcopal Representative to the Earth Charter Meeting in Geneva, Switzerland and was trained by Al Gore for the Climate Project. He has received training from the National Organization for Victim Assistance and has worked on disaster debriefing for the Arkansas Attorney General Office.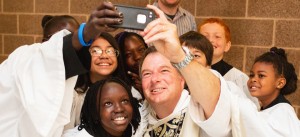 At the time of his election, Bishop Rickel was the rector of St. James' Episcopal Church in Austin, Texas. Previously he served as the vicar of St. Peter's Episcopal Church in Conway, Ark. He was ordained deacon in July 1996 and priest in January 1997. Before ordination to the priesthood he was a hospital administrator in Arkansas and Texas.
On July 15, Bishop Rickel announced his resignation as bishop of the Diocese of Olympia, effective December 31, 2022. The Standing Committee has begun to prepare for this transition and will share additional details shortly.
See Bishop Rickel's upcoming Visitation Schedule here.
Listen to Bishop Rickel's sermons online.
Read Bishop Rickel's blog.
Portraits of Bishop Rickel
Email Bishop Rickel.