Priory Spiritual Center
Lacy, WA
The Priory offers retreats, spiritual direction, and workshops; fees are charged for their programs.
November 1-3: Silent Centering Prayer Retreat
November 2: Jesus Meets Buddha in Stillness
November 9: A Musical Journey in Faith with Julian of Norwich
November 16: Introduction to Ink Painting
November 23: Conflict Management 101
November 23: The Way of Thomas Merton
November 29-December 1: Advent Retreat: Season of Expectation
Clergy Contemplative Retreats:
November 4-5, 2019 (overnight or single day)

Monday, 2:00pm
Tuesday, 2:30pm
Tuesday, 9:30am–3:00pm
---

Liturgical Poetry Resources
David Baldwin of St. John, Snohomish has created liturgical poetry and is making this resource available to all in the diocese.
Baldwin writes liturgical calendar poems with the goal of:
writing good poetry,
getting Christians to think seriously about their faith, and
avoid all theological controversies, if possible.
Dave Baldwin recently retired as senior technical writer from the Walt Disney Company (Technology Division) after more than 40 years as a technical writer and editor. He was a naval officer and is a masters track and field athlete currently. A poet for many years, he is the former national secretary for the Haiku Society of America. Dave is a member of St. John's Episcopal Church in Snohomish, Washington, and lives in nearby Lake Stevens.
---

November 2019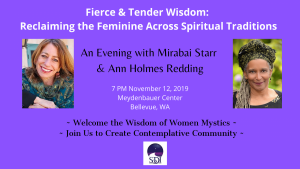 Author and teacher on interspirituality Mirabai Starr joins with Christian-Muslim guide and speaker Ann Holmes Redding to explore and model cooperative feminine leadership in these turbulent times.
Find out more »
December 2019
April 2020
June 2020
+ Export Events