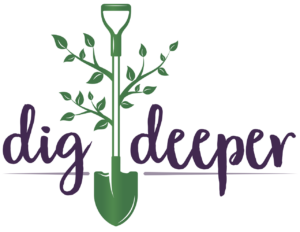 About Dig Deeper
Come explore ways to grow, harvest, share and repurpose food in community and advocate for a more just food system. Dig Deeper will provide opportunities for young adults to produce and share nutritious foods with others while learning techniques and practices that reclaim land and restore habitats. 
Dig Deeper is a food justice initiative made possible by a grant from The Episcopal Church's Young Adult and Campus Ministry to Saint Mark's Cathedral. Saint Mark's is partnering with the Diocese of Olympia and Nurturing Roots Farm to create opportunities for young adults to participate in the work of food justice. 
Upcoming Events 
Meal Prep for Edible Hope – TUESDAY, SEPTEMBER 26 (5:30 pm, Edible Hope) –

Each day Edible Hope serves up to 120 meals a day. Come help meal prep for their meal service with other young adults from St. Luke's Ballard. Tasks will vary by the menu that week but there will be lots of opportunities to chop, dice and season food. Sign up by emailing Emily Meeks (

emeeks@saintmarks.org

).

 

Feast of St. Francis – SATURDAY, OCTOBER 7, 3 pm (Leffler Garden, Saint Mark's) – Prior to the liturgy and Blessing of the Animals, we'll have an opportunity to learn about composting from Nyema Clark of Nurturing Roots and the City of Seattle's Master Composter/Sustainability Steward Program. Healthy snacks and refreshments provided

Save These Dates!
*In collaboration with Seattle University Campus Ministry
In the News…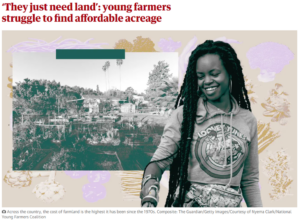 'They just need land': young farmers struggle to find affordable acreage
The Guardian, April 22, 2023
Between 1910 and 1997, Black farmers lost approximately 90% of the farmland they owned. To this day…Black farmers continue to be exploited by local-level credit lenders, making it difficult for them to access and maintain ownership of land. Today, 97% of farmland is owned by white people. These systemic barriers make it disproportionately challenging for young Black farmers to access land and capital.
Past Events In Collaboration with Nurturing Roots Farm: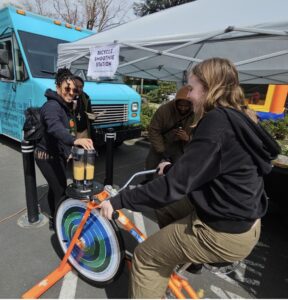 Other Past Events
Breakfast at Edible Hope –  On July 3, young adults from Saint Mark's Cathedral and St. Luke's, Ballard, served breakfast to our unsheltered neighbors in Ballard. Learn more about Edible Hope or consider purchasing an item from their Amazon Wish List.
Tent City and 20s/30s Meal Night – Again this summer Saint Mark's Cathedral hosted Tent City on campus and provided hot meals on Sunday evenings. On July 9, 20s/30s members and Tent City Captain Connor Harrison prepared and served a meal for our Tent City friends.
Dig Deeper Goals:
Get in touch
Questions? Interested in learning more? Email Emily Meeks
Sign up for our mailing lists:
Episcopal Church-Farm Collaboratives in Western Washington
Do you know of an Episcopal Church-Farm Collaborative that you would like to share here? Email Valerie Reinke
More Related Links