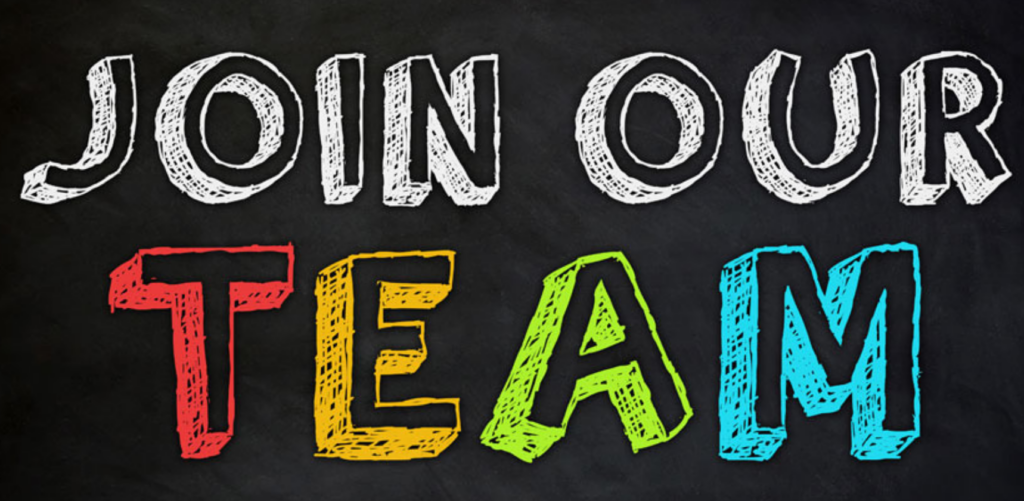 Those who oversee faith formation ministries are vital to the well-being of the church and careful attention to hiring and ongoing support is critical. To  take a snapshot of hiring and employment practices in the Diocese of Olympia, the Bishop's Office administered a survey in 2020.  This page highlights the findings of that survey and also provides resources so you can do further research into your specific context.
"I love my community, and I do love my work, but I constantly feel like I'm expected to provide champagne with a coca-cola budget & it's hard to be emotionally present to both young families and teens and their parents."

–2020 Faith Formation Survey Respondent
Recommendations
Staff members dedicated to faith formation offer your church the consistency and accountability that are required to grow a ministry.
A fair and living wage is a social justice issue. Endeavor to support your employees with wages and benefits to the extent you can and in a way that reflects the values of your Christian mission.
In advance of posting a job announcement, do some careful planning around how to structure your faith formation team with respect to your budget, capacity, needs, and objectives.
Consider the movement toward hiring intergenerational faith formation ministry leaders in order to respond to the needs of the entire congregation and to create more inclusive and holistic programs, materials, and events.
Faith Formation Survey Findings
Highlights
The survey found that faith formation ministers who are paid employees work an average of 24 hours per week.
The survey found a correlation between job satisfaction and minimum pay of $30/hour.
Compensation and Job Description Findings²
Job 
Average Paid
Highest Paid
All Job Descriptions Included:
Most Job Descriptions Included:
Faith Formation Director
$25/hour
$37/hour
· Teaching/Facilitating
· Choosing, creating, and implementing curriculum
· Communicating with the congregation
· Planning events
· Recruiting and training volunteers
· Supervising other staff members
· Training volunteers
· Publicizing events
· Newsletter
· Community outreach
Children's Ministry Coordinators and Youth Ministry Coordinators
$19/hour
$24/hour
· Teaching/Facilitating
· Choosing, creating, and implementing curriculum
· Communicating with the congregation
· Planning events
· Recruiting and training volunteers
· Supervising other staff members
· Training volunteers
· Publicizing events
· Newsletter
· Community outreach
Challenges
Respondents reported on the challenges they face in their work: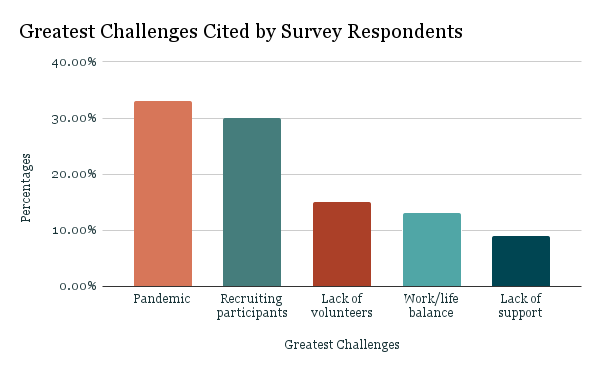 "We are a smaller, aging congregation. Faith formation is a volunteer activity. Recruiting volunteers is challenging. It would be helpful to have programs available that are easy to offer, without requiring a lot of planning/implementation resources. Along with the program, it would be helpful to also have resources that help promote and inspire participation."   –2020 Faith Formation Survey Respondent
Institutional Support
Respondents indicated several different areas where they were needing guidance and input from their church and from the Bishop's Office in order to do their jobs: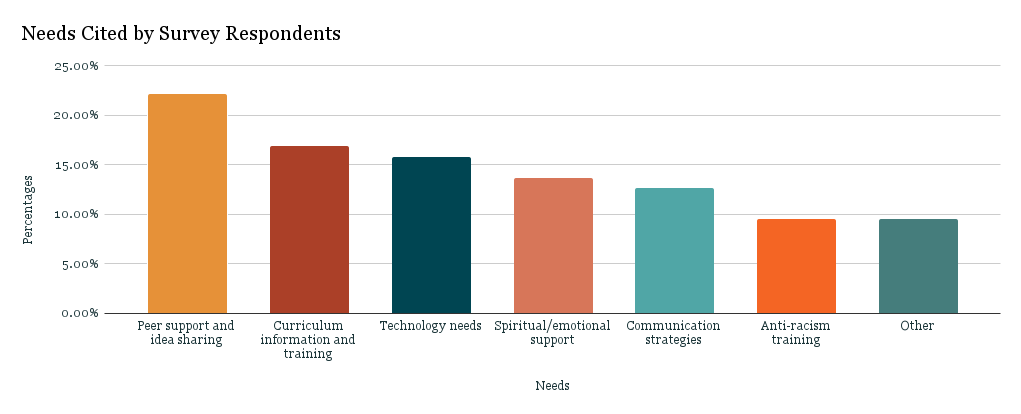 Healthcare
Two respondents out of 12 faith formation ministers receive health care benefits, another two receive partial benefits. For more information regarding healthcare and the Episcopal Church, visit the Denominational Health Plan web page.
Pensions
Episcopal employers subject to the authority of the Church are required to provide a pension to all lay employees scheduled to work a minimum of 1,000 hours annually. Visit the Lay Employee Pension System web page.
About the 2020 Faith Formation Survey¹
Out of 35 respondents to the survey:
· A majority of the respondents were church volunteers
· A little more than one-third of the respondents were lay employees
· A little less than one-third were clergy (priest, deacon, or other clergy) or on track for becoming a priest.
· A majority of respondents were college-educated with advanced degrees
· Church size: 100-200 (mid) range had most respondents, followed by 50-100, then 200-350, 350+, less than 50
· Years of experience: respondents had an average of 18 years in faith formation work
· Job satisfaction: Over half of respondents indicated, "I love my job." The rest indicated "satisfied," a small number were "dissatisfied," no one was "unhappy."
Highlights of the Survey Findings with Survey Administrator: Emily Tanis-Likkel
Information for Hiring in Washington State³
For the latest information on the minimum wage in Washington State and Seattle, see The Washington State Dept. of Labor & Industries for specifics.
Businesses that offer medical coverage to their employees:
must offer health insurance to all full-time employees (30 hrs/week or more)

are not obligated to offer health insurance to part-time employees (less than 30 hrs/week) but many do, e.g. 50% benefits for 20 hour/week employees

if an employer offers insurance to at least

one part-time employee

, then the small business

must

offer group coverage to

all part-time employees
Staff Member or Volunteer?
The Volunteer Rule of Three
Volunteers work toward public service, religious, or humanitarian objectives

Volunteers do not expect or receive compensation for services

Volunteers do not displace any genuine employees
Generally, volunteer roles. . .
Do not require the worker to follow a consistent, full-time schedule

Are required on an "as needed" basis throughout the year, versus a fixed number of hours on a regular basis

Vary depending on the programs and services of the nonprofit (i.e., special events, seasonal work, etc.)

Are dissimilar in scope, requirements, and expectations from paid positions in the organization
Resolutions and Acts of Convention from the Episcopal Church Related to Employment
Other Resources
Forma – A Ministry of the Episcopal Church Foundation, advocates for justice in the vocation of Lay professionals. Visit their Compensation Guidance page for sound advice and guidance in hiring or being hired as faith formation staff in an Episcopal church.
¹ 2020 Faith Formation Survey conducted by the Diocese of Olympia and managed by the Reverend Emily Tanis-Likkel (UCC), Family Life Minister at St. John the Baptist Episcopal Church, West Seattle.

² PLEASE NOTE THAT THESE ARE NOT COMPENSATION GUIDELINES. This is compensation and job description data from current faith formation ministers in the diocese and is limited to those who submitted a 2020 survey. This data can aid churches in putting together job descriptions and employee agreements, as well as current and potential employees in negotiating their roles, responsibilities, and compensation with employers.
³Sources: The Washington State Dept. of Labor & Industries, Working Washington, Nonprofit Risk Management Center