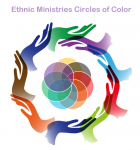 Ethnic Ministries Circles of Color and the Office of the Bishop
POSITION PURPOSE:
The Canon for Multicultural Ministry and Community Transformation (Canon) will engage the diocese in becoming a more inclusive community. Areas of responsibility include oversight, facilitation, and implementation of a diocesan strategy to increase diversity in lay and clerical positions, as well as in programming. The Canon will support ethnic congregations, including the development of such congregations, and will engage the larger communities on issues of racial justice and reconciliation. The Canon will be in active relationship with the Ethnic Ministries Circles of Color (EMCC) network and with the Office of the Bishop.
Essential Duties and Responsibilities:
In collaboration with the EMCC, develop strategic plan to grow and affirm multicultural ministries and identity in the diocese.
Support congregation based and special BIPOC ministry development.
Work with EMCC and the Office of the Bishop to establish a center for racial reconciliation and creation care.
Partner with ethnic congregations and communities to develop liturgies that are accessible to the entire diocese, and which celebrate BIPOC saints and traditions.
Develop and assist with implementation of outreach to the BIPOC community.
Represent the diocese to the greater community in areas of responsibility.
Interface with the various organizations and governing bodies of the Diocese of Olympia and of the Episcopal Church.
Be a resource to BIPOC persons discerning vocations to ministry.
Meet regularly with the EMCC; set meeting agendas and ensure that meeting notes/summaries are provided.
Be a resource to the congregations of the Diocese of Olympia in collaboration with EMCC and the Office of the Bishop.
Prepare and oversee the program budget for approval by EMCC through the annual diocesan budget process. Work with ethnic congregations to determine and advocate for their financial needs.
Supervise the Program Assistant for Ethnic Ministries.
Relationships and Collaboration
Collaborate with the Canon Missioner for Communications to utilize existing diocesan communications strategies, style guides, and communications systems.
Oversee the Ethnic Ministries webpage and resources.
Collaborate with the Archivist to preserve the stories of BIPOC ministries.
Participate as a member of the Office of the Bishop – including monthly staff meetings, in-service trainings, and annual retreats.
Knowledge, Skills & Experience
Strong interpersonal and excellent verbal and written communication skills; ability to communicate in a timely and efficient manner.
Ability to communicate with diverse populations, including ethnic minorities, the church dominant-culture establishment, and people of all faiths.
Experience working with culturally, racially, ethnically, LGBTQIA2+, and socio-economic diverse communities.
Ability to create innovative and meaningful programs for the BIPOC community.
Computer skills: Google Suite, Microsoft Office 365, Zoom, Constant Contact.
Proficiency with social media platforms.
Knowledge and understanding of the Episcopal Church preferred, including experience with church bodies and/or judicatories.
Understand and utilize translation and interpretation tools.
Demonstrated ability to thrive in a highly collaborative, collegial, team-based organizational structure.
Specialized training in anti-racism skills and intercultural competency.
Supervisory skills.
Conflict resolution and change management skills.
Strategic thinking and task management skills.
Familiarity with best practices, tools, and resources in congregational development and community engagement, including asset-based community development and community organizing principles.
Knowledge and understanding of the Episcopal Church, including significant experience with non-white Episcopal ministries, including, but not limited to:

Native ministries in Alaska, Navajoland Area Mission, North Dakota, South Dakota and/or centers of non-reservation Indigenous ministries.
Hispanic dioceses in Province 9 and dioceses in other provinces with significant Latine populations and ministries.
Black Ministries of the Episcopal Church, including through the UBE.
Asian American & Pacific Islander communities and/or experience working with congregations or dioceses with significant AAPI history and membership.

Attend and achieve certification as required in the following programs: Safeguarding God's Children; Safeguarding God's People; Intercultural Competency training; College for Congregational Development.
Working Conditions & Physical Demands
Office space at the Diocesan House will be provided in the same location as the Program Assistant for Ethnic Ministries. Requires the ability to sit, stand and walk throughout the day, as well as light lifting of boxes, files, etc. Flexible work hours in coordination with schedules of the EMCC. The Office of the Bishop provides for a portion of schedule work time to be worked remotely. Use of personal mode of transportation for completion of work tasks required.
Education & Requirements
Minimum 5 years' experience working with BIPOC in a leadership position.
Open to lay persons of any Christian denominations, or ordained clergy (Episcopal or ELCA).
BIPOC (Black, Indigenous, and People of Color) individuals encouraged to apply.
Commitment to social justice. Sensitivity to and appreciation of diversity (including but not limited to: physical, cultural, socio-economic, gender, sexual orientation, and neurodiversity) is required.
Preferably bilingual in written and spoken English and at least one other language used in ethnic communities in the region.
Some languages spoken in our Diocese: Spanish, Indigenous Mexican languages, North American Indigenous languages, Chinese languages, Khmer, and Dinka.
To apply, please submit your resume, cover letter, and references to canonethnicministries@ecww.org. If clergy, please also include your Office of Transition Ministry Profile.
Canon for Multicultural Ministry and Community Transformation