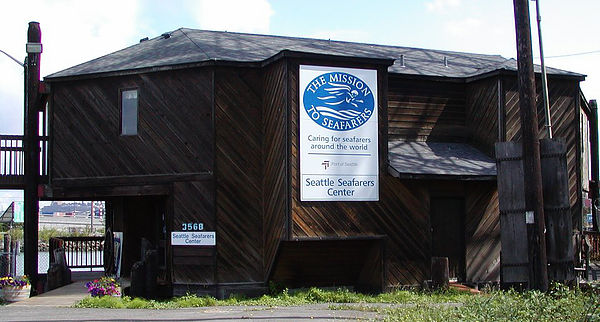 Tucked beneath the West Seattle Bridge, a short distance away from Terminal 5 along the West Duwamish Waterway, sits the Seattle Seafarers' Center. A haven for seafarers entering Seattle, the center offers internet and telephone services, a comfortable lounge, a kitchen, and a chapel. It's also the home office for the staff of Seattle's Mission to Seafarers, including interns Jon Pucik and Hilary Zedlitz.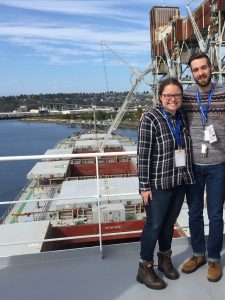 Both Jon and Hilary came from Arkansas as part of the Episcopal Service Corps, though they had never met until moving into Leffler House this past September. Finishing her studies in Political Science, Hilary was eager to step away from academia for a year of service. Jon, in discernment for the priesthood, is still relatively new to the Episcopal Church and was looking for a deeper sense of his Episcopal identity.
Coming from landlocked Arkansas, there was a lot to learn in their first weeks with Mission to Seafarers. Jon had his initial glimpses into the shipping industry and the ways our economic structures benefit the mistreatment of seafarers, while Hilary witnessed firsthand the implications of global trade she had studied in school.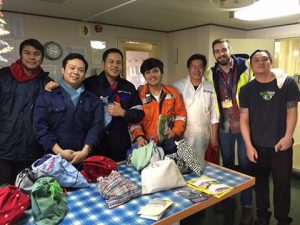 After they received their training to board the ships, Jon was struck by the warm and generous hospitality these seafarers from a wide variety of cultures extended to each new visitor. "I come to serve these people… but I consistently find myself on the receiving end of hospitality," Jon wrote in a recent reflection. "To me, the kingdom [of God] is like the impromptu Chinese barista who brings me a cup of instant coffee with heavy bags under his eyes and the brightest smile on his face. It's like 12 Filipinos singing birthday karaoke with a joyful noise that rivals the highest compline choir. It's like the Ukrainian cook frantically running through Seattle in search of some last-minute bread for her crew."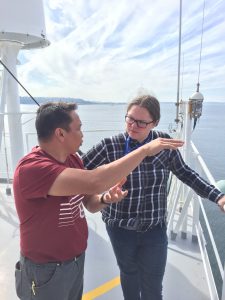 Hilary has also been moved by the hospitality she has been privileged to witness. In her reflection, Hilary wrote, "Watching as a crew extends hospitality to a new ship visitor, taking him on a tour of the ship, makes my task of welcoming these seafarers to my country all the more poignant and meaningful. While I am meant to be welcoming them, they in turn welcome me onboard with open arms."
This isn't to say there haven't been challenges. Most commercial seafarers are men – macho men at that – and there have been many times crews didn't want to be left alone with Hilary. However, in the months since she's been with Mission to Seafarers, the crews are beginning to get more comfortable with her presence on their ships. After November's presidential election, the anxiety among seafarers from other countries has intensified. Hilary has been able to answer their questions and leave them with a sense of hope. "I've watched as people who were really anxious calm down after a conversation with Hilary," Jon said.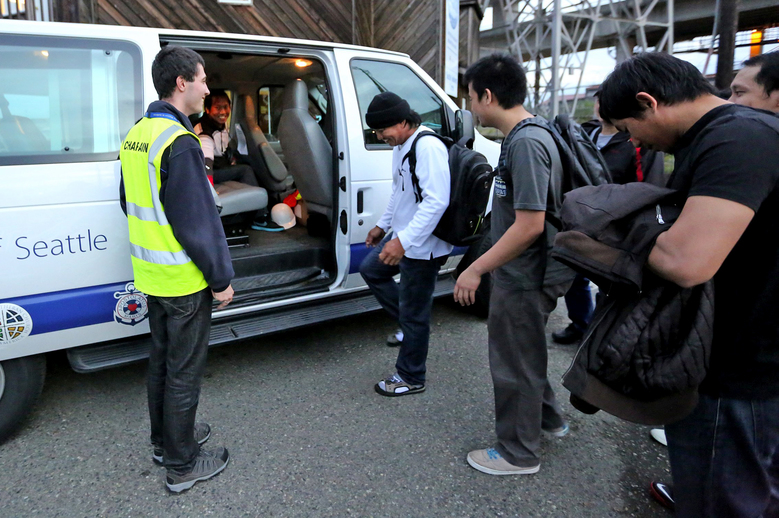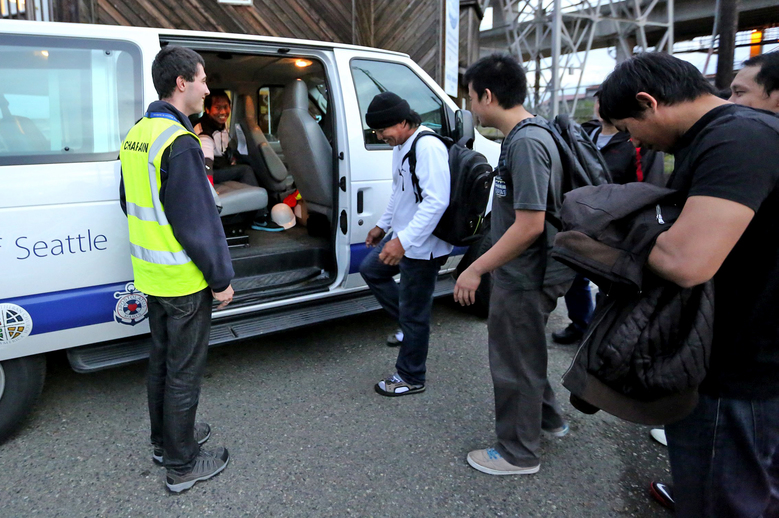 With their internships drawing to a close, there's a sense of sadness as they enter into the "pre-mourning" phase of their time in Seattle. Their time with Mission to Seafarers and the Episcopal Service Corps has been challenging and difficult, but incredibly rewarding. They've learned how to be flexible and gentle with themselves. They've learned the importance of drawing healthy boundaries in service so the work doesn't consume them. They've learning from their successes and failures. And they've learned to keep trying new things in their ministries and in their lives.
If you'd like to pursue internship or volunteer opportunities with Mission to Seafarers, please contact Mission to Seafarers, Seattle.