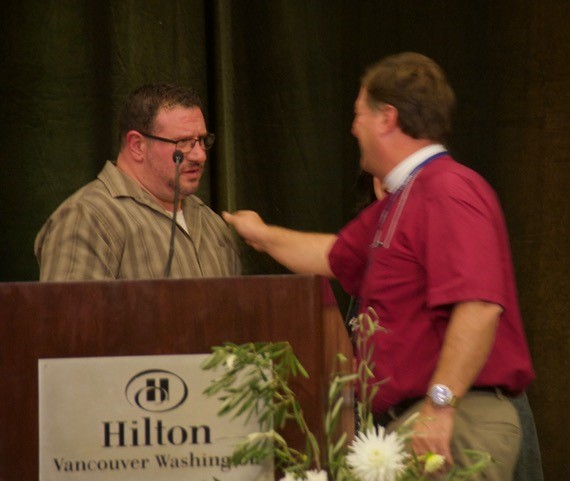 Kelly Diccio
Kelly DiCicco's consistently outstanding work as the Parish Administrator of Trinity Episcopal Church in Everett is an excellent example of demonstrating the Ky Chen "no problem" spirit.
Kelly has a genuine compassion for people who come through the church seeking assistance and for parishioners in need. On a daily basis, Kelly goes far beyond the expectations of his position description – going the extra mile in extraordinary ways.
Out of his own initiative, Kelly created a small food pantry in one of the church office spaces that he frequently stocks himself. It is supplemented by food collections taken up for a large food pantry at another church. He personally buys can openers in order to be able to provide them to homeless people who come by to pick up cans of food from his mini-food bank, who need help to supplement their needs in between times when other local resources are not available. Some parishioners have adult children who live out of town, and Kelly becomes something of a surrogate by taking them to doctor visits, picking up medication and making sure they have someone to bring them to church for the social connection of worship. Several times a month, Kelly takes parishioners shopping who are unable to drive themselves. Kelly's primary motivation in all things is to be of help.
Trinity, Everett and our diocese have a gift in Kelly and a model of selfless care that is truly humbling. He is proof that one does not need to be ordained to make a daily and profound difference in the lives of others and in the life of the church organization.
---
Marcia Crewdson
Marcia Crewdson epitomizes the name and intent of the Ky Chen Employee Excellence "No Problem" Award. In fact, "No Problem" is Marcia's actual usual response to virtually every request. Marcia has been the parish administrator at St. John's, Kirkland, since July 2007. Prior to that, she served in the same capacities at All Saints, Bellevue, and St. Stephen's, Seattle.
St. John's has been in transition during most of Marcia's tenure and, very fortunately, she has been a constant presence throughout the many changes. Marcia is responsible for maintaining the office and assisting clergy and staff, as well as lay leaders. She coordinates communications, is responsible for purchasing all supplies, and assists in the coordination of activities involving both the church and church preschool. She regularly sets up for special events and meetings. When a funeral takes place, Marcia is always the first one in the kitchen to make sure everything works smoothly for the family, friends, and church members that attend. She will also usually be the last to leave after all the clean-up has taken place.
Marcia tends to know where everything is and is meticulous in keeping track of important events and documents. When clergy, staff, and volunteers are looking for things they need, Marcia knows where to find them.
Marcia uniquely keeps in touch with members who begin to lapse or have chosen to move on and, in many cases, those contacts have resulted in a return to the church. These are not items one would find in a job description, but are the types of things that Marcia simply does – as a matter of course – no problem.
2017 Ky Chen Award Recipients