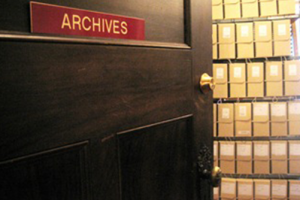 The Archives is the official repository for records created by and about the Diocese of Olympia. Its mission is to identify, collect and preserve records of enduring value to the diocese and to serve its informational and records management needs.
The Archives serves the broader mission of the diocese by using its resources to support the ministry and community life of diocesan congregations, ministries and institutions. It does this by providing reference and research services, by offering information regarding the collection and preservation of records and by supplying records management assistance.
You are invited to make use of these services and to learn more about the history of the Diocese and its family of parishes, missions, institutions and special ministries. To use the Archives, please complete this application form.
The Diocese of Olympia Archives is located on the third floor of Diocesan House (in the tower), just north of St. Mark's Cathedral on Seattle's Capitol Hill.
Map and directions
For more information contact:
Erik Bauer
Archivist and Records Manager
Send Email
Hours:
9:00 am to 4:00 pm
Tuesday, Wednesday and Thursday
Parking:
Limited free parking is available at Diocesan House or on nearby residential streets
Volunteer Opportunities
The Archives depends upon volunteers to assist with a variety of projects. If you have archival experience or an interest in history, an eye for detail and time to share, the Archives may be the perfect place for you to contribute your talents.
Examples of volunteer projects:
Arrangement of archival materials
Database development
Data entry
Photograph digitization
Manuscript and artifact preservation
Historical research
And much more…