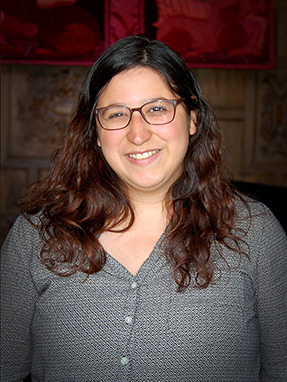 The Diocese of Olympia is pleased to announce that, effective immediately, April Caballero will be serving as Executive Assistant to the Bishop and to the Canon to the Ordinary. Since joining the Office of the Bishop in mid-2016, April has been a vital part of D-House operations.
April Caballero is an Administrative and Communications Specialist out of Austin, Texas. Shortly after moving to Seattle in 2008, April began attending Church of the Apostles (COTA) in Fremont, which was her introduction to the Episcopal Church. In 2011, April began as a Parish Administrator at Church of the Ascension in Magnolia and then went on to serve as the Operations Manager at George: Center for Community while pursuing freelance work in print and web design. During that time, April worked as a Communications Associate for Kids4Peace, an international nonprofit working with Jewish, Christian, and Muslim youth to end conflict and inspire hope in divided societies around the world, while also completing a website upgrade and taking on social media and communications for COTA. After George: Center for Community was closed in June of 2016, the Office of the Bishop brought her on to facilitate Convention registration and exhibits, as well as support the Governance and Communications departments. She also took on the role of Ministry Coordinator at COTA at that time. April holds a BA in communications and religion from Baylor University. She is passionate about liturgy, cetaceans, and wine-making. April lives with her partner, Lacey, and their two felines in West Seattle.
Please join us in congratulating April on her new position.