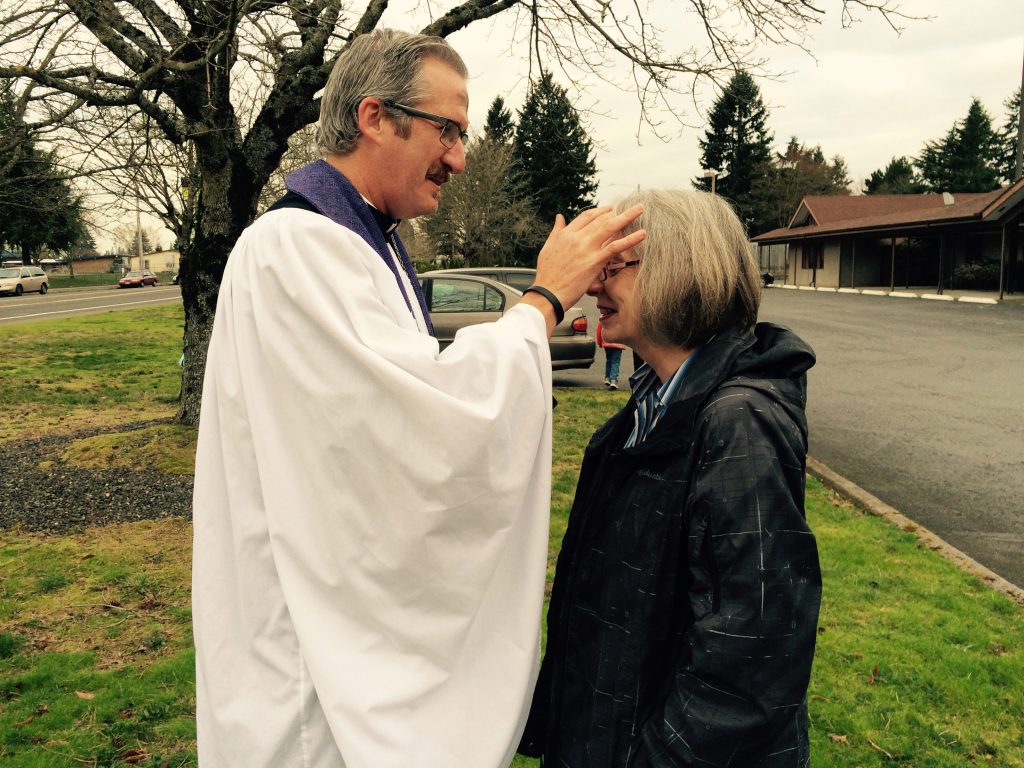 On Ash Wednesday, February 14, churches across the Diocese of Olympia will be offering "Ashes to Go," a new approach to a centuries-old Christian tradition.
Ashes to Go is a nationwide movement that has clergy and lay people visiting transit stops, street corners, coffee shops, and college campuses to mark the foreheads of interested passers-by with ashes and invite them to repent of past wrongdoing and seek forgiveness and renewal.
In the Christian tradition, Ash Wednesday marks the start of the holy season of Lent, a time for reflection and repentance in preparation for the celebration of Easter. For centuries, Christians have received a cross of ashes on the face at the beginning of that season as a reminder of mortal failings and an invitation to receive God's forgiveness. Ashes to Go provides the opportunity to participate in that tradition for people who have lost their connection to a church, or have never participated before.
---
Aberdeen
The Rev. Bonnie Campbell – St. Mark, Montesano
Under the Aberdeen Bridge
11:00am-12:00pm
---
Anacortes
The Rev. Carol Rodin – Christ Church, Anacortes
Post Office on Commercial
10:30am-12:30pm
---
Battle Ground
The Rev. Alice Bower – Holy Spirit, Battle Ground | The Rev. Korey Finstead – Bethel Lutheran
Battle Ground Fred Meyer
11:00am-1:00pm
---
Everett
The Rev. Rachel Taber-Hamilton – Trinity, Everett
Downtown Everett: Corner of Colby and Hewitt Avenue
9:00-11:30am
---
Kent
The Rev. Joyce Parry-Moore – St. James, Kent
Kent Transit Station
8:00-9:00am
---
Montesano
The Rev. Bonnie Campbell – St. Mark, Montesano
Montesano Post Office
12:30-2:00pm
---
Renton
The Rev. Alfredo Feregrino – Our Lady of Guadalupe, Renton
Renton Transit Station
2:30-4:30pm
---
Seattle
The Rev. Shelley Fayette – Christ Church, Seattle
University of Washington – Red Square
2:00-4:00pm
---
Vancouver
The Rev. Tom Warne – Good Shepherd, Vancouver
Front of Church
4:00-5:00pm