From the Standing Committee:
We know you have been waiting to hear who the Standing Committee is calling as the Bishop Provisional for the Diocese of Olympia.
We are thrilled to announce that we have found a Bishop Provisional who knows our diocese and brings experience beyond the footprint of Olympia to assist us during this transition time. We introduce to you the Most Reverend Melissa Skelton, current Assisting Bishop in Olympia and the former Archbishop of The Anglican Church of Canada for British Columbia and Yukon.
Archbishop Skelton has deep ties to Olympia having served as the Canon for Congregational Development and Leadership and as the rector for St. Paul's Episcopal Church in Seattle. During her previous tenure in Olympia she created the College for Congregational Development.
Before coming to the Diocese of Olympia, she has also served the Episcopal Church in Maine and has served as the Vice President for Administration of the General Theological Seminary. Prior to being elected Archbishop of British Columbia and Yukon, she served as the Diocesan Bishop for New Westminster.
We have set up a number of opportunities for you to get to know The Most Rev Melissa Skelton. There will be a moderated Q&A session via Zoom on October 19 from 7:00-8:00pm. Questions may be submitted via a form available on the web site. Please submit them by October 13 to the link below.
If you are joining us at convention (in person or virtually) there will be an opportunity to meet Archbishop Skelton as well. We on the Standing Committee, at our Diocesan Convention October 21-22, ask those voting to affirm the resolution to place our diocese under the provisional charge of Archbishop Skelton.
We are truly fortunate to have Archbishop Skelton willing to step forward and serve the Diocese of Olympia during this time of transition.
If you have any questions for the Standing Committee, contact us at standingcommittee@ecww.org.
SUBMIT YOUR QUESTIONS FOR ARCHBISHOP SKELTON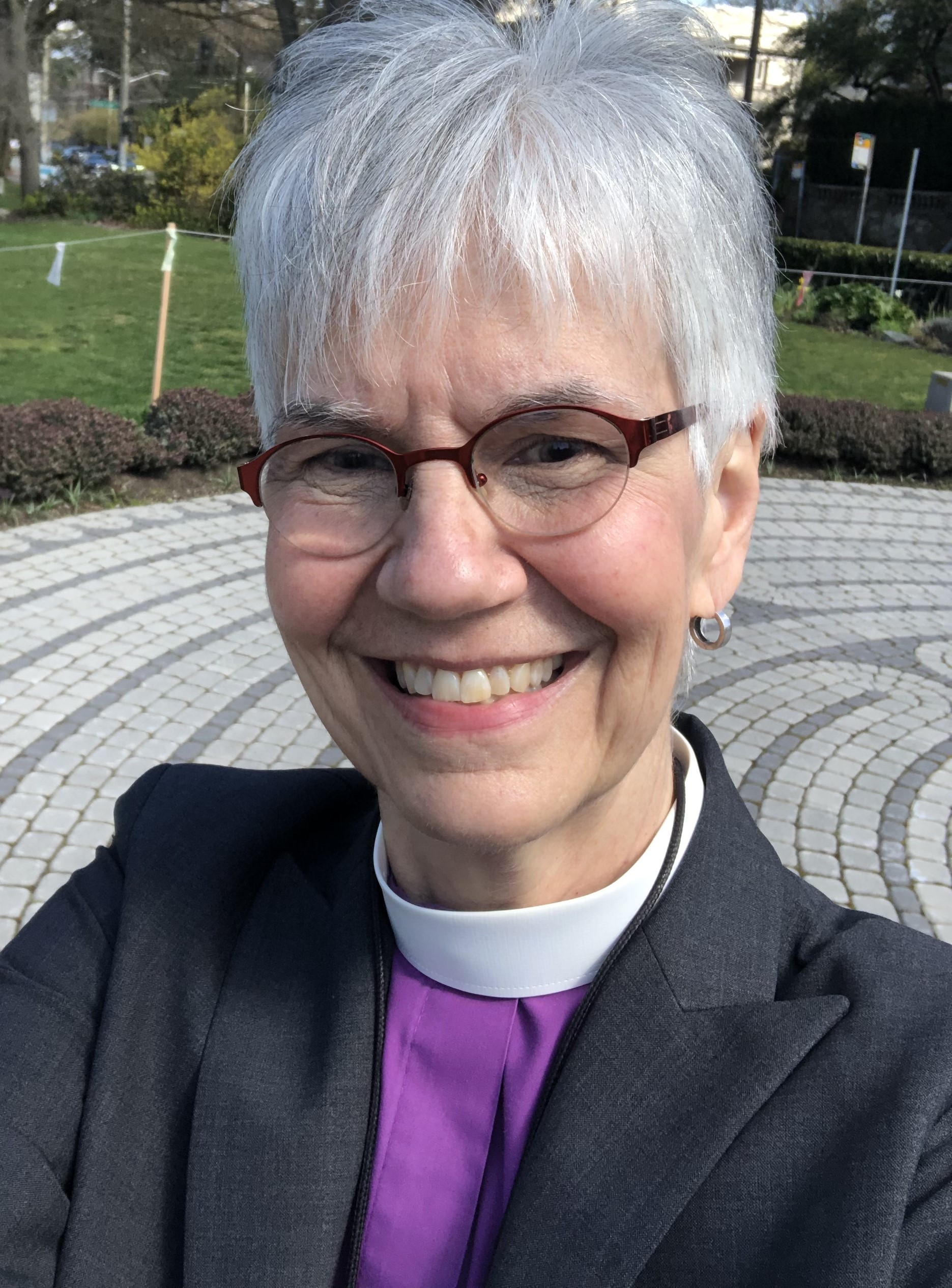 Archbishop Skelton's Church Leadership Experience
THE EPISCOPAL DIOCESE OF OLYMPIA – SEATTLE, WA
Assisting Bishop. Serve as assisting bishop in a diocese of 104 congregations in the Episcopal Church. Assist the Diocesan with visitations and congregational work. Leading the revision of the curriculum for the College for Congregational Development with updated content and a hybrid format. The College, now 10+ years old, is operating in 10 dioceses in the US and Canada with a network of 50+ trainers. March 2021 to present.
THE ECCLESIASTICAL PROVINCE OF BC AND YUKON – VANCOUVER, BC
Archbishop. Elected and served as the 12th Archbishop of one of four provinces in the Anglican Church of Canada. Province consists of five dioceses, and one territory. Oversaw all election and consecration of bishops in the Province. Led leadership group that outlined and progressed Provincial priorities. 2018-2021.
THE DIOCESE OF NEW WESTMINSTER – VANCOUVER, BC
Diocesan Bishop. Served as diocesan bishop for 68 congregations, 100+ clergy and multiple diocesan ministries. Areas of priority were: focusing the Diocese on congregational development (through the School for Parish Development, parish development grants, and practitioner groups); increasing the engagement of churches with Indigenous Peoples and the Calls to Action of the Truth and Reconciliation Commission; strengthening the recruitment of new clergy and the training of clergy and lay leaders; strengthening the culture of the diocese (increasing transparency and collaboration) and working on the sustainability of the overall diocese through dramatically increasing the Diocese's endowment. 2014 to 2021.
THE DIOCESE OF OLYMPIA – SEATTLE, WA
Canon for Congregational Development and Leadership. While serving as rector of a growing urban congregation, served as leader of congregational development and leadership development, one of the bishop's three priority areas for the Diocese. Areas of focus were: creating a comprehensive and integrated system to advance and support congregational development in the Diocese; creating and offering the College for Congregational Development, a comprehensive training program for clergy and laity in congregational development; refocusing, revitalizing and overseeing the congregational consulting network; refocusing the grants program to support congregational development (awarding on average $350,000 each year); engaging in consultation with selected congregations in the diocese (to include St. Mark's Cathedral on their transition process) as well coaching consultants who were engaged in consultation work with congregations; and revitalizing the Evangelism Commission in the Diocese. 2008 to 2014
ST. PAUL'S EPISCOPAL CHURCH – SEATTLE, WA
Rector. Served as Rector of urban, progressive Anglo-Catholic parish near the Seattle Center. Areas of developmental focus were: continued support and strengthening of a liturgy, unique in the diocese and the area; initiating two new Sunday liturgies, one of which targeted younger people through increased participation in the liturgy; strengthening the parish's identity among members, leading to an excitement and momentum enabling the parish to double its average Sunday attendance in five years; focusing the parish's energy on membership growth—especially the process of inviting, greeting, orienting and incorporating; creation of yearly foundation courses that supported identity and community among current and new members; helping the parish to tackle difficult financial issues and making yearly progress toward a balanced budget (from projected $90,000 deficit in 2005 to a balanced budget in 2007 and following years); increasing our endowment and raising 1.5 million for our building renovation; renovation of the parish's website, creation of a culture of Benedictine listening for the purpose of action (initial large group assessment meetings, town meetings, liturgy consultation group, etc.); creation of a children's formation program that aided in growth among young families; and creation of The Fatted Café in which parishioners and the homeless of Seattle feasted and became friends. 2005 to 2014.
TRINITY CHURCH – CASTINE, ME
Rector. Served as Rector (60% time while also serving as Executive Director of land trust) of a coastal Maine parish which tripled in size seasonally. Major developmental areas of focus were: strengthening the parish as a community of Christian formation, with an emphasis on preaching related to spiritual life and enhancing the Sunday liturgy's beauty, grace and flow; teaching Benedictine approaches and practices, including lectio divina; strengthening the health of parish culture through initiating listening processes that broadened congregational participation in decision making and informed yearly planning; collaborating with laity on the creation of new pastoral care ministry; initiating the area's largest "Godly Play" formation program for children; better defining the parish and raising parish visibility in the community through new programming in spirituality and the arts and through the creation of the parish's first website; and strengthening annual giving and laying the groundwork for a capital campaign that achieved its campaign goals three months after going public. Parish website awarded 2003 Diocese of Maine Award for Excellence. 2002-2005.
THE GENERAL THEOLOGICAL SEMINARY – NEW YORK, NY
Vice President for Administration. General Manager of all seminary operations during intense period of change in which enrollment and giving increased to highest levels in ten years. Managed staff of eight directors and oversaw student services, alumni/ae relations, personnel, the business office (finance, accounting, budgeting, purchasing, and contract services), communications, development, admissions and recruitment, strategic planning, board management, public operations, and the entire physical plant (consisting of more than a city block and twenty-two landmark buildings). Focused institution's energy on priorities of upgrading physical, organizational, and financial infrastructure and the strategic marketing of the school to prospective students and to the broader Episcopal Church to include bishops. Launched dramatically upgraded catalogue, alumni/ae magazine, and program brochures. Initiated website. Created and managed External Relations Team, increasing giving and recruitment across all programs. Oversaw seminary's strategic planning effort, obtaining participation and commitment of faculty, administration, board, and key outside constituencies. Functioned regularly in the sung liturgies at the Chapel of the Good Shepherd. 1993-1997.
The College for Bishops: Director and Coordinator. Oversaw and led this program of formation for new bishops of the Episcopal Church. Designed each of the three yearly sessions and coordinated with all faculty and other presenters. Extended the program to the bishops of the worldwide Anglican Communion. Managed the relationship Advisory Board the national Episcopal Church office and the Presiding Bishop's office. Managed budget did grant reporting, and oversaw and executed all publicity, development, and fundraising work. 1994-1997.
Adjunct Professor of Pastoral Theology. Taught the Seminary's yearly course in Adult Education, focusing on helping seminary students design and teach Foundation's/Enquirer's Courses for Adults. 1993-1997.
Archbishop Skelton's Other Leadership Experience
FRENCH & SKELTON – SAN FRANCISCO, CA
Principal and Co-Founder. Created and functioned as principal in consulting firm working with for-profit and not-for-profit organizations on uncovering insights among clients, consumers, donors, and stakeholders to create or strengthen new products and services, marketing and communication initiatives, fund-raising efforts, and overall strategy. Focused on consumer ethnography approach. Collaborated with a co-consultant, with clients at all levels of the organization from CEOs and Executive Directors to Project Managers. Clients included: The Clorox Company, Apple Computer, Johnson & Johnson, The Guayaki Company, First National Bank of Bar Harbor, The State of Maine, The Pine Tree Society, Orthopedic Associates (an independent physician-owned practice), Senator Inn and Spa, WomenRising (a women's services organization), The Progressive Christian Magazine. 2001-2005.
TOM'S OF MAINE – KENNEBUNK, ME
Vice President and Group Team Leader of Consumer and Brand Development; Group Team Leader of Organization and System Development. Oversaw and executed comprehensive consumer-based marketing, communications, advertising, and new products efforts during a period of +15 % growth per year. Led annual development and execution of advertising, communications, media, promotional and other marketing planning to reach this target. Led new product development and professional advocacy programs. Oversaw consumer services group, the Company's internal Organization Development consulting team, corporate training, and Human Resources Department. Spearheaded effort across many disciplines to bring the company's practices more in line with its values (respecting people, nature, and animals). Managed multi-million-dollar budget. 1997-2001
THE PROCTER & GAMBLE COMPANY – CINCINNATI, OH
Brand Manager. Managed three separate efforts in hair care category: two hair care brands and the Beauty Care Division's efforts to build relationships with and educate the Salon industry about P&G hair care brands. On the brands, oversaw and lead all efforts related to consumer understanding, product development, pricing, promotion, relationship with sales force, advertising, and concept development. Salon industry efforts included: collaborating closely with consumer services, product development, and consultants and experts in salon industry to increase the acceptance of P&G brands. Efforts provided basis for P&G's international initiatives to increase professional support of its hair care brands. 1992-1993.
Assistant Brand Manager/Brand Assistant. Oversaw all consumer research and advertising development for new international Vidal Sassoon product. Accomplished this through ground-breaking team approach drawing together agency, product development and consumer researchers. Approach featured in company's worldwide meeting on innovative practices. 1989-1991.
Archbishop Skelton's Other Church Experience
VANCOUVER SCHOOL OF THEOLOGY – VANCOUVER BC
Adjunct Professor. Taught/am teaching Anglican Liturgy, Homiletics, and the basic M.Div. Pastoral Theology Course. 2016 Sommerville Lecturer. 2016-present.
CHURCH CONSULTING – SEATTLE WA
Consultant. Functioned as consultant for multiple church systems: The Episcopal Diocese of California; The Episcopal Diocese of Chicago; Christ Church, Winnetka; St, Mark's, Niagara on the Lake; Sisters of the Transfiguration; The Seattle School of Theology and Psychology. 2014 to present.
THE SEATTLE SCHOOL OF THEOLOGY AND PSYCHOLOGY – SEATTLE, WA
Homiletics Instructor and Retreat Leader: Served as retreat leader for graduation class of M.Div., and Counseling students and taught homiletics in the Winter/Spring term of 2012. 2010, 2011, 2012.
PACIFIC LUTERAN UNIVERSITY CONTINUING CLERGY EDUCATUON – TACOMA, WA
Summer Workshop Keynoter and Leader. Gave keynote address and structured workshop activities for PLU's summer clergy continuing education about the core purpose of congregations. Also served as faculty for workshop on congregational identity in the context of the Northwest "None Zone." Summer, 2007 and 2011.
SEATTLE UNIVERSITY SUMMER INSTITUTE – SEATTLE, WA
Summer Institute Faculty. Taught workshops in identity as applied to the issue of the renovation of liturgical spaces and on the relationship between pastor/priest and musician. Summer 2006, 2007, 2008.
THE CHURCH DEVELOPMENT INSTITUTE – NEW YORK, NY
Trainer. Designed and taught training sessions for clergy and lay congregational leaders in congregational development. 1994-2008
THE DIOCESE OF MAINE – PORTLAND, ME
Congregational Development Consultant. Functioned as consultant to congregations on planning, managing conflict, discerning new ministries, creating new growth strategies, and developing greater capacity to navigate the dynamics of change. 2002-2004.
KANUGA CONFERENCE CENTER – HENDERSONVILLE, NC
Program Board Member. Served as member of board which planned, facilitated, and served on staff for national educational events held at the center. Served as chaplain for session on writing and spirituality. 1995-1997.
ST. ANDREW'S EPISCOPAL CHURCH – TRENTON, NJ
Priest Associate. Celebrated, preached, and served on the strategy team for this small, urban parish with two parallel congregations: a traditional Rite 1 congregation and a liturgically innovative congregation which incorporated jazz, the contemplative use of silence, and a shared homily within its worship life. 1994-1996
EDUCATION FOR MINISTRY PROGRAM – SEWANEE, TN
Mentor Trainer. Trained mentors across the country. Taught basic training as well as advanced sessions in ministry discernment, group skills and theological reflection. 1981-1996
TRINITY, WALL STREET – NEW YORK, NY
Adjunct Clergy. Celebrated, preached, and participated in the life of this large, urban parish which sponsors Trinity Institute, the Trinity Grants Program and is world renown for its ministry within the Anglican Communion. 1993-1995
ALL SAINTS CHURCH – PLEASANT RIDGE, OH
Associate Priest. Preached, celebrated, and provided pastoral care, and led youth group within this diverse, medium-sized, suburban parish in the Cincinnati area. 1991-1993
ST. SIMON OF CYRENE CHURCH – LINCOLN HEIGHTS, OH
Intern. Preached, taught adult education; organized Liturgy Committee integrating African American culture within Anglican worship. Led the parish-wide effort to create a mission statement in this historic African American parish in the Cincinnati area.1991
Archbishop Skelton's Education
VIRGINIA THEOLOGICAL SEMINARY – ALEXANDRIA, VA
M. Div. cum laude, 1990. Completed fieldwork at St. Mark's, Capitol Hill, and at Brent House at the University of Chicago, overseeing programming related to ethics for students at the Graduate School of Business. In residence 1984-1986. Coursework completed for degree at the University of Chicago Divinity School and at Seabury-Western Seminary.
THE UNIVERSITY OF CHICAGO – CHICAGO, IL
MBA, Marketing and Finance, 1989. Recipient of the NCR Award for Outstanding Academic Achievement and Contribution to the Life of the Business School. University Scholarship. Co-chair of the Marketing Group. Co-chair of the Business Ethics Group, Member of planning team for the new LEAD business leadership program that schools business school students in leadership and communication. One of five US Procter & Gamble summer marketing interns.
THE UNIVERSITY OF SOUTH CAROLINA – COLUMBIA, SC
MA, English, 1977. Concentrated in English literature before 1660. Awarded teaching assistantship and taught first-year composition and literature courses.
THE UNIVERSITY OF GEORGIA – ATHENS, GA
BA, summa cum laude, English, 1973. Pursued University's first Honor's Area Studies Major (in English Renaissance) which included graduate level and extensive independent study course work. Sole recipient of the 1973 Burdette Award for Excellence in English
Archbishop Skelton's Other Education/Training
IDI CERTIFICATION.
Certified to administer the Inter-Cultural Development Indicator. 2020.
CHURCH ASSESSMENT TOOL.
Certified to administer and interpret the Church Assessment Tool and other Tools from Holy Cow Consulting. 2012.
MBTI CERTIFICATION:
Certified to administer and teach the Myers-Briggs Typology indicator. 2009.
NATIONAL TRAINING LABS:
Certificate in Organization Development. Completed 2-year certificate program consisting of experiential training in basic OD approaches, personal growth, consulting process, intervention approaches. 2006.
THE CHURCH DEVELOPMENT INSTITUTE:
Completed certificate as participant with parish team 2004 in this training focusing on gaining and using skills in organizational and congregational development.
LEADERSHIP TRAINING INSTITUTE:
Completed 3-phase training in Human Relations, Group Skills, Experiential Educational Design and Project/Practicum. 2000.
Archbishop Skelton's Activities
VANCOUVER SCHOOL OF THEOLOGY:
Board member for this ecumenical divinity school in Vancouver, BC. 2017 to present.
THE ISLAND HERITAGE TRUST:
Executive Director, Board Member and Chair of the Development Committee for land trust in Deer Isle, Maine. Led fund development including preparation for capital campaign, preservation work, community outreach, board development, member relations, public relations, and advertising. 2002-2004.
MAINE BUSINESSES FOR SOCIAL RESPONSIBILITY:
Vice President of Board. Led New Initiatives Committee. Served as board support to the intern program. Facilitated strategic planning efforts. 1999-2002.
THE CENTER FOR JEWISH-CHRISTIAN RELATIONS AT THE GENERAL THEOLOGICAL SEMINARY:
Advisory Board for this effort fostering conversation and learning between Christians and Jews. 1995-1997
Archbishop Skelton's Publications and Memberships
Authored the chapter on liturgy in Vancouver School of Theology's new book Before Theological Study: A Thoughtful, Engaged and Generous Approach (Wipf & Stock, Eugene, Oregon, 2021)
Contributed to three collections of reflections for Forward Movement Press and to The Other Journal (Seattle School of Theology and Psychology)
Contributed to two different books from Forward Movement.
Member of The Organization Development Network and serve as Episcopal Visitor for the Society of Catholic Priests
Bishop Provisional Announcement