This from the UK Baptist Times
Baptists speak out – at the Lambeth Conference!
Dr David Golding CBE and Mark Francis, members of Whitley Bay Baptist Church and Trafalgar Road Baptist Church, Horsham, respectively, joined Christian Climate Action (https://christianclimateaction.org/) protestors of various denominations outside the Lambeth Conference on Wednesday 3rd August to urge the Anglican Church to speak out on the climate crisis. Encouragingly many bishops chose to stand alongside them and join them in prayer.
"We weren't there as Baptists", say David and Mark, "but as Christians alarmed at the prospects facing humanity and the wider creation, and wishing to impress upon these Christian leaders the need for them to use their influence to bring about urgent and vigorous action on this issue."
The Rt. Rev. Gregory H. Rickel, Episcopal Bishop of Olympia, Washington State, US , put out a powerful statement saying, "Of all the various concerns being taken up at Lambeth Conference, none is more crucial than this earth's climate emergency. Every issue discussed, every person affected, every position, every angle, every despair, every hope, is contained within this one issue. As one of my favourite singers Keb Mo sings in his song Victims of Comfort, 'What do we have to gain, everything. And what do we have to lose, everything. So let's try together before we have to cry together, it's too late to die together'. If we cannot be united on this fight, we will through our neglect be united in our death and we are hurtling toward that now. We can't just talk. We must act now."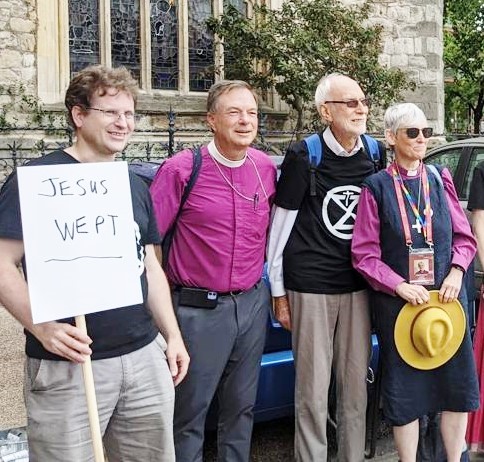 To which David and Mark respond: "Amen to that, brother!" And they have two further messages for the bishops (and indeed for all followers of Christ) by the late Archbishop and Nobel Peace laureate, Desmond Tutu:
"People of conscience need to break their ties with corporations financing the injustice of climate change" – so divest, and do it now!
"I urge you all to work together to find sustainable solutions to avert a catastrophe that will exacerbate human suffering to a magnitude that perhaps the world has not yet seen."
Bishop Rickel Speaks Out on Climate Change at Lambeth