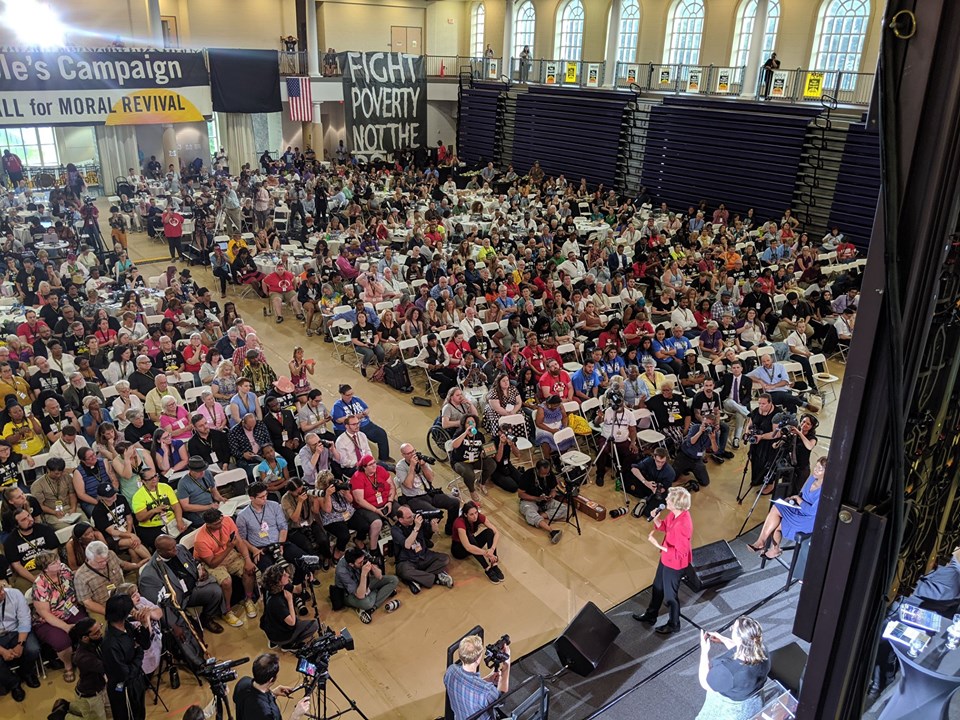 On Tuesday June 18th, four members of Chaplains on the Harbor participated in the largest forum to date of presidential candidates for the 2020 election. The forum, hosted by the Poor People's Campaign: A National Call for Moral Revival, was held at Trinity University in Washington, D.C. All candidates, including the president, were invited to take part, with nine attending: former Vice President Joe Biden; Sens. Kamala Harris, Bernie Sanders, Elizabeth Warren, and Michael Bennet; Mayor Wayne Messam of Miramar, Florida; Rep. Eric Swalwell (D-Cal); self-help author Marianne Williamson; and entrepreneur Andrew Yang. Over 700 clergy, organizers and poor people attended, as part of the Poor People's Moral Action Congress.
Each candidate was given four minutes to speak, then questioned for twenty-three minutes by Bishop Dr. William J. Barber, Rev. Dr. Liz Theoharis, and directly-impacted people from the audience. Joy Reid of MSNBC moderated the event. Mashyla Buckmaster, who runs COH's community center in Westport, posed her question directly to Sen. Kamala Harris:
"I am from Grays Harbor County, Washington. There you'll find a lot of millennials trying to survive in a county with few options. I know it because I've lived it. When I was homeless I would sleep on friends' couches, or dirty laundry piles, or if I had to stay outside I'd hide in the woods and wouldn't sleep. And you might be surprised by how many folks living there are young. We might not fit the image of millennials on TV, but we're a part of an entire generation that has been made poor and cannot even afford a place to live. What is your plan to secure decent and affordable housing for all? How will you fix this country's broken infrastructure that is hurting–and yes, killing–poor people like me?"
Harris' response included promises to wage the minimum wage and legislate measures to keep housing affordable. She also thanked Buckmaster for her leadership and courage in bringing these issues into the national spotlight.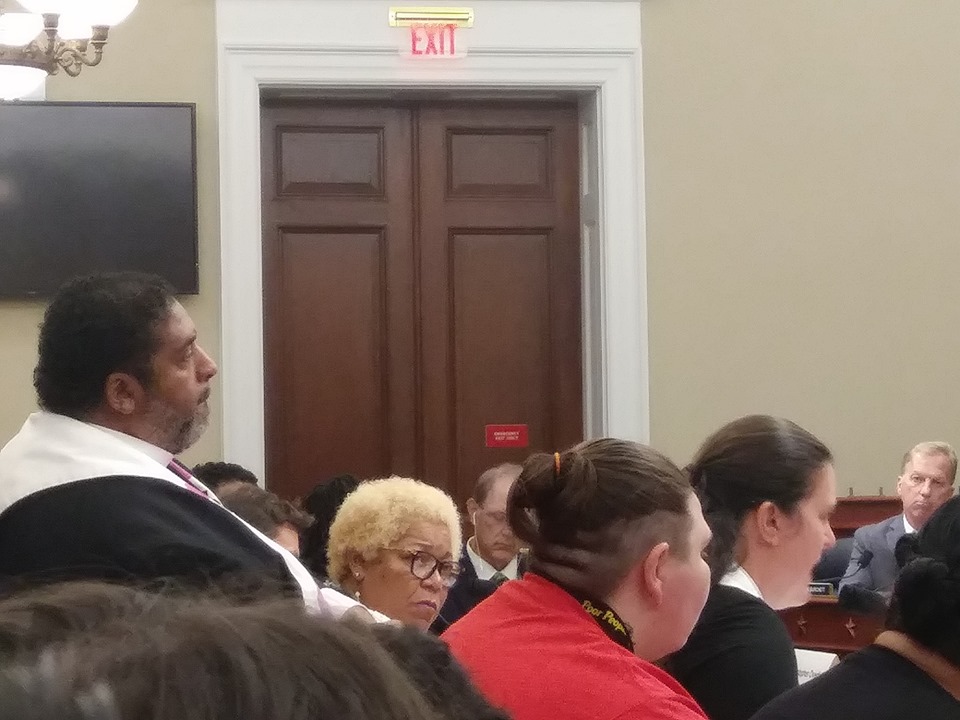 Following the candidate forum, Chaplains on the Harbor members Rev. Sarah Monroe, Emily Nilsson, Chris Olive, and Mashyla Buckmaster helped lead workshops for the Congress participants on youth leadership, homeless organizing, movement spirituality, and LGBTQ justice.
The following day, June 19th, Buckmaster was among a handful invited to a hearing before the House Budget Committee, where Barber and Theoharis presented the campaign's economic proposal, a "Poor People's Moral Budget." Four campaign members also testified, and were largely ignored by the Representatives. Rev. Theoharis excoriated both parties for this treatment: "I'm stunned. We've pulled a group of testifiers who are deeply, personally impacted by these problems, they are in the room, and people are not talking to them. People are not asking questions about how are we going to solve this problem? And then people are being blamed for the problems that society has caused. It feels very important to me to say that we need a real serious conversation in this country, led by those who are most impacted."
Rep. Bill Johnson (R-Ohio) challenged the campaign's theology: "I don't find anywhere in the scripture where Jesus said that it was Caesar's job to feed the poor, and to clothe the widows, and take care of the orphans. It's the church's responsibility, the community's responsibility, your neighbor's responsibility, it's your responsibility to do those things."
Bishop Barber responded in turn, "First of all, it's interesting that you would define yourself as Caesar. Next, you haven't read the 2,000 scriptures in the Bible that talk about how societies are supposed to treat the poor, the immigrant, the least of these. And you don't know that Jesus started his first sermon with the Good News to the ptochos—a Greek word that means 'those who have been made poor by economic systems'…. It is bothersome that in the 21st century we still have these weak, tired old mythologies. See the people! Stop just talking about how you know poverty and hear what these folks are saying, and put together a full plan to deal with this issue."
DONATE TO CHAPLAINS ON THE HARBOR
Chaplains on the Harbor Addresses Candidates, Attends Budget Hearing