Last week, Chaplains on the Harbor filed a second federal lawsuit against the City of Aberdeen. This lawsuit is in response to the city's ongoing attempt to sweep Grays Harbor County's largest homeless encampment without providing residents any alternative place to live. The Rev. Sarah Monroe, founder and priest in charge at Chaplains on the Harbor, is standing as co-plaintiff along with eight residents of the encampment and one of their family members. This suit asserts that the city is in violation of both the Eighth Amendment's guarantee of protection from "cruel and unusual punishment," as well as in violation of the Treaty of the Quinault Indian Nation. The following statement is from Rev. Sarah: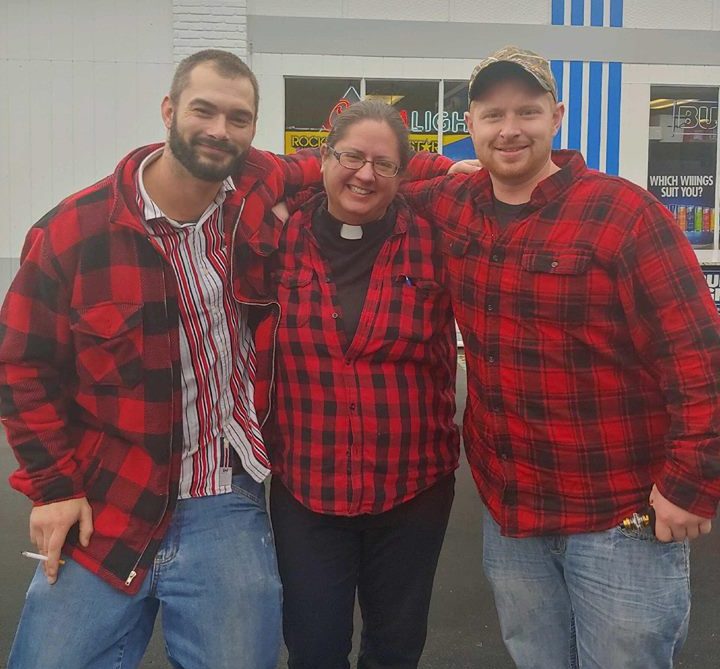 "Last year, I filed a lawsuit against the City of Aberdeen. It was a fairly straightforward case, asserting my constitutional right to freedom of religion: the city had refused me access to visit people I have been pastoring for the past five years. The courts agreed that my rights had been violated and supported my right to freely exercise my religious and pastoral duties, and also supported my co-plaintiffs' right to freely assemble and visit friends and loved ones.
"This past week, I signed onto a second lawsuit which I anticipate will be far more controversial. The second lawsuit, filed by people living homeless in the largest encampment in Aberdeen, asserts their constitutional and moral right to life. It has become customary in the United States, as rates of poverty and homelessness have soared in the past few decades, for cities to enact measures to push people out of public spaces and to sweep encampments. This lawsuit alleges that such actions constitute cruel and unusual punishment. Homelessness in the United States is a lack of housing, but it is also fundamentally depriving people of the legal right to exist in any space. If you cannot pay for housing, increasingly, you cannot legally be anywhere— whether that is a park, a sidewalk, a tent on public property, a doorway, or a business establishment. This makes survival very difficult. This second lawsuit seeks to challenge such deprivation.
"Council member Rowe stated in a city council meeting, 'We are not entitled to get something for the mere fact that we are alive.' However, our nation's founding documents assert the human right to life. Any basic economics or civics course will tell you that life requires at least basic needs (food, shelter, clothing) to be met. The Quinault Treaty asserts the right of people who have lived here for centuries to fish on the land of their ancestors, rooted in a belief that mutual thriving only happens when resources and land are available to all of us. As a priest and as a Christian, the Bible tells me of a God who feeds the hungry with manna from heaven, who delivers the command that we love one another. I serve a God who walked this earth freely healing and feeding poor and desperate people, no matter who they were and no matter their status in the community. Jesus asserts our right to abundant life.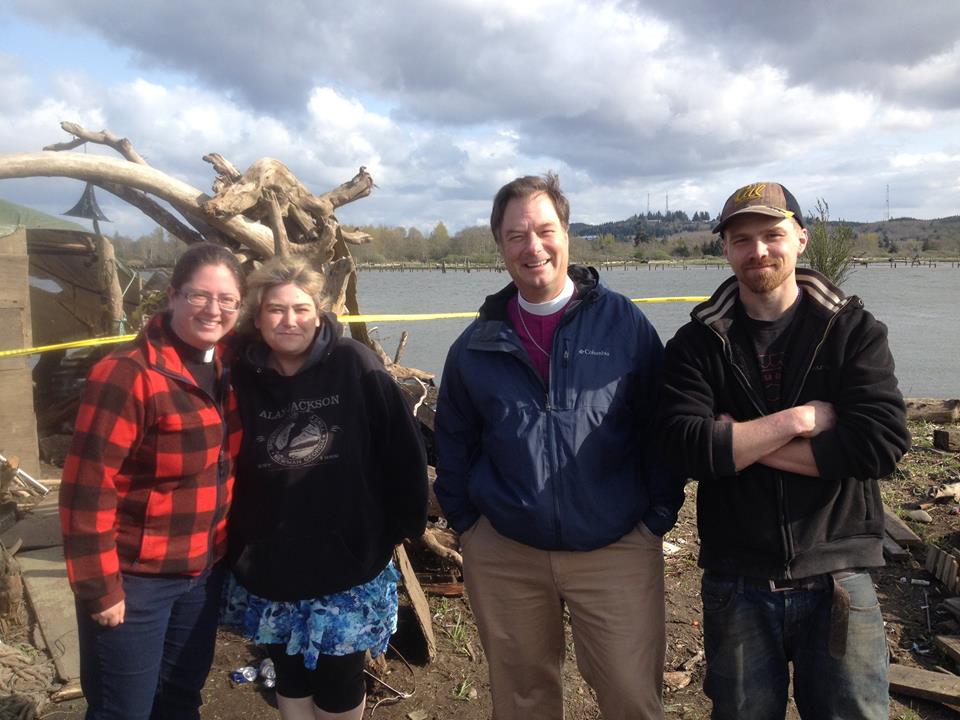 "Perhaps the most controversial issue in this community is how we should deal with our prevalence of addiction. Grays Harbor County has one of the highest opioid overdose death rates in Washington State and the highest methamphetamine consumption in the country. This, of course, is not particularly a homeless issue— it is the intergenerational reality of a former timber community and affects housed and unhoused people alike. Drugs became a source of income for many struggling people when the timber industry left this region, as well as a form of self-medication for physical and emotional pain. Somehow, the city council and other community members seem to believe that asserting every person's right to life is enabling addiction. I would encourage those who ascribe to this mindset to do some serious investigation into the abundance of scientific research on healing from addiction and trauma. Isolating people and leaving them to die of exposure is a cruel response to addiction, one that is not supported by the Constitution, or the Bible, or science. While families often do need to make difficult decisions and set boundaries when confronted with a loved one's addiction, research shows overwhelmingly that people can only heal when they have the care and support necessary to do so in their communities. Addiction is borne of hopelessness and despair— pain and survival. For a community so preoccupied with the surface-level symptoms of addiction, I would point out that we currently have no detox facilities, very limited treatment options, and wait lists a mile long. I could tell you literally hundreds of stories of men and women coming to me, desperate for help and healing, who were met with red tape and waiting lists. I could show you names on my arm of people who died while waiting for the treatment they so critically needed.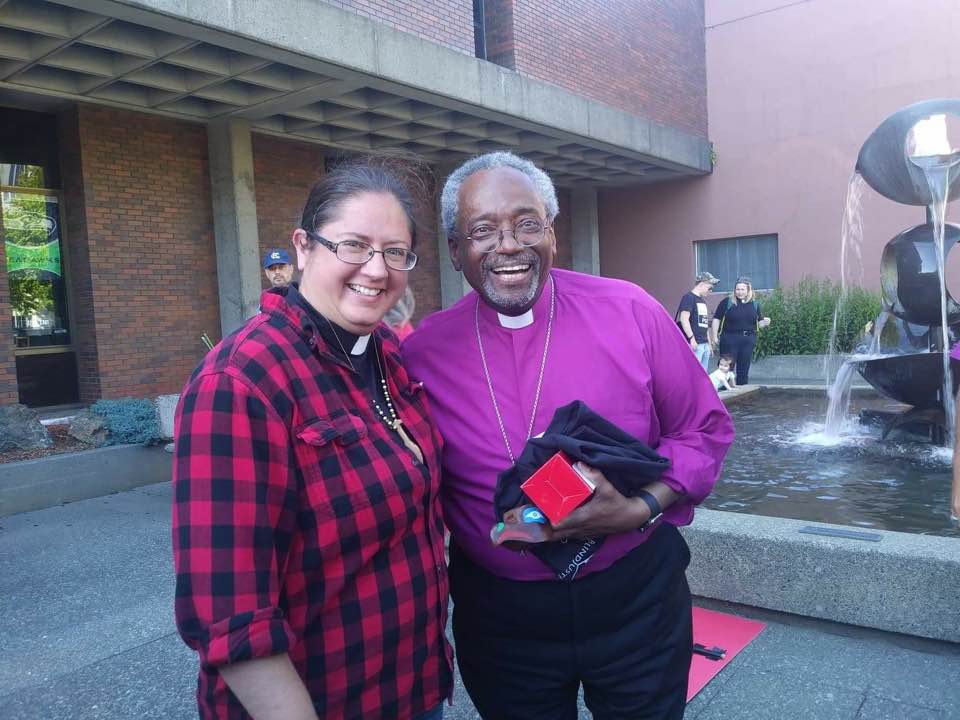 "Ultimately, this lawsuit is one small piece in a much broader struggle for life and dignity in Grays Harbor County. It is a cry for real solutions. It is an attempt to stop this city's assault on people's basic right to survive the night, but also a call for our community to invest in real healing. I expect hatred to come our way for this, and while I grieve that, I know that in the end we are faced with a choice. We can choose to become an object lesson for future generations on how a small town can turn on its own and, in so doing, isolate and destroy itself with petty self-interest. Or we can become a beacon of hope and healing by choosing to invest in the things that will raise us all up— meaningful employment, treatment, housing. We can choose to be a model to the world on how to heal and survive in post-industrial America. We can love and protect each other or we can destroy each other. It is our choice. I choose love and healing. I choose to fight for life for our people, and I am honored to so by standing as a plaintiff alongside several residents of this camp."
More background information is available in the article below from The Daily World.
Chaplains on the Harbor Files Second Federal Lawsuit