On Friday, October 26th, the Diocese of Olympia will be offering three workshop sessions (10:00-11:00am, 11:15am-12:15pm. and 1:00-2:00pm) prior to the 2018 Diocesan Convention at DoubleTree by Hilton, Seattle Airport. Read below for more information on all of the workshop offerings!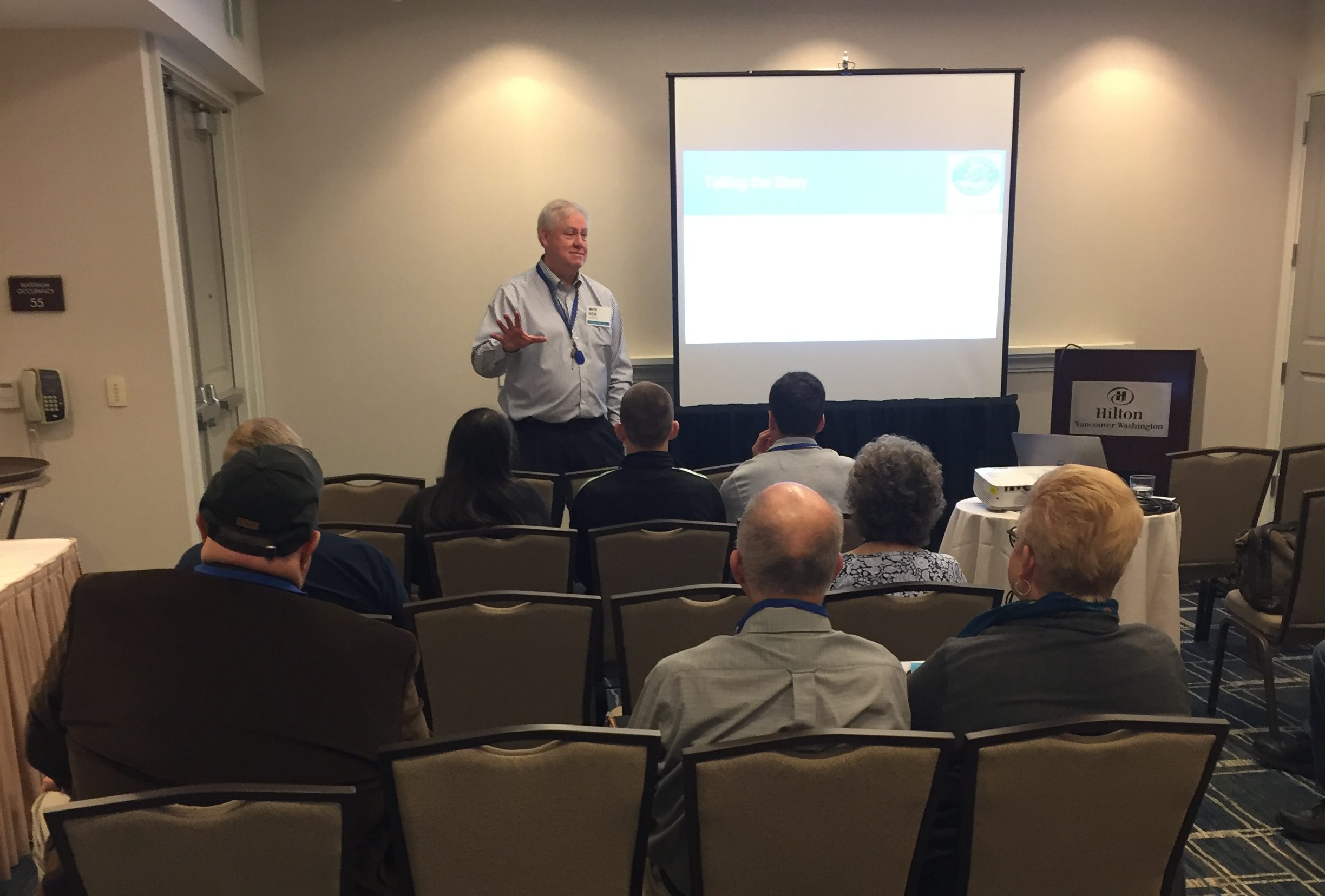 101: Getting Ready for Luke. Cascade 5-6—Session 1. Lectionary Year C starts in December, and with it another year that the Sunday readings will take us through the Gospel of Luke. Join Matthew Moravec, St. Andrew, Tacoma; Sue Tait from the diocesan Resource Center, and Maureen Crawford, Dean of the IONA Olympia School, who will provide background and overview material on the Gospel, connect attendees with further study resources, and host a discussion on ways to better connect our congregations with Luke's message. Whether you will be preaching it from the pulpit or hearing it in the pew, we hope this session will leave you equipped and excited for the Gospel of Luke.
102: Alzheimer's Disease and Other Dementias: A Ministry of Help and Hope. Cascade 5-6—Session 2, repeated in Session 3. Bob Le Roy, executive director of the Alzheimer's Association Washington State Chapter, will offer information about the impact and emotional and economic costs of Alzheimer's disease and other dementias. He'll share strategies for care and support as well as advocacy and public policy. The state of Alzheimer's research will be reviewed, and sources of information, education, help, and hope for individuals and families identified.
103: Strengthening Relationships and Growing Leaders in Your Congregation in the Age of Facebook. Cascade 7—Session 1, repeated in Session 3. The Sound Alliance is made up of faith, labor, and community organizations dedicated to strengthening relationships and building a base of everyday citizens and leaders to effectively stand for the change they want to see in their communities. Our diocese is a member of Sound Alliance. Join Dorothy Gibson and Brian Sellers-Petersen to learn about how to affect change in your church and local community.
104: Our Call to Advocacy: Helping Your Community Stand for Justice. Cascade 7—Session 2. How do people of faith influence decisions on hunger, poverty, gun responsibility, criminal justice, and other issues impacting our communities? Join Faith Action Network's co-directors Rev. Paul Benz and Elise DeGooyer as they share impactful ways you can advocate for policies that strengthen our communities. This workshop will explore what is coming up for Washington State's legislature, discuss the 2018 ballot initiatives, and consider issues faith communities are working on in Congress. If you are ready to advocate for justice, join this workshop to learn to be more effective!
105: Coaching Techniques for Ministry. Cascade 8—Session 1. Leaders in the private and public sector are finding coaching techniques to be very effective in increasing employee satisfaction and productivity. These concepts translate very well to our work in the church. Whether you are a priest or a lay leader, you'll find coaching strategies helpful in problem-solving and connecting members of your church community more deeply into whatever ministry draws them. Join this fun and engaging training with Diana Bender, a nationally certified coach who does leadership and transition coaching for our Diocese and others around the country. Sponsor: Congregational Consulting Network.
106: Introduction to the Israel/Palestine Conflict. Cascade 8—Session 2, repeated in Session 3. Beginning with an excerpt from the recent documentary "1948: Creation and Catastrophe," we will trace the origins and consequences of the conflict on both Israelis and Palestinians,  describe the current status of the Christians of the Holy Land and the efforts of the Episcopal Church to support them through a network of healthcare and educational institutions,  and discuss the relevant resolutions adopted at the  Episcopal General Convention in July. We will explore ways that we, as Episcopalians in the Diocese of Olympia, might assist in efforts to seek a just and peaceful resolution of this conflict. Presenters: Members of Bishop's Committee for Justice and Peace in the Holy Land – Claude Soudah, Rennie Coit, John Narver, Mary Pneuman, Mary Segall, McDonald Sullivan, Bishop Cabby Tennis, Randy Urmston.
107: Complex Compassion: Mental and Spiritual Wellbeing in a Chaotic World. Cascade 9—Session 1. In this complex and challenging world, full of uncertainty and anxiety, how do we maintain our own spiritual and mental wellbeing, as individuals, as family, as community, as church? Join members of the diocesan Mental Health Task Force for a discussion of the complexities of caring for one another and ourselves.
108: Unlikely but Worst-Case Scenario – the Active Assailant at Church. Cascade 9—Session 2, repeated in Session 3. Join Ron Miller from Church of the Good Shepherd, Vancouver, to learn steps to reduce risk and how to respond to an active assailant.
109: Update on Refugee Resettlement Programs in the Diocese of Olympia. Cascade 10—Session 1, repeated in Session 2. Our refugee program faces many challenges. Join Greg Hope, director of the Refugee Resettlement Office, to hear about our accomplishments and strategy for continued success.
110: The Joy of Blessing Prayers: How to empower Laity in their Prayer Life. Cascade 10—Session 3. Join Trish Owens, member of the Order of St. Luke (OSL), to learn about practical examples and resources on OSL materials that can empower laity to strengthen and bless their prayer lives and those around them. Information on Connection to Sharing magazine and Order of St. Luke study materials will be shared.
111: Telling the Story: Mission to Seafarers. Cascade 11—Session 1, repeated in Session 3. Join Ken Hawkins, executive director of the Mission to Seafarers, to learn more about the Mission to Seafarers in Seattle and how they are impacting people from all around the world.
112: Save Money, Water and the Environment: Rain Gardens and Cisterns at Church. Cascade 11—Session 2. Many churches are stewarding the rain that falls on their roofs by capturing and filtering it through gardens and cisterns. St. Luke, Ballard, is the site of the second largest rain capture program in the history of Seattle. Join St. Luke's members, and the staff of the Seattle Public Utilities Rain Wise program, to learn how your congregation can do well by doing good. Sponsor: Board of Directors.
113: Having a "there" there: Identity and Marketing in the Local Congregation. Cascade 12—Session 1. Do you know how to describe the deep joy of your congregation? Are you able to articulate your local church's strengths and reason for being? Join the Rev. Alissa Newton, Canon for Congregational Development, and learn some simple tools for discovering how to uncover what's really there, and how to talk about it in ways that invite even more people into Christian life and practice. Sponsor: Congregational Development.
114: Church Desk. Cascade 12—Session 2, repeated in Session 3. This will be an opportunity to meet the founder of Church Desk in person to discover the ins and outs of this new software and how it can benefit your congregation. Sponsor: Office of the Bishop Presenters: Founder and CEO Christian Steffensen.
115: From Maximizing Profits to Socially Responsible Investing. Cascade 13—Session 1. The investment model followed by most funds, including church endowments, is "maximizing profits." Under this model the shareholder is king and fiduciary responsibility is to its benefit. Ethical and moral concerns are ignored in the interest of maximizing profits. However, there is another investment theory with biblical and faith roots known as Sabbath Economics. A secular application of Sabbath Economics is Environment, Social, Governance (ESG). The theory behind ESG holds that there are many stakeholders not just the shareholder. Among the stakeholders are the earth, employees, suppliers, customers, community, and the shareholder. Sponsored by the Bishop's Committee for the Environment, this workshop will explore the journey of St. Augustine in-the-Woods as the vestry and endowment committee learn about and debate the ESG option. Presenter: Richard Hall, vestry member, St. Augustine in-the-Woods, Freeland.
116: What's New in our Partnership with the Diocese of Southern Philippines. Cascade 13—Session 2. Dave Hanson, forester, and JB Hoover, partnership coordinator, have just returned from a September visit to our partner diocese on Mindanao in the Diocese of Southern Philippines (EDSP). The carbon offset partnership began in 2012 when Bishops Rickel and Bustamante signed the Caring for All Creation covenant. Since then approximately 75,000 trees have been planted, some grown from seed. The trees planted – mahogany, coconut, rubber, fruit – will provide steady income for small churches and poor farmers. Dave has developed protocols for measuring tree survival and calculating the amount of carbon sequestered by each tree species.  This work is supported by donations to the carbon offset partnership by individuals and churches in our diocese and elsewhere.  There will be time to ask questions and find out how you can get involved in this partnership that makes environmental, economic, and social justice a reality.
117: Convention Orientation. Cascade 13—Session 3. Are you a first-time convention attendee? Been to convention before, but looking for a refresher on Robert's Rules of Order or the work of the convention? Join members of the convention leadership – Ann McCarthy, parliamentarian; Judy Andrews, chancellor; Karen Gusse, secretary; and Jamie Balducci, dispatch of business chair – in this session to learn more about how convention operates.
118: To Keep or Not to Keep – That is the (First) Question. Cascade 3-4—Session 1. Join a conversation with Archivist & Records Manager Diane Wells about commonly held church records – what to keep, what not to keep – and how to tell the difference. Once that first question has been answered, the next questions are how to best preserve, protect, store and access the records you've decided to keep – whether paper or electronic – and how long to keep them! Bring your questions, concerns and comments to the session as we explore church records from the basement to the cloud!
119: A Taste of Come and See (Cursillo re-imagined in the Diocese of Olympia). Cascade 3-4—Session 2. Join Caroline Horrigan & members of the Secretariat of Come and See…Go and Tell/Cursillo for a peek into why Come and See…Go and Tell is the essential retreat experience for your work of ministry and mission through deeper understanding of the teachings of Jesus and how to serve Him more faithfully and spiritually. Secretariat members will offer a sensory experience of what's on the menu for spiritual renewal at the Come and See…Go and Tell Weekend. We're not your traditional Cursillo anymore! The short course in Christianity is all about discovering you are a beloved child of God, experiencing what it means to live out your Baptismal Covenant in daily life.
120: Funding Future Ministry in Your Church. Cascade 3-4—Session 3. Whether you want to start a planned giving program for your church or re-invigorate a program that is languishing, this workshop, sponsored by the diocesan Life Planning Ministry, and led by the Rev. David Marshall, will offer practical advice and concrete steps. Making a planned gift to the Church is pastoral, evangelistic, good stewardship, and a ministry of discipleship. A planned giving ministry builds pastoral relationships today and provides for future generations.
Convention Workshops 2018