From the Rev. Rachel Taber-Hamilton: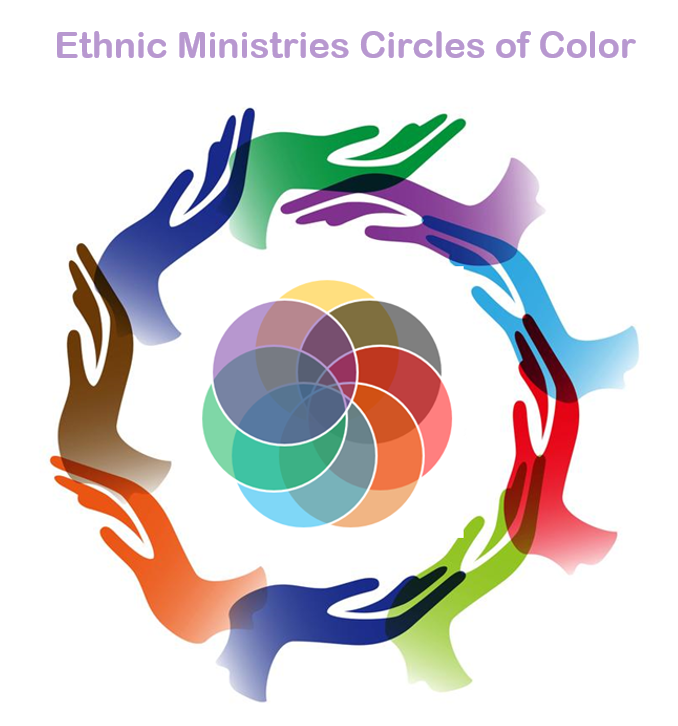 The Leadership Circle of Ethnic Ministries has developed a model of support for People of Color in the diocese and would like to share with you the Circles of Color that are currently gathering as virtual online communities.
The Ethnic Ministries Full Circle is currently meeting as an online weekly meeting of both lay and ordained people of color in the diocese. We gather through Zoom conference every Tuesday at 1:00pm. All POC are invited to this gathering! We began the process of gathering as an Ethnic Ministries Leadership Circle last fall and are growing our virtual community and online presence. We are developing a newsletter among our leadership group and hope to expand our reach to people of color throughout the diocese.
Additionally, the Clergy of Color Circle in the diocese have developed additional Virtual Circles as online gatherings of specific communities for: First Nations Ministries Circle; African American & Black Ministries Circle; Asian American Ministries Circle; and Hispanic & Latino Ministries Circle. We are also offering a Postulants of Color Circle for those POC in the formal ordination process. Each of these ethnic community virtual circles are led by a Clergy of Color in our diocese, and a given participant can certainly belong to more than one or several Circles of Color with which they may identify or find helpful. Our white allies are also creating an Ethnic Ministries Allies Circle and are in the process of carefully identifying white allies who are truly knowledgeable and experienced in working in authentic partnership with POCs.
All Ethnic Ministries Circles are mutually supportive communities for resource sharing, networking, personal support, addressing issues of racism, encourage leadership development among our POC church communities, and connecting people of color with what they need emotionally and spiritually to be who God is calling them to be. At this time, the easiest way to help connect POCs and perspective allies to a Circle is to have them email me in the language of their choosing – we have members who are able to provide most translations and who are able to respond in kind. My public email is chaplain@whidbey.com.
Finally, if you have any questions, I hope that you will please ask. Our Leadership Circle is committed to supporting connection within the Beloved Community that is our diocese.
Circles Meeting Information
General Circles Contact: emcirclesofcolor@gmail.com
Full Circle Meetings
Every other Tuesday at 1:30PM
Contact Rachel Taber-Hamilton for Zoom link.
Clergy Circle Meetings
Every other Friday at 3:30PM
Contact Jerry Shigaki for Zoom link.
Black/African American Circle Meetings
Contact Deborah Moore for Zoom link.
AAPI Circle Meetings
Contact Carlos Caguiat for Zoom link.
Hispanic/Latino Circle Meetings
Contact Berto Gandara for Zoom link.
Indigenous Circle Meetings
Contact Rachel Taber-Hamilton for Zoom link.
Allies Circle Meetings
Contact Jo Beecher for Zoom link.
Ethnic Ministries Circles of Color in the Diocese of Olympia