From Aaron Scott, Diocesan Missioner for Anti-Poverty Organizing and Organizer with Chaplains on the Harbor:
The City of Aberdeen carried out its final eviction and demolition of the Chehalis River encampment this week. Chaplains on the Harbor clergy stood with camp residents: to witness with them as they watched their small homes get bulldozed, to assist folks with relocating, and to offer pastoral support in the wake of this forcible displacement.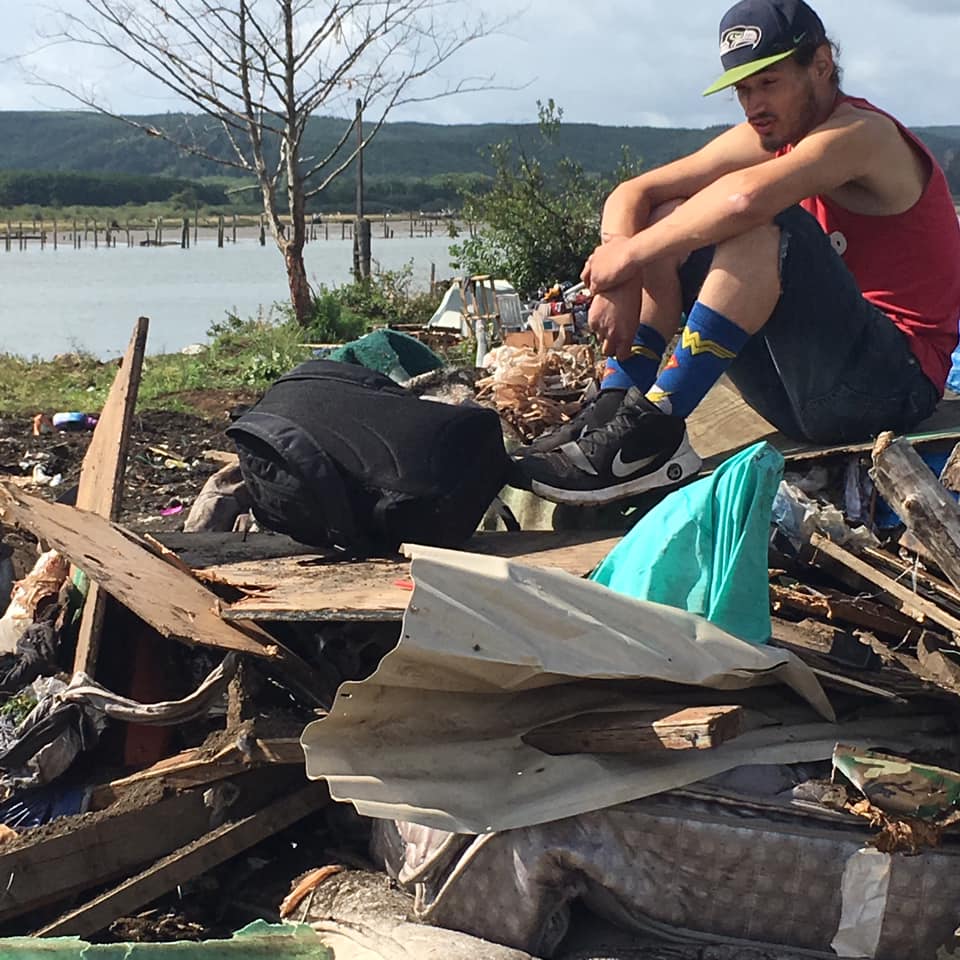 Many long-time camp residents had hoped to exercise their first amendment rights through one last organized protest of the eviction. In the end however, watching the demolition of their homesteads (some with all their possessions still inside) was simply too traumatic and demoralizing. So we shifted to survival pastoring. Aaron Scott, COH organizer, preached on this through the lens of Amos last Sunday.
The new city-hosted mitigation site reached full capacity well before most River Camp residents relocated, and there continue to be ongoing human rights issues at the site regarding access to food and potable water. Meanwhile, COH has received word that those displaced to downtown sidewalks are now being ticketed for violating local ordinances. Many River Camp residents were likewise displaced into residential areas where anti-homeless hostilities are even higher and code enforcement is doubling down on citations. Suffice to say, our current legal case is ongoing but on-the-ground survival needs wildly outpace the speed of federal court decisions. What we do know is that our years of organizing up to this point helped to ensure that City of Aberdeen finally began taking its first steps to address the local crisis of homelessness, and that Chief Shumate of the Aberdeen Police Department worked hard to ensure this eviction happened without any arrests and with as much deescalation as possible– a rare occurrence in most sweeps. We are grateful to have made progress on both these counts.
In the midst of much suffering we work hard to anchor this ministry in tangible hope. Our staff meetings are increasingly full of young children, with more expected soon (praise God for family reunification!). Our team at Harbor Roots Farm is carrying out a second successful season of supportive employment, thriving crops, and happy customers. We are starting to dream together about what it would take to build the infrastructure necessary for wholistic addiction recovery in county where it's badly needed.  None of this would be possible without your support, and we are deeply grateful to all who have given so generously to our vision. If you would like to make a donation to Chaplains on the Harbor, click here.
Please keep our whole congregation in your prayers.
With gratitude and blessings,
Chaplains on the Harbor
Final Sweep Update from Aberdeen