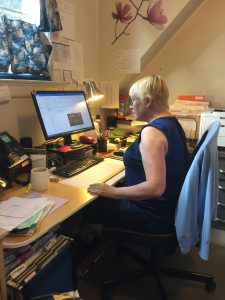 Tucked into the back corner of the Office of the Bishop, otherwise known as Diocesan House (D-House), Lori Hardow works away as the office's Finance Assistant and Insurance Coordinator. In addition to her daily work on accounts payable and the tracking of assessment reports and payments, Lori helps clergy and lay employees sort through their medical benefits and assists lay employees navigate their pensions. After two and a half years in the position, she enjoys interacting with the parishes and being able to answer the inevitable questions that arise.
Lori began working for the Diocese of Olympia in 2009, serving as the Administrative Assistant to the College for Congregational Development. Due to her long work with the college, Lori has become very familiar with the people and congregations all across the diocese. One of the most fulfilling aspects of her work with the diocese is being able to answer questions and provide clarity to churches.
When she isn't hard at work supporting the diocesan accountants or navigating the complexities of medical benefits and pensions, Lori can be found singing in one of the three choirs she has joined. She's sung for all of her life, harmonizing with her mother around the house. These days she sings with Seattle Bach, Sine Nomine, and Canzonetta.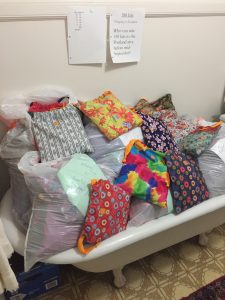 As if work and choir didn't keep her busy enough, Lori is also co-director of the Seattle chapter of Days for Girls, a nonprofit organization that supplies feminine hygiene products to girls in developing countries. While surfing the web one day, Lori found Days for Girls and learned that girls in developing countries often drop out of school during adolescence due to a lack of access to feminine hygiene products. Days for Girls creates kits that will last three years and help these girls graduate from school. Her work with the organization taps into many of her skills – sewing the kit components, as well as organizing volunteers. Plus, she gets to stash the materials for these kits in her office.
If you have questions about benefits in the diocese, or the assessment payments and forms, make sure to get in touch with Lori. You can send her a message at lhardow@ecww.org and give her a quick call at 206.325.4200, Extension 2018.