From Sue Tait, Diocesan Librarian:
As probably all of you know, Bishop Michael Curry gave the opening sermon at the 79th General Convention by speaking of the Way of Love. If you didn't see the address, you can watch it below:
Bishop Rickel is very eager that we make these resources available to you.
The "Way of Love" provides seven spiritual practices that form a Rule of Life: Turn, Learn, Pray, Worship, Bless, Go, and Rest. Presiding Bishop Curry and the Rev. Canon Stephanie Spellers have suggested resources to aid us. These resources seem to fall into three main categories: books (available in the Resource Center now, or on order), downloadable articles and chapters of unavailable books, and materials for continued exploration – including prayer sites, the Episcopal Asset Map and other ministries of the church. We will be highlighting each these categories in the coming months, beginning with the chapters and articles available to you online. To see the entire brochure highlighting these materials, please follow the link below: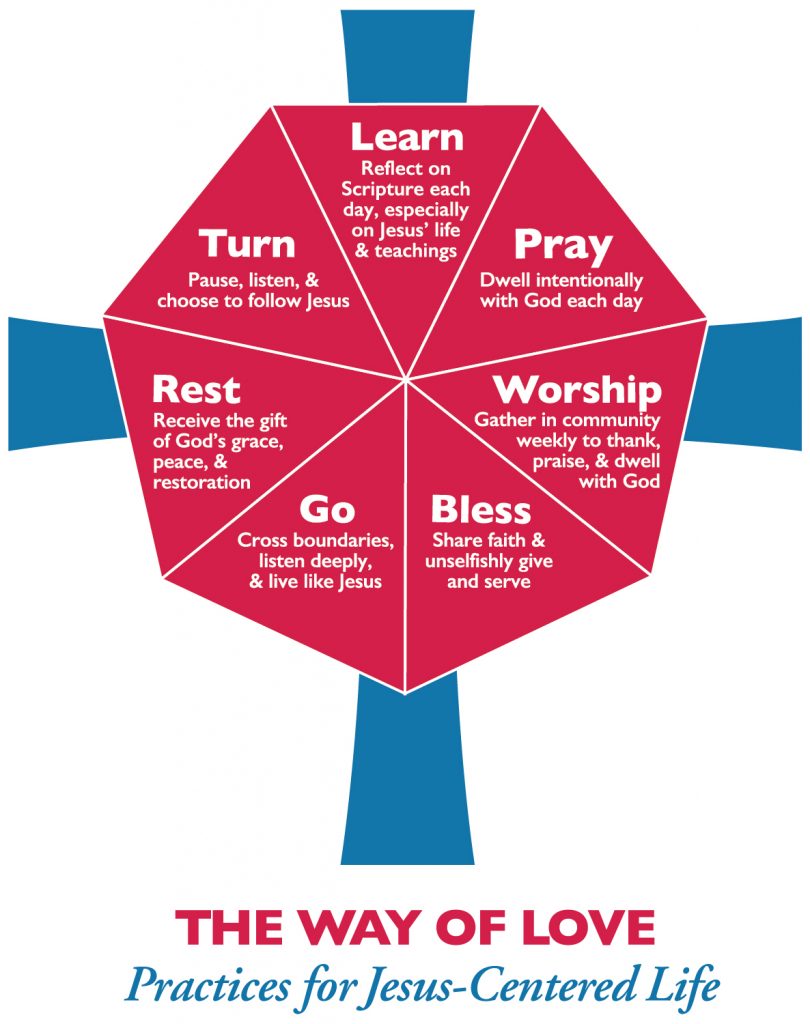 Living Well: Christian Practices for Everyday Life, edited by John Roberto
Churches and other religious organizations have permission to reprint chapters from this currently unavailable book. The link below takes visitors to a list of chapters and links to each. The Way of Love references chapters on the bible, on prayer, transforming the world, and discernment. (Ages: All)
---
Reflections on the 'O Antiphons', from Episcopal Networks Collaborative
Prepared for the 2017 Advent season, the Collaborative "invites you to read and ponder the reflections on the O Antiphons written by individuals across the country [including from our diocese] fostering the hope Jesus brings to despair everyday… immigrants, low wage workers, targets of hate crimes, and those fighting corporate greed which threatens sacred lands with environmental destruction." The focus is on economic justice, and includes reflections on the Magnificat and the Incarnation. The Collaborative includes the Episcopal Ecological Network, the Episcopal Network for Economic Justice and Union of Black Episcopalians. (Ages: Young Adult/Adult)
---
On Bodies, the Eucharist, and Skydiving, by Broderick Greer
In this short article, Broderick Greer asks us to "remember that God made you as a subject of love, not as an object of commercialization." (Ages: Adult)
---
Sabbath as Part of a Rule of Life, by Charles LaFond
Charles LaFond offers a way to practice Sabbath as well as follow a Rule of Life amidst the busyness of our lives. He has also written a book on the Rule of Life, available in our Resource Center. (Age: All)
---
Reclaiming the Sabbath, by Jane Carol Redmont
God rests on the seventh day. If we decide to embody this as church, what will the shape of our time look like? How will we operate differently from the culture around us? (Age: All)
---
Working on Not Working on the Sabbath, by Miriam McKenney
Miriam McKenney reflects on what Sabbath means to her and her family in today's world of always being busy with things to do. This website, Grow Christians, is brought to us by Forward Movement, a ministry of the Episcopal Church. (Age: Families)
---
Sabbath, by Oliver Sacks
As he approached death, neurologist and author Oliver Sacks contemplated his life with and without the Sabbath. (Age: All)
---
Baptizing and Teaching Beyond Passive Evangelism, by Marcus Halley
A distillation of Marcus Halley's plenary address at the Evangelism Matters conference in 2018.
Other references to the conference are available on YouTube.
Following the Way of Love