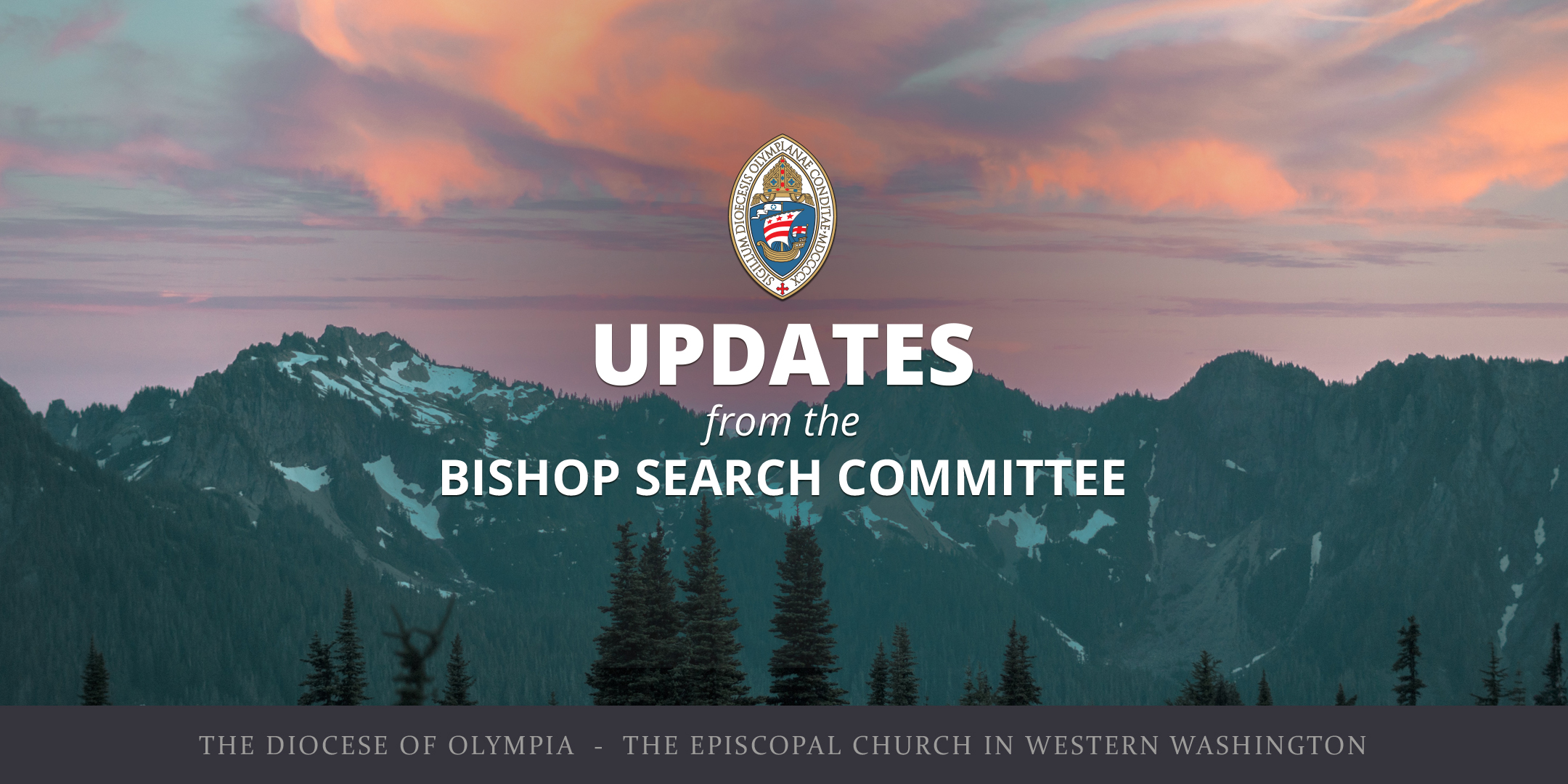 We need your input!
The Bishop Search Committee invites all members of the Diocese of Olympia to share in a conversation about our hopes for the next bishop.
During the month of August, you are invited to participate in a facilitated "Holy Conversation." The conversations will focus on the vision for the Diocese and how the bishop and staff can support congregations throughout our Diocese in living out their missions. The data gathered in the Holy Conversation will help form the core of the diocesan profile—the descriptive document we will publish to seek applicants to serve as the Ninth Bishop of Olympia.
We want to hear what you believe to be the skills, qualities, and gifts our next bishop will ideally have that will lead our diocese forward in the next 10 to 15 years. What are the most critical issues facing the Diocese of Olympia? All of your input will be compiled and compared to help us discern more clearly where the Holy Spirit is leading us in this critical work.
Holy Conversations will be held in each region of the Diocese. Locations, dates and times for these listening sessions are listed below. Please RSVP the session you plan to attend by clicking the session RSVP link provided.
Also, coming to you in August is the "Holy Cow" Survey! More information will be coming very soon!
The committee knows our work cannot flourish without your prayers. We look forward to seeing you at a listening session in the coming weeks!
Dates and Locations
St. Matthew/San Mateo, Auburn | Saturday, August 19, 2:00 pm | 123 L St. NE, Auburn, WA 98002
St. Matthew/San Mateo, Auburn | Saturday, August 19, Time TBD | Spanish Language | 123 L St. NE, Auburn, WA 98002
St. Luke's, Sequim | Tuesday, August 22, 6:30 pm | In-Person and Zoom | 525 N 5th Ave., Sequim, WA 98382
Trinity, Everett | Saturday, August 26, 1:00 pm | In-Person and Zoom | 2301 Hoyt Ave., Everett, WA 98201
St. Luke's/San Lucas, Vancouver | TBD | 426 E Plain Blvd, Vancouver, WA 98663
"Holy Conversations" for the Search for the Next Bishop of Olympia: Dates, Locations, and Registration!