We're sharing the stories of ministries in congregations around the diocese, celebrating the incredible work being done on the local level. In this local ministry profile, John Hoyte of St. Paul's, Bellingham speaks about their Safety Pouch ministry.
The St.Paul's ministry in Bellingham provides safety pouches for the homeless.
The idea of making and providing pouches grew out of the St.Paul's Alms ministry in the Fall of 2019. For a number of years we have reached out to those in need in our community on a weekly basis. A team of up to 20 volunteers welcome guests each Tuesday, meeting them personally and providing assistance such as a bus pass, food voucher, basic cell phone, gas voucher, and utility finances. The Alms ministry is part of a network of Bellingham churches and can meet needs more effectively through the contributions from other members of the network.
It became clear that often the homeless lose their IDs so the pouch idea, for keeping personal papers safe, was the logical outcome. Our sewing guild developed a simple design and started to make them for us to distribute.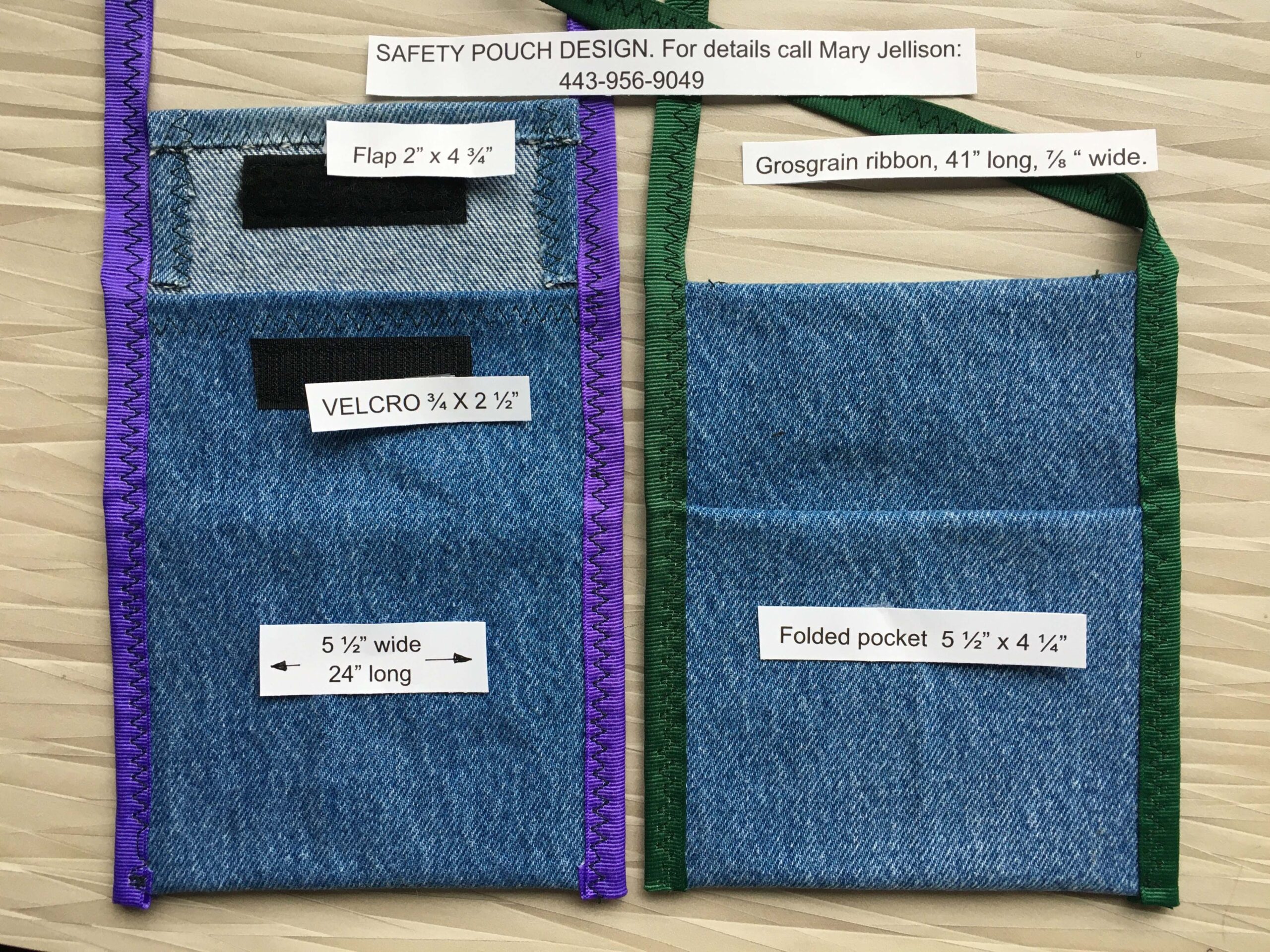 We have given out about 400 pouches, through our own ministry and also through the following:
The Opportunity Council of Whatcom County
Chaplains on the Harbor
Wenatchee Lighthouse Mission
Bellingham Lighthouse Mission
Olympia Union Gospel Mission
St. Vincent de Paul, Catholic Church
Humanitas, Bellingham
First Baptist Church, Bellingham
Interfaith Coalition, Bellingham
Anacortes Family Center
Union Gospel Mission, Seattle
Hillcrest Church, Bellingham
Hope House, Bellingham
Salvation Army, Costa Mesa, CA
Tierra Nueva, Burlington
Mt. Vernon Police Department
Christian Hope (New Ways Ministry) Lynden.
Union Gospel Mission, Vancouver, BC
Mt. Baker Presbyterian Church, Concrete
Community Action of Skagit County
Swift Haven Mini-Homes
Community Assist Program, Blaine
City Team, SanJose, CA
Whatcom Transportation Authority
Twisp Rescue Mission
Sheltering Unhoused Neighbors in Western Washington
Many guests at our Alms ministry gratefully accept pouches and their gratitude has been eloquent. We have been able to provide many with IDs and pouches to keep the IDs safe, a much needed ministry.
We believe this ministry can spread beyond our county, our state and across the world for the needs are great and increasing. Wherever we have contacted outreach organizations, the pouches have been welcomed.
This is an ideal, self-perpetuating ministry for spreading through our churches where the pouches can be made in each parish. It provides a simple, practical way for parishioners to get involved in outreach.
We would like to spread the vision throughout our diocese and possibly find a key person in each parish to follow through with the idea. We would love to have the support of our bishop.
The most important aim for this ministry is to meet the needs of the homeless in a simple, practical way that is easily adapted by all the parishes in our diocese.
Attached is a picture of a typical pouch with sewing instructions.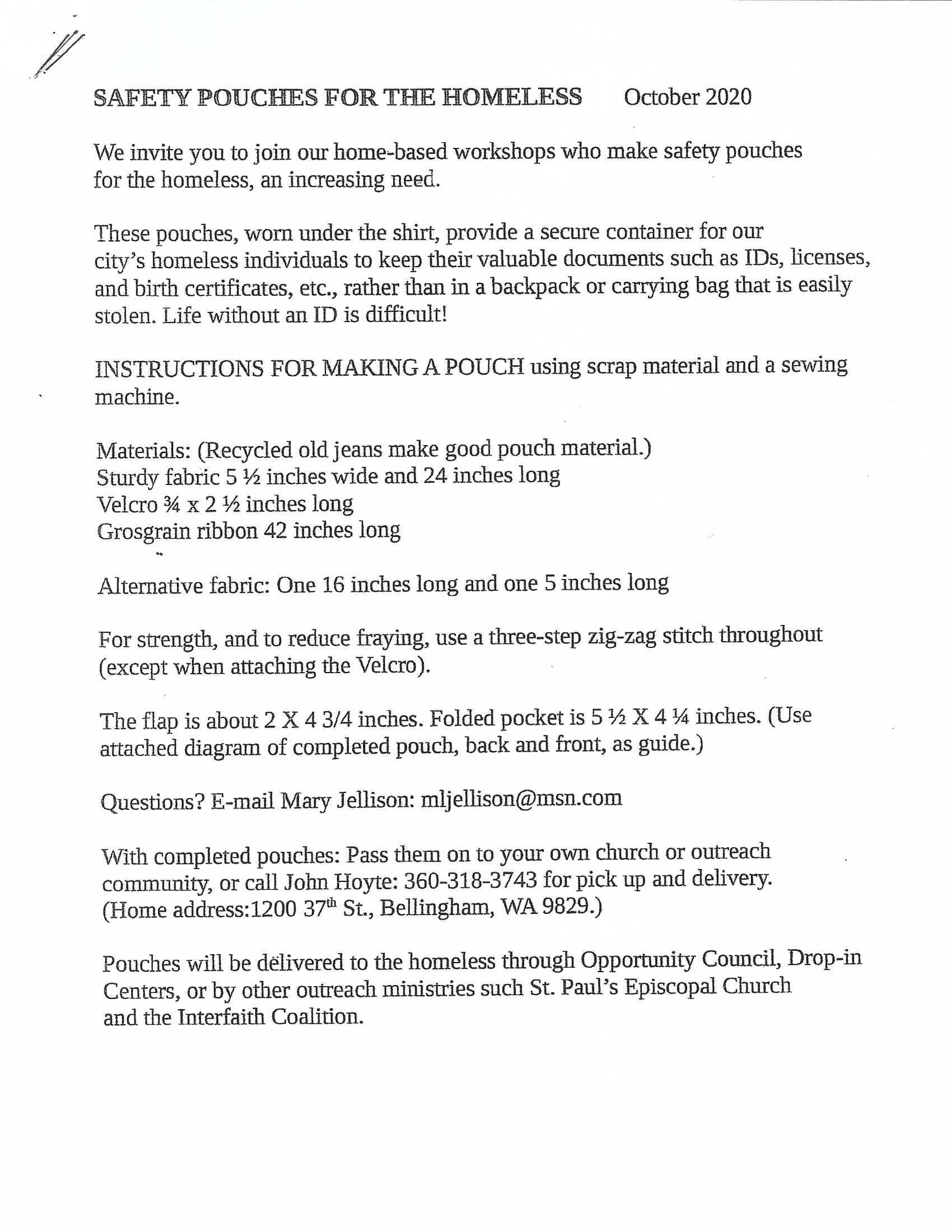 For more information and to request sample pouches call John Hoyte at 360.318.3743.
If you would like to share the story of your church's ministry, let us know by contacting us at communictions@ecww.org.
Locally Centered Ministries: St. Paul's Bellingham's Safety Pouches