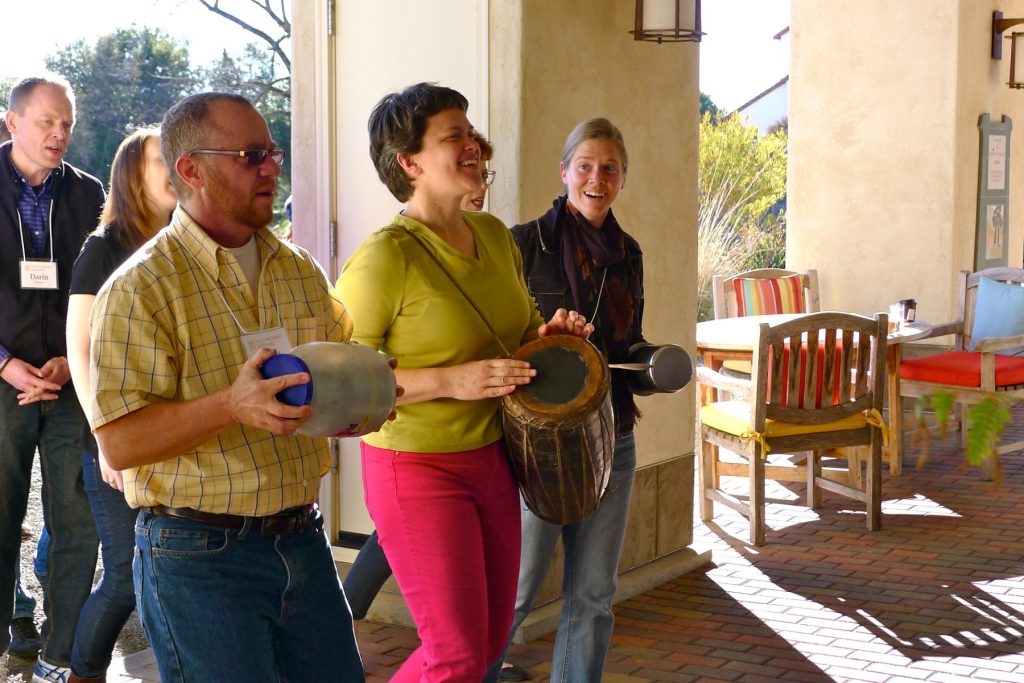 Music That Makes Community (MMC) is presenting a workshop in partnership with The Center at St. Andrew, Seattle in March. The focus of the event will be sacred song during worship without the use of printed or projected material.
MMC originated with the liturgical work being done at St. Gregory of Nyssa Episcopal Church, founded by the Rev. Donald Schell and the Rev. Rick Fabian in San Francisco, California. During the summer of 2005, Rev. Schell, Rev. Fabian and the Rev. Emily Scott (then an Intern at St. Gregory, now a Lutheran pastor and founder of St. Lydia in Brooklyn, NY) found they had a desire to create music for worship that would leave congregants free to move around, use their hands, and be fully present to one another in worship. They started collecting and composing music and thinking about ways to use it.
Their work grew into an organization that presents events where worship leaders can learn and practice oral tradition teaching practices in a fun, supportive atmosphere. Attendees experience singing and leading worship songs through gesture, body language and voice. Even rather complex songs can be done in this way. MMC presents workshops throughout North American, and some have spawned permanent groups that meet regularly to hone their technique and share music.
Does Music That Makes Community advocate eliminating hymn books, bulletins and instruments? Of course not – the goal is to spread a valuable skill that will deepen worship in combination with more standard forms of sacred music.
Paperless (and projector-less) singing is unusual in most Christian worship, whether traditional or contemporary, but people have been singing that way for thousands of years. Music That Makes Community is really trying to revive a once-widespread practice that lost favor as worship became more standardized and formalized. Voices united without any artificial objects can at times powerfully strengthen our sense of community.
The local co-sponsor, The Center, is St. Andrew, Seattle's contemplative ministries outreach arm. It has presented workshops on stained glass art, icon writing, sacred poetry, alternative worship music, centering prayer, as well as bringing in speakers on a variety of topics. The Center's ministry reaches well beyond the church's walls, to people from other churches, and people from the community at large.
Join St. Andrew, Seattle on March 15, 7:00pm for a Community Sing (no charge) for everyone, all ages. The next morning at 9:30am, music and worship leaders will gather for a day-long workshop ($75 includes lunch). Three presenters from across the country will demonstrate and talk about paperless sacred song. Registrants will sing, lead songs, observe and discuss the process. You are invited to attend either or both, Friday and Saturday.
For more information and registration, visit the site below or call Paul Vasile at 929-266-4662.
Music That Makes Community Workshop Coming to Seattle