We are pleased to announce a new clergy call within the diocese. The Rev. Laura Murray has been called as vicar of Faith, Poulsbo. Please join us in welcoming her to her new position.
The Rev. Laura Murray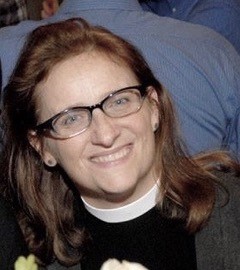 The Rev. Laura was born in Alaska and spent her formative years in New Mexico and Washington State. Prior to seminary, she worked as a consultant and senior negotiator on public projects with clients ranging from King County to Williams Communications. She attended Seminary of the Southwest in Austin and Bishop Rickel ordained her to the priesthood in 2014. She regularly serves at Huston Camp and Conference Center as chaplain during Counselor Training, which is always a highlight in her year. She is also on the CADO board and most recently was appointed to the Diocese of Olympia's Liturgy and Arts Committee. After serving three years at St. John's, Gig Harbor, she left in search of her own place and is excited to begin as Vicar of Faith, Poulsbo. Laura started at Faith in February. Laura has been married to Michael for 16 years, and mother to Jacquelyn and Miranda for as long. Laura and Michael enjoy movies, live music, travel, hot air ballooning, and laughing until their sides hurt.
New Clergy Calls in the Diocese of Olympia