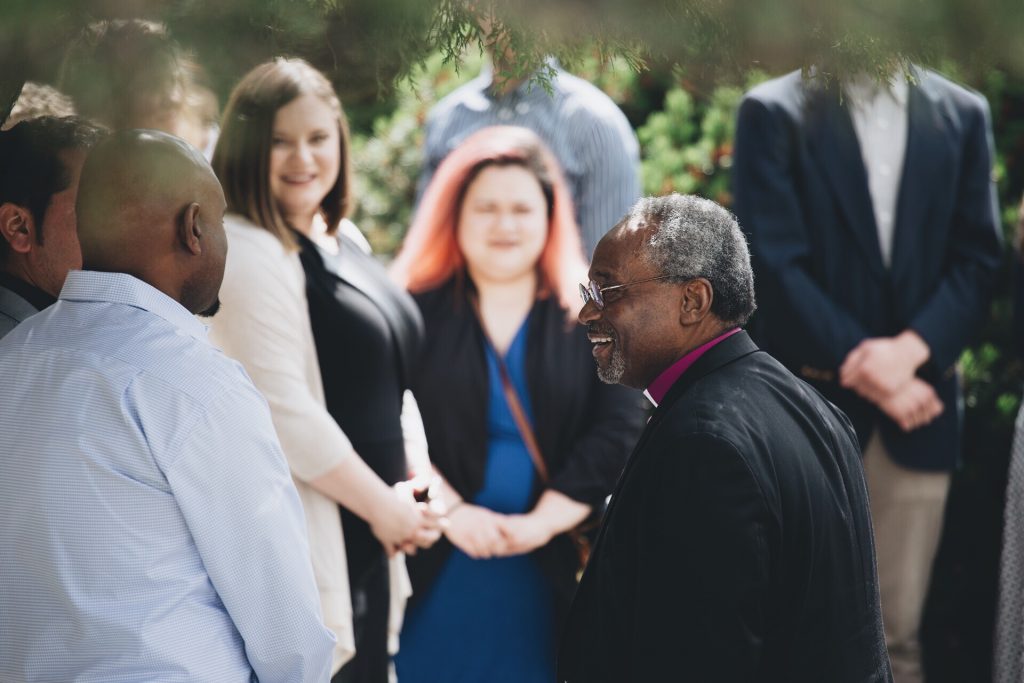 The dust has settled from Presiding Bishop Curry's whirlwind trip across the Diocese of Olympia, but the enthusiasm stirred up throughout the Episcopal Church in Western Washington remains. Over four days, the Most Reverend Michael B. Curry, Presiding Bishop of The Episcopal Church, traveled to nearly every corner of the diocese – from Bellingham in the north to Vancouver, WA in the south. He also split his time between larger public events (services and Q&A sessions) and smaller, more intimate gatherings that showed the range of ministries within the diocese.
Over the last few weeks we've shared highlights and recaps from the Presiding Bishop's visit to the diocese. In wrapping up our coverage of his trip, we're presenting some of the answers given by the Presiding Bishop the Q&A sessions held across the diocese.
---
On the Royal Wedding:
The biggest surprise was the reception. We didn't have cell phones or access to any news. I didn't know anything until I got to Heathrow and suddenly people were taking my pictures.
I did submit the manuscript a week ahead of time. By the time I got there it was six or seven minutes. It was probably six or seven minutes on paper, but you never know what's going to happen. I saw those reactions [in the media], but I was in the room. They may have caught a few odd reactions, but they really enjoyed it. I was aware of [needing to preach to] multiple congregations.
Preachers have to adapt, you have to respect the context.
Their love for each other literally brought two nations together, brought people of different ethnicities together, brought people of different religious traditions together. I know it's only for a moment, but love has the power to bring us together.
We got a glimpse of God's beloved community.
---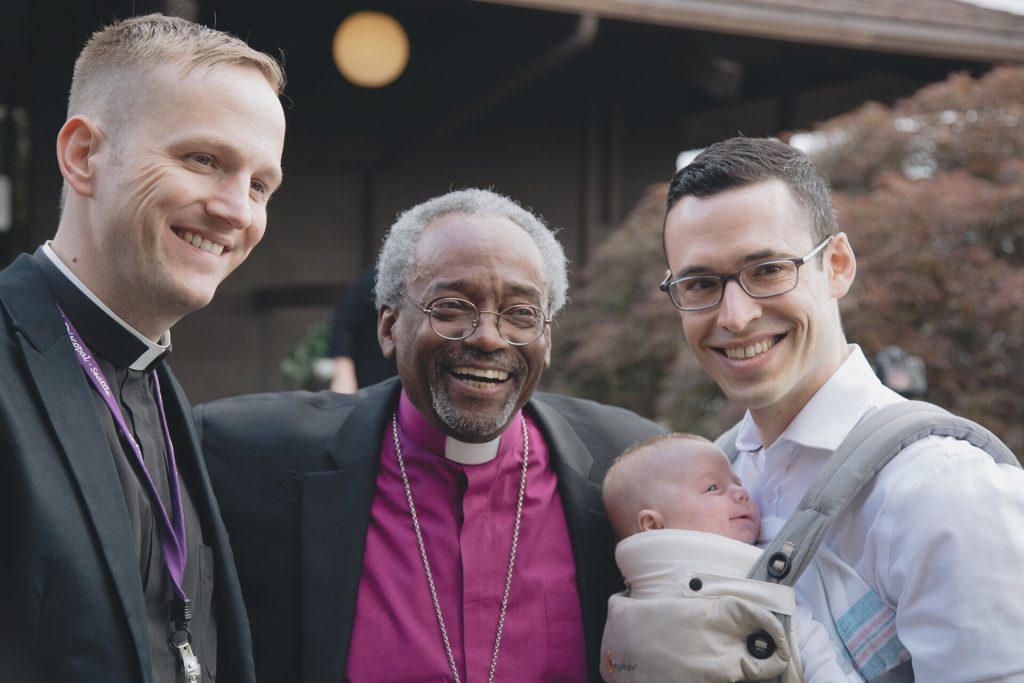 On Reclaiming Jesus:
The core of the gospel is about loving God and loving your neighbor… [We're] helping Christians reclaim the Jesus of the gospels… That's when you can reach across the aisle, as long as it's about helping people. Inviting people to sign on, share the document, and take action when appropriate.
This is not about Donald Trump or the Republican Party. This is about the values of Jesus. Love thy neighbor is a commandment.
How do we help the mainline Christians find their voice? Most Christians know full well that the way we are treating immigrants and refugees is not the way of Jesus. This is not intended to just be a statement, but a study document.
This isn't a protest march, these are people of faith. This is a prayer walk. What are the core values that Jesus has taught us that are important for us to know in this particular time? We must reclaim Jesus as the center of our faith. This is intended to be for the long haul. This isn't about Donald Trump. This is about the soul of America.
What would a confession of faith for our time look like? What are some of the teachings of Jesus of Nazareth that we could commend to church people and say that's there we stand?
The notion of "America First" is a theological heresy. Any country first is not for Christians, because for Christians, Jesus is Lord. No country should have the primacy that belongs to Almighty God.
---
On Our Relationship with the Lutheran Church:
It's evolving. We're still getting to know each other. It depends on where you go. There are common ministries that are shared in a variety of configurations. I suspect it's a growing relationship.
---
On Hopes for General Convention:
My hope is that we will reflect in how we do our work the values of the gospel. It's one thing to come out with a beautiful resolution but crucify each other in the process. A lot of inspiration, some education, and a little legislation.
---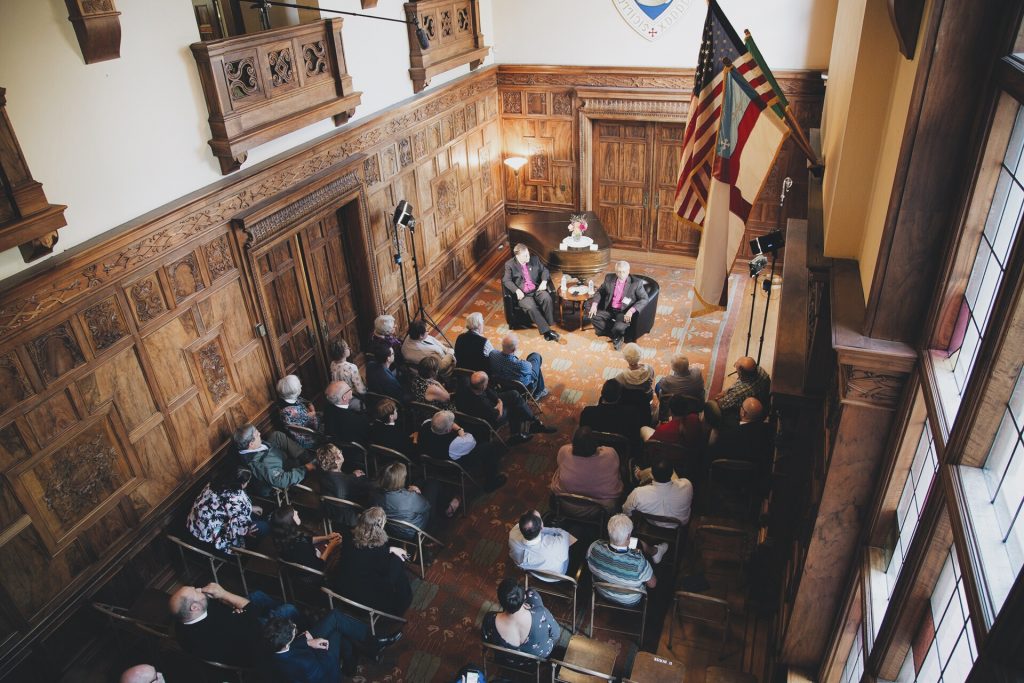 On Locally Ordained Clergy:
It's getting to be true church-wide – we're getting clergy who have been trained in a variety of ways. We need the church to bless that. The variety of ways that formation happens is already here. There are creative, serious ways of formation.
---
On His Optimism:
Some of that is family. I grew up in a context where Christian faith was a given. The expectation was that we really did believe in Jesus. It was also combined with the belief that the gospel meant that we could change the world. And, my family was wacky and hilarious! There was a sense that you laugh, even when it hurts, and you acknowledge that it's there. And there was a sense that Jesus was a real presence, not in an ethereal way, but a very real presence. We're going to laugh and then we're going to cry, and then we're going to see him on the cross and then we're going to weep, and then we're going to place him in his mother's arms. And then Mary Magdalene will tell us he's come back from the dead. And then we're going to laugh again. That's the good news of the gospel!
---
On His Daily Practices:
[I was advised to] keep going to the gym. While you're there, exercise. Watch your intake of bad carbs, which just make you want more. Keep up your spiritual discipline. Stay grounded in the liturgy. It has the gravitas of time tested prayer. Be intentional about the spiritual life.
I practice morning prayer and evening prayer, or compline. I have my prayer list. Bible study. I go to the gym. I go on a spiritual retreat once a year. That has nourished me. There are some days when morning prayer isn't the most thrilling. But there's something about it. You've got to find your spiritual rhythm. I'm much more aware and capable of listening early in the morning.
---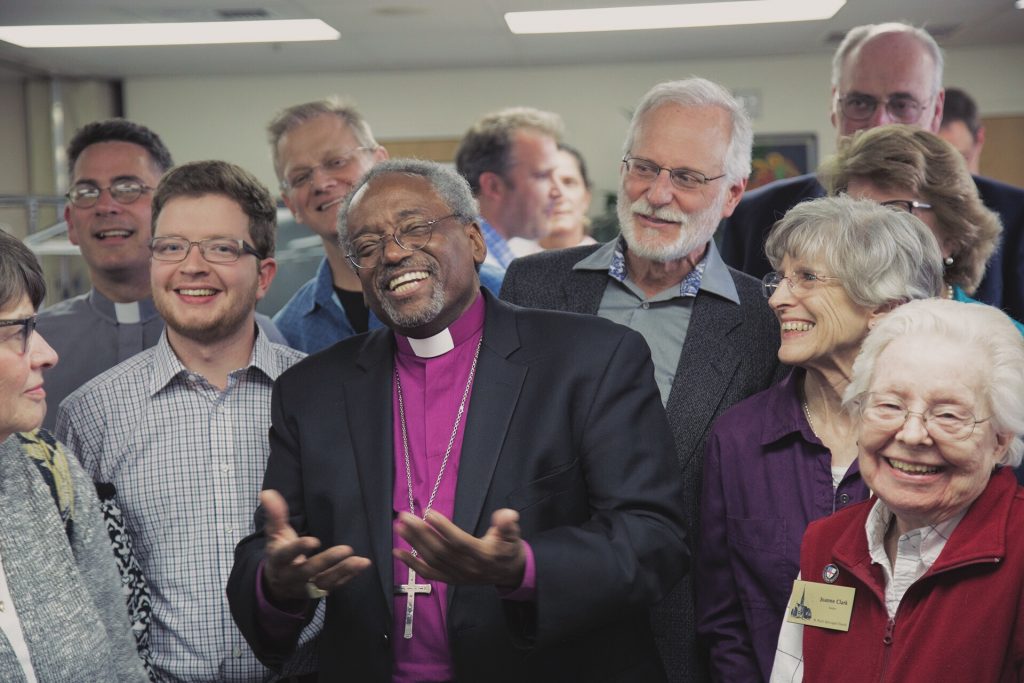 On Keeping Hope:
I know this sounds like a cliché, but I put my hope in Jesus of Nazareth… Mary Magdalene didn't hope after she found out Jesus was alive – she hoped when she went to the tomb early in the morning.
---
On Supporting Palestinian Christians:
The situation is dire. The world needs to find creative solutions. There's little cause for hope. Gaza is bleak. There's desperation. There's extreme poverty. It's a tripwire. The whole world has got to help. No one has the answers.
---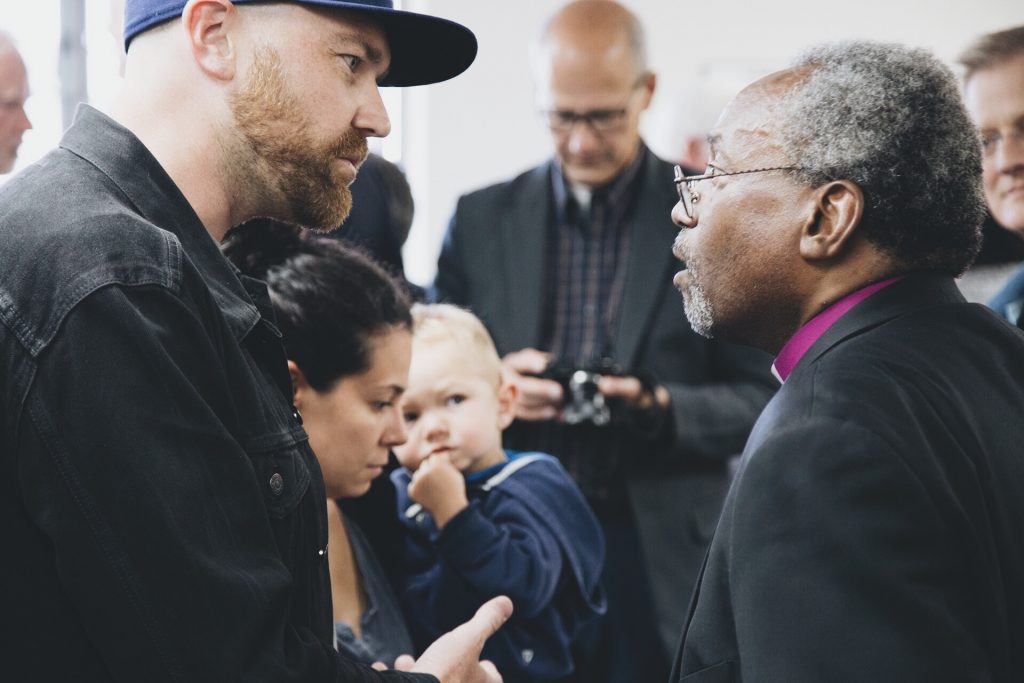 On the Immigration Crisis:
Our government relations office in D.C. is trying to get some sensible immigration reform passed. Thank God for the checks and balances in our country. There are a number of issues in which the courts are holding back the water. We get a lot of stuff wrong. But the church is a long-distance runner. And we're going to keep coming until justice rolls down like a mighty stream.
Whatever statement comes out from General Convention, it's going to take you to live it out.
Last week I signed on, with a number of heads of other denominations, to a letter saying that this is inhumane and a violation of the tenants of the Christian faith. The key is going to be people in the pews saying this is not acceptable. The people have got to rise up. Bankers count dollars, politicians count votes. The power of the pew is greater than the power of General Convention or Presiding Bishops.
[We need to] provide a theological rationale about what the Bible actually says, and what Jesus actually says. To treats refugees and asylum seekers as a criminal is a mistake. We need a country that is going to protect us but treat families with the respect they deserve.
Jesus of Nazareth was absolutely clear – remember to welcome the strangers. Judgment is a way of talking about what matters to God. It is important to speak. This is just human decency.
We must speak against inhumanity, wherever it may be. But we're here in the United States of America, and this is un-American. It's going to take grassroots efforts – there's no reason security and humanitarianism can't coexist. Thank you [Attorney General Sessions] for invoking Romans 13. But the foundation of Christianity is Jesus Christ and you will not find any justification for separating children from their families in the words of Jesus Christ. And to be fair to St. Paul, I've read Romans 13 – and 12 and 11 and 14. And Paul says to drive out evil with good. And separating children from their families is not good.
The silence of the people becomes tacit participation.
---
On the Most Important Thing:
[It's] placing Jesus at the center of our lives. What you hear is political rhetoric with a religious shroud. You don't hear Jesus. We must reclaim Jesus as Christians.
---
On Indigenous Ministry:
We have a long way to go. We've made more of an investment in Navajoland. It makes them able to do more of the work of being a diocese. I was so thankful for Episcopalians who stood with the Sioux nation at Standing Rock. This is not about being fast sprinters, but about being in this for the long haul.
---
On Growing the Diaconate:
Things grow when they have clarity of mission. Then there's a response. When there's a lack of clarity, things flounder. The clearer the deacons are that this is a sacrificial ministry of the church – when there's clarity to that, vocations will emerge… Part of the vocation of a deacon is to drive bishops crazy… The [purpose of the] diaconate is confused as a junior priesthood. It's about the liturgical functions of liturgy in daily life. There will be a revival in the church when the diaconate is authentically revived.
---
On What He is Most Excited About:
I'm an optimist. I see a hunger and desire to be more than what we've been. I'm feeling a sense in the church that there's a desire to be more than we've been. This church isn't done yet. We're at a blessed moment. We've got a window. We've got time. That's what I'm seeing, even in dioceses where it's really tough.
---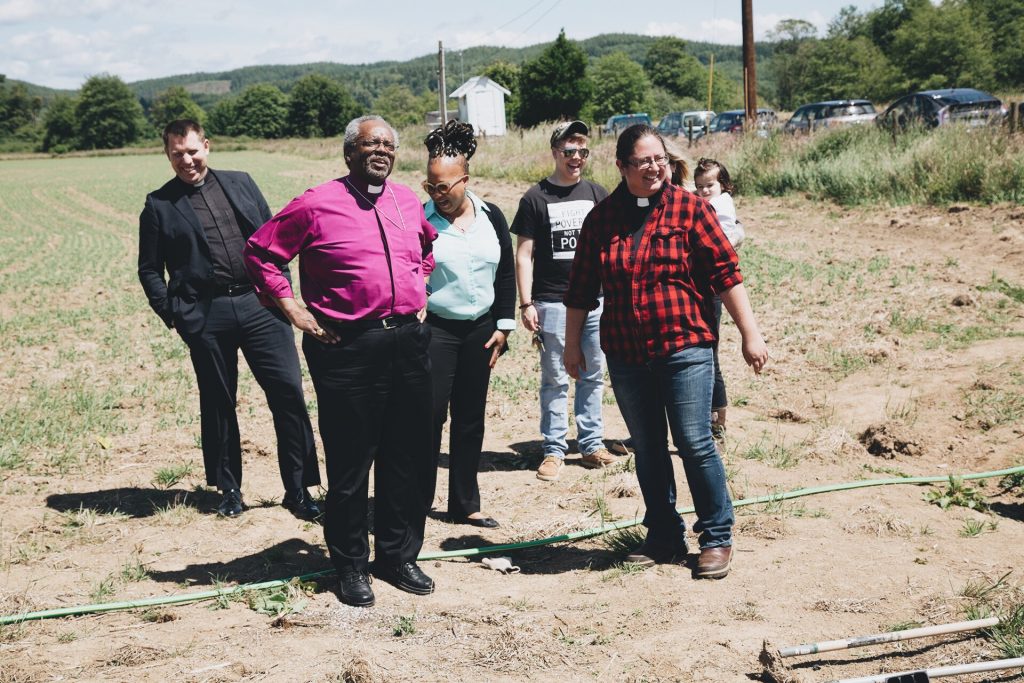 On Church Growth:
We need to find ways to sustain churches and missions that aren't affiliated with specific parishes – area priests, area pastors – tied to our willingness to recognize that we all need to be connected to each other. Diocesan communities are going to be more important than ever. There are some things we can only do together. The diocese needs to be a missional structure.
---
Sources of Optimism for the World's Well-Being:
God is not finished with us. I know that human progress is not straight and linear and easy… but keep moving! My great grandmother was the daughter of sharecroppers, who were the children of slaves… and her great grandson preached at the royal wedding in Windsor Castle!
There is a God who we don't always see and understand, but faith is about trusting God and working to see that these children grow up in a world that is better than our own.
---
On Obstacles to Truly Following Jesus:
Jesus didn't start an organization, but he started a movement. It was that movement that changed the world. You need institutional structures, because that's what it means to be embodied. Do the institutions serve the movement, or exist for their own sakes? We sometimes easily forget that we are part of a movement that is much more free flowing. That may be where the tipping point is for me and for all of us. Radical trust against the odds. That only happens in relationship with God and that comes through community.
---
On Interfaith Partnerships:
Jesus was really smart about a lot of things. Love God and your neighbor – that's what God wants! Evangelism is about following the way of Jesus. And helping others into a relationship with God. But I don't get to tell you what that looks like. Love is the way. Love is an unselfish practice and spiritual discipline and way of life. Love has the capacity to make space for the other. When it becomes our business, that becomes religious imperialism.
---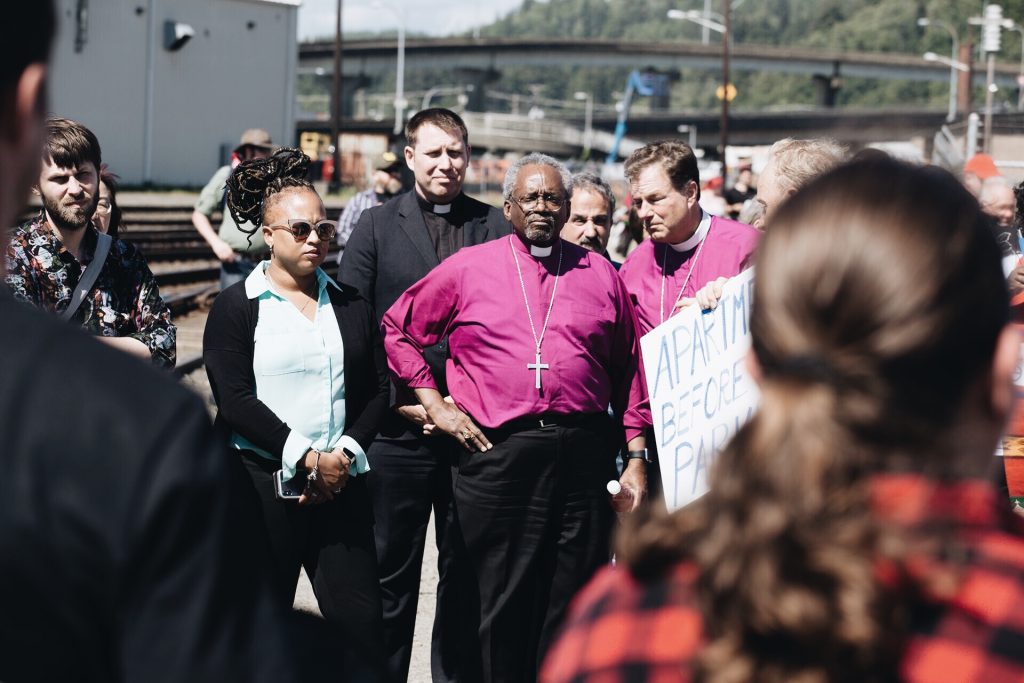 On Using Heaven as a Marketing Plan:
I believe in heaven, and I hope to be there one day. We pray, "Thy kingdom come thy will be done on earth as it is in heaven." Heaven is wonderful! But our job is to pray and work for the kingdom to come on earth. To transform this earth to look something like heaven. Hope for heaven transforms our earth to look something like that from the nightmare it can be to the dream that God intends.
---
On Mass Incarceration:
We haven't got it solved across the country, but we've got it slowed. Mass incarceration is going to be changed when the American people say enough is enough. We're not going to watch an institutional prison industry rise up while we let our education system collapse. Get the values straight, and then you can work on the policy.
---
On the Jesus Movement:
I love this Episcopal Church. Lift up your heads again, we're not perfect, but we're trying to be something like Jesus of Nazareth.
Maybe it would be good if, when children see us, they see something of God and Jesus Christ.
The deep roots of Christianity are found in a movement that Jesus began. The Jesus Movement is a way to describe the earliest origins of our faith.
The invitation to be the Jesus Movement is a call to return to our origins. Because as we return to our origin, we return to the deepest roots of our faith.
Think of ways that you can put Jesus of Nazareth at the center of your day. Maybe that means to read part of the gospel each day. Read it again and again and ask, what do you think Jesus might be saying to you. And read it again and ask what he's asking you to do. Do that at the beginning of your day, and your day may be different. We need to Center Jesus again.
---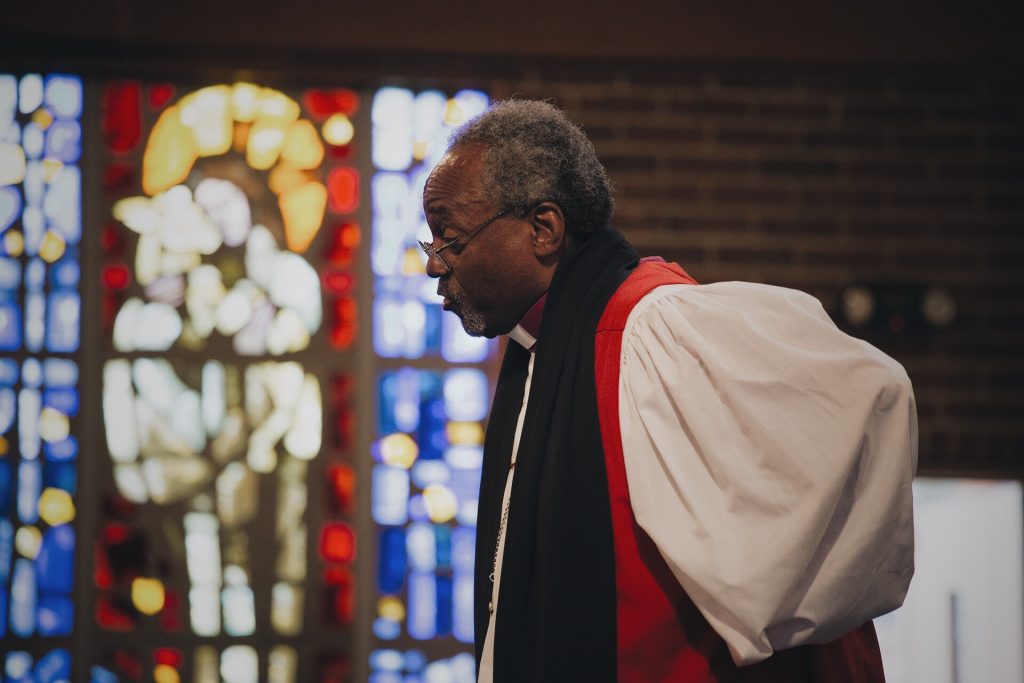 On the Church and Politics:
We shouldn't be involved in partisan politics. The word politics comes from the Greek work polis, which means community. We should be involved in public life. We must be involved in the public sphere. Our role in the public sphere is around the idea of values. That's where we must stake our claim. Love your neighbor as yourself is not just a platitude.
I think Moses got involved in politics when he went to pharaoh. Prophets got involved in politics. Jesus got involved in politics… The message of Jesus applies to our life as individuals, but also our life in society.
---
On Environmental Issues:
We must confront with our words and our actions the fake news that climate change isn't real. And we're running out of time. We do so not out of the selfish endeavor of human survival. We do this because we believe that this is God's world. In some respects, our nation has abdicated its responsibility. We must continue to advocate on the local level and encourage corporate America to keep moving in that direction. Even if our government fails to act, we might be able to get the same things done on the ground – that's really a people's movement.
DAY ONE HIGHLIGHTS
DAY TWO HIGHLIGHTS
DAY THREE HIGHLIGHTS
DAY FOUR HIGHLIGHTS
PB Curry's Western Washington Wanderings: A Q&A Recap