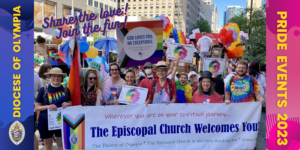 Join the Episcopal Church in 2023 for Pride Events All Around the Diocese…
Seattle Parade & PrideFest Booths
PrideFest Capitol Hill – Saturday, June 24. Episcopal booth coordinated by Saint Mark's Cathedral.  Pine Street to Roy Street, Seattle. Noon – 8:00 PM.
Seattle Pride PARADE – Sunday, June 25, along 4th Avenue, Seattle, step-off at 11:00 AM.  Everyone is welcome to join the Episcopal Church in marching along!  Hand out candy and information, hold the banner, and help the church communicate a warm welcome.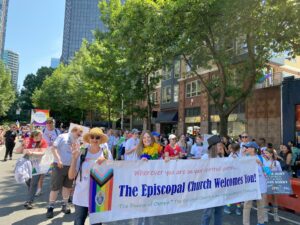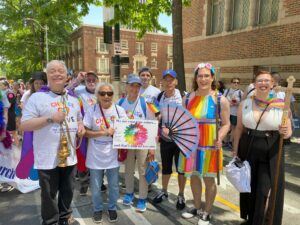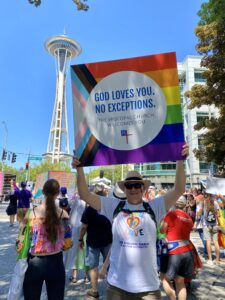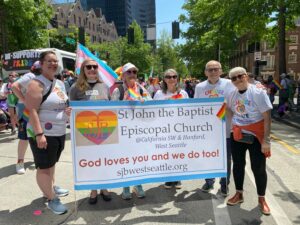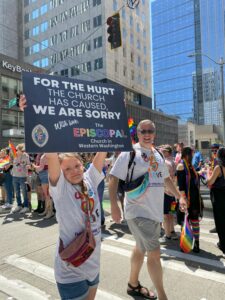 Other Pride Events & Initiatives Around Western Washington
JUNE…
St. Clement's, Seattle Banner – The members of St. Clement's hung this banner outside of the church (click the banner to read the text):
Rainbow Initiative for Refugees – During the month of June, the Refugee Resettlement Office is working with Episcopal Migration Ministries' Rainbow Initiative to focus attention on people who have had to leave their country of origin in search of safety because of their sexual orientation or gender identity.
Taking Pride in Capitol Hill – Saturday, June 3.Get a free t-shirt, get fed, and connect with community to spiffy the streets and sidewalks of Capitol Hill to prepare for Pride month.
Snohomish Pride – Saturday, June 3. Episcopal parade participation coordinated by St. John, Snohomish. Here are some pictures from this successful event: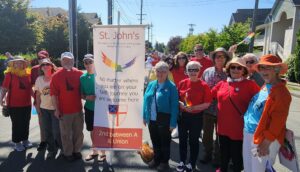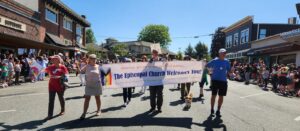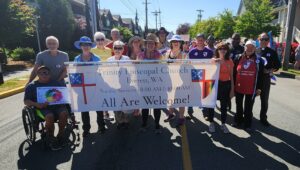 Love Never Fails Concert – Saturday, June 3, 3:00 PM. A celebration of queer and female classical composers. St. John, Olympia. Free.
Lewis County Pride – Saturday, June 10. Episcopal booth coordinated by St. Timothy, Chehalis. Pine Street Plaza.  Here are some pictures from this successful event: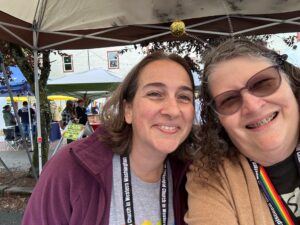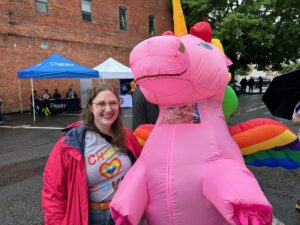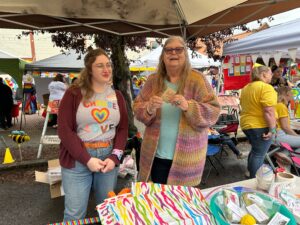 An Evensong of Loving Diversity – Wednesday, June 21, 7:00 PM Celebrate the fabulous, complex, and diverse ways that God has created us.  At the historic Henry Chapel, Shoreline. Option to carpool from Saint Dunstan's Episcopal Church. Contact St. Dunstan's to coordinate.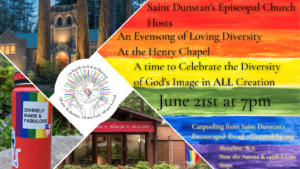 Pride Interfaith Service – Saturday June 24, 2:00 PM.  All Pilgrims Christian Church, located at the corner of Broadway and Republican on Capitol Hill during PrideFest. Theme: Advocacy for Gender Identity and Expression. The service will include music, speakers, and spiritual practices from several faith traditions. All are welcome!
JULY…
Saturday in the Park – Pride in Vancouver – Saturday, July 8, 9 AM – 5 PM. Episcopal booth hosted by Good Shepherd, Vancouver and St. Anne's, Washougal. Esther Short Park, Vancouver. Contact Good Shepherd for more information and to participate.
South Whidbey Island Pride Parade & Celebration –  Saturday, July 8, noon – 2:00 PM.  Episcopal presence hosted by St. Augustine's-in-the-Woods. South Whidbey Community Center, Langley. Contact St. Augustine's to participate.
Kitsap Pride – Saturday, July 22, 2:00 – 9:00 PM. Episcopal booth hosted by St. Bede's, Port Orchard, St. Paul's, Bremerton, Faith, Poulsbo, and Grace, Bainbridge Island — other Kitsap County churches are very welcome!  Kitsap County Fairgrounds, Bremerton. Contact St. Bede's to participate.
____________________________________
Feel free to use and reproduce these free materials for your Pride event:
"God Loves You. No Exceptions" Flyer
Free Download of the Progress-Pride Flag
For the Hurt the Church Has Caused, We are Sorry – Sign
____________________________
Stay in the loop!
Add your name and e-mail to our Diocese of Olympia LGBTQIA+ & Allies Notification List.
Join the planning team!  E-mail faithformation@ecww.org
Episcopalians show their pride in past years! Photos (L – R): Lewis County Pride, Kitsap County Pride, Seattle Pride Parade 2022, Seattle Pride Parade 2019.