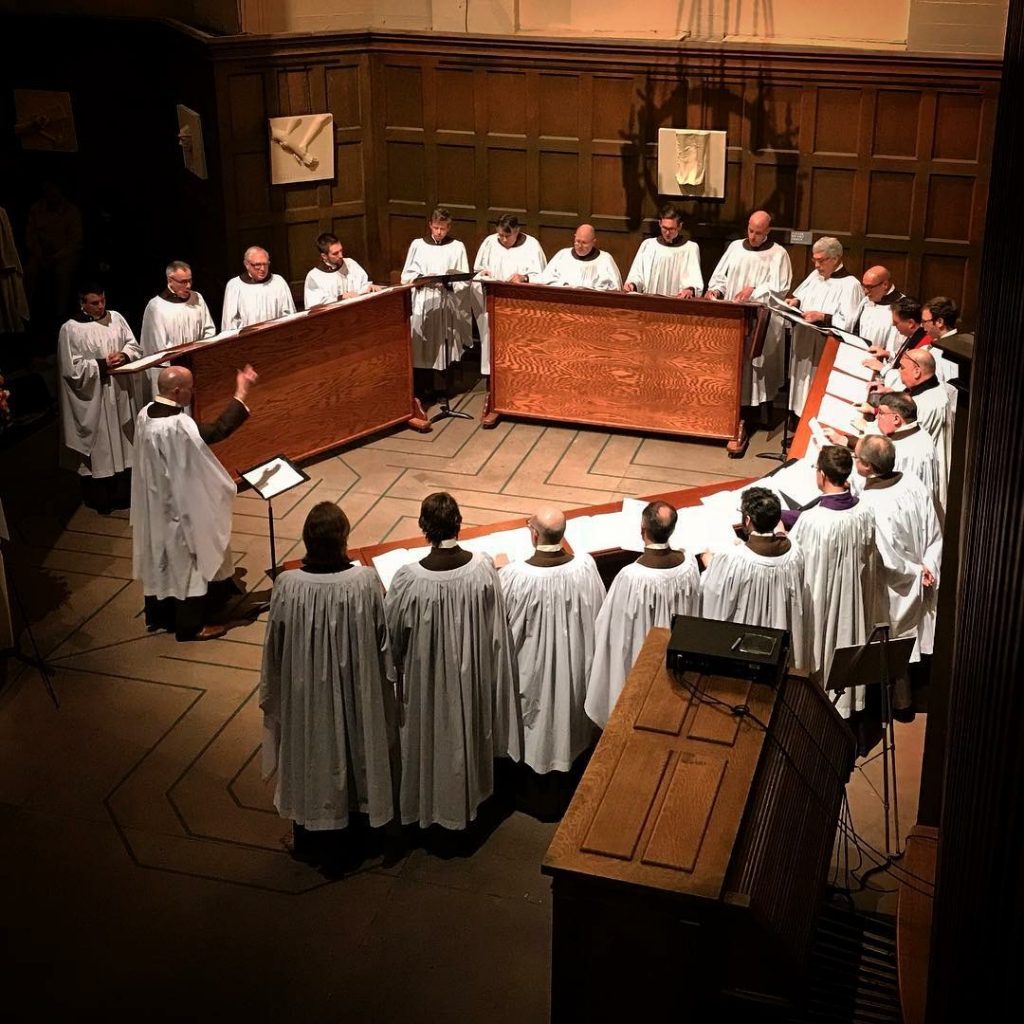 The Compline Choir at Saint Mark's Episcopal Cathedral in Seattle, the men's choir which has sung the popular night prayer service of Compline every Sunday at 9:30pm for over 60 years, will take a rare hiatus in August to make a pilgrimage to two of England's most prominent and historic cathedrals: Canterbury and Salisbury. While the men's choir is away, on August 11, 18, and 25 the Compline service will, for the first time at the cathedral, be sung by women, with the Women's Compline Choir of Saint Mark's Cathedral assembled especially for this occasion.
The Compline service at Saint Mark's Cathedral — with its diverse congregation of hundreds of individuals who come to sit or lay in every space around the quiet, dimly lit cathedral — has developed a popularity unlike any other worship event in the Pacific Northwest, and its reach extends far beyond. Thousands hear the service each week broadcast live on Classical KING-FM 98.1, streaming at king.org, and released as a podcast. Classical KING-FM 98.1 estimates that the audience for its weekly radio and internet broadcasts is 10,000 or more.
While the Compline Choir is on pilgrimage, the service in Seattle will be sung by the Women's Compline Choir of Saint Mark's Cathedral. Comprised of 20 female singers, this choir includes some of the most accomplished professional musicians, leaders of church music, and music teachers in the Seattle area. Members have sung with The Byrd Ensemble, the Tudor Choir, and the Mägi Ensemble, among others. Rebekah Gilmore, Associate Musician and Choir School Director at Saint Mark's Cathedral, will direct the choir. The services will include world premieres of new works commissioned especially for this unprecedented event.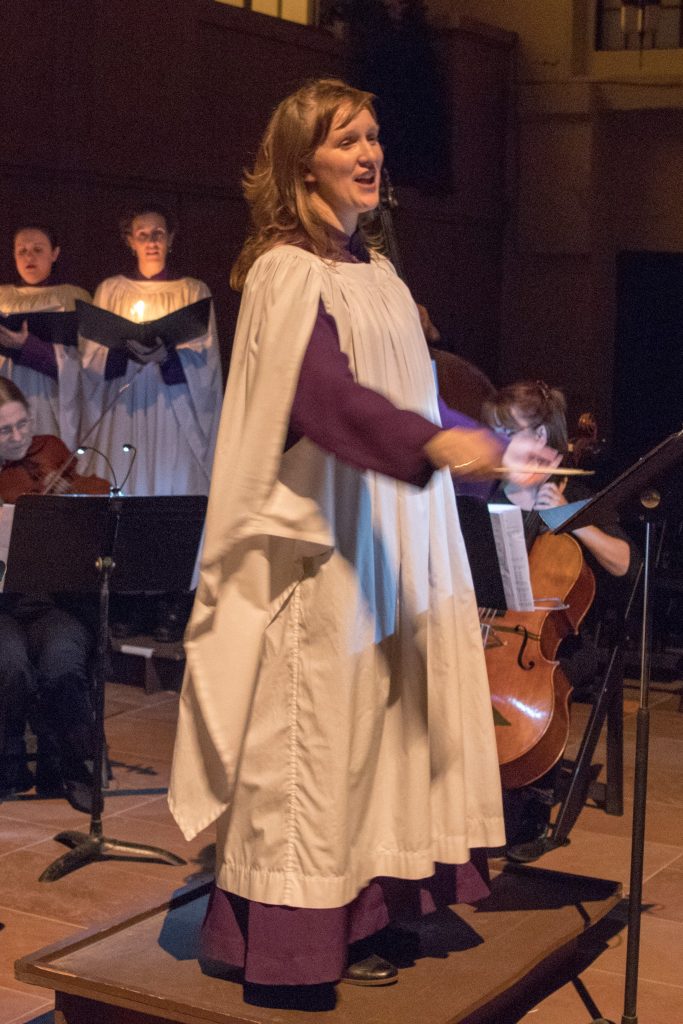 Ms. Gilmore said, "The Compline Choir is a Seattle institution, deservedly renowned for their long ministry and moving recordings of ancient, traditional, and contemporary religious music for men's voices. We are thrilled to have assembled a women's choir of equal caliber, and look forward to adding our voices to the tradition of Compline at Saint Mark's Cathedral."
In England, the men's Compline Choir will be singing all the major weekday and Sunday services in Canterbury Cathedral from August 12 to 18, and in Salisbury Cathedral from August 19 to 25 — 15 liturgies in total. In addition, on the evening of Sunday, August 18 they have been given the rare privilege of singing the Office of Compline in the crypt at Canterbury, the very spot where, exactly 70 years ago, the choir's late founder Peter Hallock was inspired to start the Compline service in Seattle.
Compline Choir Director Jason Anderson said, "Our hope is to deepen our connection with our roots, connect with our history in a meaningful way, and establish lasting relationships with the contemporary church." The choir will be accompanied by Michael Kleinschmidt, organist and Canon for Cathedral Music at Saint Mark's Cathedral, and Page Smith, principal cellist of the Pacific Northwest Ballet Orchestra and longtime Hallock collaborator.
The Office of Compline at Saint Mark's Episcopal Cathedral in Seattle has its origins in the crypt of Canterbury Cathedral. Founding director Peter Hallock was, from 1949 to 1951, the first American member of the choir of Canterbury Cathedral, while pursuing studies at the Royal School of Church Music. During this period, he and his fellow students chanted Compline regularly in the cathedral's crypt. In Seattle, a few years later, Hallock invited 12 music students from the University of Washington to gather at Saint Mark's Cathedral to study and sing plainsong. By late 1956, this group had become the Compline Choir and began singing the Office of Compline for others on Sunday nights, using the particular form of the service he had brought home from Canterbury.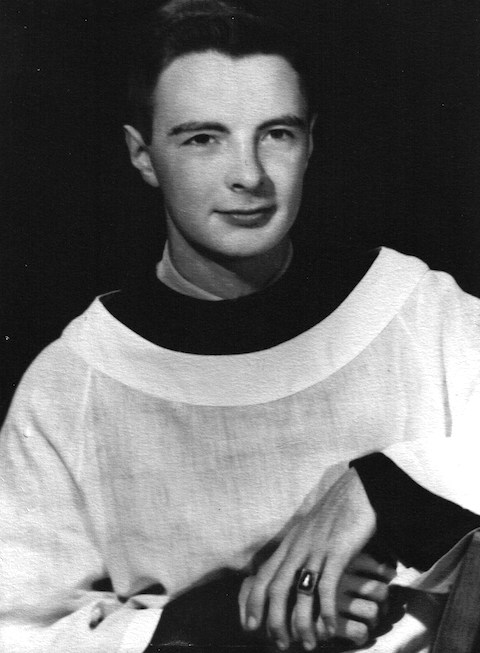 The live Classical 98.1 KING-FM radio and internet broadcast will continue as usual on August 11, 18, and 25; posting of the Compline podcasts for these dates may be delayed until early September.
The Compline Choir is a Washington state non-profit corporation and registered charity, and it is classified as a 501(c)(3) tax exempt organization under Internal Revenue Code. All members of the Compline Choir, including its director, are volunteers and freely give of their time and talents to sing the office of Compline and support the Compline Choir's daily operations.
Saint Mark's Episcopal Cathedral strives to be a house of prayer for all people, where we worship God and proclaim the reconciling Gospel of Jesus Christ; a loving, welcoming, inclusive community that nurtures faith, encourages service, and integrates social and environmental justice into our lives; and a sacred gathering place for the Diocese of Olympia and the broader community in times of crisis, sorrow, and celebration.
Saint Mark's Cathedral, Seattle Compline Services to be Sung by Women's Compline Choir in August