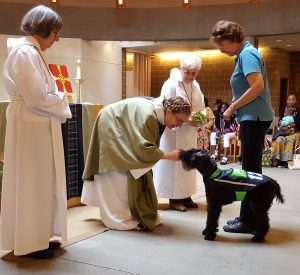 St. Columba's Episcopal Church is a lively, growing, and diverse congregation located in the West Hill neighborhood of Kent, WA that takes deep joy in worshiping and praying together. A community of "do-ers," the people of St. Columba are also passionate about doing hands-on work in the church and out in the world, making a difference in the community.
They're providing their space to the REACHout Men's Shelter for the month of October, a ministry that keeps up to 25 men safe and warm during the cold winter nights. They'll host the shelter again in March. The congregation hosts a quarterly meal for the residents of a transitional housing complex under the oversight Multi Service Center and will periodically provide meals for Kent's Women's Shelter. They also volunteer as an outlet for King County Emergency Food Services, operating an Emergency Food Bank two days a week that provides a two to three-day food supply, toiletries, and fresh vegetables as the season allows.
Their St. Francis Day celebration on Sunday was a beautiful expression of their love for both community and service. St. Columba is a congregation filled with animal lovers and pet owners who feel a close tie with nature and creation. Many members of the community also participate in animal rescue work, so the animal blessings of St. Francis Day are an important part of their community life. As St. Columba's vicar, the Rev. Alissa Newton says, it's "a great opportunity to bring lightness, fun, and a little holy chaos to Sunday morning worship."
The celebration also featured a performance by the F.I.D.O. Drill Team, an outgrowth of the kennel club that meets regularly at St. Columba and seeks to demonstrate the "joy in, and fun of, owning a well-trained, obedient dog." But beyond the fun with pets and the celebration of animal blessings, the occasion also provided another opportunity for the people of St. Columba to serve the community – planting blubs in their community garden which yields vegetables for the Emergency Food Bank and flowers for their altar.
St. Columba is a congregation that loves its community, loves service, and loves its pets. During their services this past weekend, the people of St. Columba came together to celebrate all three aspects of their life together as a community.
St. Columba, Kent – Hands-On Service with Lightness and Fun