We have a transition to announce here at the Office of the Bishop. Deacon Brian Wright will be resigning as Missioner for Veterans' Ministry in the Diocese of Olympia, effective immediately. We are all incredibly grateful to Deacon Wright for his years of service and ministry to veterans and to the Diocese.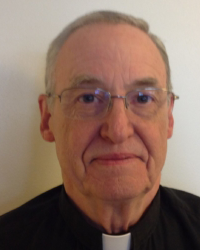 Brian served as the Missioner for Veterans' Ministry for the past six and a half years, receiving requests for financial assistance from a few veterans each year who were in financial need and discovered the Veterans Ministry through our diocesan website. While he initially attempted to assist churches in engaging with veterans, during his time as missioner, he found that there were organizations better suited to serving veterans – specifically the American Legion, the VFW (Veterans of Foreign Wars), and Disabled American Vets.
After meeting with the Senior Chaplain at the Puget Sound VA Hospital, Brian learned that roughly 70% of those who had served in the military and declared themselves to be Christian when they entered would lose their faith as a result of what they witnessed and vowed to never again to enter a Christian church. Those who did retain their faith would leave the military and pick up where they left off by joining a church and being fully active in its ministries. In his opinion, should the Episcopal church want to actively minister to those who are presently "unchurched," it would need to provide them with a safe space to gather, relax, and share their stories, creating an open space like a retreat center or a bar or a café that they could drop into whenever they needed it.
Since this is an expense that most churches can't afford, Brian suggested that the most affordable way for a congregation to engage with those in the military or veterans would be to partner with military chaplains (for example, Joint Base Lewis-McChord or Naval Air Station Whidbey Island) to find ways to assist them and potentially minister to those who leave as vets.
Please join us in wishing all the best to Brian in his retirement.