It is a time of transition within our diocese, and we have a new clergy transition to announce.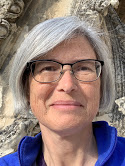 The Rev. Rachel Endicott has accepted a call as Interim Priest of St. Paul's, Bellingham and will be leaving her position as Rector of Christ Church, Puyallup, effective April 19, 2021.
Rachel was born in the U.K. to a priest father and musician/teacher mother. After receiving a BA in Psychology from Scripps College and an MBA from National University, Rachel worked doing market research in the medical device market and provided community education and administration in the not-for-profit arena. Rachel attended Virginia Theological Seminary, graduating in 1997, then moving to the Pacific Northwest in response to the call to her first parish after seminary. With specialized training in Interim Ministry, Rachel has served a variety of parishes in the Diocese of Olympia along with one ELCA congregation and a brief stint as Director of a Lutheran not-for-profit. Most recently, Rachel was Priest-in-Charge, then Rector at Christ Church in Puyallup.
Rachel's passions in ministry are: supporting the faith journey of people of all ages; evangelism; preaching; liturgy and music; and peace and justice issues. Rachel enjoys reading (particularly murder mysteries), walking/hiking, running, swimming (she is certified as a life guard), and dabbling in other outdoors pursuits including horseback riding. She is married to Gary Irvin, a CPA, and has a son who is a recent college graduate from WWU and a college-aged daughter still studying at WWU. Two rescue beagles round out the household.
Please keep all congregations experiencing clergy leadership transition in your prayers, especially Christ Church, Puyallup and St. Paul's, Bellingham.
Transition Announcements in the Diocese of Olympia