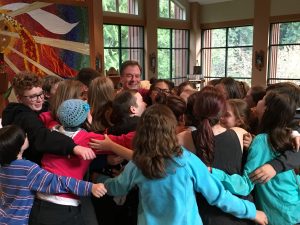 The Diocese of Olympia runs and assists worshiping communities with many youth faith formation events in the region.
These programs and events provide a great opportunity for youth to join a larger group from around the Diocese and are a wonderful supplement to any youth group calendar. Youth experience different leaders, meet new friends, visit other churches in our diocese and live into a larger christian community. Please consider these dates when planning for your own outings, youth events and mission trips. Friends are always welcome, have them register ahead. We often have special welcome rates for those who are coming for the first time! Scholarships are available upon request.
See what our Youth have been up to on their Flickr feed.
High School Youth Events
"… I can come here and be myself and people love me and accept me just as I am."
For youth in grades 9-12 from all over the diocese. These weekend retreats include faith formation and exploration, fun, and fellowship, through contemporary music, worship, small group conversations, games, workshops and special activities. Events start on Friday evening and end midday on Sunday. Themes and activities for retreats are selected and planned by the youth council.
                 Upcoming Events:
We live in a wonderful world and can each have a huge impact on the world around us and the people who enter our lives. How can we make sure that we're taking care of this world and the people in our lives?
Join other youth from all over Western Washington for our Fall High School Youth Retreat October 11-13 at St. Matthew, Browns Point/Tacoma to talk about the ways we can help transform our world and the people we meet each and every day. Through small group conversations and workshops, worship and large group games, we'll explore our faith in a safe space and continue building the community of youth in the Diocese of Olympia!
February 28-March 1,2020– Spring Retreat (HYC) at Black Diamond Camps in Auburn
June 20, 2020, Launch!, $10

 This was a new event last year for graduating High School Seniors and was a hit so we're offering it again. We'll have some fun and engaging activities as well as question/answer session with a panel of young adults. There will be a selection of workshops with topics like– taking care of your mental health, cooking and eating healthy on a budget, managing finances, transitioning to college, creating personal prayer practices, and get real conversations.

Join us on June 20 from 9:45 am-5:00 pm at Diocesan House and get ready to Launch!

July 5-11th, Episcopal Youth Event– An international youth event where thousands of youth gather for celebration, worship, learning and leadership development. In 2020 it will be at Howard University in Washington DC. Watch the video from 2017. We will build a delegation from our diocese and register as a group through the bishop's office. More info in the fall.

Junior High /Middle School Youth Retreats
Faith-based fun! Young people in grades 6-9 are invited to join us as we navigate the turning-into-teenager years. With lots of community-building games and activities, this is the place to find friends who will be with you through it all. Youth come together from all over Western Washington to share in music, worship, faith formation and fun. Weekend events start on Saturday morning and end on Sunday afternoon. We will be sleeping at the church. Themes and activities for retreats are selected and planned by the youth council.
 November 23-24 at Epiphany in Seattle–We are Stardust!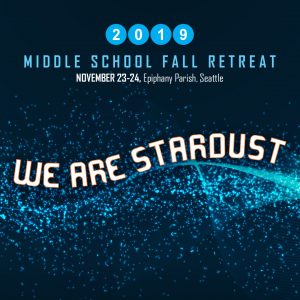 "I praise you because I am fearfully and wonderfully made; your works are wonderful, I know that full well." (from Psalm 139)
God is all around us – we can't escape from God's loving presence! Join other middle school youth for a fun overnight adventure November 23-24 at Epiphany Episcopal Parish in Seattle as we learn more about how we connect with God and the world around us. We'll have small group conversations, games, workshops, and worship – as well as the chance for you to meet friends from around the diocese and explore your faith in a safe place!
Register today and learn more about what it means to be part of something bigger!
Spring Retreat will be an overnight at Diocesan House on May 16-17:
 High School Summer Camp
Six Day, as it's affectionately called, is an extended summer retreat in a beautiful camp setting. In 2020 it happens July 19-25th at Camp Huston in Gold Bar.
Join us as we explore what God has in mind for us through small group conversations, workshops, and daily worship. There will also be games, a dance, a variety show, and camp activities like crafts, archery, and campfires. And if you need some time alone to think, there will be plenty of chances to relax, have a swim, or go for an exploratory hike.
We stay in cabins, have great food, and fabulous music provided by our great contemporary band that several of the youth join in on. You don't want to miss it. Invite a friend!
Baptisms and confirmations may be done at camp at a service that will be held on the last day of camp. Parents and congregation members are welcome to attend. Some advance preparation at your own church is necessary, please indicate on your registration form if you would like to participate.
Youth Creation Care Pilgrimage
We went on pilgrimage across the Olympic Peninsula, from the Puget Sound to the Pacific Ocean, from August 4 – 10, with a group of youth in grades 9 – 12.  Check out our trip blog here.
 Diocesan Convention
The youth are an important part of our diocesan family. As a result, youth serve at our annual convention in several ways: as pages, acolytes, and as regional youth representatives. Regional Youth Representatives (ages 16-21 and a communicant in good standing), have seat, voice and vote on the Convention floor which is a unique leadership opportunity and an exciting way for young people to voice their concerns and opinions about issues and topics of discussion. Those serving as Pages (must be in grades 9-12), work behind the scenes distributing information, collecting ballots, being a runner and helping to staff the youth booth. Acolytes, serve at the Eucharist on Saturday. Convention in 2019 will be held at the Lynnwood Convention Center and is November 8-9, 2019.
Please contact the Youth Ministry Coordinator, Denise at dbrumbaugh@ecww.org if you are interested in any of these roles.
Youth Council
Once a year, youth are selected to be on the Diocesan Youth Ministry Council. The youth take leadership roles and help plan youth retreats for the year. There are about 3 meetings a year where planning takes place: Jan, May/June, August. Youth are asked to be able to make 2 out of the 3 meetings. Please contact Denise Brumbaugh if interested. Call 206-325-4200, ext.2032 or email dbrumbaugh@ecww.org
For Adults involved in Youth Ministry


Youth Mental Health First Aid Training for Adults
Diocesan House, Seattle | October 5, 9:00am-6:00pm | $10 Registration (scholarships available)
Did you know… One in five youth ages 13-18 have, or will have a serious mental illness. 50% of all lifetime cases of mental illness begin by age 14 and 75% by age 24. 64.1% of youth with major depression do not receive any mental health treatment? The average delay between onset of symptoms and intervention is 8-10 years.
Learn the signs and steps you can take to make a difference in the lives of the teens in your community.
Better Together–  March 7th, 2020
Safe the date for this mini-conference for faith formation leaders and volunteers at St. Margaret's in Bellevue, 9:30-4:00. Choose from different workshop options to build on your skills and knowledge. Connect with others who do what you do.
Connect – June 12-14, 2020
A weekend retreat for adults involved in youth ministry where you will be ministered to, equipped for your ministry, and connected to others who do this work.
Everything is voluntary – participate in the things you need. Come get new ideas and work on your planning for the year.
This retreat is our gift to you for all you do on behalf of youth!