Diocese of Olympia Youth Programs
Sunday Youth Night (online)


Every Sunday @ 7:00pm-8:30pm
Register here(Grades 9-12) Participants can look forward to games, activities, and worship. We'll also engage with topics such as racism and social justice; the environment and God's creation; mental health and wellness; and where God shows up in your daily life. In addition, there are more low key topics such as favorite movies or books, or what music you're listening to right now. Above all, you're welcomed in to a community of youth that value God's love and the exploration of faith.
Register for $35 to gain access to all the Youth Night calls through the end of 2021. All youth who register will receive a welcome packet and T-Shirt in the mail. Scholarships are available, simply select that option when registering. We hope you'll join us: Sundays at 7:00pm-8:30pm via Zoom. Questions? Contact Alex Flannagan at aflannagan@ecww.org or 206.325.4200 x2032.
2021 Youth Events
We'll continue to work in accordance with the COVID-19 Requirements, Recommendations, and Resources. Events will be hosted online until we are safely able to gather in person. Sign up for an event to receive a care package in the mail, containing all the supplies you'll need for the weekend, such as arts & crafts, get to know you activities, games, and T-Shirt. Our typical schedule consists of 3-hour programs, one in each the morning, afternoon, and evening. Registration opening soon.
Holy Hikes™
We'll be meeting up monthly to hit the trails for some outdoor worship. Spend time – with friends – in creation.
"It's A Miracle!" – Easter Weekend (April 3rd-5th)
How much do you know about the Messiah Jesus Christ? How much more is there to know? We'll spend time together on Zoom engaged with activities that are largely/loosely based around the theme of Jesus Christ, Savior of the world.
"Work for Good" – Memorial Day Weekend (May 29th-31st)
We'll plan service projects, see what the Bible says about service, and perhaps incorporate some in-person activity.
Youth Creation Care Pilgrimage (August 1st-7th)
If we are able to gather in person by August, we will take in the beauty of God's creation by exploring the San Juan Islands on our annual Youth Creation Care Pilgrimage. This year's island voyage is a blend of outdoor exploration, care for the environment, connection with others and spiritual growth.
Pope Benedict XVI summarized: To go on pilgrimage is not simply to visit a place to admire its treasures of nature, art or history. To go on a pilgrimage really means to step out of ourselves in order to encounter God where he has revealed himself, where his grace has shone with particular splendour and produced rich fruits of conversation and holiness among those who believe.
"Care for Creation" – Labor Day Weekend (September 4th-6th)
Our theme is God's creation, nature; all creatures great and small. Fingers crossed that by now we can gather in person and incorporate Holy Hikes and a trip to the harvest fields at the Snohomish Food Bank Farm, as well as guest workshop speakers and interactive demonstrations.
"Love Thy Neighbor" – Veteran's Day Weekend (12th-14th)
Explore what the Episcopal church believes when it comes to charity and the way we should endeavor to treat one another. "It is easier for a camel to go through the eye of a needle than for someone who is rich to enter the kingdom of God." Mark 10:25
Resources For Those Who Work With Youth
Monthly Leadership Meetings


The Third Thursday of Every Month, 10:00am-11:15am, followed by coffee hour!
Youth Ministry leaders in the Diocese of Olympia are invited to join us as to discuss upcoming events, share resources, and enjoy fellowship and prayer with peers. Please register your interest by emailing aflannagan@ecww.org.
Save The Date!
January 21st
February 18th
March 18th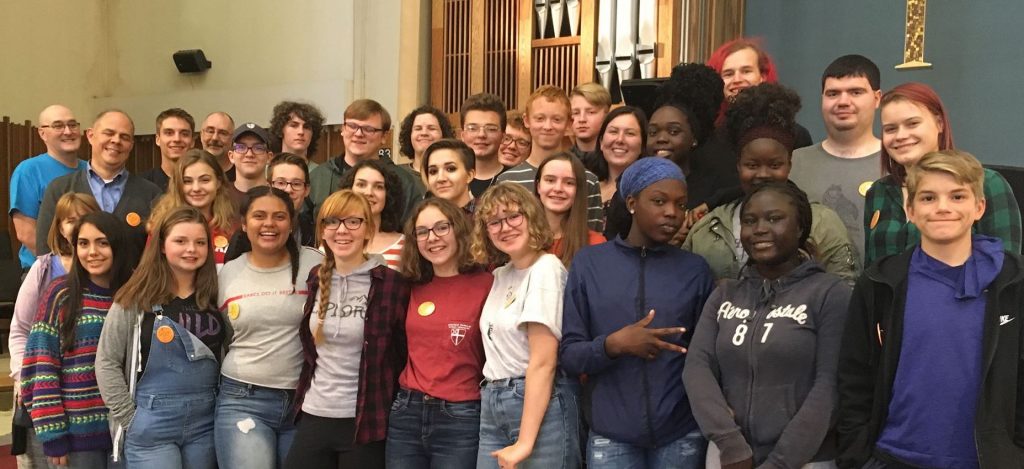 "…if we connect light to light to light, and join the lights together of the one billion young people in our world today, we will be enough to set our whole planet aglow." Hafsat Abiola (human rights, cilvil rights, and democracy activist)
Diocesan youth programs in the Episcopal Church are operated in adherence with Safeguarding God's Children.
Links to social media: 
Resources
D365 – Daily Devotional: "pause, listen, think, pray, go"
Reimagining The Examen: Daily scheduled reflection, with St Ignatius' 500 year old prayer. (iOS version) (android version)
National Suicide Prevention Lifeline – You are not alone. In a crisis, call 1-800-273-8255.