Welcome to the Diocesan hub for spiritual formation opportunities for young adults. Find information here on events, retreats, workshops, and gatherings that bring young Episcopalians and their friends from across western Washington together. We also support local, congregational programs and events for people in their 20s – 30s — please reach out to partner with us!
Are you checking out the Episcopal Church? Just know that our words and worship draw from the ancient heart of Christianity and yet they are renewed by our modern minds. Here you don't have to leave your questions at the door; you can bring — and share — your doubts, your fears, your hopes, your joys – bring everything God has made you to be.
To stay connected and for the most current information on Young Adult events:
♦ Subscribe to the "Young Adults in the Diocese" e-mail list
Upcoming Gatherings…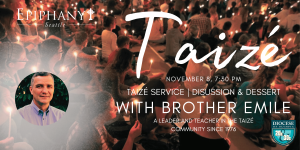 Join us for a Taizé service with Brother Emile, a leader and teacher in the Taizé (France) community since 1976. Taizé has become one of the world's most important sites of Christian pilgrimage, with a focus on youth and young adults. Over 100,000 young people from around the world make pilgrimages to Taizé each year for prayer, Bible study, sharing, and communal work. Through the community's ecumenical outlook, they are encouraged to live in the spirit of kindness, simplicity and reconciliation.
Discussion and dessert to follow the service. Wednesday, November 8, 7:00 PM, Epiphany, Seattle. Free. Contact youngadults@ecww.org for more info.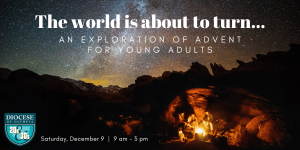 ♦ Winter: An Exploration of Advent for Young Adults
"The World is About to Turn"… Let's explore the meaning of Advent, hearing from clergy and lay people who will share their unique perspectives and invite us all to consider its significance and relevance in our own lives. And then let's celebrate the season together with great food, wreath-making, and time with friends, new and old.
Saturday, December 9th, 9:00 – 3:00 PM, Office of the Bishop, Capitol Hill, Seattle. $15 includes continental breakfast, lunch, and all materials.
♦ Mid-Winter: Contemplative Retreat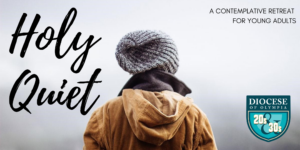 Get away from it all and experience a weekend of peace, prayer, and self-care with young adults from across the Episcopal Diocese of Olympia…
This casual retreat, held at the waterfront Archbishop Brunett Retreat Center at the Palisades, just south of Seattle, is designed for adults in their 20s and 30s who are seeking to experience an array of contemplative practices from a Taizé service to lectio divina to centering prayer. One-to-one spiritual direction is also offered.
Friday – Sunday, February 9 – 11, 2024. E-mail us to get on the notification list when registration goes live.
♦ Summer: "A Holy Waste of Time" Retreat
Join us for our popular, annual "Holy Waste of Time" retreat, held at the end of summer at St. Andrew's House, a beautiful lodge on the Hood Canal owned by the Diocese of Olympia. Enjoy time with others or by yourself, kayaking, paddleboarding, and swimming the beautiful waters of the Puget Sound, hiking under the forest canopy, reading in the lodge, and sunning on the deck.
Friday – Sunday, August 16 – 18, 2024. E-mail us to get on the notification list when registration goes live.
♦ Fall: Evolving Faith, Virtual Conference
You are invited to join a team of people in their 20s & 30s from across the Diocese in attending the wildly creative, interdenominational, "Evolving Faith" on-line conference, a gathering designed especially for those who have had to deconstruct the faith of their childhood. This annual virtual gathering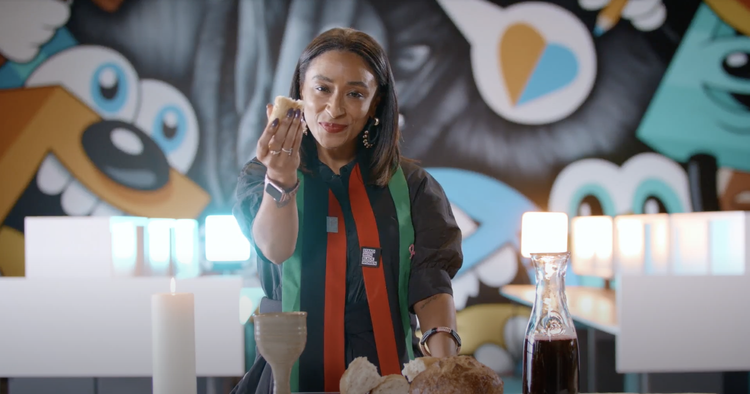 is one of our favorites with dynamic speakers who will challenge you and deepen your understanding of what it means to be a person of faith in the 21st century. Past speakers have included Barbara Brown Taylor, Nadia Bolz-Weber, Presiding Bishop Michael Curry, and many more…
Held in October, you are invited to join the Diocese of Olympia virtual contingent as our guest. E-mail youngadults@ecww.org to get on our notification list when the 2024 conference registration goes live.
Young Adults Across the Diocese…
♦ Holy Hikes

Once a month on Saturday mornings, nature lovers of all ages and from across the Diocese of Olympia set-off on Holy Hikes. On these treks, coordinated and guided by Alex Flannagan, Holy Hikes of Western Washington Coordinator, you will make new friends, explore trails throughout western Washington, and experience prayer and an occasional Eucharist in the beauty of the outdoors, immersed in what John Muir called God's "first temples." Holy Hikes® is part of a nationwide network of people who seek out the natural world as a place to connect with God. Click here for more information on upcoming hikes.
♦ Dig Deeper – Food Justice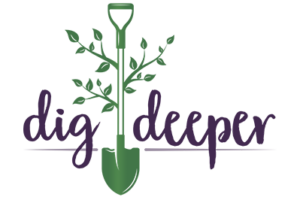 Dig Deeper is a food justice initiative made possible by a grant from The Episcopal Church's Young Adult and Campus Ministry to Saint Mark's Cathedral. Saint Mark's is partnering with the Diocese of Olympia and Nurturing Roots Farm to create opportunities for young adults to participate in the work of food justice. Click here for more information on Dig Deeper including Farm Service Days.

♦ Saint Mark's Cathedral 20s & 30s
Check the Saint Mark 20s & 30s Facebook Page for the latest on a wide range of virtual activities that are open to young adults throughout the Diocese. For more info. e-mail: youngadults@saintmarks.org
♦ Alternative Liturgies at St. Luke's, Renton
If you're looking for a non-traditional service that brings together contemplative practice, poetry, music, and the visual arts, we encourage you to explore these options:
St. Luke's, Renton – Seasonal Liturgies which seek to "create space for a mystical experience of God—something more ethereal than the usual liturgy, more applied than the general artistic world, and more present than our typical relationship with nature." These include:
Spring Afresh: A ritual of story, chant, and song. (Spring Equinox)
Rise Up!: A liturgy for summer with music and dancing. (Summer Solstice)
Re:Turn: Return to your soul. (Autumn Equinox)
Yule: Light for the darkest night. (Winter Solstice)
But Wait, There's More…
♦ Dinner with the Bishop
An annual event. Join us for a delicious dinner, poetry to celebrate the start of summer, live music, a Q & A with the Bishop, and tours of the historic Leary mansion, home of the Office of the Bishop. Check out our 2023 gathering…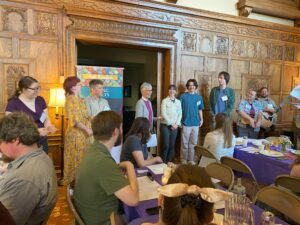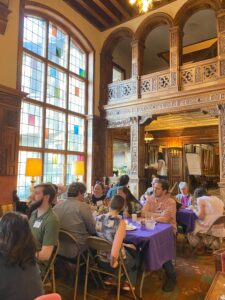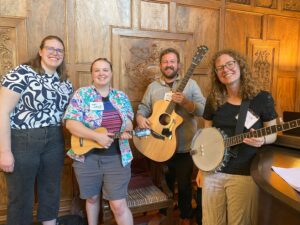 ♦ Pride Month Celebration: Parade, PrideFest and more!
We are PROUD to be an open, affirming, and inclusive church! All are welcome to march with the Episcopal Church in Western Washington in the Seattle Pride Parade; or volunteer and share the welcome at any of the Episcopal Pride booths around the Diocese including: Capitol Hill (Seattle), Kitsap County, Lewis County and Snohomish. Go here for more info: ecww.org/pride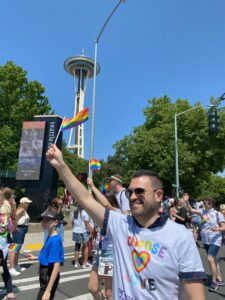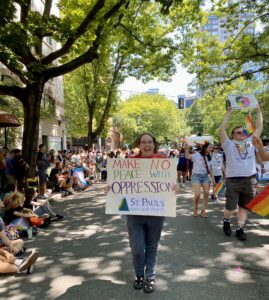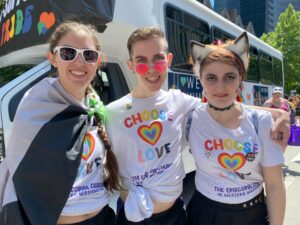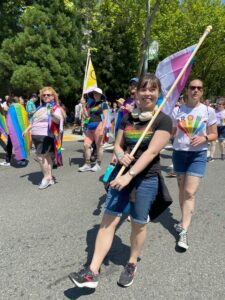 ♦ Love * Sex * Loss: Can Faith Help?

This series provided rich, guided conversation about the complicated ways relationships and faith intersect and was facilitated by Episcopal priest and marriage and family counselor, the Rev. Danáe Ashley. Check out the companion webpage for short video interviews, resources and recommendations, and documentation of where the Episcopal Church officially stands on issues of:
Abortion
Birth Control
Intimate Relationships Other Than Marriage
LGBTQIA+ Inclusion & Same-Sex Marriage
Sex Education
Transgender & Non-Binary Rights
♦ Sunday Stairway Walks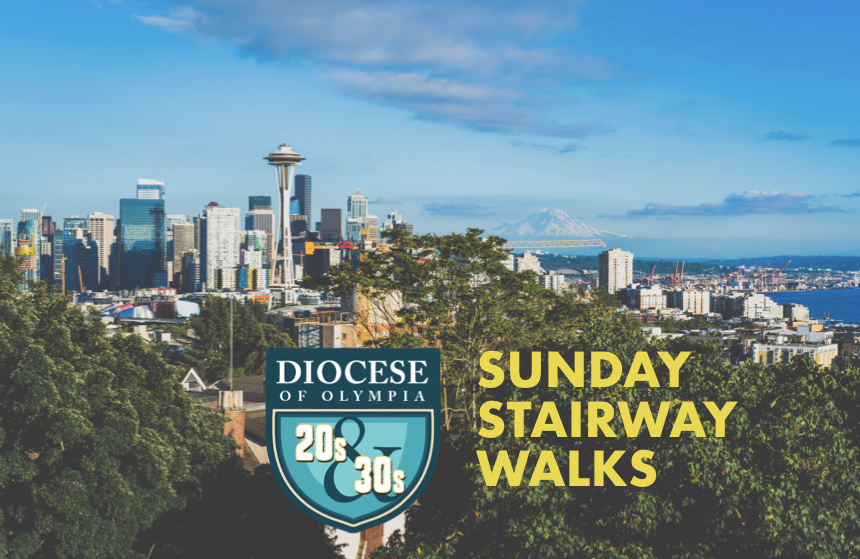 These afternoon urban walks were especially designed for adults in their 20s and 30s and curated and hosted by Emily Meeks of Saint Mark's Cathedral. The goal was to get outside, make new friends, and learn more about different neighborhoods and parishes in Seattle. Routes drew inspiration from Seattle Stairway Walks and ranged between 2.5 – 4 miles at an easy pace.
Archived Walking Guides:
Trinity & Downtown: City Hall to Pike Place
St. Paul's and "Southwest Queen Anne"
St. John the Baptist, West Seattle and "Alki from Above"
Epiphany and "Madrona & Leschi"
Saint Mark's Cathedral and "The Olmsted Vision"
♦ Young Adult Perspectives
Diocesan Convention Workshop – 2020
♦ The Young Adult Wilderness Pilgrimage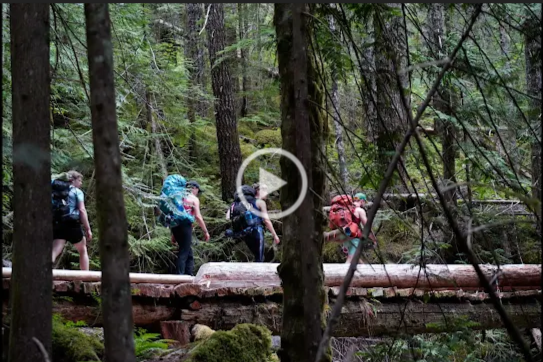 Mid-pandemic, a small group of adventure-seeking 20s & 30s set off for a 3-day trek into the Central Cascades. Watch a 2-minute video of that experience, courtesy of trekker and photographer, Stuart Meeks and videographer Josh deLacy.
Interested in joining a backpacking trip? E-mail youngadults@ecww.org to get onto our notification list.
♦ Video Shorts: Stories of Quarantine
Young adults from around the Diocese shared about their quarantine lives and the pandemic-related issues that matter to them the most in our "Stories of Quarantine" series of video-shorts. Click on the thumbnails to view: