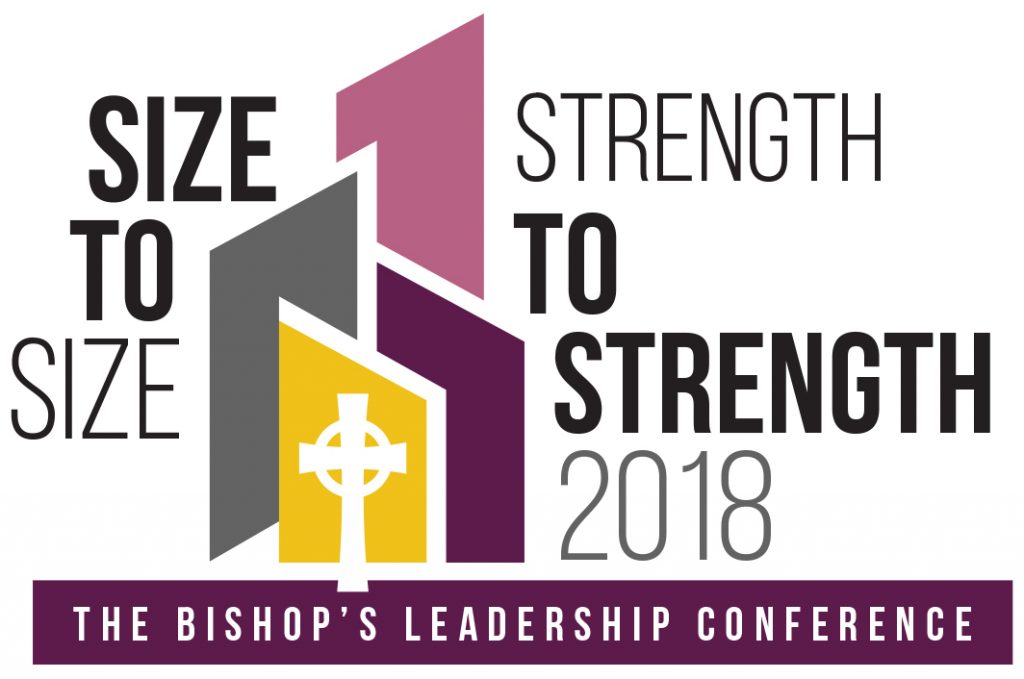 God meets us where we are, using our specific gifts and talents for a divine purpose within our current circumstances. However, we're also called to grow out of our comfort zones.
October 1-5, the Diocese of Olympia's Office of the Bishop is pleased to present "Size to Size, Strength to Strength" – a conference that explores what it means to be faithful, healthy, and effective in your church's current, local context and help you discern if God is calling your congregation to grow in new ways.
Over the course of the week, each church will attend two days of the conference. The first day, connect and network with other churches of similar size to share and discover strengths specific to your congregational size. On the second day, learn more about how growth would look by joining the next congregational size up. We'll be exploring how stewardship, marketing and evangelism, discipleship, communications, faith formation, finances, and property and building maintenance operates at all congregational sizes.
---
WORKSHOPS:
All God's Children Have Buildings & Budgets, Legal & Fiduciary Obligations
Congregation Identity
Connecting the Dots: Creating an Intentional Newcomers Ministry
Developing a Spiritual Culture in Your Congregation
Evangelism
Going Big by Staying Small
Local / Community Engagement
Money as a Spiritual Issue: Now What Do We Do – Nuts & Bolts
Money as a Spiritual Issue: Theology of Stewardship
Sharing Your Story: Communications for Churches at Every Size
Soul Purpose: Re-Imagining Faith Formation
---
VOLUNTEER FOR WORSHIP
We would love your participation during worship! Please consider signing up to lead a service or serve as a lector. Scripts and readings will be emailed to you directly before the conference and printed for you on site. SIGN-UP HERE. Contact April Caballero, Executive Assistant, with any questions: acaballero@ecww.org or 206-325-4200 x.2010.
---
MOVIE NIGHTS
Join our Communications Director, Josh Hornbeck, for a film screening and conversation each night of the conference at 7:30pm.
Won't You Be My Neighbor?

(Monday, October 1)
Morgan Neville's acclaimed documentary looks at the life, legacy, and philosophy of Fred Rogers, creator and host of the beloved children's program "Mister Rogers' Neighborhood." In a time of anger and division, Fred Rogers' radical kindness provides a model for civil discourse in an uncivil time, and a reminder that we are called to truly love our neighbor.
Sullivan's Travels (Tuesday, October 2)
In this classic Hollywood comedy, a director of lightweight comedies determines to make a serious film about human suffering. In his journey to understand those less fortunate than himself, the director begins to realize the need to find joy and beauty in the midst of pain and sorrow.
The Other Side of Hope (Wednesday, October 3)
This deadpan, melancholy comedy from Finland follows Khaled, a Syrian refugee, as he attempts to make a new life in a very unfamiliar land. Using dry humor and genuine warmth, this offbeat and moving film explores our current refugee crisis and shows the need for kindness and compassion.
La Promesse (Thursday, October 4)
Set in the industrial town of Seraing, Belgium, the film tells the story of a teenage boy whose father smuggles and exploits the labor of undocumented immigrants. When a tragedy occurs on one of his father's work sites, the boy embarks on a path that leads him to a profound moral awakening.
---
Watch Bishop Rickel's video introduction to the conference below.
---
LOCATION:
Location: Fort Worden State Park, Port Townsend, originally designed as a military base to protect Puget Sound, features more than 70 historic buildings on a 434-acre property and includes two miles of saltwater shoreline. The fort offers meeting space, accommodations and dining options, all within a campus-like setting. It is located within a couple of miles from historic downtown Port Townsend on the Olympic Peninsula. Address: 200 Battery Way, Port Townsend, WA 98368
Directions can be found here.
A Campus Map showing locations we are using for this conference is here.
____________________________________
HOUSING / CHECK IN:
Housing is assigned throughout the Fort Worden campus. Originally designed as a military base, more than 70 historic buildings span the 434-acre property, providing a wide range of beautifully restored accommodations. Conference housing is assigned through the campus – from retreat housing, to cottages, to historic homes on Officers Row or NCO (non-commissioned officers) Row.
We will have folks checking in and out each day. To facilitate this, attendees will be asked to check out (clear out of your assigned bedroom) before breakfast. You may leave luggage in the living room or common area. Housekeeping will be in all the lodgings between 11 am and 4 pm. Those arriving will be able to pick up keys as they become available and put luggage in the living room or common area – staying out of the bedrooms until after 4 pm.
Early arrival: If you have booked accommodations an extra night for early arrival, please plan to check in with Diocesan staff between 3-6 pm. For those arriving after 6pm, registration materials and housing assignments will be left for you at the Fort Worden front desk in the Commons. Please note that you must arrive to check in no later than 11 pm. If you anticipate arriving later than 11 pm, please contact Matt Koski at mkoski@ecww.org.
____________________________________

MEALS:
Conference registration includes lunch on day one, and breakfast and lunch on day two. Breakfast and lunch will be served in the Mess Hall in the Commons.
Dinner is not provided. In addition to kitchens in the houses where groups can cook their own dinner, there are a couple small on-site restaurants, as well as many restaurants a short drive away in Port Townsend.
DAILY SCHEDULE:
Each day will begin with morning prayer at 9:00am, followed by a plenary session. After lunch (provided) there will be breakout and small group sessions. The formal day will end at 6 pm following a panel presentation and wrap up session. The schedule on Friday has been adjusted to end at 3 pm. Monday-Thursday evenings will include optional activities including Movie Night with Josh, worship experiences, and opportunities to join with others in self-organized interest groups. The final agenda will be sent and posted next week.