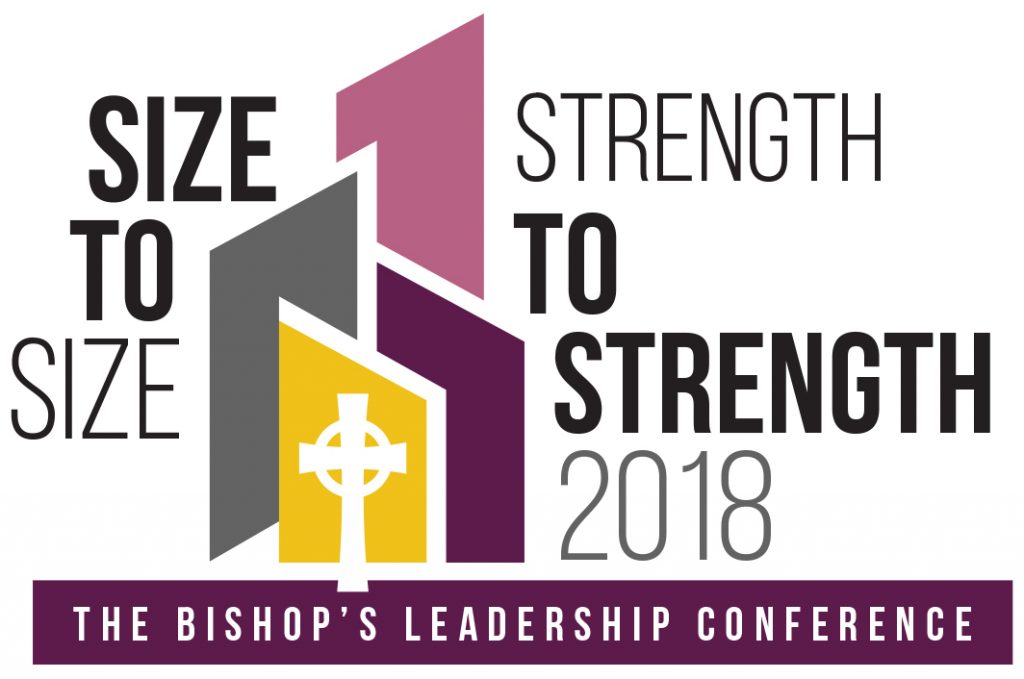 God meets us where we are, using our specific gifts and talents for a divine purpose within our current circumstances. However, we're also called to grow out of our comfort zones.
October 1-5, the Diocese of Olympia's Office of the Bishop is pleased to present "Size to Size, Strength to Strength" – a conference that explores what it means to be faithful, healthy, and effective in your church's current, local context and help you discern if God is calling your congregation to grow in new ways.
Over the course of the week, each church will attend two days of the conference. The first day, connect and network with other churches of similar size to share and discover strengths specific to your congregational size. On the second day, learn more about how growth would look by joining the next congregational size up. We'll be exploring how stewardship, marketing and evangelism, discipleship, communications, faith formation, finances, and property and building maintenance operates at all congregational sizes.
---
DAILY SCHEDULE:
Each day will begin with morning prayer at 9:00am, followed by a plenary session. After lunch (provided) there will be breakout and small group sessions. The formal day will end at 6 pm following a panel presentation and wrap up session. The schedule on Friday has been adjusted to end at 3 pm. Monday-Thursday evenings will include optional activities including Movie Night with Josh, worship experiences, and opportunities to join with others in self-organized interest groups.
Click on the schedule below for the days you will be present:
BREAKOUT SESSIONS:

All God's Children Have Buildings & Budgets, Legal & Fiduciary Obligations
This round table discussion will provide expertise for congregations of all sizes on such topics as building maintenance, diocesan loans, budgets, personnel policies, legal duties & obligations, reporting deadlines, and how and when to contact the Office of the Bishop.
Presenters: The Rev. Dr. Canon Marda Steedman Sanborn, Canon to the Ordinary, Judy Andrews, Diocesan Chancellor; Barbara Fox, Diocesan Treasurer; The Rev. Dr. Dennis Tierney, Diocesan Property Manager; and Canon Dede Moore, Canon for Governance & Human Resources.
Having a "there" there: Identity and Marketing in the Local Congregation
Do you know how to describe the deep joy of your congregation? Are you able to articulate your local church's strengths and reason for being? Join the Rev. Alissa Newton, Canon for Congregational Development, and learn some simple tools for discovering how to uncover what's really there, and how to talk about it in ways that invite even more people into Christian life and practice.
Presenter:  The Rev. Alissa Newton, diocesan Canon for Congregational Development & St. Columba, Kent.
OGSM: One Sheet Strategic Planning
Come and learn about a one-sheet strategic planning tool that can help your whole system or individual parts of your system distill a vision into a strategic plan on one sheet of paper. Based on the OGSM tool used widely in companies such as Proctor and Gamble, this tool can be helpful to large church systems as well as ministries within the system.
Presenter: The Rev. Dr. Canon Marda Steedman Sanborn, Canon to the Ordinary.
Connecting the Dots: Creating an Intentional Newcomers Ministry
How does your congregation show up in the community? How comfortable are you sharing your faith story? How do you welcome visitors and incorporate newcomers into the fabric of congregational life? Using Invite-Welcome-Connect, you will learn how to assess your current ministry, and how to plan and implement an outward focus that will welcome all who seek Jesus to your church.
"The Invite-Welcome-Connect ministry is a theological and practical initiative, which goes beyond making "The Episcopal Church welcomes you" a reality but also ensures those who do come to faith in our churches don't leave by the back door." –Mary Parmer
Presenter: Jen King, Church of the Redeemer, Kenmore.
Developing a Spiritual Culture in Your Congregation
The Christian religion is in flux. There is division and disagreement. There is anxiety and apprehension. Some argue the church has lost its way. Some just say church doesn't matter… and yet with all of that in the air here in the Pacific Northwest Epiphany Parish of Seattle has found a way to grow these past ten years. There are many reasons for this, but key among them is our ability to create a culture built upon the ancient practices of spiritual formation, where the unity of action overshadows the debates of doctrine. These exercises are applied against time and matter. The actions that engage time are daily prayer, weekly worship, Sabbath, observance of liturgical patterns, and pilgrimage to the Holy Land. The actions that engage matter are fasting and tithing. These are important practices to understand as they are core to the ethos of Epiphany Parish. This workshop is for those who would like to hear how this spiritual practices culture has developed at Epiphany and who wish to have a conversation about how this culture might be planted and grown in his/her own congregation.
Presenter: The Rev. Doyt Conn, Epiphany Parish of Seattle.
Going Big by Staying Small: How to Start a Small Group Ministry at your Church
What are small groups and why does my church need them? No matter the size of your congregation, small groups are microcosms of the larger community. They are a safe space to tell our stories and to intellectually, spiritually, and emotionally process many aspects of life and faith in the context of a supportive group. Come find out more!
Presenter: The Rev. Kate Wesch, St. John the Baptist, West Seattle.
Local Church – High Impact: Connection + Community
A practical look at how to get better connected with the community around you, increase your congregation's impact and strengthen your mission. Canon Britt Olson and senior warden Barbara Wilson of St. Luke, Ballard will provide ideas and examples utilizing invitation, storytelling, media, events, partnerships and facility use that have helped the congregation increase its impact, involvement and attendance dramatically over the past 3 years.
Presenter: The Rev. Britt Olson, Barbara Wilson,  St. Luke, Seattle (Ballard).
Money as a Spiritual Issue: Now What Do We Do – Nuts & Bolts
Now What do I do? How do I design year-round stewardship for my congregation? Attendees are encouraged to attend both parts in the same day.
Presenter: Bishop Greg Rickel. 
Money as a Spiritual Issue: Theology of Stewardship
Why is stewardship a practice of Christianity? What did Jesus say about this? What should we say and do about this?
Presenter: Bishop Greg Rickel.
Sharing Your Story: Communications for Churches at Every Size
Part 1: A How-to of communications for churches at every size. Part 2: Creating compelling content.
Presenters: Diocesan Staff: Josh Hornbeck (Communications Director) & Kerry Allman (Internet Strategist).
Soul Purpose: Re-Imagining Faith Formation
Together let's look at the diverse and creative ways that education can happen within the church and outside its walls. Find the inspiration you need to design programming that meets children, youth, and adults wherever they are on their journey of faith.
Presenter: Valerie Reinke, diocesan Canon for Faith Formation.
---
WORSHIP
OPEN SPACE: "Open Space" is the name of a joint venture with Church of the Apostles (COTA) and the Fremont Abbey Arts Center, initiated by COTA in 2015 through a grant from the Diocese of Olympia. The concept behind Open Space is to offer a monthly contemplative experience, incorporating music, visual arts, and prayer stations. The experience was designed to be an extension of COTA's own Sunday Eucharist Open Space time. This version of Open Space will be centered around the life of St. Francis of Assisi and elements of the natural world, and will feature live music performed by Lacey Brown.
VOLUNTEER FOR WORSHIP: We would love your participation during worship! Please consider signing up to lead a service or serve as a lector. Scripts and readings will be emailed to you directly before the conference and printed for you on site. SIGN-UP HERE. Contact April Caballero, Executive Assistant, with any questions: acaballero@ecww.org or 206-325-4200 x.2010.
---
MOVIE NIGHTS
Join our Communications Director, Josh Hornbeck, for a film screening and conversation each night of the conference at 7:30pm.
Won't You Be My Neighbor?

(Monday, October 1)
Morgan Neville's acclaimed documentary looks at the life, legacy, and philosophy of Fred Rogers, creator and host of the beloved children's program "Mister Rogers' Neighborhood." In a time of anger and division, Fred Rogers' radical kindness provides a model for civil discourse in an uncivil time, and a reminder that we are called to truly love our neighbor.
Sullivan's Travels (Tuesday, October 2)
In this classic Hollywood comedy, a director of lightweight comedies determines to make a serious film about human suffering. In his journey to understand those less fortunate than himself, the director begins to realize the need to find joy and beauty in the midst of pain and sorrow.
The Other Side of Hope (Wednesday, October 3)
This deadpan, melancholy comedy from Finland follows Khaled, a Syrian refugee, as he attempts to make a new life in a very unfamiliar land. Using dry humor and genuine warmth, this offbeat and moving film explores our current refugee crisis and shows the need for kindness and compassion.
La Promesse (Thursday, October 4)
Set in the industrial town of Seraing, Belgium, the film tells the story of a teenage boy whose father smuggles and exploits the labor of undocumented immigrants. When a tragedy occurs on one of his father's work sites, the boy embarks on a path that leads him to a profound moral awakening.
---
Watch Bishop Rickel's video introduction to the conference below.
---
LOCATION:
Location: Fort Worden State Park, Port Townsend, originally designed as a military base to protect Puget Sound, features more than 70 historic buildings on a 434-acre property and includes two miles of saltwater shoreline. The fort offers meeting space, accommodations and dining options, all within a campus-like setting. It is located within a couple of miles from historic downtown Port Townsend on the Olympic Peninsula. Address: 200 Battery Way, Port Townsend, WA 98368
Directions can be found here.
A Campus Map showing locations we are using for this conference is here.
____________________________________
HOUSING / CHECK IN:
Housing is assigned throughout the Fort Worden campus. Originally designed as a military base, more than 70 historic buildings span the 434-acre property, providing a wide range of beautifully restored accommodations. Conference housing is assigned through the campus – from retreat housing, to cottages, to historic homes on Officers Row or NCO (non-commissioned officers) Row.
We will have folks checking in and out each day. To facilitate this, attendees will be asked to check out (clear out of your assigned bedroom) before breakfast. You may leave luggage in the living room or common area. Housekeeping will be in all the lodgings between 11 am and 4 pm. Those arriving will be able to pick up keys as they become available and put luggage in the living room or common area – staying out of the bedrooms until after 4 pm.
Early arrival: If you have booked accommodations an extra night for early arrival, please plan to check in with Diocesan staff between 3-6 pm. For those arriving after 6pm, registration materials and housing assignments will be left for you at the Fort Worden front desk in the Commons. Please note that you must arrive to check in no later than 11 pm. If you anticipate arriving later than 11 pm, please contact Matt Koski at mkoski@ecww.org.
____________________________________

MEALS:
Conference registration includes lunch on day one, and breakfast and lunch on day two. Breakfast and lunch will be served in the Mess Hall in the Commons.
Dinner is not provided. In addition to kitchens in the houses where groups can cook their own dinner, there are a couple small on-site restaurants, as well as many restaurants a short drive away in Port Townsend.
The Bishop's Leadership Conference: Size to Size, Strength to Strength