Today we introduce another Seattle Service Corps member: Elly Green! She comes to Seattle by way of many places, but Kentucky is where her parents live. Elly graduated in 2018 from Xavier in Cincinnati, Ohio with a double major in English and Gender and Diversity Studies.
Elly said about joining the Service Corps, "I'm really drawn to a sense of community in family ties and ones you form yourself. The SSC program community also intersects with spirituality, which was a big draw for me."
In her placement at Mission to Seafarers (where Laney is also placed), Elly shared, "The focus boils down to ministry of presence and pastoral care. While my primary focus is ship visiting, most of the stories I tell don't revolve around me, but around the men that I'm visiting – their hardships and successes on board."
One of her favorite moments from the last week came during a ship visit on a mostly Ukrainian-staffed ship. Elly and a new Mission to Seafarers volunteer, Eugene, who speaks fluent Ukrainian, arrived at the ship and Elly just loved seeing the joy and surprise on Eugene's face when the men aboard started speaking in Eugene's tongue.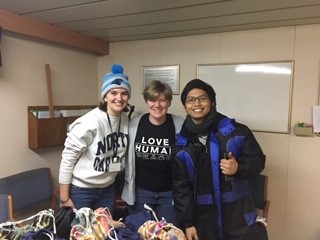 For the remaining months, Elly is most nervous about the question of what comes next. She said, "I have anxiety about what comes next and I'm losing the focus of being in the corps. I'm trying to just get up, go to work, and be with the cohort rather than stressing about what's coming down the line six months from now."
Her goal for the rest of her time here is trying to be as happy as she can in the most authentic manner she can. She added, "My goal is to just show up constantly in a manner that is true to my own needs but also for my community. I want to be integrated but also take time to explore the Pacific Northwest."
As far as house dynamics, Elly said one challenge is how small the space can feel sometimes with so many people – it's difficult to find a space of your own. However, she shared, "I've been exposed to people from all walks of life, without this space, we never would have crossed paths and that's a wild thought to me. I'm so thankful for how supported I feel from the house, the staff and community of St. Mark's, and the community I'm building at work as well."
Elly has also greatly enjoyed getting to know the natural beauty of Seattle. She said, "I love the diversity of the environment here. I work along the Puget Sound and I'm always entranced by it, but then driving down the street, all the greenery and Mt. Rainier behind us is astounding. Every neighborhood has their own culture and people too, which is so exciting."
Elly reflected on how her closest friends would describe her. "My friends would call me a walking contradiction. Loyal through and through but terribly slow to trust. They would comment on my deep curiosity but laugh at my ability to sidestep questions about myself. I have the world's worst poker face but hesitate to reveal my thoughts until I'm pinned down. I overthink everything and yet somehow they consider me brave."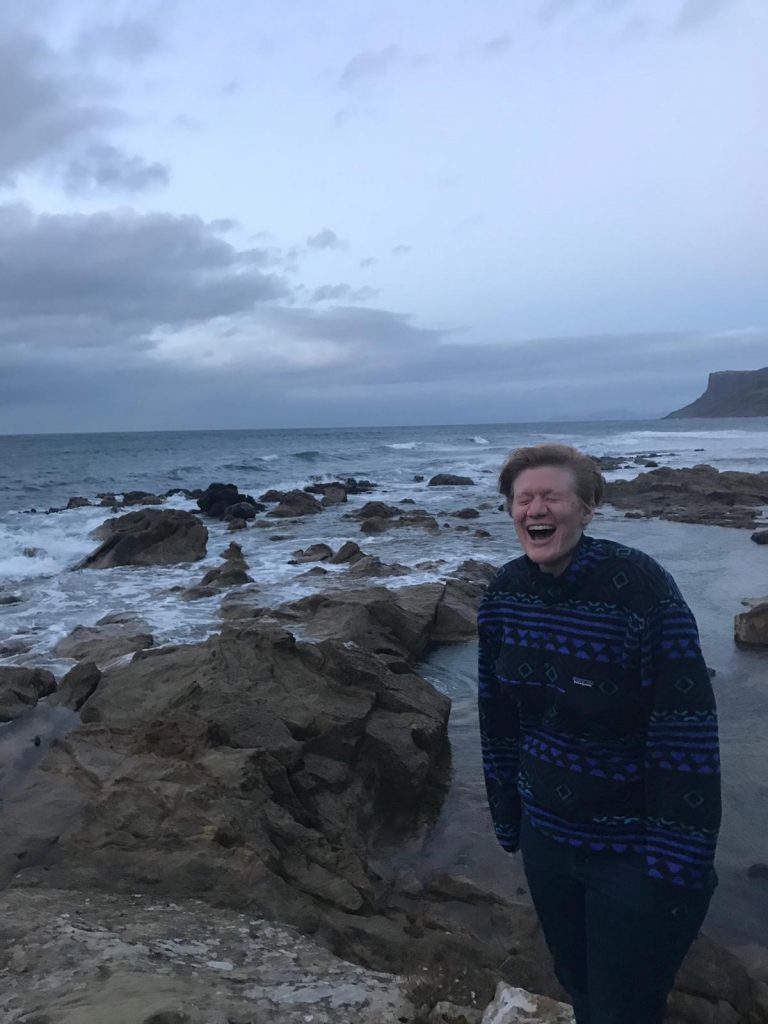 Elly has a new spiritual habit of using prayer beads that the Rev. Canon Jennifer King Daugherty gave to each of the corps members. Elly said, "It's very centering and grounding, a very personal practice and balance between intimacy and inviting to others. It feels familiar going from the rosary in the Catholic church to Anglican beads, so there's a nostalgia there too."
Another practice of Elly's has been reading a lot since coming to Seattle. "Week one, we walked to the public library, and in my first month and half, I read 11 books. One that really stuck out to me is War Dances by Sherman Alexie. I love the intertwining of narratives and different points of view in each chapter – you just fly through it."
One of Elly's favorite trips was the last summer she and her family lived in California. "I was 15 at the time, and my family took a trip up the coast. One big moment was driving into the redwoods. My siblings and I poked our heads out of the sunroof and marveled at the massive size of the trees. It's so humbling. You feel really small, but in a way that's really secure, like being held in your mom's arms when you were a kid."
About her future plans and dream job, Elly said, "When I was six, I wanted to be a ballerina that traveled around the world saving animals while wearing a tutu. I haven't found a dream that has topped that once since."
Currently, "Lion" by Kitt Philippa is the song at the top of Elly's list. "It's a really simple song. I heard her live the last month I lived in Ireland last year. We were in the back of a tiny pub, I was surrounded by my friends, and I remember having arms around my shoulders. One of the lines from the song is 'Give me your lion's courage.' It's so tender, but there's this amazing strength behind it."
Get to Know the Seattle Service Corps: Elly